« Liz Cheney: "Look, I'm a Republican... Well Not All Republican"
|
Main
|
Book: Biden's (Female) Communications Director Suggested a Scandalous Theory: Maybe the Person Failing to Position Kamala Harris for Success Is...
(wait for it...)
... Kamala Harris Herself! »
March 23, 2022
NBC: We Should Celebrate "Lia" Thomas for Breaking the Gender Barrier Like We Celebrate Jackie Robinson for Breaking the Color Barrier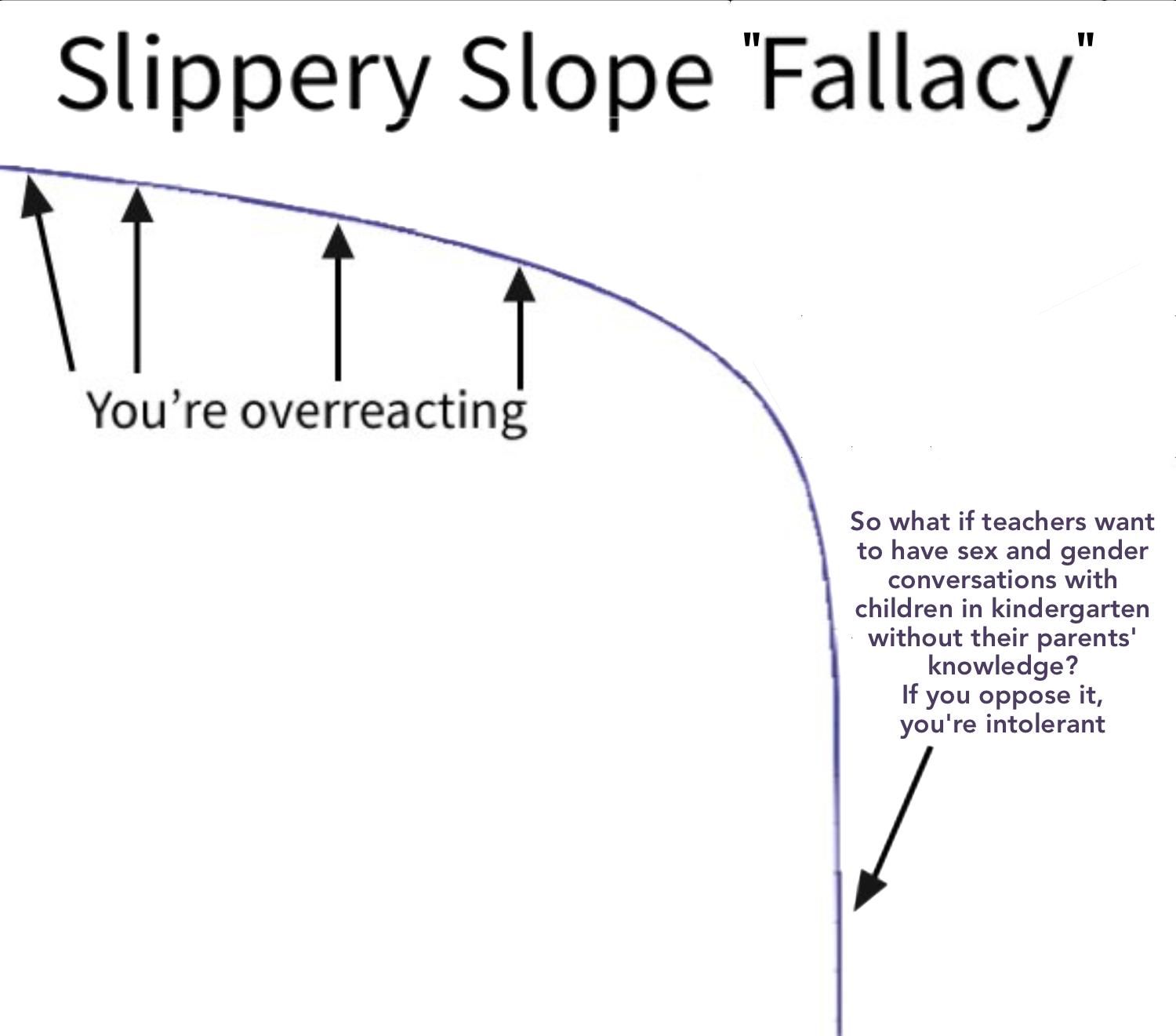 How many girls' records did Jackie Robinson demolish while playing ladies' baseball, again?
An opinion published by NBC News is linking Penn trans swimmer Lia Thomas to the historic nature of Jackie Robinson playing in Major League Baseball.

Thomas made headlines over the past months after repeatedly shattering swimming records just two years after competing as a biological male, trouncing her female competitors in various competitions, most recently at the NCAA Division I championship.

In a piece from NBC News, Purdue University Professor Cheryl Cooky argued, "For anyone who cares about the advancement of sports, and women's sports in particular, her win should be celebrated."

"Women's sports are situated at a paradoxical intersection wherein sex segregation is upheld through claims of biological difference, yet equality is prefaced on being treated the same and given the same opportunities as men," Cooky wrote Monday. "If we are to change this, we need to ask some important questions. How does one advocate for equitable treatment while also adhering to the notion of biological difference? If separate is not equal in the case of schools, bathrooms, restaurants or other social institutions, can separate ever truly be equal in the case of sports? Would gender-based discrimination in sports be eradicated if sports were gender-integrated?"

Cooky, who teaches gender and sexuality studies, downplayed critics who say trans women have an unfair advantage, saying their assumptions "are not well-founded" and lack "scientific evidence" that firmly concludes "a direct link between testosterone athletic performance," citing "coaching and training, psychological makeup of an athlete, access to resources and equipment" as other factors.

She insisted those who oppose trans athletes in women's sports rely on "societal and cultural definitions of what constitutes gender or what defines a woman," which leads to "discrimination of athletes like Thomas."
Lia Thomas is the Rachel Dolenzal of Caitlyn Jenners.
Posted by: Quilter's Irish Death
Here's this gender studies professor's entry at Purdue's website. She's actually a woman, which surprised me.
Yesterday Ron DeSantis signed a proclamation declaring the 2nd-place finisher in the male-dominated NCAA woman's swimming championship to be the best female swimmer.
The Orlando Sentinel is so committed to their "Gender is whatever you want it to be!" ethos that they're now putting the word female in doubt-quotes.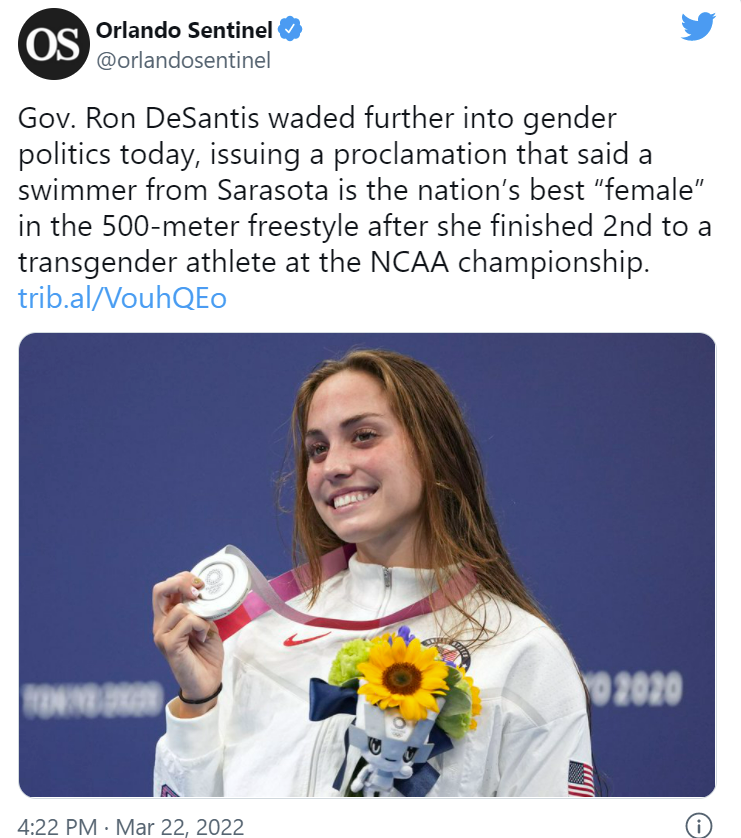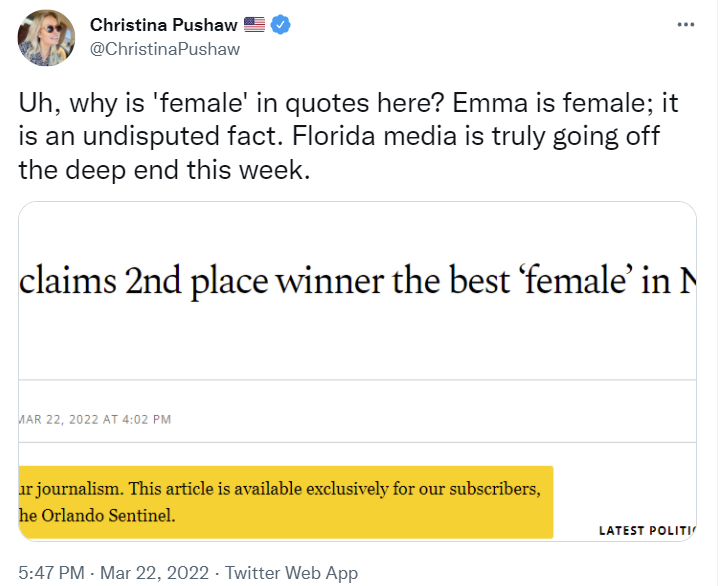 Sorry, Emma Weyant is obviously an actual woman, and does not need the heavy use of NBC's propaganda airbrushing to soften his male jawline.
Is the Orlando Sentinel suggesting Weyant isn't fully "female" just because she's a lesbian?
That is Hateful Conduct and might drive lesbians to commit suicide. Time to lock them out of their accounts.
Below, a progressive lunatic melts down speaking before the Denton, TX city council.
Well, he's pretending to be a progressive lunatic.
Honestly, it's only barely a parody. 95% of what he says is core Progressive Religious Dogma.
"My six-year-old openly gay transgender son only wanted a vaccine for his birthday."
America's hottest comedy clubs are city council open meetings.
In the video, a second guy sings a song about Will "Lia" Thomas. It's not very good, though.
Here's a shorter clip getting right to the big meltdown, but I think you need to see him build up to this.
"Radical" feminists -- aka, sane feminists -- say they're quitting the Democrat Party and joining the Republican Party, despite not liking Republicans, over this issue:

posted by Ace at
01:18 PM
|
Access Comments