« As Was Easily Predictable: Convicted Race Crime Hoaxer Jussie Smollett's Family Demands an "Emergency Leave" from Jail, Citing... Hate Crime Phone Calls Threatening Jussie
|
Main
|
Amazon "Quietly" Shuts down Seattle Office Where 1,800 Employees Work, Due to Skyrocketing Crime and Violent Attacks on Amazon Workers »
March 15, 2022
Teachers in Eau Claire School District in Wisconsin Are Being Instructed to Keep Students' Gender Experimentation Secret From Parents
The Real Heroes Here: A Continuing Series.
Teachers at a school district in Wisconsin are being instructed to hide their students' changing gender identities from parents on the grounds that "parents are not entitled to know," and that it is "knowledge that must be earned," according to leaked training documents.
By "knowledge that must be earned," they mean of course that parents must show that they are pro-amputation and "gender transition" before teachers will tell parents that they're in the middle of successfully grooming the parents' children to be trans.
The instruction was part of several recent staff development sessions for teachers in the Eau Claire Area School District in central Wisconsin that focused on safe spaces, gender identity, microaggressions, and oppression. According to one of the trainers, parents who disagree with their kids about gender identity issues are guilty of a form of "abuse." The trainers also encouraged the teachers to be activists: "to vote, to demonstrate, to protest."

Critics of the training sessions called the instruction "blatant disregard for the parents and guardians of our community's children," and they said it sends the message that schools are in control of children, not parents and families.

...

One of the slides in the training session reads, "Remember, parents are not entitled to know their kids' identities. That knowledge must be earned. Teachers are often straddling this complex situation. In ECASD, our priority is supporting the student."

One of the Groomer Instruction slides
As part of the discussion on the topic, Chris Jorgenson, director of UW Eau Claire's Gender & Sexuality Research Center, said that "teachers are often put in terrible positions caught between parents and their students. But much like we wouldn't act as stand-ins for abuse in other circumstances, we cannot let parents' rejection of their children guide teachers' reactions and actions and advocacy for our students."
The Florida Anti-Grooming Bill, the so-called "Parents Rights in Education" bill, has a section about just this form of Groomer Abuse.
But the Florida Anti-Grooming Bill specifically states that teachers, administrators, school counselors, etc., cannot hide information about a students' gender from the students' parents.
That part of the bill doesn't get talked about, because the media is also running its own hide-the-truth-from-parents-until-they've-earned-that-knowledge game.
They don't want the public to know that this is a "service" schools are providing to children behind their parents' back.
That might be why they pushed so hard to call this the "Don't Say Gay" bill -- they don't want anyone to know about this important provision forbidding Groomers from telling children to lie to their parents about their little Sex Games they play together.
Bonchie at RedState, I think, made that point. Do you know who tells children "don't tell mom and dad about our private time together"?
Pedophiles, of course. Pedophiles tell children not to tell mom and dad.
The Eau Claire Area School District is also forcing children to Confess Their Racial Sins by taking this literal White Privilege test.
Here's Page 2. Note the scoring in the bottom right corner.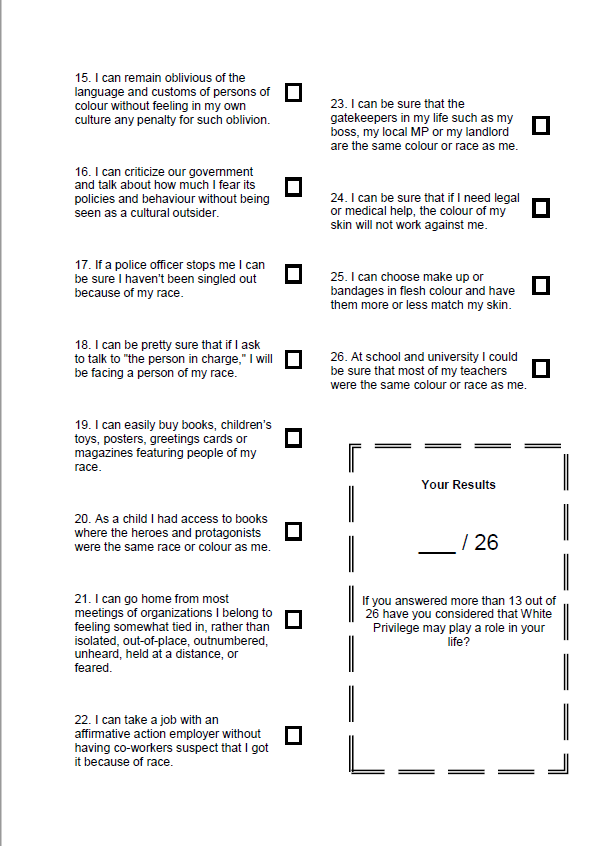 @GvL77
Replying to @America1stLegal and @iandprior

The test is flawed in structure. Takers are asked to answer "Yes vs No", but calculations are based on "if you answered more than 13 out of 26" - this makes no sense. Answered what? Yes, or no? AND answers are check boxes. I call bull shit on this whole thing.
Well, I mean: they are illiterates. We already knew that. If they could teach real academic material, they wouldn't be changing their jobs to "teach" this very easy bullshit material.
People who can, do;
People who can't, teach;
People who can't teach, teach CRT.
More Illiteracy From "Teachers:"

"Such oblivion"?
What?
You mean "obliviousness."
But you said "oblivion."
Apparently the test makers are "without feeling of any penalty in my own culture for such oblivion" about the English language. That sentence shows a very deep facility with How English Works.
You cannot speak proper English and you seem... defiantly proud of that fact.
I don't want to knock people who only recently learned English -- learning a language is hard -- but should these illiterates be teaching kids in English? And denigrating a mastery of English as just another tool of White Oppression?
Have you considered that perhaps you're not educated enough or intelligent enough to teach very basic skills to fourth graders?
And that this is why you want to turn teaching into an Easy Mode job where the only two things taught is "White Bad" and "Black/Brown Good"?

posted by Ace at
03:36 PM
|
Access Comments