« Free Hugs Cafe
|
Main
|
Daily Tech News 25 February 2022 »
February 24, 2022
The Right To Keep and Bear ONTs Shall Not Be Infringed
Hello Horde. Welcome to the Thursday night ONT. Not sure if I'll be around tonight, I was planning on traveling tomorrow (I write this on Wednesday), back to the northeast for my godson's baptism, but my DFW to BWI flight has been canceled, and I don't know what alternate arrangements will be made. I may be here. I may be in the air. I may be sitting in an airport lounge in Fargo ND drinking stale coffee and waiting for my fifth connecting flight. It's all up in the air. Hopefully I will be too. Meanwhile, let's start with Canada.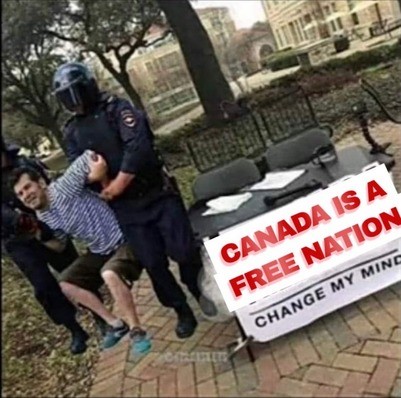 ETA: posting a little early because my plane is just taking off. If I wait I won't be able to post until 12.
Well, Not A Right, More Of A Suggestion...
The Fickle Nature of Canadian 'Rights'
I've been married to a Canadian for 20 years now, and I didn't realize all of this. I've said before that being in Canada is just like being in the US, except someone picked everything up and rotated it 15 degrees before putting it back down. Little things, like distance in kilometers and gas in liters. That British "u" still lurks unexpectedly in certain words (Fun fact: Do you know why we Yanks dropped it? Newspaper ads in the early days of the republic charged by the letter for copy, so people started dropping the u in print to save money, and it migrated into everyday grammar from there). Small stuff like that. But basically I always thought of Canada as our polite brother, pretty much the same as the US. From the article (lightly edited for brevity):
In 1982, the Canadian Parliament enacted a Charter of Rights and Freedoms. That Charter includes provisions that purport to recognize and protect certain fundamental liberties. For example, Section 2 ("Fundamental Freedoms") protects "freedom of . . . expression, including freedom of the press and other media of communication;" "freedom of peaceful assembly;" and "freedom of association." ...Because the Canadian Charter of Rights and Freedoms includes those and other seemingly rights-protective provisions, many Canadians believed they were protected against actions by the prime minister in violation of their rights. Unfortunately for our freedom-loving friends and neighbors to the North, the reality is to the contrary, and that is, in part, due to the fact that Canadians' rights exist by Act of Parliament, not from a written Constitution in which rights are deemed pre-political and unalienable.

In the very first section of Canada's Charter of Rights and Freedoms, Parliament reserves to itself the power to impose "such reasonable limits prescribed by law as can be demonstrably justified in a free and democratic society." In other words, the Canadian Parliament can enact measures that deprive Canadians of their rights based solely on Parliament's conception of what deprivations are reasonable. To underscore that point, the Charter includes Section 33(1), which grants the power to deprive rights not only to Parliament but also to the legislatures of each Canadian province: "Parliament or the legislature of a province may expressly declare in an Act of Parliament or the legislature . . . that the Act or a provision thereof shall operate notwithstanding a provision included in Section 2 [Fundamental Freedoms] or Sections 7 to 15 of this Charter."

The rights of Canadians are, thus, insecure, capable of being deprived whenever the state, acting through the legislature of a province or the Parliament thinks it appropriate... At root, the Canadian legal scheme has always proceeded on a faulty premise: that rights are not pre-political (do not come from God) but are bestowed by (and thus removable at the whim of) Parliament. What the state giveth, the state may taketh away, as Canadian truckers now know all too well. By contrast, the American polity is based on an opposite presumption which, when honored, proves formidable. Our Declaration of Independence in its second paragraph and our Constitution operate on the foundation that each American is endowed with rights from God at birth. Neither the President nor the Congress may unilaterally take those rights away. They are unalienable.


That's a pretty big difference. The fact that I (and I'll bet most of the Horde), intuitively and innately understand exactly what that means is probably a big, big part of why most of us lean right. I would be willing to bet that almost no progressives understand the difference, or if they do, view it as a bug not a feature.
Related: A Social Credit System Arrives in Canada
R.I.P.
The Amazing Johnathan, Celebrated Comic-Magician and Las Vegas Stalwart, Dead at 63
I caught his show in Vegas years ago, and he was a funny, funny guy. Harry Anderson was probably a better comedic-magician, but The Amazing Johnathan was up there, and his show had a much more earthy tone to it. Basically the difference between a crab cake and a crab feast. Both are great, but sometimes you just want to pour a beer, put your elbows up on the paper-covered table, grab a mallet, and start swinging away. Rest In Peace.

On Nukes
Why Ukraine gave up its nuclear weapons — and what that means in an invasion by Russia

It's NPR, but it's pretty much just an outline of the facts.
But they were told at the time that the United States and Western powers — so certainly at least the United States and Great Britain — take their political commitments really seriously. This is a document signed at the highest level by the heads of state. So the implication was Ukraine would not be left to stand alone and face a threat should it come under one.

...
So they had this faith that the West would stand by them, or certainly the United States, the signatories, and Great Britain, would stand up for Ukraine should it come under threat. Although, the precise way was not really proscribed in the memorandum.


The article notes than when the West tried to hold talks with Russia under the provisions of the Budapest Memorandum in 2014, Russia refused to attend, stating that the current government in Kiev was different than the one that signed the document. That's not a real solid argument legally, but flip it around: Is the US and the West the same as they were 30 years ago? I don't think anyone could argue that they are. Our 20 year sojourn in the sandbox, coupled with the Obama and now Biden regime's disastrous foreign policy abroad and the cancer of wokism at home have taken their toll. 2022 USA is not the same place that 1990s USA was. Would Ukraine sign a similar agreement today? I doubt it. (Please note, I am not saying we should intervene in Ukraine. I think it would end poorly. I'm looking at the larger geo-political issues). The fact that it has come to the point that Russia is confident in acting this way is whole a result of the Biden regime's insanity. It's complicated, but the basic issue is very, very simple: When oil is cheap, Russia is weak. The higher the price per barrel, the stronger Russia gets. Biden dropping the Nord Stream 2 sanctions and gutting domestic oil production has strengthened and emboldened Russia, and that's not going to change.
What does that mean WRT nukes? Well, from my perspective, Nuclear Non-Proliferation is now dead. If you're a smaller country, you'd be insane not to have nukes. Iran, Taiwan, South Korea, Japan, maybe Poland and a few other Eastern European countries, Ukraine if they survive, Canada if their relations with the US go completely pear shaped....they'll all be nuclear within a decade. And frankly I'm not too worried about them (absent Iran). MAD, as crazy as it may seem on the surface, works. I guarantee you that a non-nuclear world would have fought WWIII by 1970 at the latest, and on a scale that would have dwarfed WWII the way WWII dwarfed WWI. The danger isn't in that. The danger is, with so many more nukes in so many more places, some of them will get into the hands of groups for whom MAD doesn't apply. And so Joe Biden's foreign policy legacy will come to it's final fruition in the nuclear annihilation of a city somewhere as an innocent looking truck suddenly does its impression of the heart of the sun. Thanks Brandon.
Musical Interlude

On Washington
Tuesday was George Washington's birthday, I hope y'all found a moment to celebrate this great man. Here are some facts about Washington that you may not have known.
On a more serious note, The Letter That Will Change How You Think About George Washington
It didn't change how I think about Washington, but it does underscore how profoundly he, and the other Founding Fathers, believed in the human rights that they protected so forcefully in the Constitution. And with that we've come full circle, and I bid y'all a fond adieu.

Tonight's ONT has been brought to you by The British: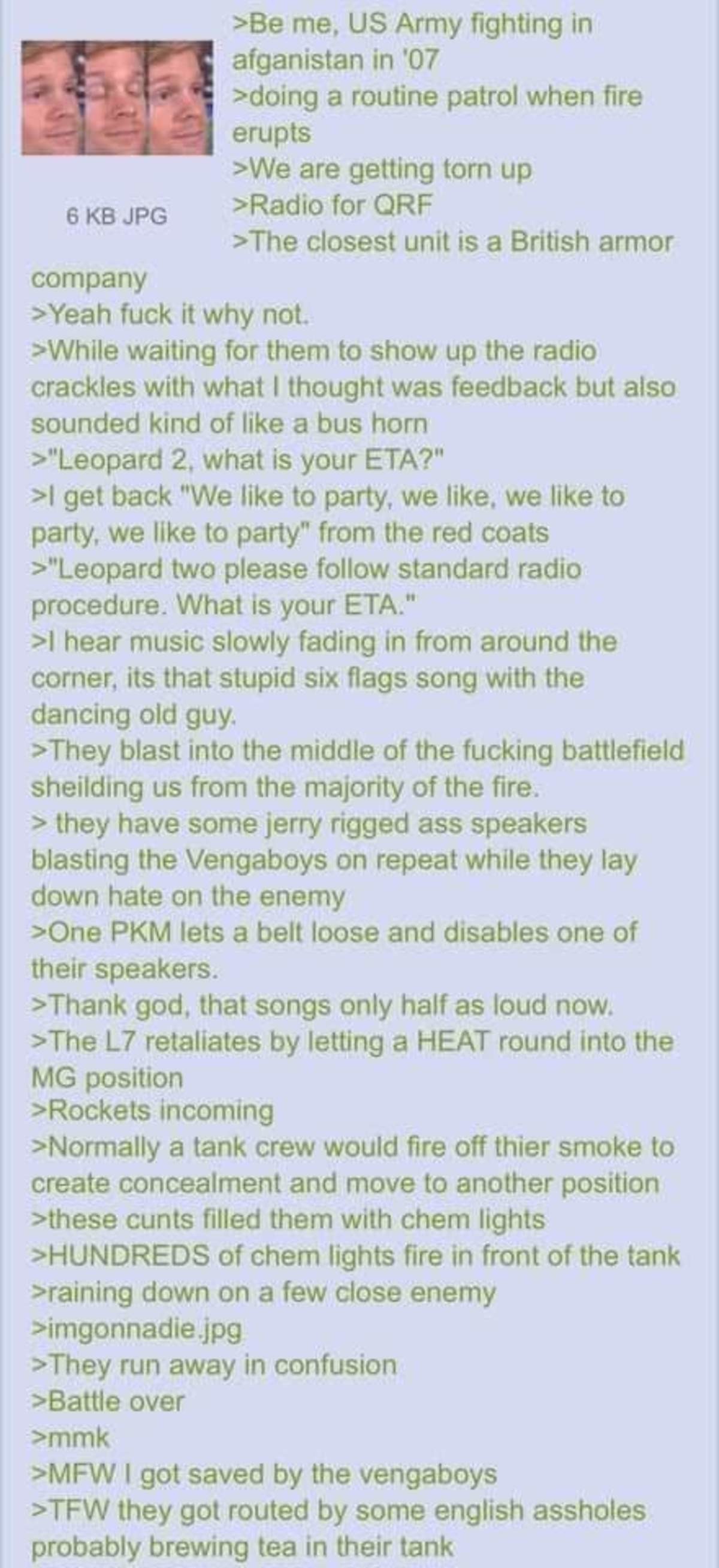 If this ain't true, it should be.

posted by WeirdDave at
09:25 PM
|
Access Comments