« Mid-Morning Art Thread
|
Main
|
The CDC To Relax Masking Rules -- Just Before Brandon's State of the Union »
February 25, 2022
The Morning Rant: Beto Attempts The "Trust Me I'm Lying" Strategy Regarding Guns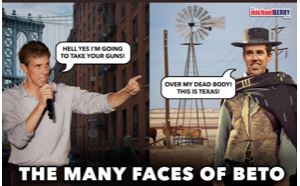 Robert ("Beto") O'Rourke is running for office again. With the national media cooing and swooning over him, he lost the 2018 Texas Senate race to Republican Ted Cruz. Having become a national media darling, he then ran and lost in the 2020 Democrat presidential primaries.
Beto's next loss will be in his run for Texas governor in 2022. (Attention blue-state Democrats: I'm just joking. Beto really, REALLY can win this time. Send him lots of money that you might otherwise send to other Democrats.)
The reason this just became interesting is that Beto is attempting the "Trust me, I'm lying" strategy when it comes to guns, now telling gun owners that he will defend the 2nd Amendment. Beto doesn't have a chance of actually convincing gun-owners that he is pro-gun, of course, but how will gentry liberals react?
If you recall, at one of the 2020 Presidential debates, Beto advocated mandatory gun buybacks, stating "Hell yes, we are going to take your AR-15, your AK-47."
But earlier this month, in Tyler, Texas, Beto tried to convince the gun-loving voters of East Texas that he is just the good ol' boy they'll need to protect their sacred gun rights. "I'm not interested in taking anything from anyone. What I want to make sure that we do is defend the Second Amendment."
This is where it gets fun. A few years ago, I had the pleasure of watching up close as a "moderate" southern Democrat self-immolated when he attempted the "Trust me I'm lying" strategy.

In the 2018 Tennessee Senate race to replace Bob Corker, the Democrats ran Phil Bredesen, a former Governor, who was expected to appeal to moderate and suburban Republicans against Marsha Blackburn, an unapologetic Trump supporter.
Polls were mixed, and the local media was euphoric about Bredesen flipping the Tennessee Senate seat from red to blue.
Then the Kavanaugh Supreme Court nomination happened, and it just kept dragging on, getting uglier and ever more preposterous. Throughout it all, Bredesen kept trying to straddle the top political issue of the day. He kept refusing to say how he'd vote on the Kavanaugh nomination, indicating to both sides that he was inclined - but not yet committed - to vote their way. Meanwhile, Blackburn was quite emphatic about her support for Kav, and the polls started breaking toward Blackburn. Bredesen could no longer wait until after the vote to declare his stand.
So he attempted the "Trust me I'm lying" strategy, stating that he would vote for Kavanaugh.
Bredesen's Kavanaugh gamble: Better never than late?
Oct 5, 2018: After months of avoiding answering whether he would vote to confirm Supreme Court nominee Brett Kavanaugh, Democratic U.S. Senate nominee Phil Bredesen bucked his party Friday, saying in a statement he supports the judge's confirmation moments before a key vote in the upper chamber began.
Unfortunately for him, it played out exactly the opposite of how "trust me I'm lying" is supposed to work. Everyone knew he was lying, except for the left-wing activists who form the base of the Democrat party. They took Bredesen at face value. And they revolted against him.
Volunteers bolt Bredesen over Kavanaugh support (Politico 10/11/2018)
Bredesen's campaign collapsed, and Blackburn crushed him 55% - 44% on election day.
How will the sustainable, organic gun-grabbers in Austin and Dallas respond to Beto's newfound love for the 2nd Amendment? Will they smile and knowingly nod in approval at his clumsy deception? Or will they revolt because he dared to say something so impure, even if he was plainly insincere?
We'll find out soon. It sure would be nice to see a couple of billboards pop up in places like Central Austin, thanking Beto for bravely disowning the radical left, and standing up instead for AK-47 owners.
(buck.throckmorton at protonmail dot com)


posted by Buck Throckmorton at
11:00 AM
|
Access Comments