« Daily Tech News 18 February 2022
|
Main
|
Mid-Morning Art Thread »
February 18, 2022
The Morning Report - 2/18/22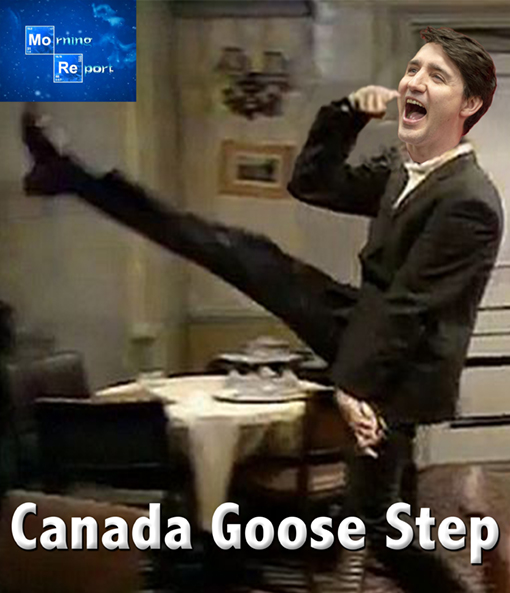 Good morning, kids. The weekend is here and sometimes you see something brilliant and you just have to give recognition. Among comedians, writers and other cultural critics, Henny Youngman's now iconic one-liner "Take my wife. Please!" is considered the greatest joke of all time. Some even consider it as a brilliant example of the perfect short story or even novel, all told in a mere four words. So with that preamble, I give you a gem from Fox Business' Dagen McDowell. During a broadcast of "The Five," Juan Epstein impersonator/plagiarist Geraldo Rivera declared the Canadian trucker Freedom Convoy an "act of war." McDowell immediately fired back "To call closing some lanes on a bridge an act of war is the height of idiocy."
And there it is, ladies and gentlemen. Whether McDowell realizes it or not, she just authored the complete, unabridged biography of Geraldo Rivera's entire 50-plus-year career in broadcasting in just four words:
"The height of idiocy."
Envious as hell at Dagen. I've been writing professionally for nearly 40 years and if I had two full lifetimes to try, I could never come up with something so perfectly Henny Youngman-esque as that gem.
It is idiocy, as well as raw naked hypocrisy since it is now axiomatic that anything the left rails against or accuses its enemies of doing, plotting or being is exactly what they themselves are doing, plotting or being. By orders of magnitude. And once again, they force us to slide down that slippery slope of Godwin's Law with the invocation of a certain Viennese housepainter.
Everyone Leftists don't like is a Nazi, and it has become a hallmark of lazy political discourse to accuse someone of being just like Hitler. But that doesn't mean that no one in the modern world has any ideological or practical resemblance to the Führer. When he invoked Canada's Emergencies Act on Feb. 14, Justin Trudeau invited comparisons to March 23, 1933, when Hitler administered the coup de grace to democracy in Germany with the Enabling Act, which gave him dictatorial powers. There are similarities (and differences), and they're enlightening. . .

. . . In his address, Trudeau made an important promise: "the scope of these measures will be time-limited, geographically targeted, as well as reasonable and proportionate to the threats they are meant to address."

Adolf Hitler said many similar things in arguing that he needed dictatorial powers. On Feb. 27, 1933, just four weeks after Hitler became Chancellor, the Reichstag, the German parliament building in Berlin, caught fire. The culprit was a Dutch Communist, Marinus van der Lubbe, who apparently had acted alone, although many charged that the whole thing was a Nazi false flag to enable them to institute a dictatorship. Hitler, however, insisted that the Communist Party, which was a considerable force within the Reichstag, had set the fire, and pressed German President Paul von Hindenburg to approve of an emergency law suspending civil liberties. Communist leaders, including the Communist members of the Reichstag, were hunted down and arrested. . .

. . . The Enabling Act allowed Hitler to enact laws without Reichstag approval and with the same dispatch that Trudeau once admired about Communist China: "Laws enacted by the Reich government shall be issued by the Chancellor and announced in the Reich Gazette. They shall take effect on the day following the announcement, unless they prescribe a different date."

Like Canada's Emergencies Act, all this was supposed to be only temporary; the Enabling Act was set to expire on April 1, 1937. Once Hitler had consolidated his power and destroyed all the opposition parties, however, there was no question that the Enabling Act would continue: it was renewed by Hitler's rubber-stamp National Socialist Reichstag in 1937 and 1939, and by decree in 1941 and 1943, the latter time without a time limit. . .

. . . It would be facile and unfair to say that Hitler's Enabling Act and Trudeau's Emergencies Act are one and the same. Despite the soundness of Bill Maher's observation, Trudeau is not Hitler and is not likely to become a bloodthirsty despot. However, the Enabling Act shows the pitfalls of what Trudeau has now done in Canada, and how easily an Act that allows a government to bypass ordinary procedures designed to protect the rights of citizens can be abused.

Both Freeland and Hitler promised ruthless action against those whom they cast as enemies of the people. No one expects Canada to act as ruthlessly as National Socialist Germany did, but there is no doubt that Trudeau and Freeland have embarked upon an extremely dangerous road, and one that lends itself, as the history of Nazi Germany proves conclusively, to all manner of human rights abuses. Once one's political opponents have been blamed for all the ills the nation is suffering, and one is freed from the need to obtain court orders or respect due process, what remains to restrain the unscrupulous?

The Enabling Act and the Emergencies Act both streamline their governments by freeing them from having to deal with such legal niceties. But whether or not Justin Trudeau ever really abuses such powers, someone could, and there would be nothing in place to restrain him. This is how republics die.
Yet again, the estimable Robert Spencer nails it. Look what they're doing in Canada, which is what they're doing here for reasons beyond even our sickness from the General Tso's Sickness government sanctioned fear propaganda campaign. Private citizens are demonized as Nazis, terrorists and insurrectionists. They're arrested and detained on trumped up charges and held indefinitely (J-6). They're subject to kangaroo courts (everyone from Trump to Derek Chauvin). And now their livelihoods and even lives are threatened by social media mobs, employers, even family members, government terror brigades (BLM, Antifa) and the government itself with seizures of assets and frozen bank accounts (GoFundMe, etc.).
If it walks like a duck and quacks like a duck, odds are it is a duck. A duck that is goose-stepping. But all that said, perhaps we are at an inflection point. The Freedom Convoy and indeed parents speaking out at school board meetings for example, is something that cannot be shut down or contained. Not legally anyway. The only way to do that is if the powers that be move to naked aggression. I mentioned the school boards and the direct orders from the Biden junta itself to silence these citizens by tarring them as "terrorists." Some people have poo-poo'd the recall of the three Maoists on that San Francisco board but it is a sign. No, it's not just the cynical response that libs are afraid of the spotlight of open Marxism. I think there is a vast SILENCED majority that did not sign up for this insanity, be they liberal, conservative or what have you.
We are at an inflection point. Biden and his party are sundowning at the polls, even amongst that one dude who cast the bulk of those 80 million votes. Our own alleged politicians in the GOP are either silent or in cahoots with the overthrow and so we now have no option but open resistance. For now, and let us hope and pray it stays this way, it's non-violent. I think if God forbid violence does erupt, a) it will most likely be a false-flag operation and b) it will be the pretext for a total Castreau-cescu crackdown up there and down here, and everywhere in the once so-called free world.
This is the big one, folks. Have a good weekend.
The End of America: 100 Days That Shook the World available here.



ABOVE THE FOLD, BREAKING, NOTEWORTHY
JUSTIN CASTREAU-CESCU CANADIAN MEXICAN STANDOFF
NOTE: The opinions expressed in the links may or may not reflect my own. I include them because of their relevance to the discussion of a particular issue.
ALSO: The Morning Report is cross-posted at CutJibNewsletter.com if you want to continue the conversation all day.
Follow us on Twitter: @CutJibNews
Follow us on Instagram: @Cutjibnewsletter

posted by J.J. Sefton at
07:38 AM
|
Access Comments