« Latest CNN Leak: Zucker and Gollust Let Andrew Cuomo Choose What Questions He'd Be Asked When Interviewed by CNN
|
Main
|
To Catch a Predator: FaceBook "Community Development" Edition »
February 21, 2022
Surprise! Clinton's Attorney Marc Elias Takes Over BLM
How serendipitous that Hillary Clinton has reached a fat, bloated tentacle into BLM and incorporated it into the octopoidal parasite that is Clinton, Inc.!
Who could have foreseen this coming?
Before getting to the new story, let's flash back to that the Time Magazine story, with the left bragging about how they "fortified the election."
Not "rigged" -- that's conspiracy theory talk that will get you deplatformed.
Just "fortified" the election -- fortified, to ensure the Democrats would win, whether they wink wink, won or not.
There was a conspiracy unfolding behind the scenes, one that both curtailed the protests and coordinated the resistance from CEOs. Both surprises were the result of an informal alliance between left-wing activists and business titans. The pact was formalized in a terse, little-noticed joint statement of the U.S. Chamber of Commerce and AFL-CIO published on Election Day. Both sides would come to see it as a sort of implicit bargain--inspired by the summer's massive, sometimes destructive racial-justice protests--in which the forces of labor came together with the forces of capital to keep the peace and oppose Trump's assault on democracy.
So the Democrat Party, which claims to be separate from BLM and antifa, can strike deals with them to tamp down on the violence and rioting the two months before the election so that they don't hurt the Democrats' chances?
And they never bothered to do that during the Summer of Riots, huh? But only before the election?
...

Their work touched every aspect of the election. They got states to change voting systems and laws and helped secure hundreds of millions in public and private funding. They fended off voter-suppression lawsuits, recruited armies of poll workers and got millions of people to vote by mail for the first time. They successfully pressured social media companies to take a harder line against disinformation and used data-driven strategies to fight viral smears. They executed national public-awareness campaigns that helped Americans understand how the vote count would unfold over days or weeks, preventing Trump's conspiracy theories and false claims of victory from getting more traction.
And preconditioning the public to not think anything was amiss when six key cities decided to shut down for a few hours at 4am on election night. And then suddenly had a boatload more Democrat votes when they re-opened.
After Election Day, they monitored every pressure point to ensure that Trump could not overturn the result.
Among those pressure points? They again got BLM and antifa to "stand down," so as not to upset the public.
So the word went out: stand down.
Again, while the Democrat Party claims to not have anything to do with BLM and antifa -- besides donating to them and bailing their criminal thugs out of jail, of course -- it seems that they can ask BLM and antifa to dial down the arson and murders to an acceptable level, as long as it benefits the Democrat Party at the ballot box.
One might also wonder if they can ask BLM and antifa to increase the violence and mayhem, say, during the summer of 2020, to help push a narrative of "America is in chaos, and only Joe Biden can work out a deal with the blacks (who love him so much) to end the endless rioting."
That's why the participants want the secret history of the 2020 election told, even though it sounds like a paranoid fever dream--a well-funded cabal of powerful people, ranging across industries and ideologies, working together behind the scenes to influence perceptions, change rules and laws, steer media coverage and control the flow of information. They were not rigging the election; they were fortifying it. And they believe the public needs to understand the system's fragility in order to ensure that democracy in America endures.

That background established -- that the Democrat Party and BLM have in fact been strategizing together and coordinating what level of arson, looting, and murder will be most beneficial for the Democrat Party for quite some time -- we now find out that Hillary Clinton's chief fixer and RussiaGate cut-out Marc Elias is now in control of Black Lives Matter.
Enough of the "informal control," I guess. Cut out the middleman and just assert control out in the open. Everyone knows anyway, right? Why hide it?
Black Lives Matter filings reveal prominent Democratic lawyer Marc Elias and another longtime ally of former Secretary of State Hillary Clinton have taken on key roles in the charity amid scrutiny over its leadership and finances.

Elias, best known for his funding of British ex-spy Christopher Steele's discredited anti-Trump dossier while he served as Clinton's 2016 campaign general counsel, appears to be representing the Black Lives Matter Global Network Foundation through his recently formed Elias Law Group. BLM's national organization repeatedly lists the Elias firm as one of its addresses and states in its short-year 2020 Form 990 that its books were now in the care of the Elias Law Group.

Additionally, Minyon Moore, a longtime top ally of both Bill and Hillary Clinton, is now listed as part of BLM's board of directors in the charity's filings.

It's not clear when BLM's relationships with Elias Law Group and Moore began.
Is it not?
I just told you, above.
Black Lives Matter filed a charitable organization registration statement earlier this month with the New Mexico attorney general's office, listing addresses for BLM in Arizona and Oakland, California, but says BLM's "other address" is "c/o [courtesy of] Elias Law Group" in Washington, D.C.

BLM also filed an annual registration renewal fee report with the California attorney general this month, with the filing saying multiple times that one of its addresses was "c/o Elias Law Group." The filing also states BLM's "books are in the care of ... the organization" that is "located at ... c/o Elias Law Group."

"The latest filing's addition of partisan lawyer Marc Elias confirms the group is more political than charitable," Scott Walter, the president of the Capital Research Center, a conservative investigative nonprofit group, told the Washington Examiner. "But it also suggests that finally some left-wing heavyweights have begun to deal with the embarrassing mess made by a major activist group the institutional Left has failed to, pardon the term, police."
Marc Elias' first act was an accounting trick: He changed BLM's reporting year in order to delay having to account for the missing $60 million until the start of their new accounting year, in May.
Amazon has temporarily suspended BLM as a charity you can choose to donate to through its "Amazon Smile" program, but don't worry, that's not because BLM is a violent Marxist revolutionary group responsible for arsons and murders, it's just because their paperwork as a charity is currently a mess. As soon as Marc Elias figures out some, ahem, clever lawyering and accounting to deal with the missing $60 million, Amazon will be right back to sending BLM money to kill people and burn businesses down.
Oh, and here's leftwing journalist Lee Fang saying, "Say, that Democrat Party sure is the Party of the People, innit?"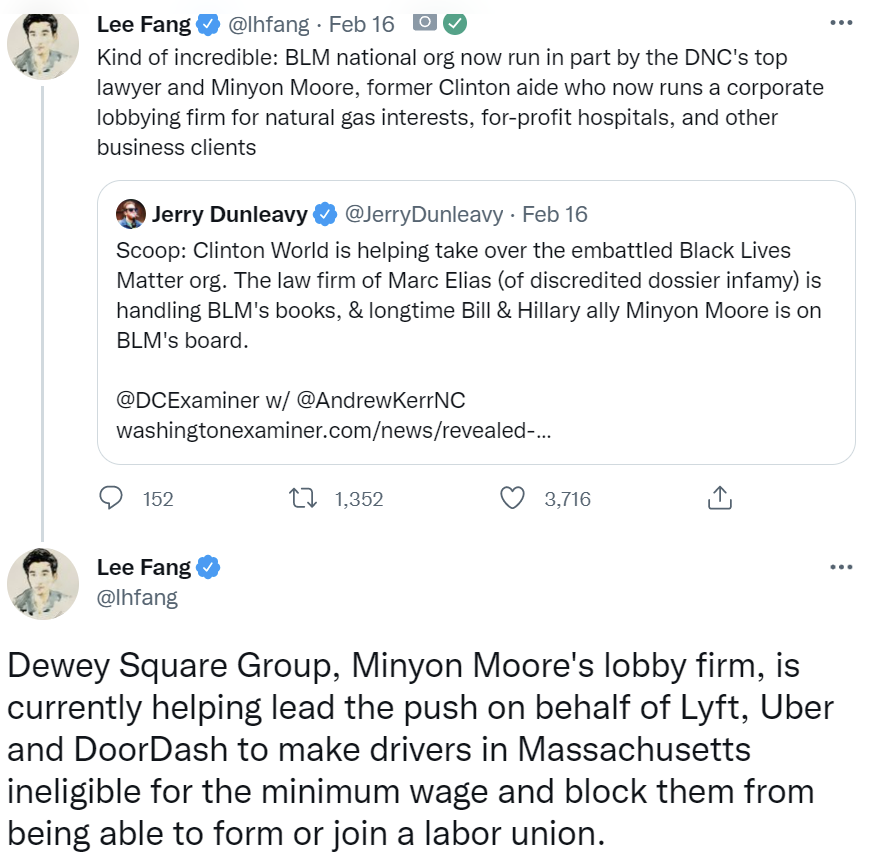 posted by Ace at
02:50 PM
|
Access Comments