« The Morning Rant: Unintentionally Hilarious News About Electric Vehicles
|
Main
|
FaceBook Loses Active Users For the First Time In History »
February 04, 2022
David French Goes All-In In Favor of Critical Race Theory
David Reaboi, Late Republic Nonsense @davereaboi

"America's elite spaces are small spaces," says David French, slamming the NFL's failure to hire black leadership as evidence of a "Good Ol' Boys" network.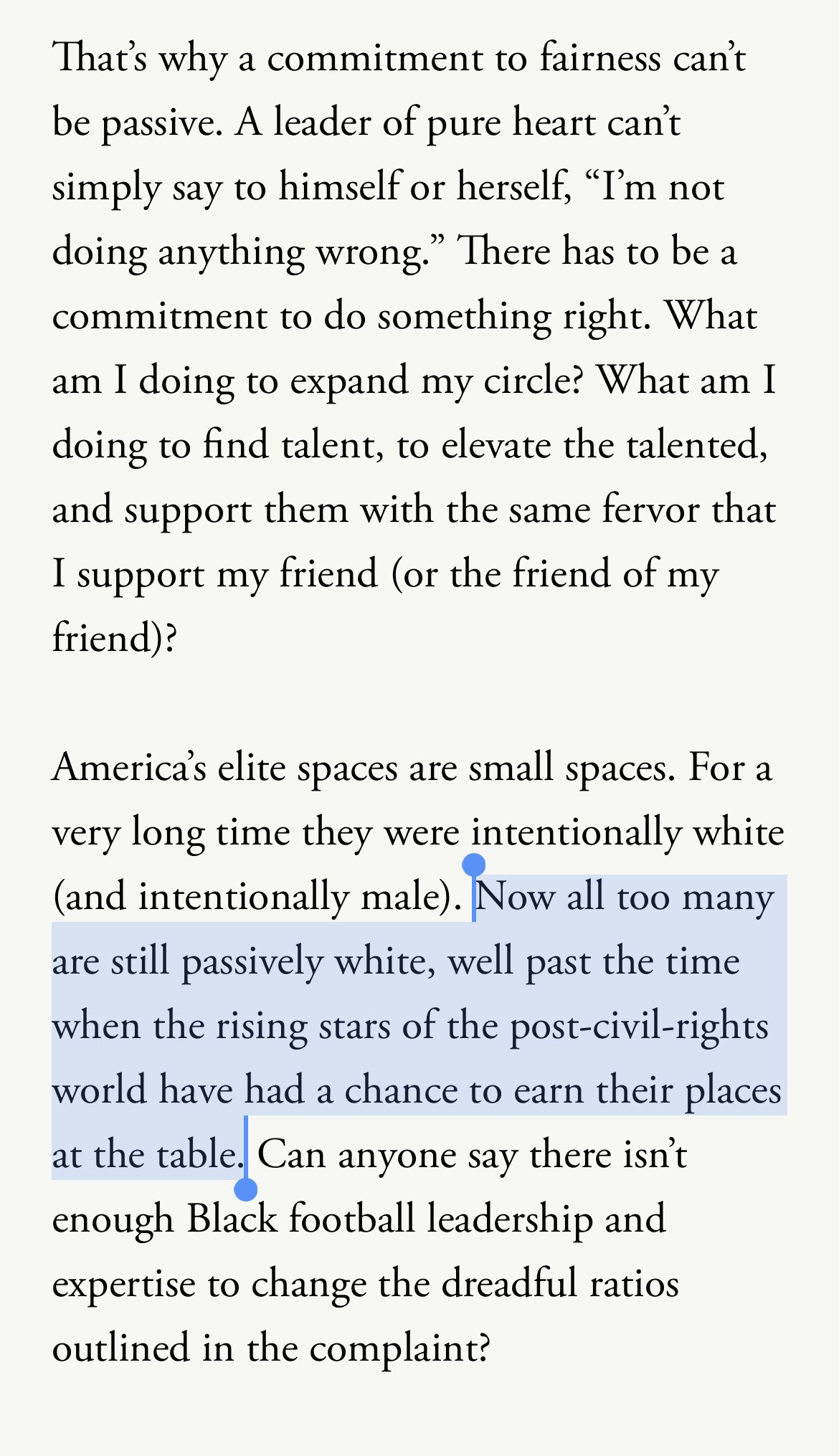 The case that French laid out for "systematic racism" is one in which no one at all is actually racist and yet Racism Is Everywhere.
This is the bedrock claim of Critical Race Theory, as Nate Hochman points out: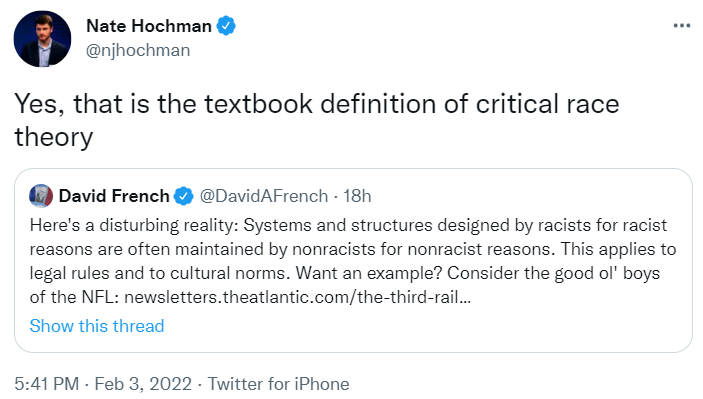 If you don't know why "systematic racism" is so central to CRT: CRT proponents want to say that racism is everywhere, and oppression is everywhere, and that victims of racism are everywhere.
(And, therefore, that reparations and privileges are owed to the victims of racism, who are everywhere.)
They often get hung up on the rebuttal, "But where is the actual racist act, here? Where is the racist? You keep saying racism is everywhere -- show me the racists committing actual, tangible racism!"
"Systematic racism" was invented as concept to answer this, in lieu of providing what the question actually seeks, which is evidence of actual racism. The "systematic racism" answer says: "Well, racism is everywhere. It's embedded into the very systems that rule us. It's in the air we breathe and the water we drink. I can't show you all the racism because it permeates us and fills us and. The fish can't see the water he's in, you know."
In other words, you asked for evidence that "racism is everywhere" that you can actually see, and their evidence was "Racism is everywhere, that's why you can't see it."
The claim is that racism is so embedded into our society that racism is now essentially a sentient force, a self-executing program, and so doesn't need any actual living racists to implement it.
So they don't have to point out actual racists to make demands for racial reparations and racial privileges.
Oh, and despite the fact that they're claiming Racism Without Actual Racists, the moment they no longer need this filler claim for their argument, they will just go back to accusing you and everyone you know of racism. (They just don't want to have to prove that, you see.)

David French is now spackling his own arguments with that very convenient CRT rhetorical wall-putty.
This isn't so surprising; he's been arguing in favor of children being indoctrinated into CRT for as long as actual conservatives have been arguing against it. Or, rather: He's been arguing against conservatives arguing against CRT.
And his embrace of CRT, "as a conservative," gets him the accolades from the left he craves -- Nikole-Hannah Jones, who for some reason, calls herself Ida-Bae Wells on Twitter, is one of the biggest proponents of indoctrinating children in CRT in public schools. She created the "1619 Project" race hoax -- which claims that the American Revolution was fought principally to protect slavery, I guess from efforts by the British to squelch it -- which she fought to be taught to children in schools, and now is being taught in schools all over the country.
Despite being a racist hoax, and despite being lambasted as Alt-History by historians.
Anyway, apostle of CRT Nikole-Hannah Jones recognized a Fellow Traveler in David French and gave him the Sign: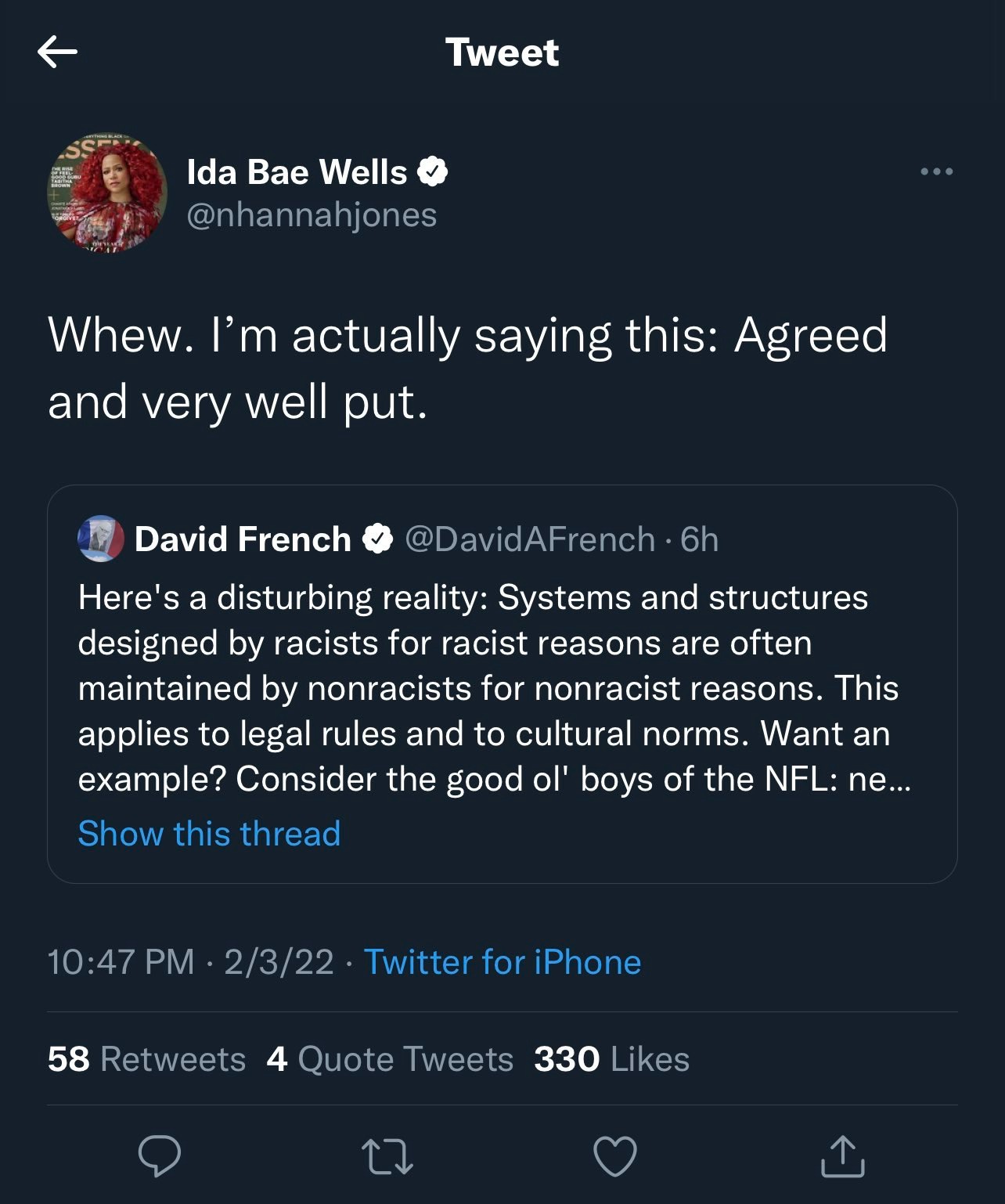 He's very conservative, though. He's a leading light of the conservative movement and I can totally understand why the Very Conservative National Review magazine kept him on for so very long, even while their readers and donors were in open revolt about it.
But let's get to the punchline.
David French says that the lack of NFL executives is proof of structural racism in the NFL. Even if no one intended to be racism -- the outcome of no black executives means that Racism is Embedded in the "old boys' network" of the NFL.
Okay.
Back to David Reaboi::
Meanwhile, at his site, @thedispatch, can you spot even a *tanned* face, much less a black one?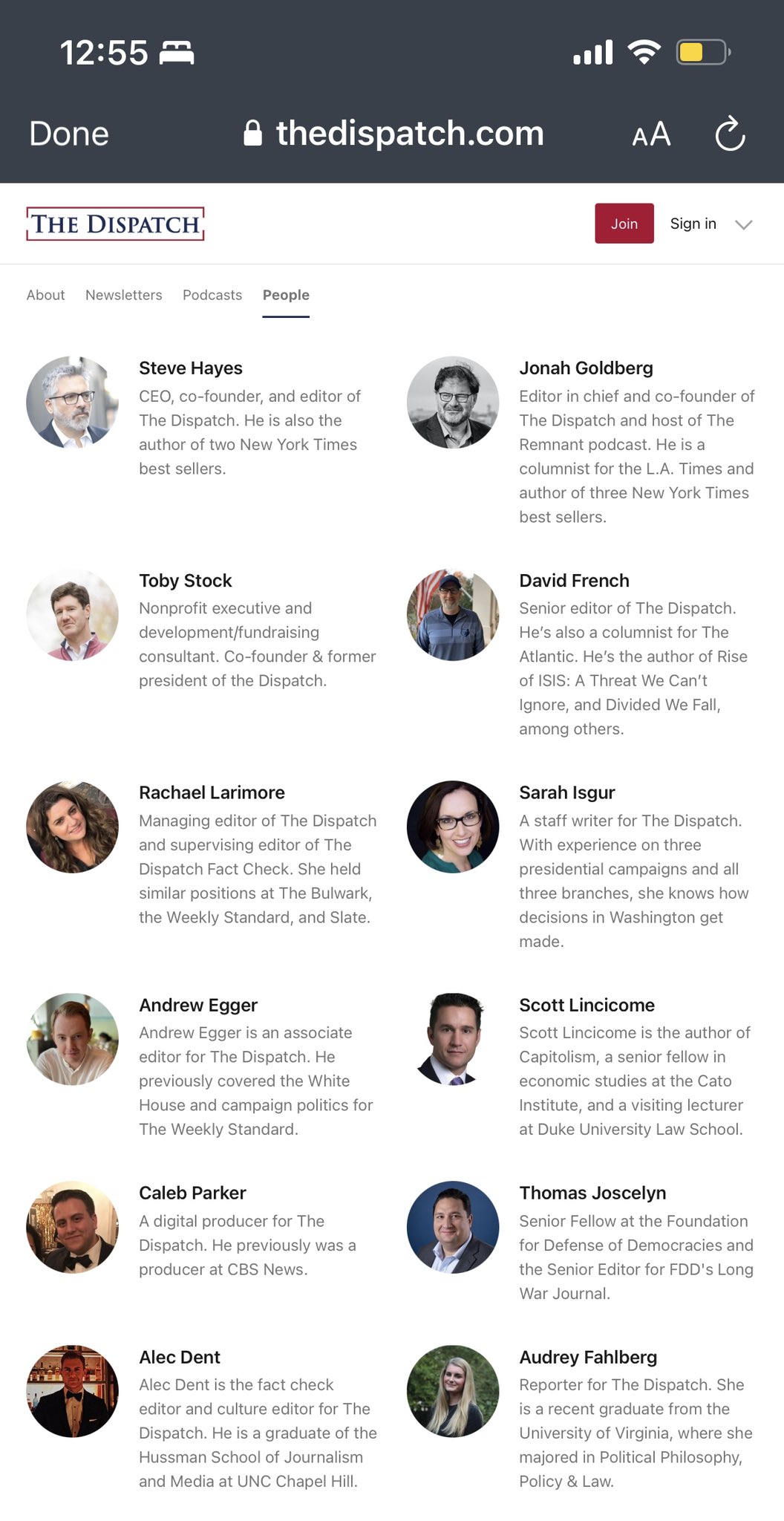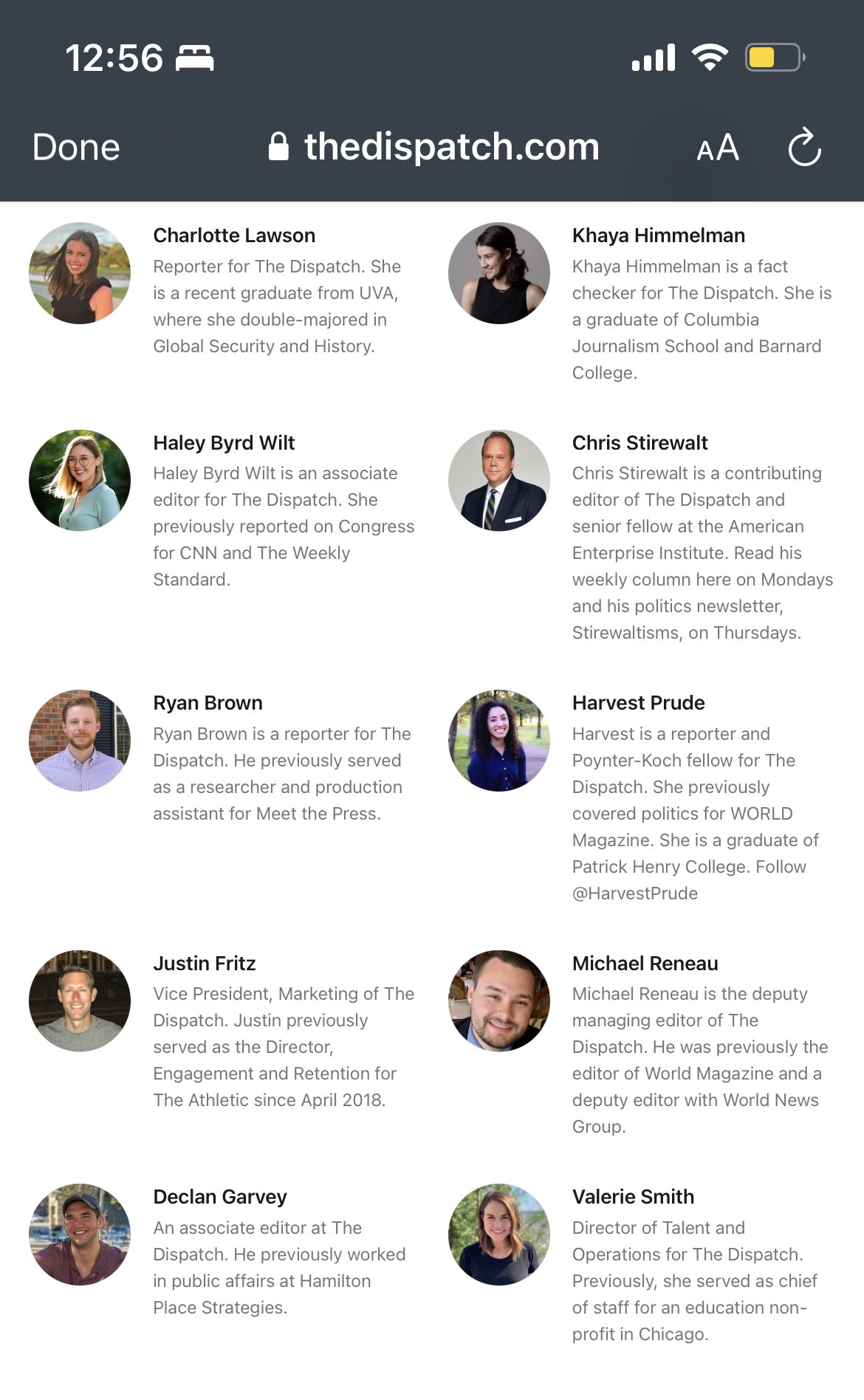 Christopher F. Rufo @realchrisrufo

By David's own logic, The Dispatch is systemically racist.
David French is one of the worst, most disgraceful people in the world, and he never stops shouting that he is the world's Best.
I think those two things may be connected.
I think he's actually something close to a psychopath.

Thou hypocrite, first cast out the beam out of thine own eye; and then shalt thou see clearly to cast out the mote out of thy brother's eye.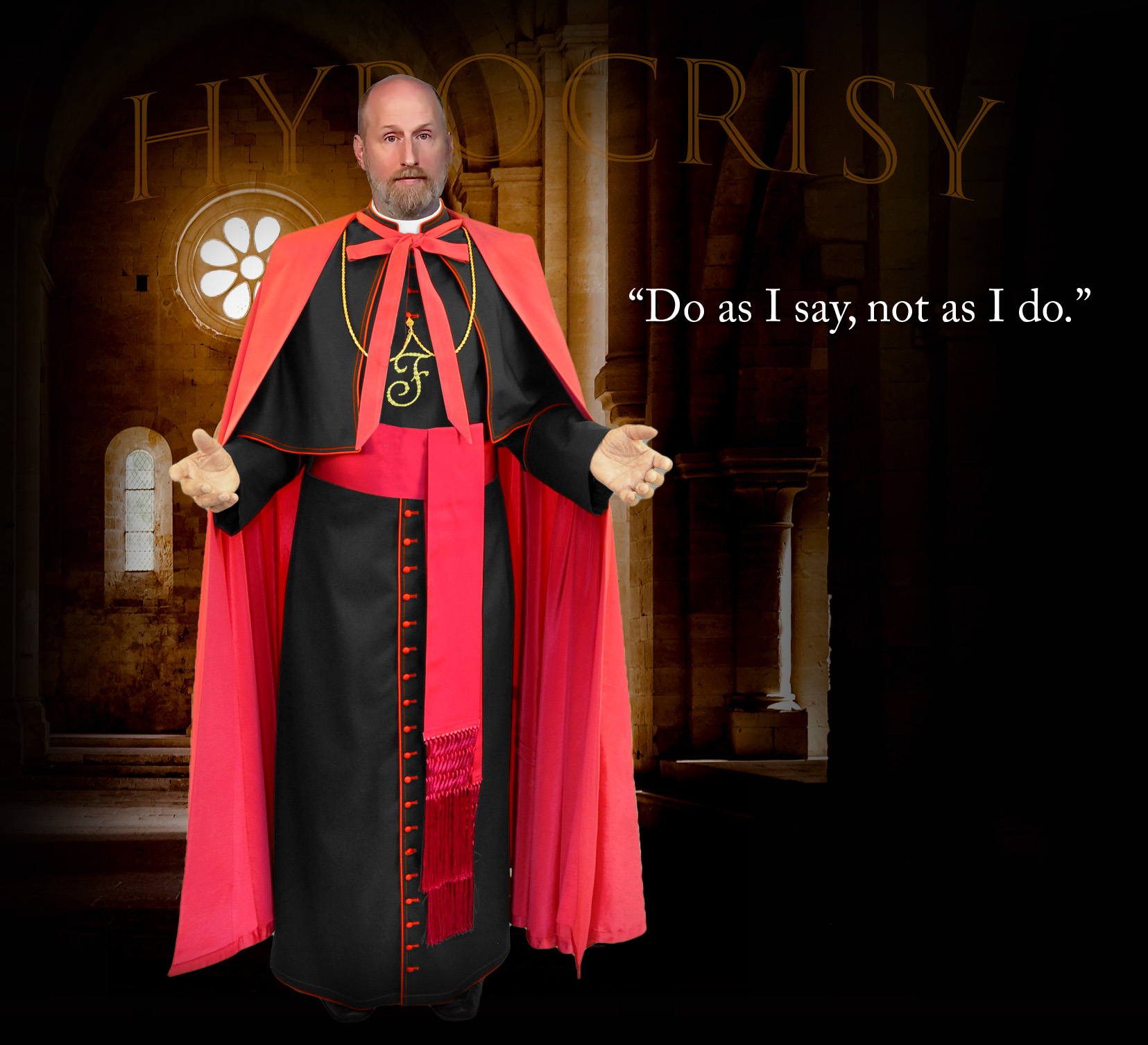 I would not piss down his throat if his heart was on fire.
And just one more darned thing:
I mentioned French wasn't arguing in favor of indoctrinating children into the CRT cult -- just arguing against Christopher Rufo who was in turn arguing against indoctrinating children into CRT.
This is a very sneaky bit of Conservative, Inc. deception -- they're often too cowardly to come right out and join with their allies the left, so they instead nitpick those on the right who are fighting the left for the manner in which they are fighting the left.
While claiming all the while that they totally, totally support the right's position.
But conscience compels them to object to the right's lack of style and elegance in fighting the left.
Kyle Shideler identifies this "classic" Conservative, Inc. base-deceiving maneuver -- claiming that they're totally, totally against this Bad Thing the left is doing, but my stars and garters, they're even more against this dreadful tactic the right is using to stop the left. Or this dreadful person of the right who's doing the stopping. They'd really, really would love -- love love love -- to stop the left, you see, but maybe later, when they have a perfect, pristine tactic, and it's being utilized by perfect, pristine people.
Until then, darnit!, I guess we'll just have to along with leftist policy. Aw shucks! (kicks rocks)
And it just happens to involve David French's old (old, old) National Review colleague Mona Charen, who just happens to be attacking Christopher Rufo -- who the liberal neocons despise because he's a real conservative mounting an effective fight against CRT.
And they support CRT.
But they won't say so.
So here's Mona Charen, here, in the Bulwark, telling the Bulwark's readers that of course she opposes CRT, but until CRT has a better opponent than this dastard Christopher Rufo, we just can't in good conscience oppose it. We'll have to wait for a better champion to come along.
PS please send us money so we can continue Fighting For You.
Do you guys recognize this tactic?
Seriously, how many times have you read this same "It fills me with great regret that I will not be able to oppose the Left at this time, due to my strenuous moral objections to this particular tactic or this particular messenger" excuse?
I've read it dozens of times.
Like a wife who just doesn't want to have sex, for the neocons, there's just always a reason why they're just not in the mood to oppose a leftist policy tonight, dear.
Are you glad that you no longer have to put up with it?
>38 Right, NeverTrump was totally, 1000% in favor of the conservative policies advocated by Trump. They really were. It's just that Trump was so boorish, crude and vulgar-- they just couldn't support him. Posted by: Well

I don't know if that's your independent observation or you've picked that up from me, but I agree 1000%, all of the bullshit about tweets and norms was cover for the fact that they simply object -- vehemently -- to anything with even a whiff of social conservatism.
The David French Revised Standard Version of Matthew 7:5:
Thou hypocrite, first cast out the beam out of thine own eye; and then shalt thou see clearly while I cast a mote out of thine *other* eye. I don't have any motes myself; I'm just really good at casting out other peoples' motes.

Amen.
Posted by: Sophia Lauren

posted by Ace at
12:11 PM
|
Access Comments