« Don't Worry: News About Teachers and Teachers Unions Will Now Be Rated for Accuracy and Reliability By... 1.7 Million Teachers, Using NewsGuard Memberships Purchased by the Teachers Unions
|
Main
|
Banana Jackpot Cafe »
January 26, 2022
Spotify to Neil Young: We Accept Your Conditions. We Are Removing Your Shitty Music From Our Service.
Neil Young, greatly, greatly overestimating his relevance and clout, demanded that Spotify either drop Joe Rogan or drop him.
Spotify thought about this for five minutes -- four minutes and fifty six seconds were taken up trying to figure out who Neil Young was (He's not an astronaut, is he?) -- and then decided, "Uh, yeah. Okay, bye-bye then."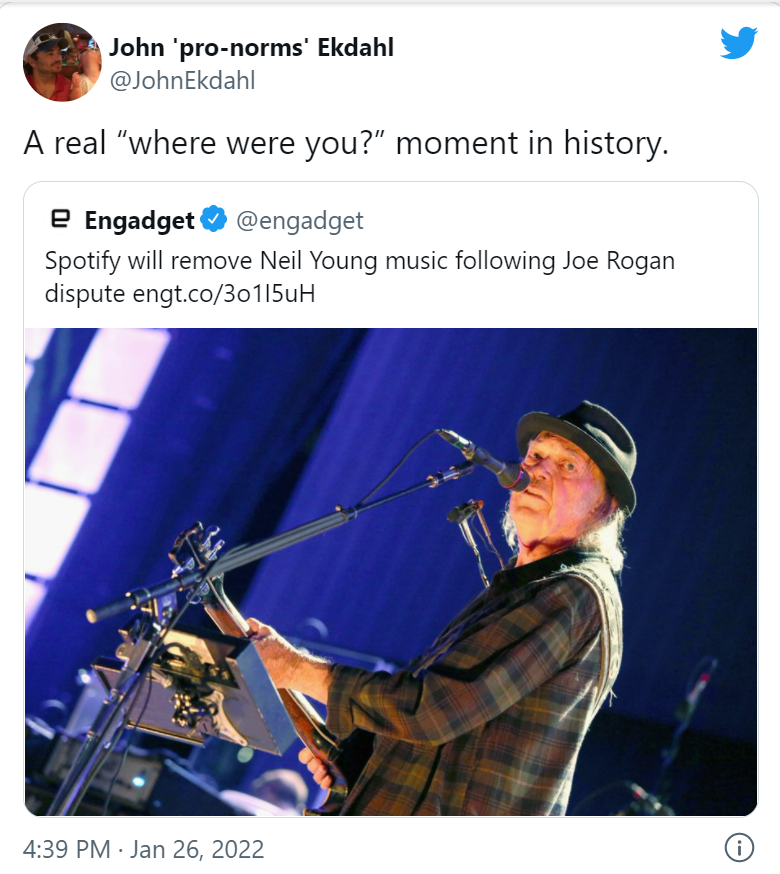 This crochety old relic goes into the remainder bin of history.
Spotify Technology SA is removing Neil Young's music, as the folk-rock star isn't wavering in his objections to Joe Rogan's podcast.

The "Heart of Gold" and "Harvest Moon" singer earlier this week penned an open letter to his manager and label asking them to remove his music from the service, saying it is spreading fake information about Covid-19 vaccines through Mr. Rogan's show. "They can have Rogan or Young. Not both," he wrote.

"We want all the world's music and audio content to be available to Spotify users. With that comes great responsibility in balancing both safety for listeners and freedom for creators," a Spotify spokesman said. The company has detailed content policies in place and has removed over 20,000 Covid-related podcast episodes since the start of the pandemic, he added.

"We regret Neil's decision to remove his music from Spotify, but hope to welcome him back soon," he said.

...

While the letter has since been removed from Mr. Young's website, he has been in discussions with his label, Warner Music WMG -0.20% Group Corp.'s Warner Records, and Spotify since then, and continued to hold his ground, according to people familiar with the matter. The formal request to remove the music was made Wednesday and could take several hours to take effect across Spotify's service across the world.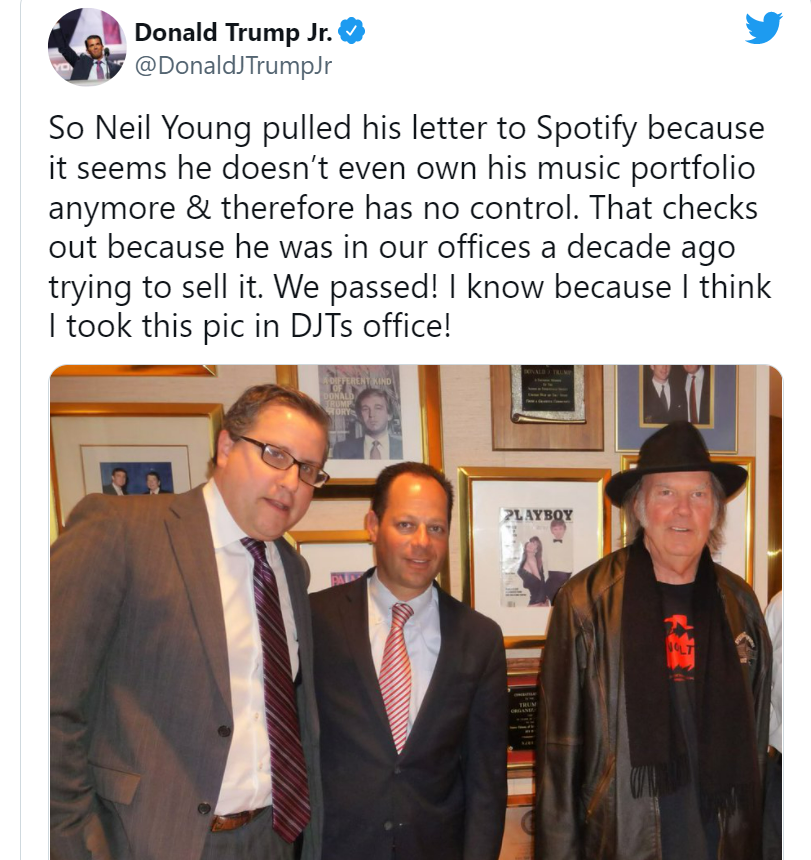 Is that true, that he no longer owns his songbook? If so, then he wouldn't have control over the licensure of his music.
Is Spotify removing his music to spare itself the headache, then? Or out of spite?
Note that that last possibility is not out of the question: they have a strong business incentive in laying down the law as far as artists making demands like this. Imagine all of these prima donna, leftwing opinion-shrieking Artistes all making demands like this. Or rappers saying "Drop my rivals' music or drop me!"
No -- best to lay down the law with a has-been like Neil Young and let the rest know, "We're not playing, we'll drop you like a bad habit."
I'd like to associate myself with the below tweet: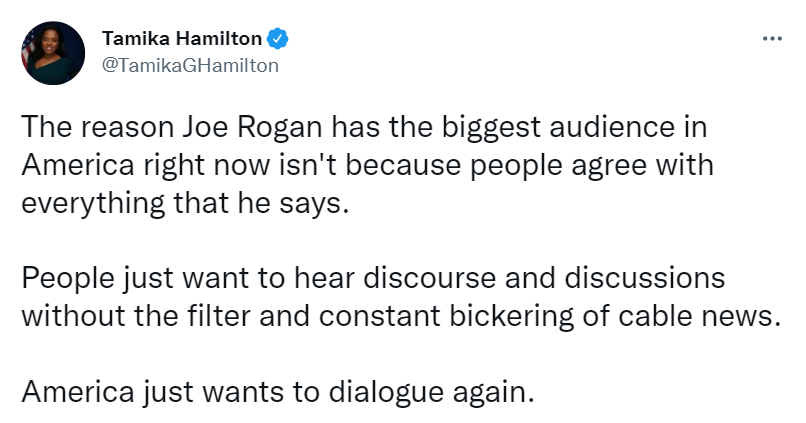 Agreed. I'm not a huge fan of Rogan. I don't listen to him much, even when he has on someone I'd like to hear from. I just don't really love his presentation or his vibe.
I don't really share a lot of his obsessions, like psychoreligious tripping on DMT.
But...
That said, I have enjoyed hearing him in the past, and what I do appreciate is his openness. No matter how flakey or absurd the topic -- UFOs, Bigfoot, seeing your past selves on an ayahuasca dream quest, cold therapy, whatever -- he's just curious, and willing to suspend judgement and disbelief (if he has any, not sure if he does!) and go along with it and ask questions about it and elicit information.
Some of that information may be interesting or useful.
Some topics I don't really care all that much about, but I'm happy to hear about them any way. For example, he talks about drugs and controlled supplements like HGH a lot. I don't take illegal drugs or HGH but I like hearing these conversations. You know why?
Because, frankly, I'm sick to death of everything being so controlled. Oh, you're not supposed to do LSD, so you, as an adult, are not allowed to hear this quack extolling the benefits of LSD, for fear you'll get Wrong Ideas.
The medical community advises against HGH except for certain narrowly defined cases so you, as an adult, are not allowed to hear about the positive uses of HGH for fear that, oh my gosh, you'll contact a Mexican pharmacy and get HGH on your own and take it without a doctor's permission.
I am now an adult very close to turning 29 and yet I get an incredibly giddy feeling about getting to feel like an adult and hear about forbidden topics, just like adults used to do, routinely.
I am sick to death of being fucking nannied to death by
IDIOTS
CRIMINALS
CHARLATANS
GRIFTERS
THIEVES
PERVERTS
MIND-CONTROLERS
AND MENTALLY-ILL TECH WEIRDOES SEEKING VENGEANCE ON NORMIES
about what it is they think, exactly, that I as a quite able-minded and rational adult am allowed to know and think about and decide for myself.
Vaccine skepticism? Oh horrors, no. Not people hearing some things I disagree with about a recent medical invention with a short record. Oh no oh no oh no, we'd better shut this down or else some other adults, who apparently I'm responsible for patrolling the minds of, might become Misinformed.
What. The Fuck. Is Happening?!?!
Anyway, although I do not really love Joe Rogan, I do love his openness, and I have learned from it. I've personally learned that I like being a bit more open-minded, a bit more willing to say "Oh cool, tell me more about that" than to judgmentally, close-mindedly say "That's stupid and wrong, I don't want to hear about that dumb thing."
I think it's often better to err on the side of silliness and foolishness than rigidness and (often false) certitude.
And I do love that he's doing good work in forcing the tiny, cramped space of What We Are Allowed to Hear and Say, Read and Write a little bit more open.
So I support him, gladly, though I don't listen to him much.
And I'll always champion him over nasty, bitter old authoritarian Feds and Censors like Neil Young.

And by the way, I did do cold therapy. As discussed on Joe Rogan by Rhonda Patrick.
I have no idea if it did anything. I have no real idea what it was supposed to do.
It was cold. They weren't lying about that.

posted by Ace at
06:21 PM
|
Access Comments