« Media Got Its NPC Programming Update: Biden Wasn't Snapping At Doocy, He Was Merely "Deadpanning"
|
Main
|
New Virginia AG Jason Miyares Fires Two Virginia University Lawyers, One of Them Currently Serving as... Head Investigator of the January 6 Committee »
January 25, 2022
New York Court Rules Govenor Hochul's Mask Mandate Unconstitutional;
Hochul Ignores Ruling and Continues Enforcing Unconstitutional Mandate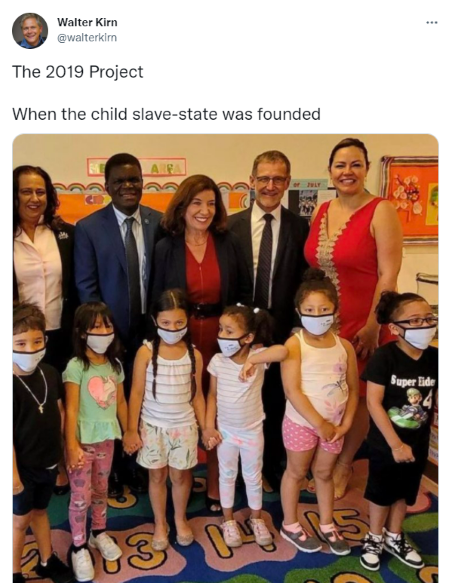 Then-Lieutenant Governor Kathy Hochul posing with children.
She and her educrats are unmasked; the children are masked.

Since Karol Markowitz kept pointing out that "the sextuganarian Kathy Hochul forces kids to wear masks nine hours per day while literally never wearing a mask herself," I've been playing the Kathy Hochul Challenge, trying to find her in a mask.
I've lost every time.
But the kids...! Those filthy diseased kids...!
Yesterday, a New York State Supreme Court judge -- and note, New York names its lowest tier of general-competency courts "Supreme Courts," confusingly --
ruled that the imperious dimwit Kathy Hochul was acting unconstitutionally in mandating that all children must be masked on her own Inherent Powers as a Karen.
A New York state Supreme Court judge on Monday struck down Democrat Governor Kathy Hochul's mask mandate for schools and public locations.

"There can be no question that every person in this State wishes, wants and prays that this era of COVID ends soon and they will surely do their part to see that is accomplished," Judge Thomas Rademaker said in the ruling. "However, enacting any laws to this end is entrusted solely to the State Legislature. While the intentions of Commissioner Bassett and Governor Hochul appear to be well aimed squarely at doing what they believe is right to protect the citizens of New York State, they must take their case to the State Legislature."

Hochul's mask mandate was "violative of the State Administrative Procedure Act as promulgated and enacted and therefore null, void, and unenforceable as a matter of law," the judge wrote, adding that it was also "violative of the Public Health Law as promulgated and enacted and therefore null, void, and unenforceable as a matter of law."
E;ric Blade corrects me: The "State Supreme Courts" include both the trial courts and the middle-level court of review, which are called the Supreme Court (Appellate Division). What you would think of as "the Supreme Court" of the state -- the court of final appeal -- they call the New York Court of Appeals.
Today, her Imperious Karenness announces that she is ignoring the judge's ruling and will continue relying on her own Article Karen powers to enforce her Karen Will.
Or, at least: That's what High Commandant Karen ordered her Department of Education to tell schools.
The New York State Education Department has informed parents that they are not allowed to send their children to school unmasked even though the New York State Supreme Court on Monday ruled that the mask mandate is illegal.

The department rationalized that they can ignore the ruling because they plan to appeal.

Spencerport Superintendent Kristin Swann said to parents in an email obtained by The Daily Wire that the department "continues to mandate that all individuals in school settings must wear masks."

"The State Education Department (SED) continues to mandate that all individuals in school settings must wear masks under the current regulations until legal appeals are exhausted," Swann said in the email.
Elise Stefanik
@EliseStefanik




My office is answering calls from constituents - specifically parents who are informing us that their kids are being kept from entering schools unless they are wearing masks. THIS IS ILLEGAL. THERE IS NO STAY ON THIS COURT RULING.
What she means is: Sometimes when judges issue a ruling which is particularly contentious, they will issue a stay on it, which holds the ruling from taking effect until all appeals are worked out. They have issued their ruling, but recognize it may be overruled, and put a stay on it until higher courts can rule.
The judge did not do that here -- this ruling is live, and this Exalted Biclops Karen is just instructing her bureaucracy to ignore the law.
I think we should make "free-facing" a thing.
Like, "Hey, are your kids free-facing it today?"
"Yeah, they're all free-faced, and loving it!"

posted by Ace at
02:29 PM
|
Access Comments