« Wednesday Morning Guest Rant: The Press' Mental Slaves [Joe Mannix]
|
Main
|
Nearly Half of All Democrats -- Who Claimed to #Resist Fascism -- Support Actual Internment Camps for the Unvaccinated »
January 19, 2022
Gallup: Biden Falls to Lowest Approval Yet
Just one point shy of Trump's approval -- and Trump had the media making up Russiagate lies about him. Brandon's been supported and lied for by the media.
During his first year in office, an average of 48.9% of Americans approved of the job President Joe Biden was doing. Biden's job approval ratings started relatively strong at 57%, but by September had plunged to 43%. A new Gallup poll finds 40% of U.S. adults approving of the job he is doing, his lowest to date.

Among post-World War II presidents elected to their first term, only Donald Trump had a lower first-year average rating, at 38.4%. Bill Clinton's first-year average was similar to Biden's, but all other first-year presidents averaged 57% or better.

...

After a messy U.S. withdrawal from Afghanistan in late August, marred by a terrorist attack at the Kabul airport that killed 13 U.S. troops, his approval fell further and has yet to show signs of improvement. In the latest survey, 40% of Americans approve and 56% disapprove of the job he is doing, as the U.S. is plagued by the highest inflation in four decades and another surge of COVID-19 cases, this time fueled by the omicron variant of the coronavirus.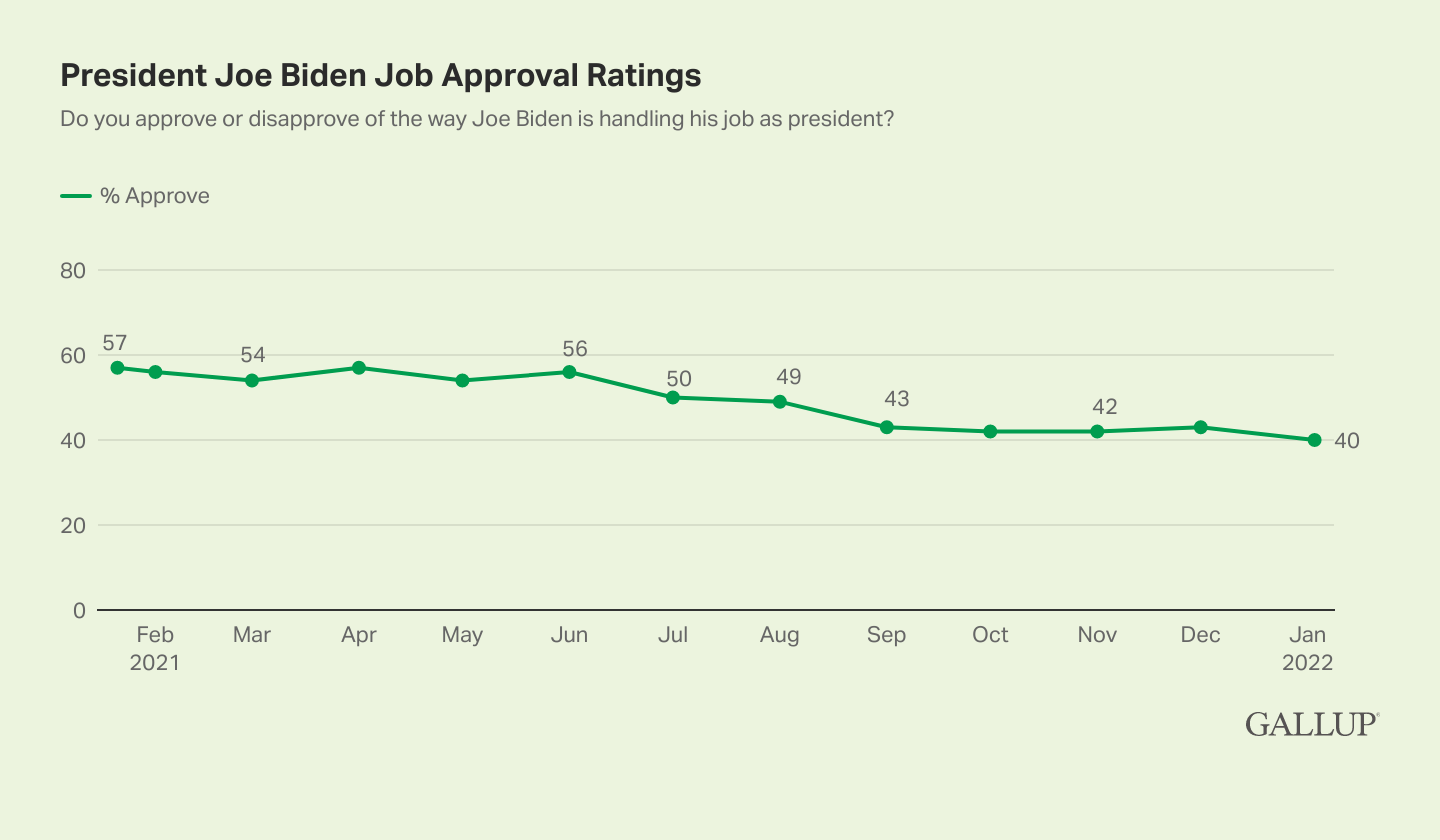 It is in the context of this disaster -- and Biden's last loyal constituency, the press, complaining that they are no longer content to cover up for him while he hides in Delaware -- that Brandon will attempt to "reset" his failed presidency with a press conference in which he will change literally nothing about his disastrous policies.
He'll just rely on his, get this, "empathy and compassion" to win over the public.
Or at least the press.
Republican National Committee Chairwoman Ronna McDaniel said that "for a long time, we saw that Biden no matter what was given the benefit of the doubt from the American people, who would say, 'He's a good guy. He's trying his best.' "

But Afghanistan, she said, proved to be "his first major hit."

"That was the moment where Biden himself looked callous, uncaring, incompetent, and failed in a key moment of leadership," McDaniel said. "The rest has been attrition by covid and inflation and other things. Right now most Americans are frustrated you can't get a test, you can't get anything you think the Biden administration should have been reasonably prepared for."

'He seems weak'

"Old." "Incoherent." "Lazy." "Sleepy Joe."

These were among the first descriptions that came to mind for 10 suburban women swing voters who gathered late last year for a virtual focus group conducted by Democratic pollster Celinda Lake on behalf of several liberal organizations. The results were reviewed by The Post on the condition of anonymity to protect the identity of the participants and the groups.

Asked to elaborate, the women in the focus group said it seemed like "he's trying," but that Biden shuffles and frequently seems to lose his train of thought. Biden is "wishy-washy" in standing up to his own party, one woman said, explaining that she thought the president seemed more like an actor in a "supporting role."

"He doesn't convey being strong to me," she said. "He seems weak."

Others offered suggestions: "If he needs a nap beforehand, take that, because we need him to be there for us."

In an attempt to overcome such criticism, the administration has begun to change its messaging strategy, allowing Biden to more frequently speak directly to Americans who are struggling, a top official said. Aides believe Biden's capacity for empathy comes through in such appearances.
Are you kidding me? He comes across as what he is, an old, senile, angry and bitter man who has inappropriate outbursts when challenged or inconvenienced in any way.
The press hid his dementia from us. They're continuing to hide it from us.
...

Biden's tone has changed as well. In two high-profile speeches this month -- one to mark the first anniversary of the Jan. 6 Capitol insurrection and the other to push for voting rights legislation -- the president took a more forceful approach, directly challenging Trump and Republicans.
And oh yeah, what a triumph that was. A speech so rancid that even the rancid Dick Durbin had to concede that "maybe it went a bit too far."
The more aggressive posture heartened Democrats who think Biden spent his first year too bogged down in the minutiae of legislating and insufficiently focused on leadership. Some allies griped that Biden -- a senator of nearly four decades -- was behaving more like the Senate Judiciary Committee chairman he once was than the president. Several times, Biden traveled to Capitol Hill to push one of his legislative goals, only to get thwarted by members of his own party.
The Washington Post continues babbling -- they really think that Biden's "tone" in his disastrous Georgia speech was helpful.
It pleased hardcore, bitter-ender leftwing partisans -- like the Washington Post "journalists" spinning for Brandon here.
It alienated key allies (like Manchin and Sinema) and further convinced Americans that Biden was out-of-touch, focused only on his own inside-baseball partisan obsessions, and filled with bitter senile distemper.
Unbelievable:
White House officials and other Democrats also argue that Biden inherited an epic mess from his predecessor and deserves credit for a range of victories, from helping to vaccinate nearly 75 percent of Americans against the coronavirus with at lease one dose and reopening the majority of schools to passing both a $1.9 trillion American Rescue Plan and a bipartisan infrastructure bill.

"It's important to take stock of where we've come," said Jen O'Malley Dillon, a deputy White House chief of staff. "This isn't a time to, you know, spike the football; there's a lot of work ahead. But there is also just a really strong story to be told about what's happened in this administration over the last year and the president's focus on covid and on the economy and passing legislation to help the American people directly in their lives."
While Brandon continues obsessing over his plan to federalize voting laws, the public has shifted hard to preferring Republicans on the most important issues:
Michael McAdams @M_McAdams


NEW POLITICO/Morning Consult Poll

On the issues that matter most, Republicans hold commanding leads.

R's in Congress are favored over Dems to handle:


The economy (47%-34%)
Jobs (45%-35%)
Immigration (45%-37%)
National Security (49%-32%)
Per that poll, Biden is at 40% approval, 56% disapproval.

The Gallup and Politico polls have brought the RCP average to new lows: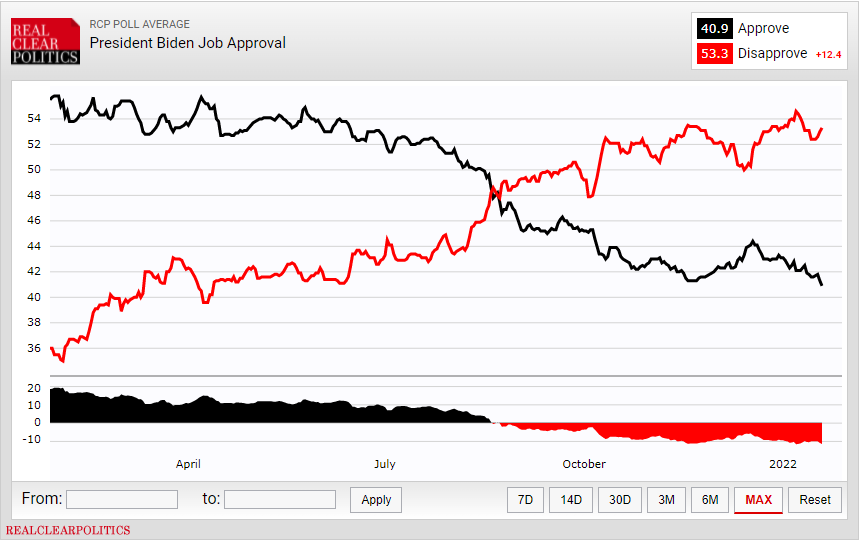 Tom Bevan @TomBevanRCP

New polls from Gallup and Politico/Morning Consult have driven Biden's job approval to a new low of 40.9% in the RCP Average this morning.

On the same day 4 years ago, Trump's approval was 40.1% and headed upward from his all-time low of 37.0% on December 13. If Biden doesn't improve his standing, Trump's approval rating will eclipse Biden's by the end of January.

posted by Ace at
12:16 PM
|
Access Comments