« Daily Tech News 30 December 2021
|
Main
|
Mid-Morning Art Thread »
December 30, 2021
The Morning Report - 12/30/21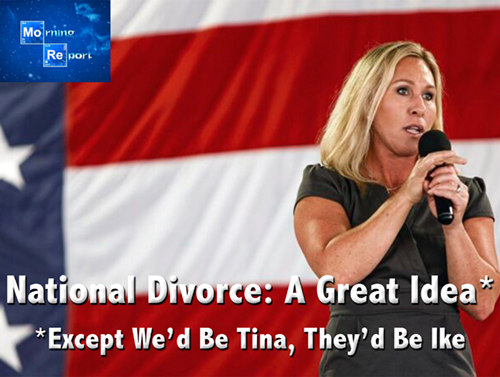 Good morning, kids. Thursday and the penultimate day of Year Zero Plus 1. The ghost of undead America Past is shambling its way into a midterm election year, going through the usual motions of trying to stop an avalanche of totalitarian madness via the usual processes and traditions yet not quite realizing that we have passed into an alien realm where none of that counts for much, if anything. In truth, it's not alien since we have watched it grind millions of people into a mass grave in other countries and either thanked our lucky stars it wasn't us or shrugged our shoulders and declared it a local crime story. All the while, we were blissfully unaware of the slow, creeping rot consuming us from within or, worse, aware of it and living in the proverbial "river in Egypt."
But here we are, with an illegitimate junta that can, will and has used the instrumentalities of government to crush all voices of dissent and, more alarmingly, those who support it from outside the government that will act as its unofficial Gestapo, eager to impose its will on family, friends, neighbors and colleagues not down with the program. I've stated it before but it's worth repeating; while elections (free or otherwise) have consequences, what good is winning them if a) the party known as the GOP will do nothing except at best act as seat warmers for the anti-Americans and worse b) a sizable chunk of the population is in effect an enemy foreign camp that at one time shared a common past with us, but has renounced and denounced it to a point where it views the rest of us who want to preserve it as an evil that must be eradicated?
How does one find common ground with such a mindset? The answer, of course, is you can't.


Georgia Rep. Marjorie Taylor Greene renewed calls for a "national divorce" between red and blue states, arguing that Americans who move to conservative states from California and New York should have a "cooling off" period before they are allowed to vote.

The outspoken GOP congresswoman tweeted her comment Wednesday in response to a thread from a man who said he was moving from the San Francisco Bay area to Miami, and was wary about Florida politics.

Greene, 47, agreed with a Twitter user who supported "discriminating against transplants" by imposing a "sin" tax on them and banning them from the polls "for a period."

"All possible in a National Divorce scenario," Greene wrote. "After Democrat voters and big donors ruin a state like California, you would think it wise to stop them from doing it to another great state like Florida. Brainwashed people that move from CA and NY really need a cooling off period."
Say what you will about Greene but she is not wrong. Of course, what is missing from this article is the rationale behind the call for a separation, which I have attempted to do above. Critics blasted Greene and slimed her by declaring she is calling for a hot civil war. In fact, she is calling for just the opposite. A separation and division, regardless of the practicalities of how that is achieved, is what is required to prevent bloodshed. The fact is it is the Left and those who are allegedly its leaders in politics, the media and academia that have been the loudest proponents of eliminationist rhetoric since the Trump era and before it. It is we who have been on the receiving end of it, from hate shakes, to Molotov cocktails to mass shootings of politicians and on and on and on. Yet when we protest, our speech is violence.
The hard truth is I don't think a national divorce, even if it were to come about, would work in the long run. Within months, Blue America would devolve into Snake Plissken Land while Red-State America would prosper. If the latter didn't build a neo-Great Wall to keep the former out, the former would build a neo-Berlin Wall to keep their own in. But Greene touched on another point; people who flee Blue shit-hole cities and states yet retain their worldview and voting habits not realizing what they voted for is why they are fleeing in the first place. Or as Mark Levin calls them, "locusts."
Will what has happened to us - and them - over the last "two weeks" (94 in non-woke math) that has caused these mass exoduses from the Newsoms and DeBolsheviks finally be a great awakening? There are encouraging signs, albeit anecdotal, that it is. But only time will tell. And the way things are going, there isn't much of that left.
The End of America: 100 Days That Shook the World available here.


ABOVE THE FOLD, BREAKING, NOTEWORTHY
"Multiple child-abuse deaths in the state make clear that its approach to protecting vulnerable kids is not working."
Seeking Answers in Maine

"A warning 61 years ago has never been more relevant."
American Prophet: Dwight D. Eisenhower

Heather Mac Donald: ". . . such officer killings strike at the very heart of our civilization. A society that turns its eyes away from attacks on law enforcement (except when they confirm a favored media narrative) is a society that is heading for anarchy. The crime wave of the last two years suggests that we are well on our way to just such a disintegration of law and order."
Where is the Outrage Over the Killing of Baltimore Police Officer Keona Holley?
CIVIL WAR 2.0: LEFTIST PERSECUTIONS, CAPITOL HILL BLACK WEDNESDAY PROTEST AFTERMATH, DEMOCRAT PUTSCH, AMERICAN DISSOLUTION
NOTE: The opinions expressed in some links may or may not reflect my own. I include them because of their relevance to the discussion of a particular issue.
ALSO: The Morning Report is cross-posted at CutJibNewsletter.com if you want to continue the conversation all day.
Follow us on Twitter: @CutJibNews
Follow us on Instagram: @Cutjibnewsletter

posted by J.J. Sefton at
07:54 AM
|
Access Comments