« Why Are Democrats Spreading So Much Covid? Why Do They Hate Grandma?
|
Main
|
Progressives Plot Illegal End-Run Around Constitution, to Pass Build Back Bolshevik... Without Congress? »
December 30, 2021
CNN Writer Attacks Dan Bongino, Whining That He's Insulated Himself Against Deplatforming Attacks From CNN's Political Allies at Media Matters
Glenn Greenwald @ggreenwald


The @NewYorker profile of Dan Bongino by CNN's @eosnos is so predictable you could write it yourself without reading it. It *laments* that the new online/media ecosystem Bongino uses is built to prevent censors like Media Matters from banning ideas -- as if that's a bad thing.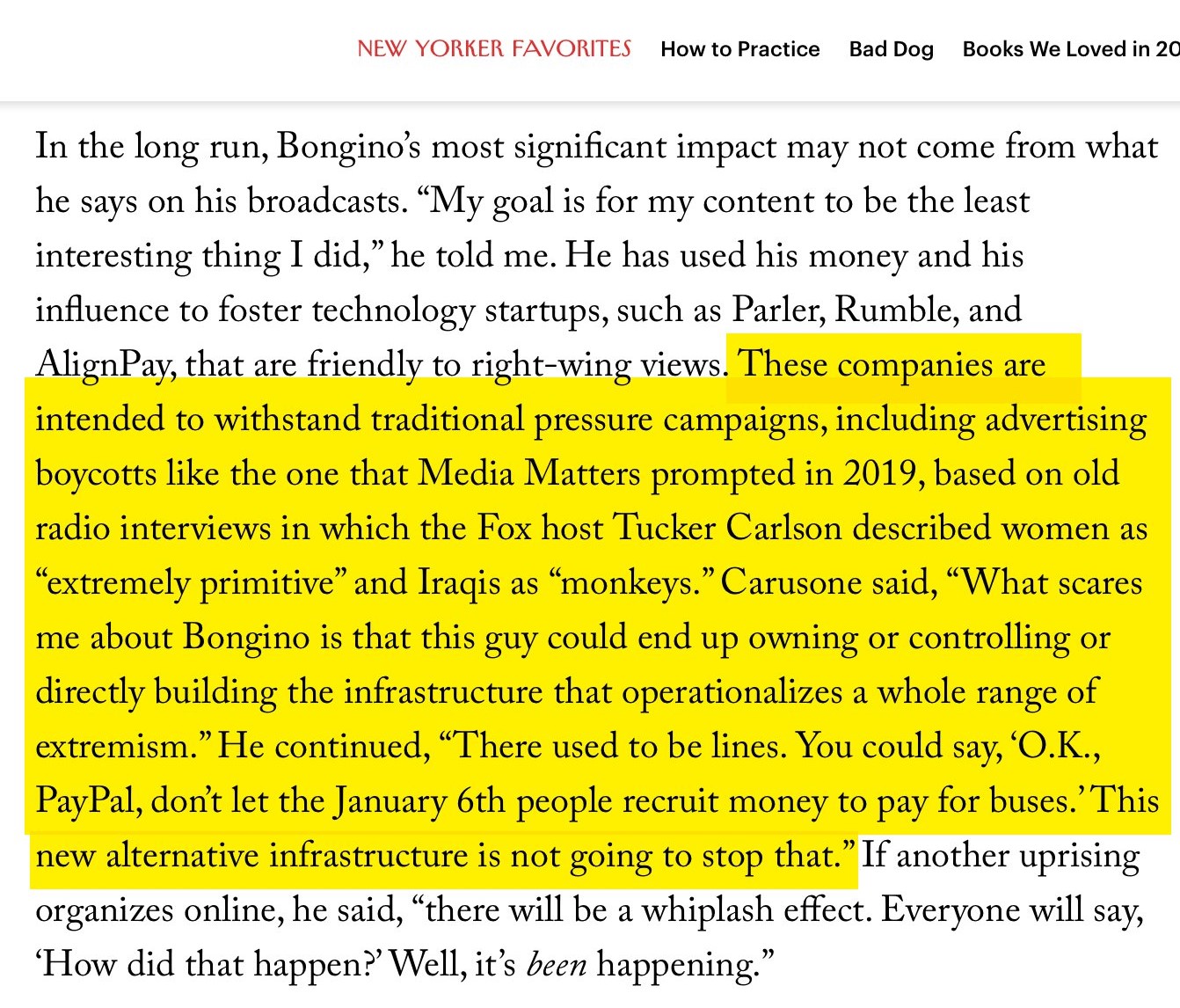 Note that this is published at the New Yorker, but it's by a CNN " " " journalist. " " "
Whining that Bongino has set up his operations to be beyond the reach of his deplatforming operation allies at Media Matters.
And by the way, remember that CNN is a vital part of the deplatforming machine -- Media Matters demands a platforming, and then CNN pushes the deplatforming, campaigning for it until a tech company relents and grants it.
Back to Greenwald's commentary:
Whatever you think of Bongino or anyone else whose views you hate, it's incomparably dangerous to allow groups created by supreme DC scumbag David Brock to police our discourse, and it's good and healthy that new independent platforms deny them that power


One last point about the formulaic Bongino profile: it used to be that a
@TheNewYorker hit piece by a CNN writer would be harmful. Now: it doesn't matter. They've so whittled their credibility that the targets of their smears have larger audiences than they, making them impotent.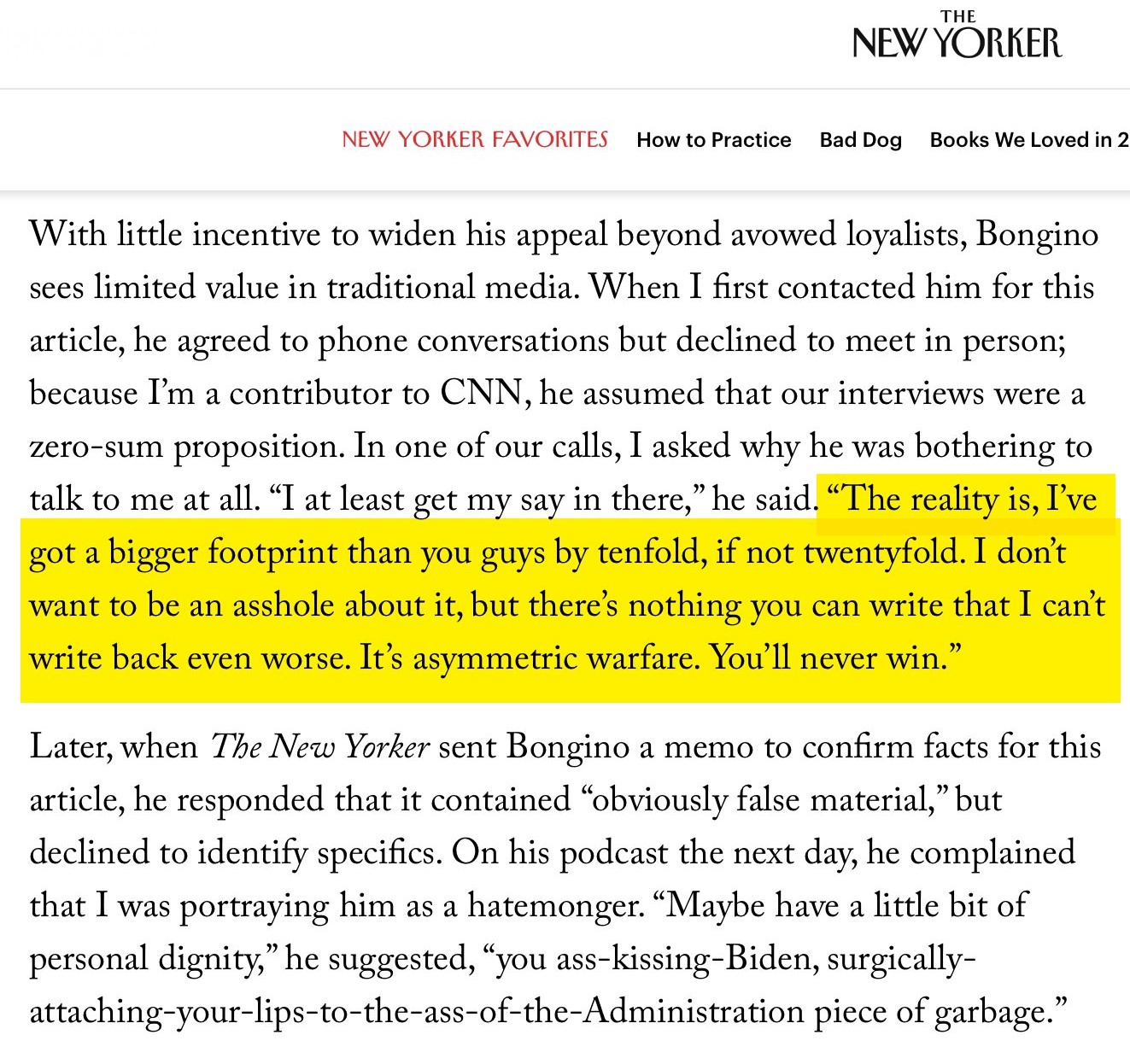 You know, that's true. I used to be more upset by this kind of thing, because I saw it as deadlier: It could really take you out.
Now it's like, lol, who cares? Everyone knows these people are just the world's lispiest, most soy-soaked Girl Gang, attacking the gang's enemies.
None of this is "journalism." It's just turf protection by a very effeminate gang of bullies and soyciopaths.
Everyone knows this -- including the soyciopaths themselves.
@RickDeVos

This highlighted quote is great.

So many legacy media institoooooshuns (and the sad figures who contribute to them) are still trying to coast on a decayed combo of perceived authority, prestige, and audience size. It's best to ignore them, but it's funny to call them out.
Via Brett from Twitchy, more musings from Greenwald on the collusion-filled guild defense actions of the dying legacy media:
Glenn Greenwald @ggreenwald


To malign competitors who have more success, corporate outlets accuse them of catering to an insular like-minded audience. Pure projection! That's what The Atlantic/NewYorker axis does: speaks only to mainstream liberals & David Frum types. That's why they lost their influence.

Over the last decade, corporate outlets decided their only profit model was to feed a specific ideological camp a non-stop orgy of validation and flattery. That's why so many fail: Vice/Gizmodo/HuffPost/Vox = NYT/NewYorker/Atlantic. Same ideology, no dissent: purely insular.

As their audience, prestige and influence rapidly erodes, the go-to line of attack for old corporate outlets is to claim that their more successful, more independent competitors only speak to a homogenous audience. That's true of *them*: we speak to a diverse range of readers.
As if to prove his point: Tater jumps in -- well, flops in, sweatily, to join the Girl Gang beat-em-up on Bongino.
Brian Stelter @brianstelter


This quote reminded me: Hyperpartisan hate-news aggregators like Bongino's site never publish nuanced profiles like The New Yorker's piece about Bongino. They're in a totally different biz...
He calls Bongino "hate-news" because he attacks the leftwing propaganda media. (If he means to insinuate he has "hate" for a race, he should say so -- but then, he'd risk a lawsuit for saying something so completely without foundation.)
So this ridiculous, repulsive Tater is claiming that Bongino is "a hyperpartisan hate-news aggregator" for attacking CNN.
Tell me, you obese malignant sack of hormonal crisis: When have you ever treated one of your media enemies with anything other than foaming, frantic hatred?
Your entire show is one stream of spastic hatred after the next. Entire hours of " " " media criticism " " " are directed, at your FinDom Jeff Zucker's direction, at tearing down a competitor, Fox News, with truly unhinged and hypercharged hatred.
Talk about the obese pot calling the portly kettle fat!
LOLGF, Tater.


posted by Ace at
02:10 PM
|
Access Comments