« Progressives Plot Illegal End-Run Around Constitution, to Pass Build Back Bolshevik... Without Congress?
|
Main
|
Marines: We're Being "Crushed" By Biden's Vaccine Mandates in a "Political Purge" »
December 30, 2021
Quick Hits


via @greg_price11
Biden cites one (1) analyst to make the preposterous claim that we're currently experiencing the strongest economy in fifty years.
On Wednesday, President Joe Biden was widely mocked online after he posted a tweet describing his economic track record as the "strongest" of any Commander-in-Chief in the past half-century.

"We're ending 2021 with what one analyst described as the strongest first-year economic track record of any president in the last 50 years," Biden wrote. "Let's keep the progress going."
He didn't name the analyst. You wouldn't know her. She goes to a different school.
Two pieces of evidence contradict this already-laughable claim: Mark Zandi, a reliably Democrat partisan analyst, downgraded the growth outlook from a brisk 5.2% to a low 2.2%.
Further, Larry Summers warns that Brandon has engineered an inflationary spiral that will take "a recession" to unwind.
But whatever, Brandon.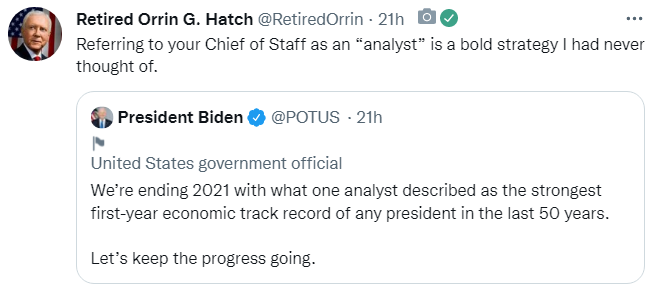 Of course Andrew Cuomo will not be prosecuted for allegations of sexual assault. It's good to be the King!
The Westchester County District Attorney's Office announced on Tuesday that it had concluded a thorough investigation into two sexual misconduct allegations against then-New York Democrat Governor Andrew Cuomo and that while "credible evidence" was found, there will be no forthcoming charges against Cuomo.
Credible, shmedible. "Credibly accused" doesn't exist when we're talking about Democrats.
Speaking of: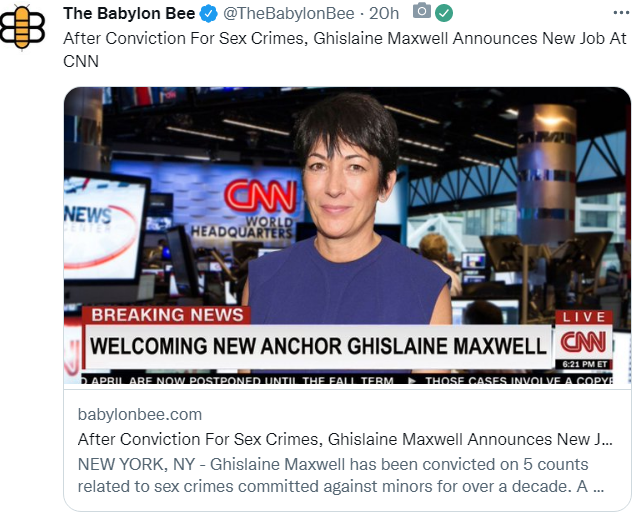 for those who follow Robert Malone, MD. He was suspended from the Tw@t.

He's only one of the inventors of mRNA technology, but you know, the Tw@t loves it some #Science!

here's where to find him now. Also on substack


https://gab.com/RobertMaloneMD
https://gettr.com/user/rwmalonemd
https://www.linkedin.com/in/rwmalonemd/

My website is:
www.rwmalonemd.com
Posted by: kallisto
Bret Weinstein @BretWeinstein


Robert Malone has risked his reputation and career to serve the public interest. "Public health authorities" by contrast, have sold us out to Big Pharma at every turn. By suspending @RWMaloneMD, Twitter is declaring war on the public and the scientific process.

#RestoreMaloneNow
More on the latest Tech Monopoly censorship of dissenters and scientists here.

11-time NCAA all-American swimmer Jeri Shanteau: Will "Lia" Thomas represents "the extinction of women's sports." Biden is preparing to include a new provision in Title IX -- a title in the law about protecting women and girls in higher education -- guaranteeing that biological males can compete in girl's sports.
You know, I think it's fair to say that this is a more important issue to feminists than to anyone else. They really pushed Title IX in a vindictive way and disadvantaged a lot of boys sports to do so.
And unless chickenshit feminists start speaking up, I'm inclined to start conceding the issue and saying, "Feminists, here you go: Us men will beat the crap out of you in your precious Title IX sports. Enjoy. Your circus, your monkeys."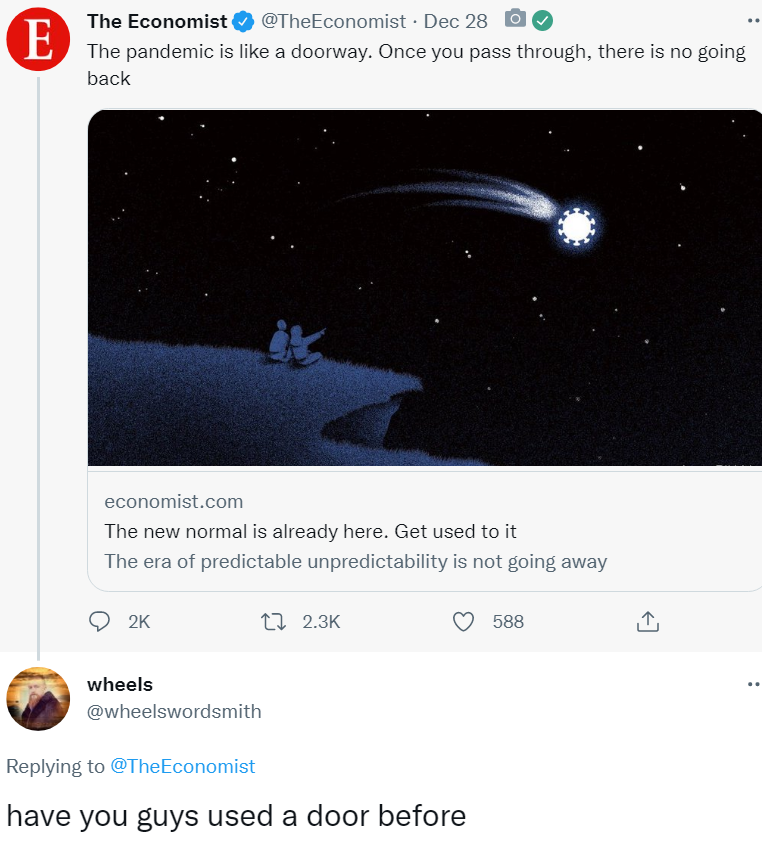 Obey us, we're experts, the media said, despite not being experts in literally anything at all, except, arguably, churning out adequate copy on a deadline, but no, they're shit at that, too.
A Michigan teacher tested positive for covid during a flight so she quarantined in the bathroom for five hours.
A Michigan school teacher traveling over the holidays voluntarily isolated in an airplane's tiny bathroom for five hours after testing positive for COVID-19 mid-flight.

Marisa Fotieo was on a flight to Reykjavik, Iceland from Chicago on Dec. 20 when her throat began to hurt, TODAY reported. With rapid test kits handy, Fotieo decided to take one "and within what felt like two seconds" discovered she was positive for the virus.

"There's 150 people on the flight, and my biggest fear was giving it to them," she told TODAY.

She decided it would be best to quarantine herself in the airplane's bathroom for the remainder of the flight which she estimated was five hours. She filmed what it was like in the tiny quarters in a video with over 4 million views on TikTok.
All she cared about was not spreading it.
Oh, and racking up some sick influencer cred.
Jeopardy's highest-earning female player ever? Well, it's a Very Special Lady.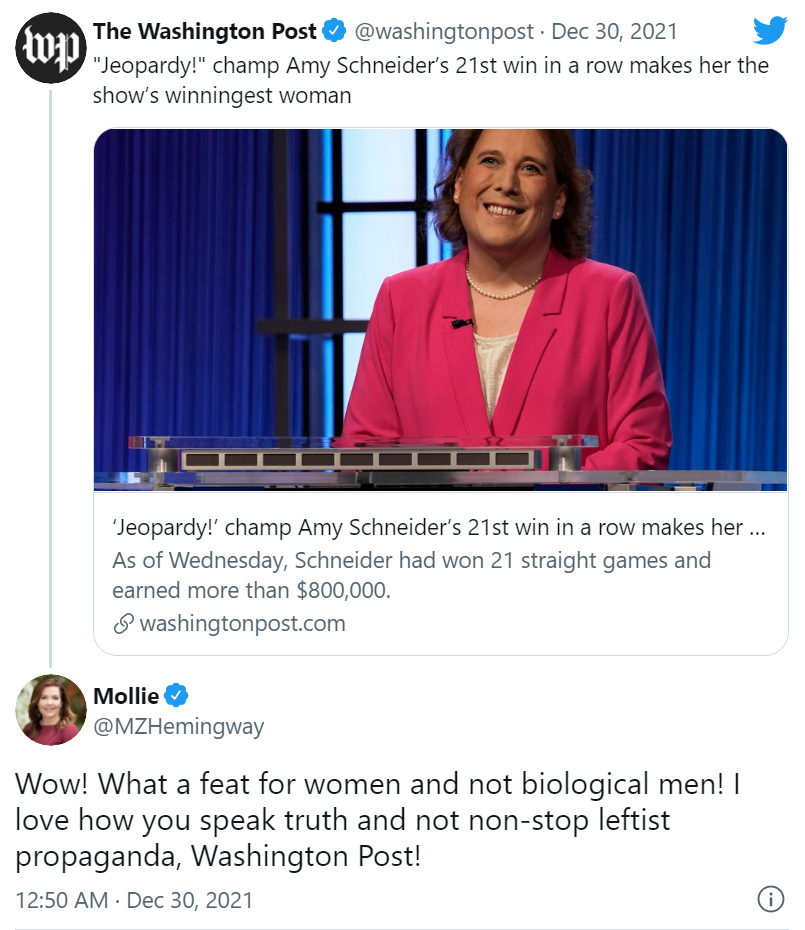 Hashtag #BiologicalWomenArentReal.
That is where this is driving towards. A lot of them are already claiming that. It's just a few months away from being the new trans orthodoxy, repeated by the "mainstream" (LOL) media and "science" magazines.
Jesus must love the Babylon Bee because he gave them the charism of prophecy: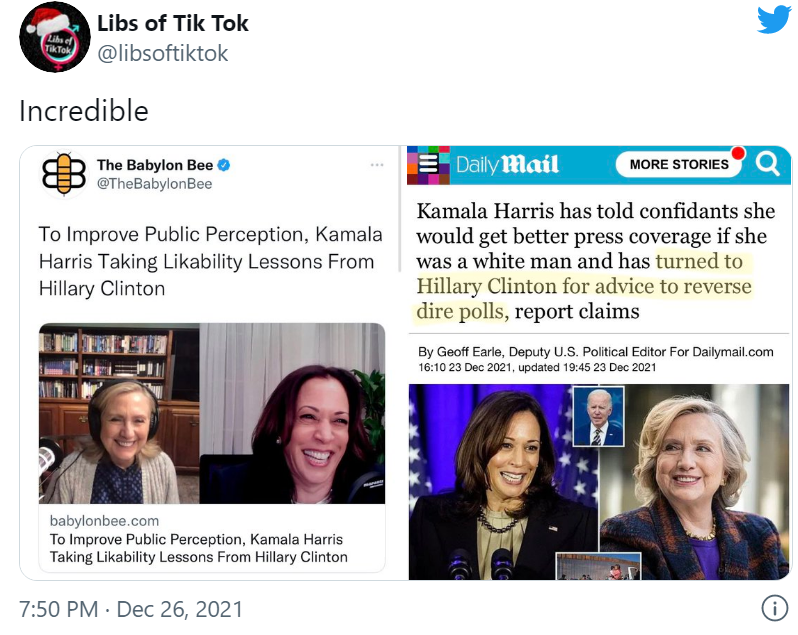 The Bulwark's True Conservative, Tim Miller, nods along as Chris Hayes claims that conservatives make a big deal out of organized shoplifting/looting rings only because of all the black faces involved.
All of these "true conservatives" ran Conservative, Inc. all of our lives, and we always wondered, "Why is it we're donating so much money, and yet we're always losing?"
Well, there you go.

posted by Ace at
04:21 PM
|
Access Comments