« Kristi Noem: Now That Re-Election Year Is Upon Me, I Realize I Have to Pretend to be a Conservative Again, So, Say: Let's Ban Transgender Athletes In Women's and Girl's Sports, Huh?
Except... Let Me Put This Huge Loophole In My Proposal
|
Main
|
Brigands de L'Amour Cafe »
December 16, 2021
Quick Hits
Look at these Soy Processing Units: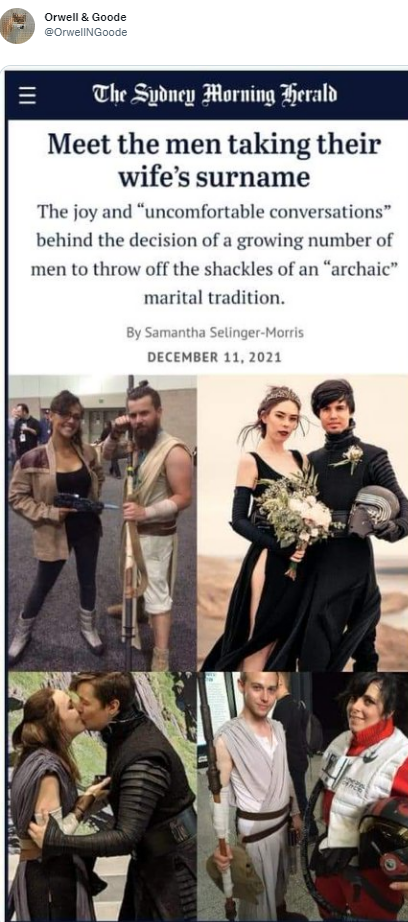 Emily Butler
@iembutler
So they're taking her father's name?
Carjacking a school bus in Brooklyn. This is fine. (Content warning for n-bombs and societal dissolution.)
Noncompliance: The Simple Power of "No."
The White House assistant spokeswoman cannot explain why President Ice Cream Cone continues to spread the Deadly Disinformation that the vaccinated cannot spread covid.
Seriously, that's potentially dangerous misinformation. If someone believes that his vaccinated status means that he cannot spread covid, period, he may ignore cold symptoms and visit an elderly relative. Thinking: What's the harm? It can't be covid, and even if it is, I can't spread it. President Ice Cream Cone told me so ten times.
And then Grandma dies.
Because President Ice Cream Cone lied.
UPenn has a response to female athletes upset by being forced to compete with a Buff Jacked Man in what was formerly a women's league.
And that response is: Seek psychological counselling, ladies, and go read some literature at the LGBT center.
When ten parents wrote a joint letter to the NCAA and to UPenn protesting the insane policy of allowing Buff Jacked Dudes to beat the crap out of girls in physical sports, UPenn told them to "take advantage" of the school's "robust" psychiatric resources, as well as their LGBT support services.
The university sent a terse response to the parents, claiming the school is doing what it can to help the student-athletes navigate Lia's success, shared a link to mental health services.

'Please know that we fully support all our swimming student-athletes and want to help our community navigate Lia's success in the pool this winter,' the university replied. 'Penn Athletics is committed to being a welcoming and inclusive environment for all our student-athletes, coaches and staff and we hold true to that commitment today and in the future.

'We've encouraged our student-athletes to utilize the robust resources available to them at Penn, and I'd like to share them with you as well,' the school wrote the parents, providing links to 'counseling and psychological services, the LGBT Center, Restorative Practices and our Center for Student-Athlete Success staff.'
By the way: If you click on the link, there's a sidebar showing that Will Thomas' best speeds in swimming -- when he swam as a man -- will beat the world records set by women.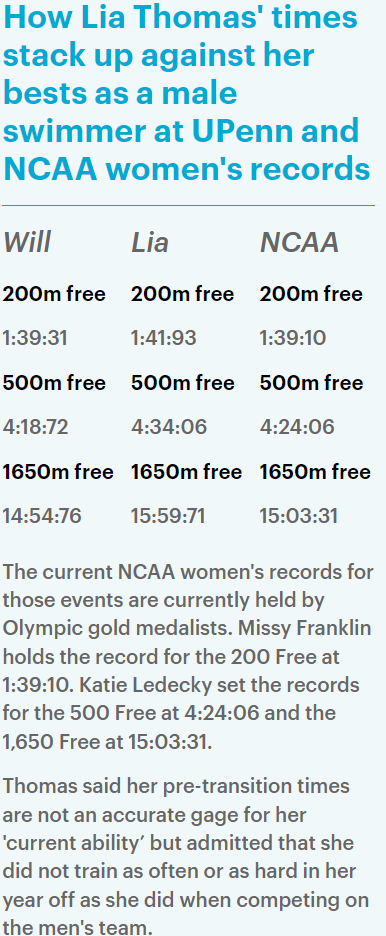 He's not up to his best speeds as a man as a "woman," but he also admits... he's not training as hard as a "woman," either.
And honestly, I think he'd like to avoid the increased scrutiny that will come with easily smashing all the women's world records in swimming. I think he'd like to keep his best times just a few seconds behind the world record pace.
Senator Fauxcahontas Warren accused Elon Musk of not paying his fair share of taxes. Elon Musk then referred to her as "Senator Karen."
Fair enough.
Insanely, Race Bitch Joy Reid then inserted herself into this dispute to claim "cultural appropriation," and declare that "Karen" is a racial slur invented by black people for white women so only black people get to use it.
It is true that it's a racial slur made up by black people for white women.
Not sure I'd brag about that if I were the Queen of Racism, though.
And it's very strange that these cultural appropriation charges only go in one direction.
Do you guys know why whites can't revere the "cultural appropriation" charge and tell Joy Reid she can't use things that whites originated? The official SJW/CRT word on that?
There is an "answer" to that question. Of a kind.
The answer is that whites do not even have a culture that is capable of being appropriated from.
That's literally the intellectual, academic answer to that question.
Now that's some racism.
The Intersectional Left took a hit this week with the Jussie Smollet verdict. Hoax hate criminals were back on their heels.
So WokESPN did their allies in the Antifa Left a good turn by reviving the Bubba Wallace "noose" hoax.
Ahead of ESPN's E60 Monday evening special regarding NASCAR driver Bubba Wallace, the sports news outlet posted a trailer talking about the noose incident over one year after the FBI determined that it was a garage door pull rope.
Notice that the lies and conspiracy theories of the left are never fully debunked or discredited -- they are always allowed to remain alive for later use. CNN, for example, will still allow guests to refer to the "Michael Brown shooting" as if it were an example of a wrongful police shooting, without correcting that guest or clarifying that Obama's own DOJ determined that that was a lawful and justified shooting, and that Michael Brown attacked the police officer and was in the process of tearing his gun out of his hands when he was shot.
But try to push a claim that the left doesn't agree with on CNN -- and they'll jump down your throat to tell you you're spreading disinformation.
But now Team Fake Hate Crime really needs a W, so here's ESPN to ignore their own past reporting and resurrect the Noose Hoax.

Biden hit with "Let's Go Brandon" taunts even as he shuffles around a disaster area:
A Harvard scientist has informed the UK Parliament that the most likely origin of the Wuhan virus is that it was an engineered disease that leaked from the Wuhan Institute of Virology.
China is now the most likely source of the coronavirus outbreak, British MPs were informed today, because it attempted to cover up the Wuhan lab leak.


COVID-19 was genetically created in China, according to Harvard scientist Dr. Alina Chan, who testified before the House of Commons Science and Technology Committee.

She also said that the Chinese Communist Party's cover-up of the original outbreak in Wuhan two years ago, as well as attempts to obstruct the WHO's investigation into the pandemic's origins, made the lab-leak explanation credible.

According to Tory lord Lord Ridley, who has co-authored a book on the virus's origins with Dr Chan, the fact that experts have still not located the animal host that would support a natural origin despite two years of investigation, supports the notion that COVID-19 emerged from a lab.

When asked about his own responsibility for the 800,000 deaths attributed to covid, as well as his reluctance to press his would-be Chinese business partners for transparency about their likely creation of the Wuhan virus, Joe Biden just grinned like the cat who caught the canary and shuffled away towards the protection of his handlers.
As Harry Reid said of his "Mitt Romney never paid federal taxes" lie:
It worked, didn't it?
And, by the way: Democrats voted to change the name of McCarran Airport in Las Vegas to Harry Reid Airport.
So now Las Vegas, a city that lives and dies on tourism, will have its port of call named after a man that most of the country absolutely despises.
It's always smart to brand yourself with a monster's name.

posted by Ace at
06:24 PM
|
Access Comments