« Daily Tech News 15 December 2021
|
Main
|
Mid-Morning Art Thread »
December 15, 2021
The Morning Report - 12/15/21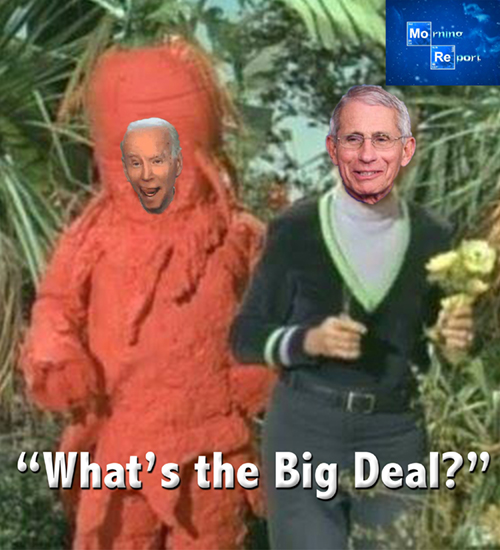 Good morning, kids. Wednesday and the fun and games continue. For those not aware, I am coming to you live, if not a bit later and colder than normal (although we are expected to get into the low 60s today), from somewhere in Wisconsin. I'm relatively close to the insanity of Madison, Milwaukee, Kenosha and sadly of late Waukesha, but far enough away where only the frightened wearing masks and where I have seen roadside signs here and there for gun shows. Can't wait for that one, baby, but that's for another time.
As per usual these days, any one of a number of stories can be fuel for an Ace-movie-review-length post but our misery revolves around an illegal junta doing all it can to gin up fear against what has mutated down to an even less dangerous respiratory virus than the classic variety of two years ago to keep us all chained to a radiator in a Delaware basement. Despite the illogic of commies and Karens and crackpots (oh my!) in full face shields, double masks and injected with the Phauci's Pharma Phix insisting that unless you do the same they'll be infected and die, we have the head of cabbage head of state, Joey Softserve now channeling his inner Austrian steroid addict with a rousing chorus of "screw your freedom."
"Your vaccine mandates have suffered some setbacks in court recently," WHIO-TV 7 reporter John Bedell said. "Federal judges have halted three of those [Chinese] COVID vaccine mandates."

"This is a pandemic of the unvaccinated. Not the vaccinated, the unvaccinated. That's the problem," Biden said. "Everybody talks about freedom about not to have a shot or have a test. Well guess what? How about patriotism? How about you make sure you're vaccinated, so you do not spread the disease to anyone else."

"What about that?" Biden continued. "What's the big deal?"
The big deal is this virus and all its variants - except for any that the Chinese have yet to unleash on the world from Wuhan that were created in whole or in part by Anthony Fauci using our tax dollars - are provably as lethal as bad flu. Yet it is being used to literally enslave us. Not just us but all across what was once known as the free world. Worse, we have psychologically damaged tens if not hundreds of millions of people and conditioned them with a fear response. And the only relief that they now think they will get is from the outstretched hand of . . . The STATE. Even before this insanity was unleashed on us "two weeks" ago (Jupiter time. Earth time is about 90 weeks), we were being mind-raped with safe spaces, preferred pronouns, racialism and struggle sessions in our schools, churches and houses of worship (the Religion of Peace excepted). As bad as all of that is, and it's pretty damn bad given academia's 60-year head-start (pun intended) in brainwashing 2-3 generations of Americans, the fear of an unknown, unseen disease is something else entirely. It had me second guessing myself very early on, as of course it did President Trump. It was China, it was a virus. What was there to question?
And that was all an entrenched anti-American bureaucracy needed to fuck us up royally. Now, after nearly a year of this insane, illegitimate junta destroying everything in its path, the junta is caught between trying to shut off this psychological nuclear mass mind-fuck and attempt to get the economy moving again (good luck with that in a government filled with luddites, nihilists and socialists [BIRM]) and a base that has been turned into a Frankenstein monster that cannot be deprogrammed.
What about that? What's the big deal? Eh, Joey?
The End of America: 100 Days That Shook the World available here.


ABOVE THE FOLD, BREAKING, NOTEWORTHY
CIVIL WAR 2.0: LEFTIST PERSECUTIONS, CAPITOL HILL BLACK WEDNESDAY PROTEST AFTERMATH, DEMOCRAT PUTSCH, AMERICAN DISSOLUTION
NOTE: The opinions expressed in some links may or may not reflect my own. I include them because of their relevance to the discussion of a particular issue.
ALSO: The Morning Report is cross-posted at CutJibNewsletter.com if you want to continue the conversation all day.
Follow us on Twitter: @CutJibNews
Follow us on Instagram: @Cutjibnewsletter

posted by J.J. Sefton at
08:04 AM
|
Access Comments