« Black Friday
|
Main
|
Coming Soon To An AoS Near You! »
November 26, 2021
Sefton's Thanksgiving Edition Hobby & Craft Thread (no, not actual thread, although...)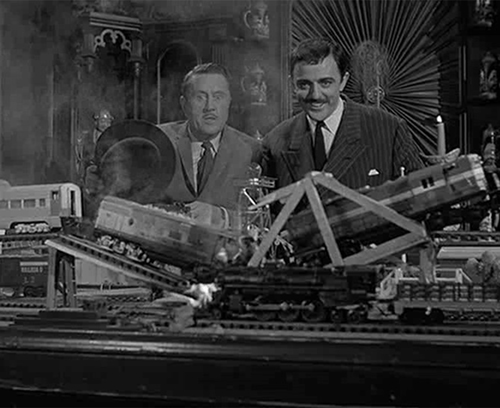 Hey kids. Hope you're all enjoying the long weekend and as we begin the Christmas season, it's time to start thinking about trains, planes and automobiles - of the model variety.
So, make like you're a kid again and press your nose up against the hobby shop window while dropping the not so subtle hint to mom and dad about how that Lionel Blue Comet would really look great circling under the tree.
As always, use caution with the chemicals and materials you use. Now let's head down to the basement, garage or craft room to be creative and have some fun!
PS: Still in search of someone who can help me with a miniature machining/engineering project. Reach out at admin@cutjibnewsletter.com
First up, this gentleman is an outstanding modeler and is creating a beautiful layout based on a car ferry operation near Vancouver. In this segment he kicks off the construction of a brewery. I believe he has worked as a special effects artist in film, and his perspective/philosophy on the hobby is most insightful.
The Ace of Clay is back, this time creating an Ice King Warlock out of Sculpey. He usually does much shorter videos but you get to see more of the process with the longer format.
For you diorama makers out there, a little bit of everything from building landforms, deep resin water pouring and 3D printing all coming together to make a creepy scene. Lots of good tips and techniques.
Even with the advent of radio control, there is still something magical about a well constructed rubber-powered job cutting across the sky. This is part one of a series on Free Flight Basics. He also has some videos of some beautiful models just doing their thing.
Just incredible craftsmanship and imagination in wood and metal to create this lamp.
I've featured this Russian fellow before and he is a master with paper mache. This time, however, he is using a thermoplastic compound to create a cosplay mask.
I'm not a big fan generally of competition shows but there are two British painting competitions "Portrait Artist of the Year" and "Landscape Artist of the Year" that I watch just to see how other painters work.
For you plastic modelers, follow along as David from the Czech Republic builds a Yak-1b in 1/72 scale from a new manufacturer. All sorts of tips on assembly, painting and weathering.
This young gent is building a really nice British N scale layout that features some incredible scratch built structures, all out of cardboard and paper. In this episode, he experiments with a low relief forced perspective structure for the backdrop.
Lastly, the boys over at Flite Test are once again pushing the envelope of the RC airplane hobby. This thing is a beast.
Have a great weekend everybody!

posted by J.J. Sefton at
05:00 PM
|
Access Comments