« The Baris Thanksgiving Poll [Dave in Fla]
|
Main
|
"They" Still Don't Get It »
November 24, 2021
Abdication From Police-The-Right "Conservatives" On The True Significance Of Kenosha-Rittenhouse
Anna James Zeigler summed up in two sentences something that has been annoying me about pundits of the "polite right" and the way they have all been hectoring us about how to view Kyle Rittenhouse.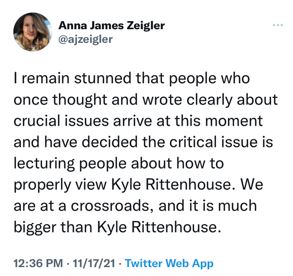 In pretty much every article, tweet, and TV appearance, the police-the-right conservatives do their "both sides" schtick, reminding us that although Rittenhouse might not have committed murder, we should not hold him up as a hero. That milquetoast take is their whole summation of what the Kenosha-Rittenhouse saga means.
Those pundits who believe that the big story in Kenosha is how we should view Rittenhouse are as irrelevant as political journalists who write about the clothes that politicians wear.
[buck.throckmorton at protonmail dot com]


posted by Buck Throckmorton at
01:40 PM
|
Access Comments