« With Grades of Ds and Fs Soaring, Schools Decide to Ditch "Inequitable" (Racist) Grade Systems
|
Main
|
Heroic Father Beats to Death the Man Who Sold His Daughter Into Sex Slavery »
November 09, 2021
"Transitory" Inflation Is Persistent and Increasing to Record Levels, So the Media Rebrands It as a Good Thing;
The Pants-Shit Regime Pivots to "Environmental Justice"
"Transitory" inflation is sticking around -- and increasing.
New wholesale inflation numbers from September are in and once again prove the rapid increase in prices for everyday items isn't "transitory" as President Joe Biden has repeatedly claimed.

Wholesale prices rose by 8.6 percent compared to September 2020, matching the largest increase on record.

"The Labor Department reported Tuesday that its producer price index -- which measures inflation before it hits consumers -- rose 0.6% last month from September, pushed higher by surging gasoline prices. Excluding volatile food and energy prices, wholesale inflation was up 0.4% in October from September and 6.8% from a year ago," the Associated Press reports. "More than 60% of the September-October increase in overall producer prices was caused by a 1.2% increase in the price of wholesale goods as opposed to services. A 6.7% jump in wholesale gasoline prices helped drive goods prices up."
The leftwing media covers this in the way we've grown accustomed -- Funflation is back, baby!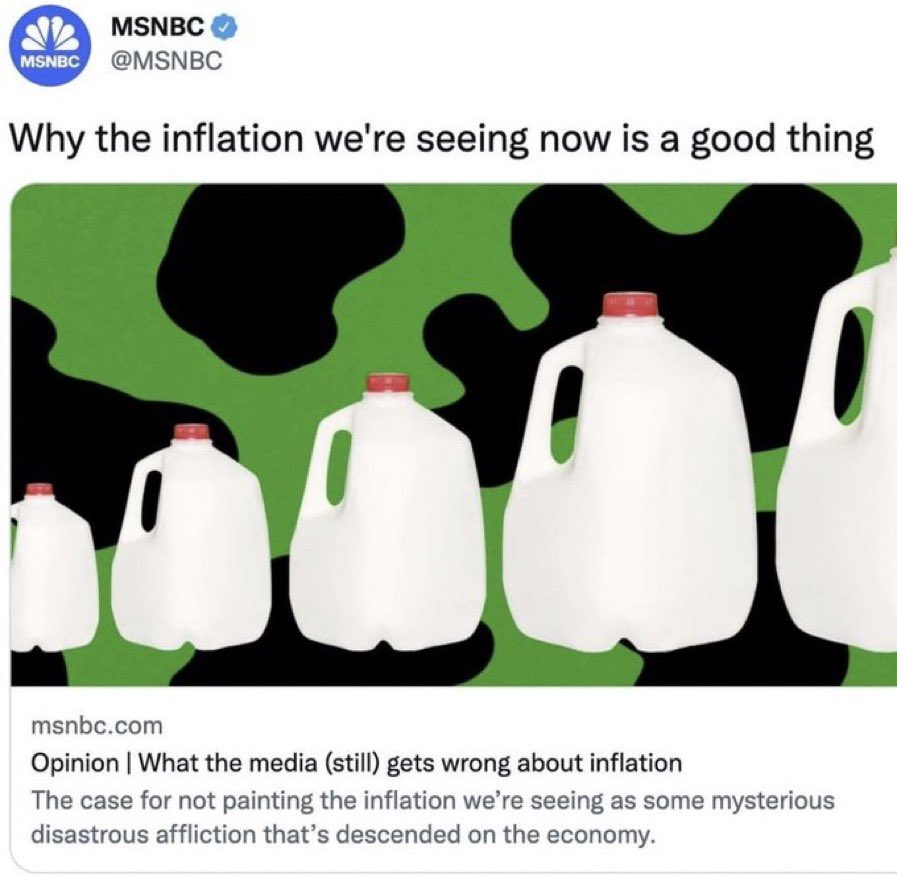 Not only are prices rising, but you'll also be facing scarcity this winter. You may not be able to get a turkey for Thanksgiving.
President Biden is facing a challenging winter.

Supply chain bottlenecks spurred by increased demand threaten to hold up Christmas gifts.

Businesses are facing labor shortages, which are likely to lead to inconveniences for Americans traveling during the holiday season.

Rising gas prices will add to those headaches, and now administration officials are warning that heating homes also will cost more this year.

And as it gets colder, inside gatherings could lead to more coronavirus cases, which have started to flatline after weeks in which they have fallen.

It all adds up to a difficult winter and potentially troublesome holiday season for Biden, who has already seen his approval numbers drop amid a challenging few months for his administration. Fears that Biden's party could lose the House and Senate in next year's midterms are also up after a disappointing showing in last week's elections in Virginia and New Jersey.

"It's pretty bleak," one Democratic strategist who spoke to The Hill said. "I don't think people realize where we are as a party right now."
Although prices are rising broadly, energy prices in particular are soaring.
The Biden Regime has an answer for that:
They're considering shutting down another pipeline to further restrict US energy production.
The White House spokesliar lied about this and snapped at the reporter, Peter Doocy, who asked about it.
The White House admitted Monday that it is studying the impact of shutting down the L5 pipeline from Michigan to Canada amid a global energy crisis.

A day after Energy Secretary Jennifer Granholm warned that Americans will have to pay more to heat their homes this winter, deputy press secretary Karine Jean-Pierre and Fox News' Peter Doocy sparred over reports that the Biden administration was mulling the pipeline shutdown.

Doocy asked at the White House briefing why the administration is "considering" shutting down Line 5, which carries oil and gas liquids from Canada through Wisconsin and Michigan.

"That is inaccurate, that is not right. Any reporting indicating that some decision has been made, again, is not accurate," Jean-Pierre said before explaining that Michigan and Enbridge, the pipeline owners, are involved in legal proceedings.

"What's inaccurate?" Doocy asked.

Jean-Pierre said the reporting about "wanting to shut down the Line 5" is inaccurate.

But the Fox reporter said he didn't mention "wanting," and asked whether the administration was "studying the impact of shutting down the Line 5."

"Yes we are," Jean-Pierre admitted.

"So then what is inaccurate?" Doocy pressed.
Tucker Carlson discussed Biden's -- and the White House's -- constant snappiness and anger about being questioned. He said it was less about senility and more about weakness, and knowing they are badly outmatched by circumstance and being angry at anyone who notices that.
It falls to CNN to deliver some bad news to Biden: Their new poll finds that most Americans is not paying attention to the most important issues that affect Americans.
One year out from the 2022 midterm elections, 58% of Americans say President Joe Biden hasn't paid enough attention to the nation's most important problems, as a majority disapproves of the way he's handling his job as President, according to a new CNN Poll conducted by SSRS.

More than a third of Americans call the economy the most pressing problem facing the country (36%). Among the group that sees it that way, 72% say Biden hasn't been attentive to the right issues. That dynamic is reversed among the smaller 20% who consider the coronavirus pandemic the nation's top problem: 79% in that subset say Biden has had the right priorities, while 21% not.
What nonsense!
Don't American realize that Biden just appointed a woman with no experience in commercial shipping to lead the Maritime Administration during a commercial shipping crisis?
The FAA is headed by a pilot, NASA is headed by an astronaut, the US Marine Corps is headed by a Marine but for the fourth time in a row, and during the worst shipping crisis of the century, the US Department of Transportation, has appointed someone to the US Maritime Administration (MARAD) who is not a captain and has no commercial shipping experience.
She's a diversity hire -- a woman -- so that's all the Lived Experience she needs.
The sea is often likened to a woman, so.
Meanwhile, Transportation Secretary Pete Bootyjudge, just back from his two month plus Secret Vacation, isn't fixing the transportation crisis -- which you think he might, being Secretary of Transportation and all.
Instead, he's choosing to focus laser-like on... roads which Are Racist.
Repulsive evil clown April D. Ryan wanted to know "the construct of how you will deconstruct the racism that was built into the roadways?"
"Can you give us the construct of how you will deconstruct the racism that was built into the roadways?" Ryan asked. "Can you talk to us about how that could be deconstructed?"


"As to where we target those dollars, you know, I'm still surprised that some people were surprised when I pointed to the fact that if a highway was built for the purpose of dividing a white and a black neighborhood, or if an underpass was constructed such that a bus carrying mostly black and Puerto Rican kids to a beach, or that would have been in New York, was designed too low for it to pass by, that that obviously reflects racism that went into those design choices," Secretary Buttigieg said.

"Sometimes it really is the case that an overpass went in a certain way that is so harmful and it has to come down, or maybe be put underground."
Video at the link.
Meanwhile, Kumala wants NASA to use its satellites to "measure trees" to "track by race." For "EJ," she says -- "Environmental Justice."
That is, she wants NASA to use its scientific resources to prove the social justice warrior point that the poorer areas that poorer people live in do not have as many trees or parks as the leafier areas that richer people live in.
I'll say this: Black people tend to be poorer people (though of course not all black people are poor, and certainly not all poor people are black).
Poor people tend to live in less-desirable areas. Roads have something to do with this -- no one wants to live hard-by a highway.
People want to live in areas with big beautiful trees reaching across the roads. Near parks. Near forested areas.
But what Bootyjudge, April Ryan, and Kumala -- and all the Social Justice and "EJ" Warriors -- are demanding is essentially this: You must give poor people who pay low rents all the amenities, such as distance from highways and industrial centers, and lots of tree cover and parks, that rich people who pay high rents get, but we demand the poor people continue paying low rent.
This is absurd, this is impossible.
This is communism-- demanding that, by fiat, everyone enjoys the same level of wealth and material comfort.
Why don't we just skip to the last few chapters of the Communist Crisis Playbook and seize the estates to redistribute them to the party faithful?