« Daily Tech News 1 November 2021
|
Main
|
Mid-Morning Art Thread »
November 01, 2021
The Morning Report - 11/1/21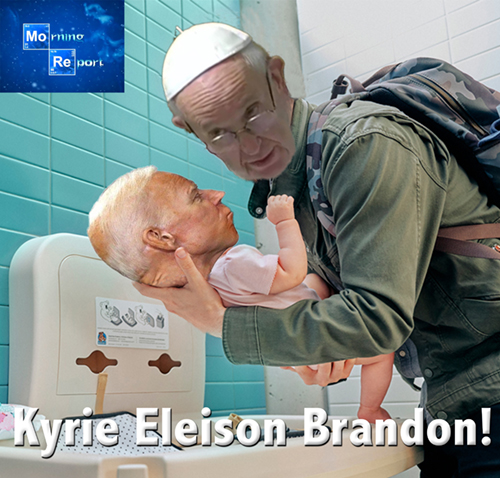 Good morning, kids. Start of a new week and a new month. For those wholly unaware a number of bellwether elections happen tomorrow, or more correctly have been happening for about a month already due to the insanity of early voting and mail-in ballots that even the like of hideous leftists like Jimmy Carter have rejected as banana republic bullshit. Though they were uncharacteristically quiet about it a year ago, but I digress. As I've said for a while now, the nation as it was is no more. Right now, as a society we're in some sort of bizarre zombie state, like Bruce Willis who just can't seem to turn the red knob and open the friggin' door. Some things have the appearance of normalcy and regularity - like elections - and yet many other things are completely alien. Or metaphorically speaking, we may not be actually dead but we're in a coma. And the odds of coming out of it diminish with each passing day.
I'm mixing metaphors like a Cuisinart here because I'm trying to avoid the hot topic of voting under these conditions, but alas, tis unavoidable. The opinions around here are both strong and colorful, to say the least. But the one thing that is inarguable is that America as it was founded, or at least as it appeared to be operating for the past 50 years or so is gone, goodbye. We are in fact not only a divided nation, but the rift is completely un-mendable. The two sides are not merely arguing about issues, even the most polarizing ones. What separates us is the very nature of our society itself; there is no common ground because the very ground we are on is viewed by the enemy as illegitimate, stolen and evil, which should make crystal clear to anyone just how they see we the people who live on it.
Despite what Peter Navarro and now Mollie Hemingway have documented regarding what happened a year ago, despite the confirmation that the accusations of Russian collusion that Donald Trump did not win 2016 fair and square were completely debunked by the very sham committee that was put in place to railroad him for that in the first place, despite the fact that what was termed as the darkest day in American history, January 6th, as an "insurrection" and a "coup" has all but been proven to have been a premeditated Reichstag Fire perpetrated by the Democrats and their allies -- despite all of the evidence that those who, after 100 years of trying, finally planted the communist flag on top of the Capitol Dome, some otherwise very astute pundits continue to think we who state these self-evident truths are crackpots who need to STFU.
Anton Chekhov famously said that if a gun appears hanging on a wall in the first act, it must be used in the second act. In the same way, the line is dangerously thin between warning about a peril and creating an atmosphere that makes that peril possible. Ever since last year's presidential election, the press and countless voices on social media have been worrying, ever more loudly and insistently, about a looming civil war.

The warnings come from both ends of the political spectrum, and Americans seem to believe them. But civil war is a rare and exceptional moment in the life of a civilization. We should be careful how we use such a term, lest fears of political catastrophe become self-fulfilling prophecies . . .

. . . Granted, you would have to possess an extraterrestrial complacency not to worry about America's divisions. On one side are Trump's ceaseless claims that the election was stolen, claims compounded by the unwillingness of many Republicans to counter his false assertions and denounce him for making them.
Stop right there. Apologies. Did I say "astute pundits?" In the case of Lee Siegel here at the usually decent City Journal, I meant "ass toot" (I didn't quote it because the paragraph after this one will make you rage-stroke). I usually get to spot one or two Pollyannas a week who are not NeverTrump stooges but who are reasonable and intelligent essayists. Unfortunately, this dreck was all I could find to illustrate my point. Continuing . . .
But is an epistemological crisis the same as finding ourselves on the brink of civil war? We might see through the more hyperbolic claims of division to find our way to some obvious and consequential bonds. The often-heard claim, for instance, that Americans essentially live in different countries is a disconnection from American reality -- a product of, to borrow a term from intellectual historian Arthur Lovejoy, a "climate of opinion" that sees portents of civil war everywhere. Someone in Vermont is just as likely to be listening, say, to country and western music as someone in Texas; you would quickly lose count of all the Honda CRVs bearing Black Lives Matter decals, on the one hand, and those with MAGA stickers, on the other. If the country ever comes together as one, the point of unity will probably be a large cheese pizza.
HO. LEE. FOOK. I think I just threw up in my mouth. Has Siegel ever heard of the Loudon County Schoolboard? Has he ever heard of Kyle Rittenhouse? Has he ever heard of the dozens of people still held in the Garland Archipelago? Has he ever heard of people purged for their political views, i.e. "cancel culture?" I imagine he has heard of Ashli Babbit; he views her as a rabid racist white supremacist insurrectionist who got what she deserved.
The conditions for a civil war simply do not exist. Since civil war is only one step removed from revolution -- if the South had chosen to overthrow the American republic rather than to secede from it, that would have been a revolution -- the conditions for a civil war must resemble those for a revolution. That is to say, each side has to have an army behind it; each side has to be prepared to wage war. . .

. . . Regardless of which political side wins three years from now, Americans should remove the flush of fever from their rhetoric. They should keep the rifle hanging on the wall and allow the next act in American political life, whatever it is, to be a peaceful one.
The level of jackassery in this essay is off the charts. It's a tossup as to which is more infuriating, his cluelessness or his arrogance. And I don't dismiss that this kind of writing is intentional agitprop, hamfisted as it obviously is to attempt to make folks believe him rather than their lying eyes. But it nevertheless is revelatory. You know, maybe Lee Siegel is right in his description of a civil war or the conditions for it. This isn't a civil war. This is more and more looking like the Warsaw Ghetto circa April 1943. One side sure as hell has an army behind it. The other does not. That is to say we the people being the other side. But unlike the doomed Jews, what we do have - thank God - is the second amendment and upwards of 200 million people who over the years have taken it to heart. What we are missing is that moment where we "Break Glass, Pull Handle" so to speak. The Jews of the Ghetto in '43 had that for sure, except all they had to fight with were a few pistols and Molotov cocktails. It's the Jews of '33 who for the most part didn't see it, or refused to see it, that ultimately lead to what happened 10 years later.
That's where we are, in a sense. I mean, even a few short years ago, even in the wake of the Obama Reign of Error, could anyone have imagined the nightmare that has transpired since and how things have played out for the past 20 months? The Left for sure wiped out so much of America. The one thing I suppose that we can be thankful for in a perverse way is that in doing so they wiped out the illusions of incorruptible and impartial safeguards and institutions that would always be on guard to protect our rights and freedom. Forget the so-called "Fourth Estate" which is the Fifth Column. I'll never trust our intelligence services, law enforcement, the courts, the FDA and anything coming out of any governmental agency ever again.
But just shut up with all this "civil war" garbage and play nice, right?
* * * * *
My book,The End of America: 100 Days That Shook the World, is available now at the link.


ABOVE THE FOLD, BREAKING, NOTEWORTHY
AMERICA, AND THE WORLD, IMPRISONED: CHINESE CORONAVIRUS FICTIONS AND FACTS
NOTE: The opinions expressed in some links may or may not reflect my own. I include them because of their relevance to the discussion of a particular issue.
ALSO: The Morning Report is cross-posted at CutJibNewsletter.com if you want to continue the conversation all day.
Follow us on Twitter: @CutJibNews
Follow us on Instagram: @Cutjibnewsletter

posted by J.J. Sefton at
07:31 AM
|
Access Comments