« Saturday Evening Movie Thread [Moviegique]: Finding Vivian Maier (2014)
|
Main
|
Daily Tech News 7 November 2021 »
November 06, 2021
Saturday Overnight Open Thread (11/6/21) Fall Back Edition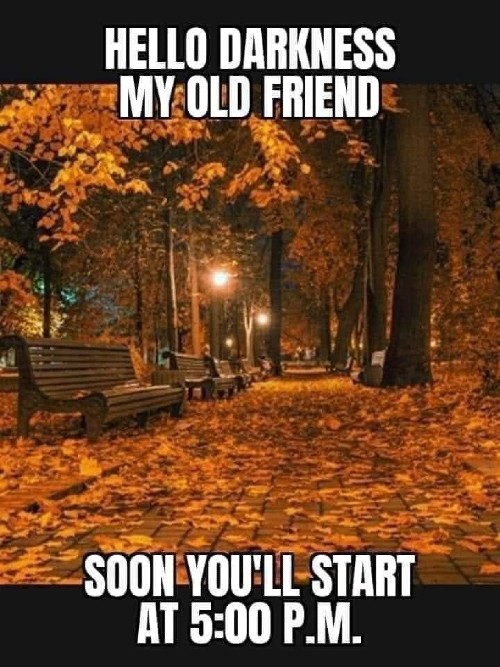 ***
The Saturday Night Joke

A woman tries getting on a bus, but realizes her skirt is too tight. As the bus stopped and it was her turn to get on, she became aware that her skirt was too tight to allow her leg to come up to the height of the first step of the bus. Slightly embarrassed and with a quick smile to the driver, she reached behind her to unzip her skirt a little, thinking that this would give her enough slack to raise her leg. She tried to take the step, but only to discover that she couldn't.
With a little smile to the driver, she again reached behind to unzip a little more and again was unable to take the step.
After becoming quite frustrated and embarrassed, she once again attempted to unzip her skirt more in order to allow more leg room to get on the first step of the bus.
About this time, a large Texan who was standing behind her picked her up easily by the waist and placed her gently on the step of the bus,
She went ballistic and turned to the would-be Samaritan and yelled "How dare you touch my body! I don't even know who you are!"
The Texan smiled and drawled "Well ma'am, normally I would agree with you but after you unzipped my fly three times I kinda figured we were friends. - (H/T Iris)
***

So if the Fabulous Mrs. Mis. Hum. asks to go on a foreign vacation, the response is. No! Hell no!

A Dutch man had to undergo reconstructive surgery on his penis after a cobra bit his manhood during a safari trip in South Africa — causing it to rot.

The 47-year-old victim suffered scrotal necrosis after the cold-blooded serpent, which was lurking in the toilet bowl, attacked, according to Urology Case Reports.

In what the medical journal described as the first case of "snouted cobra envenomation of the genitals," the unidentified man had to wait three hours before he was flown by helicopter to the nearest trauma center some 220 miles away.
***

I try to keep politics out of The ONT on Saturdays.......Too good to pass up tonight.
***
No mental health issues here. Nope. None whatsoever.

I breastfeed my boys aged 5 and 6 in the playground – I won't stop until they're ready
This mom still breastfeeds her two boys – aged five and six – before and after school and says she won't stop until they decide it's time on their own.

Sheryl Wynne, from Wakefield, West Yorkshire, England insists that breastfeeding her school-age sons is completely normal as it has cemented a lifelong bond between them and made them "closer".

The 39-year-old nurses both Riley, six, and Mylo, five, before school, in the evening and throughout the night.

Sheryl claims 'mommy milk' is the 'ultimate parenting tool' as it helps calm the children and comforts them when they're upset or ill.
***

I never had this problem. Why humans are growing taller.

Over centuries, humans have been growing taller.

Now scientists think they have the answer as to why, and the phenomenon is explained by a sensor in the brain.

The discovery made by UK scientists could inform the development of new drugs to help delayed growth in humans and boost muscle mass.

Throughout history, as nutritional health has improved, so have people's growing potential.
Now about being horizontally challenged........
***
The ONT Musical Interlude
Born on this day: November 6, 1948 - Glenn Frey
Glenn Frey, guitar, vocals, the Eagles, (1977 US No.1 & UK No.8 single 'Hotel California', plus 5 US No.1 albums. 'Greatest Hits 1971-1975' is the second biggest selling album in the world with sales over 30m). Solo (1985 UK No.12 single 'The Heat Is On'). Frey died on 18 Jan 2016 died at the age of 67 in New York City from complications arising from rheumatoid arthritis, colitis and pneumonia. via thisdayinmusic.com
***

NSFW-Language

***

Go play in the freeway is a euphemism. Isn't it? Genius Award Winner.

Man dressed as Fred Flintstone attacking cars with 'spear' is fatally hit, TX cops say
***
Tonight's ONT has been brought to you by Reflection.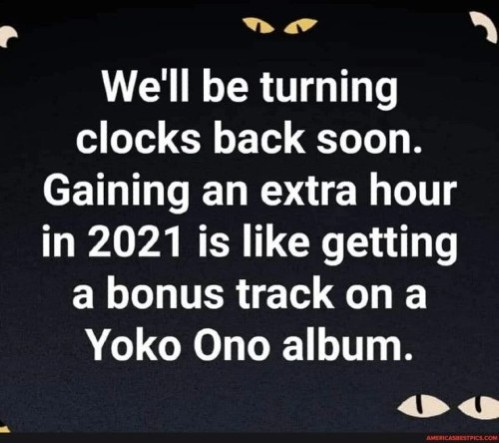 (Mystery Click?)
Notice: Posted begrudgingly by the Ace Media Empire and everyone affiliated with The Empire.


posted by Misanthropic Humanitarian at
09:56 PM
|
Access Comments