ę Twix Halloween Ad Pushes Transgenderism for 8 Year Olds, Witchcraft, and Using Violence Against the Non-Trans
Plus More from The Libs of Tik Tok
|
Main
|
Disney's/Marvel's L's Are Our GAINZZZ Ľ
October 29, 2021
Quick Hits: The Repulsive, Vile Lincoln Project Confesses Guilt for the Racist Terror Hoax Today
But... Are They Lying?
But hold on for one second. Let's update the story first.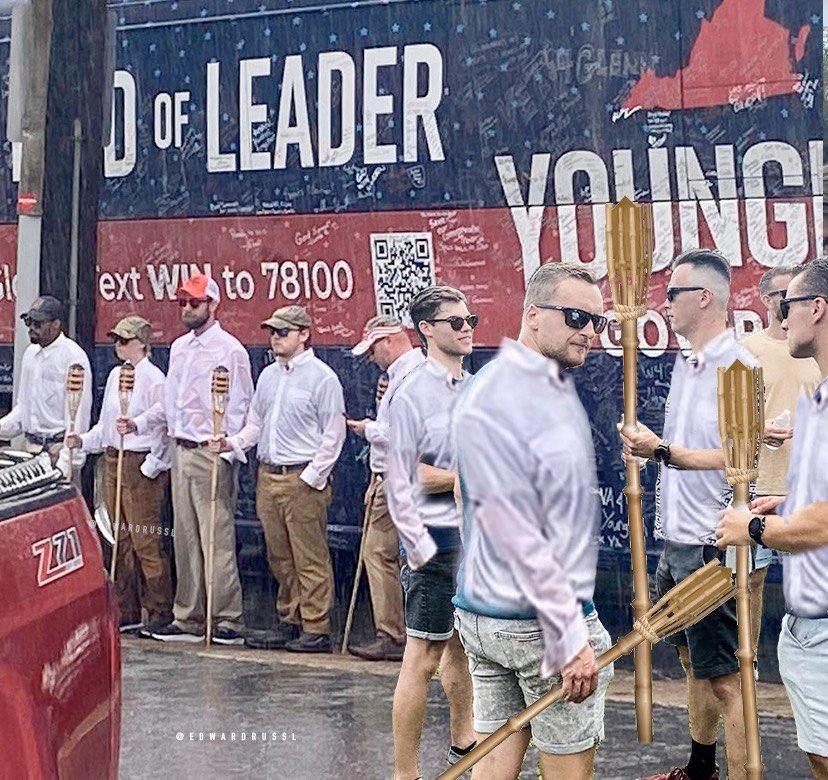 The Democrat Party of Virginia released a statement on the Tiki Torch political actors: How dare you accuse us of coordination with members of the Young Democrats of Virginia and Virginia Democrats, and how dare you trivialize the memory of Charlottesville by smearing us with this!
No. Really.
See, you're to blame for trivializing Charlottesville. Not the Democrats' crisis actors.
You, for the crime of noticing Democrat lies.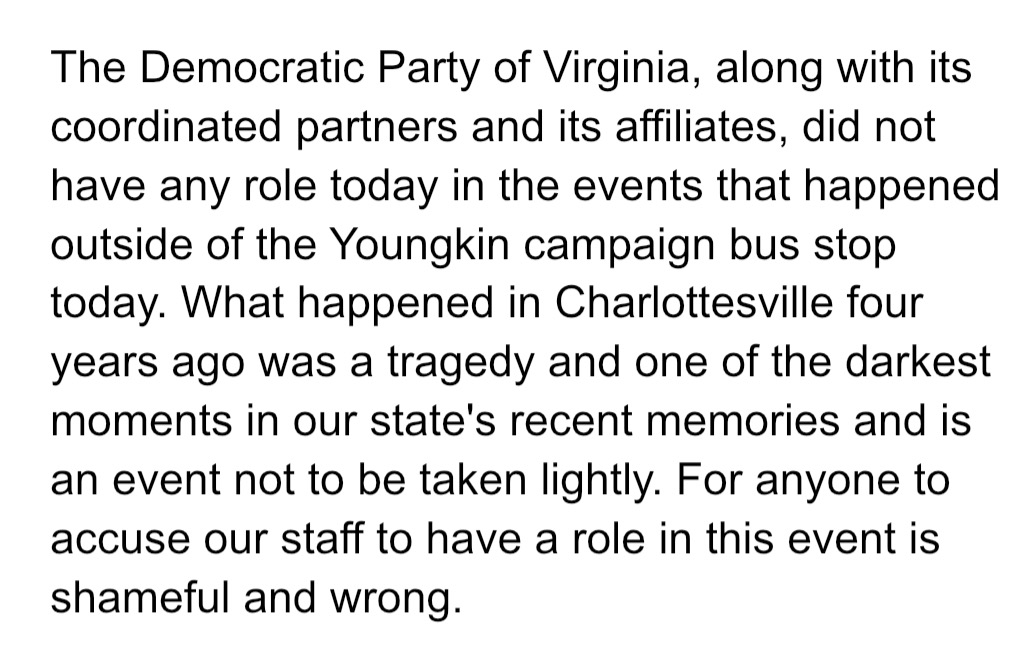 Twitter didn't ban Democrats or MSNBC for spreading this obvious hoax around, and therefore Attacking the Integrity of Our Cherished Democratic Principles.
But how much you want to bet that accounts accusing McAuliffe of complicity in this will be suspended?
And by the way: We're still siccing the FBI on political extremists, right?
Greg Pollowitz @GPollowitz


ok. But will you help us identify these people so they can be prosecuted for a possible hate crime?
The memories of Charlottesville still haunt us, right? Didn't he just say that?
So he'll naturally want to help identify the miscreants trying to sow racial terror among black folks, right?
Well since your campaign claims to be against white supremacy, with the exception of KKK Ralph, I'm sure you'll be calling the FBI to help track down who these white supremacists are. They are very dangerous. Thank you for your help @AndrewWhitleyVA. https://t.co/E15TJ9TpxA

-- Katie Pavlich (@KatiePavlich)
Andrew Whitely is a VA Democrat Party hack, the one who issued the "How dare you notice our Democrats perpetrating a racist political hoax" statement.
I'm sure the DOJ will get right on this.
Now, pressure and media inquiries are mounting.
No doubt, the hoaxers have been identified by conservative media outlets and the hoaxers have been asked for comment -- and know their names are about to be revealed.
As "White Supremacists" carrying Tiki Torches.
And I'm sure they've begun squealing about who arranged this despicable, racist, racial-fear-sowing op.
And it turns out -- surprise! It was Rick Wilson and the gang of True Conservatives at The North American Man-Boy Lincoln Association!
They're only admitting this, I postulate, because they were about to be outed.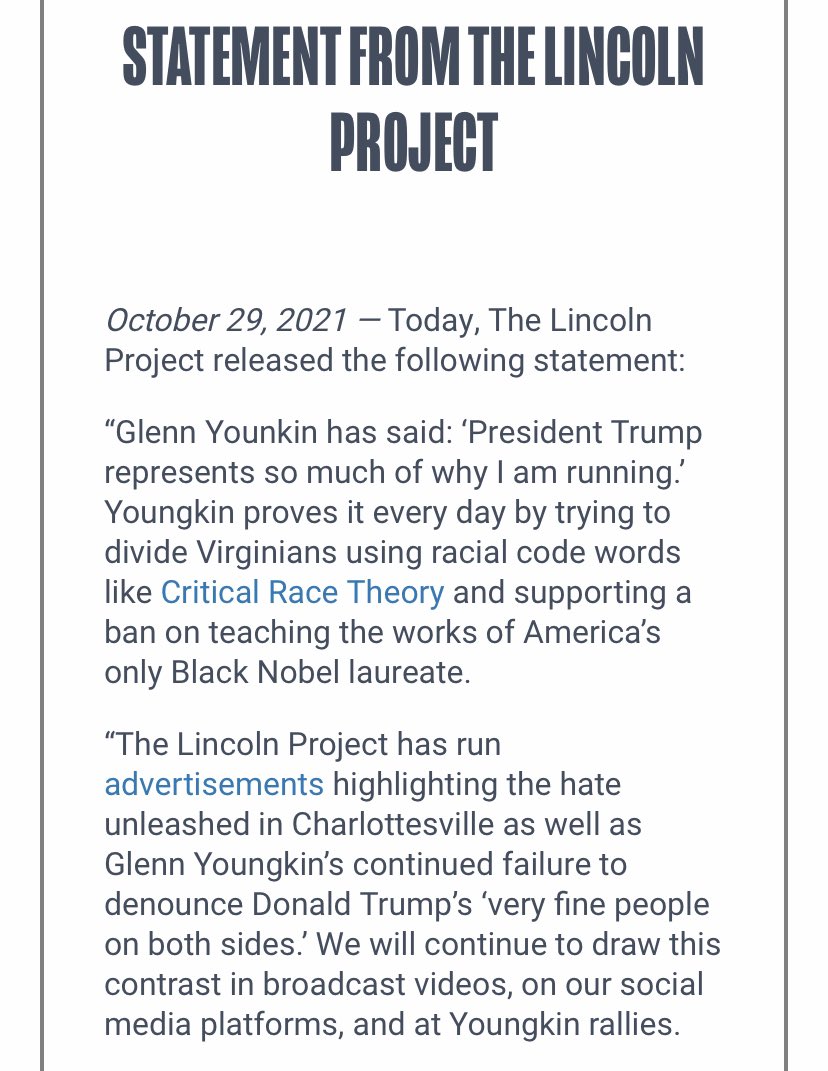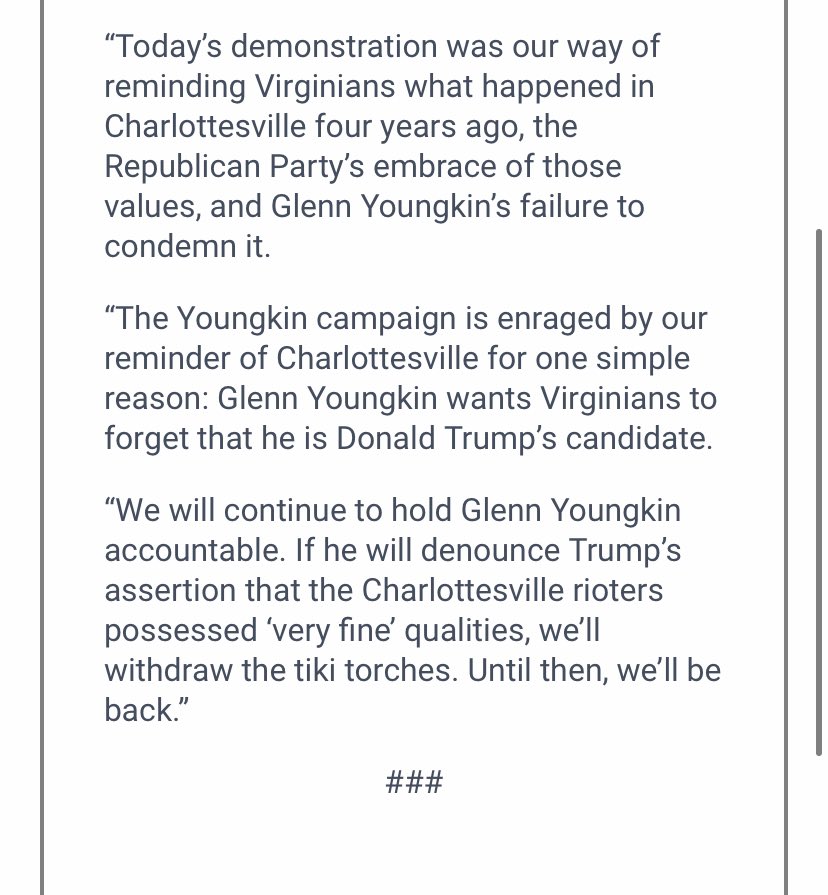 Note they're recasting this as a "demonstration" instead of what it actually was -- a nasty, toxic, racist, racial-fear spreading lie.
We should have known.
We should have guessed.
Not just because the Lincoln Project is among the most vile of all political operatives -- but because they are among the very most incompetent.
Allahpundit's recent post, suggesting that this wasn't a hoax because it was too obvious to be hoax -- it was just some kind of political theater taken the wrong way, he claims -- smells of covering for his fellow Democrats and NeverTrump Twitter Palz.
If it was just political theater, why did they maintain the deception all day long? Why did they only confess their role when the actors were being identified?
If the memory of Charlottesville is so painful and so terrifying as the North American Man-Boy Lincoln Association says they believe -- what are they doing instilling racial fear into a terrorized minority population by paying actors to recreate a tableaux of Charlotesville?
Maybe AllahPundit can answer that for us. On behalf of his Twitter Palz.
Huh: Tami writes that a lot of people think that the already-despised North American Man-Boy Lincoln Association is falsely taking blame for what the Virginia Democrats actually did -- to give McAuliffe a chance.
Interesting...a lot of people on twitter saying that the LP is taking the hit owning up to the stunt for McAulliffe and they didn't organize this. And they have the nerve to just tweet this:

@ProjectLincoln
Racism is the original sin of the GOP
https://tinyurl.com/yfyr244l

Posted by: Tami
We're going to have to have the names of these Racist-Terror Spreaders. We'll have to expose them and make them explain who they were working for, exactly.
On to the original top story of this post:
A new year-long study proving that the vaccinated transmit the delta variant in households at the exact same rate as the unvaccinated do will change nothing in the fascists' demands.
Because this was never about making people healthy.
This was about making people kneel.
People inoculated against Covid-19 are just as likely to spread the delta variant of the virus to contacts in their household as those who havenít had shots, according to new research.

In a yearlong study of 621 people in the U.K. with mild Covid-19, scientists found that their peak viral load was similar regardless of vaccination status, according to a paper published Thursday in The Lancet Infectious Diseases medical journal. The analysis also found that 25% of vaccinated household contacts still contracted the disease from an index case, while 38% of those who hadnít had shots became infected.

So the vaccine provides you with some protection, but does not offer protection to others.
But yeah, let's keep firing people who do not share the most recent Moral Panic hysterias of the Very Online Wealthy White Leftist Ruling Class.
This feels very much like a post for John Sexton or Karen Townsend.
CNN "journalist" Kasie Hunt -- a repeat offender in unhinged leftist partisan "reporting" -- now threatens that she will change her reporting to get tough on the Democrat Party, to show how they're alienating suburban women, if they don't give her the paid family leave she wants.
Kasie Hunt @kasie

If paid leave is left out of this bill, Iím going to spend the midterms covering how suburban women who turned on the GOP over Trump are responding to Democratic governing in DC -- especially after the pandemic
So Kasie thinks she has a story right now about former Republican women who voted for Biden now turning against the Democrat Party -- but she won't report on that if the Democrats give her the leftwing boondoggle of paid family leave.
We are real news, Mr. President.
Via Tami, a member of antifa has finally been indicted for a violent attack on Andy Ngo -- in 2019.
A member of Antifa, John Colin Hacker, has been indicted on a felony robbery charge by a grand jury in Multnomah County for allegedly violently stealing journalist Andy Ngoís cell phone during an attack on May 7, 2019 in Portland.

There is an active arrest warrant for Hacker and as of the distribution of this release, he has not yet turned himself in.

"I hope last weekís indictment of Mr Hacker signals a change in the prosecutor's office in Portland," Ngo said. "For years, too many violent extremists falsely claiming to be fighting for 'racial justice' have gotten away with campaigns of terror and violence against journalists and citizens."
POLITICO:

It's not just Republicans who are assigning responsibility to the administration for the rocky economic recovery, polls show. The percentage of Americans who have confidence in Biden's ability to ensure a quick post-pandemic rebound dropped to 44 percent in October from 52 percent in January, an Axios/Ipsos poll this week found. All the losses were among Democrats and Independents.

Posted by: SMOD
Corey A. DeAngelis @DeAngelisCorey BREAKING: New Hampshire School Boards Association just decided to withdraw from the National School Boards Association effective immediately.

"NHSBA has decided to withdraw its membership from the National School Boards Association, effective immediately. NSBAí' recent actions have made our continued membership untenable."
He points out that 23 state school board associations have "distanced" themselves from the partisan fascist NSBA, and five have quit the association completely.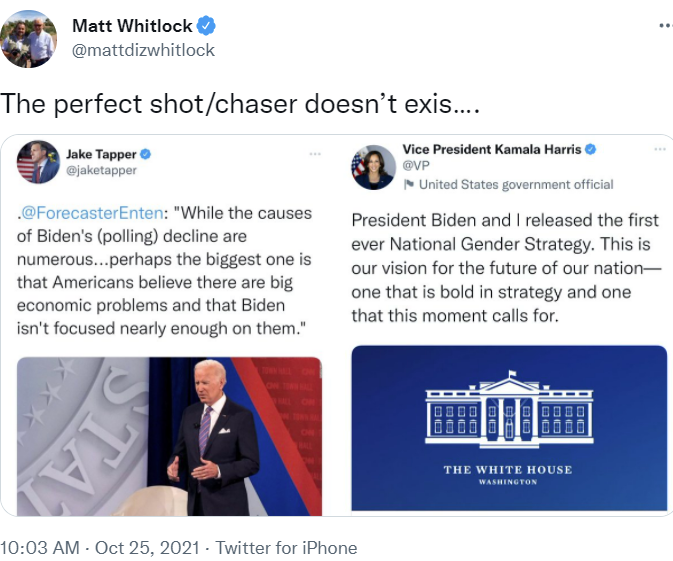 NYTimes actual headline: "President Biden said Pope Francis told him that he was a 'good Catholic' and should keep receiving communion."

So nyah, haters! The Pope said I'm good, in private, away from the cameras.

Posted by: bonhomme
Bergoglia is totally an expert about what makes a good Catholic. He's definitely not just another credentialed leftist who has infested and subverted a formerly valuable institution.

Tucker Carlson responds to Liz Cheney's leftist fascist demand that he be deplatformed.
Liz Cheney's Gay Best Friend won't be seeking re-election. Sad!
Kinzinger announced his decision in a video early Friday, saying the "time is now" to move on.

"My disappointment in the leaders that don't lead is huge," he said.

He hinted at other political plans, saying: "I cannot focus on both a reelection to Congress and a broader fight nationwide. I want to make it clear -- this isn't the end of my political future, but the beginning."
Adam Kinzinger will move on to his new jobs as CNN "analyst" and Hot Air "Conservative" Blogger.
Ilhan "Omar" Nur: The reason crime is surging is not because of the Defund the Police campaign, nor of the left supporting criminals' violent attacks on the roots of society.
It's because the few police remaining are deliberately wrecking and subverting our Defund the Police policy by not doing their jobs properly.
Rep. Ilhan Omar, D-Minn., blamed police for the recent rise in crime in Minneapolis, accusing the city's officers of not fulfilling their oath of office.

"What we must also recognize is that the reduction in policing currently in our city and the lawlessness that is happening is due to two things," Omar said during a town hall event Saturday in Minneapolis.

One of them, she said, is that "the police have chosen to not fulfill their oath of office and to provide the public safety they are owed to the citizens they serve."

Communists always blame the failure of their terrible policies on "wreckers and subversives" (and "foreign spies," and "Jews") undermining them.
I figure Ilhan Nur will get to the "Jews" excuse soon enough.
Our media are very, very educated and intelligent and we should therefore take their advisements, and their commands, as if they were the utterances of God Himself.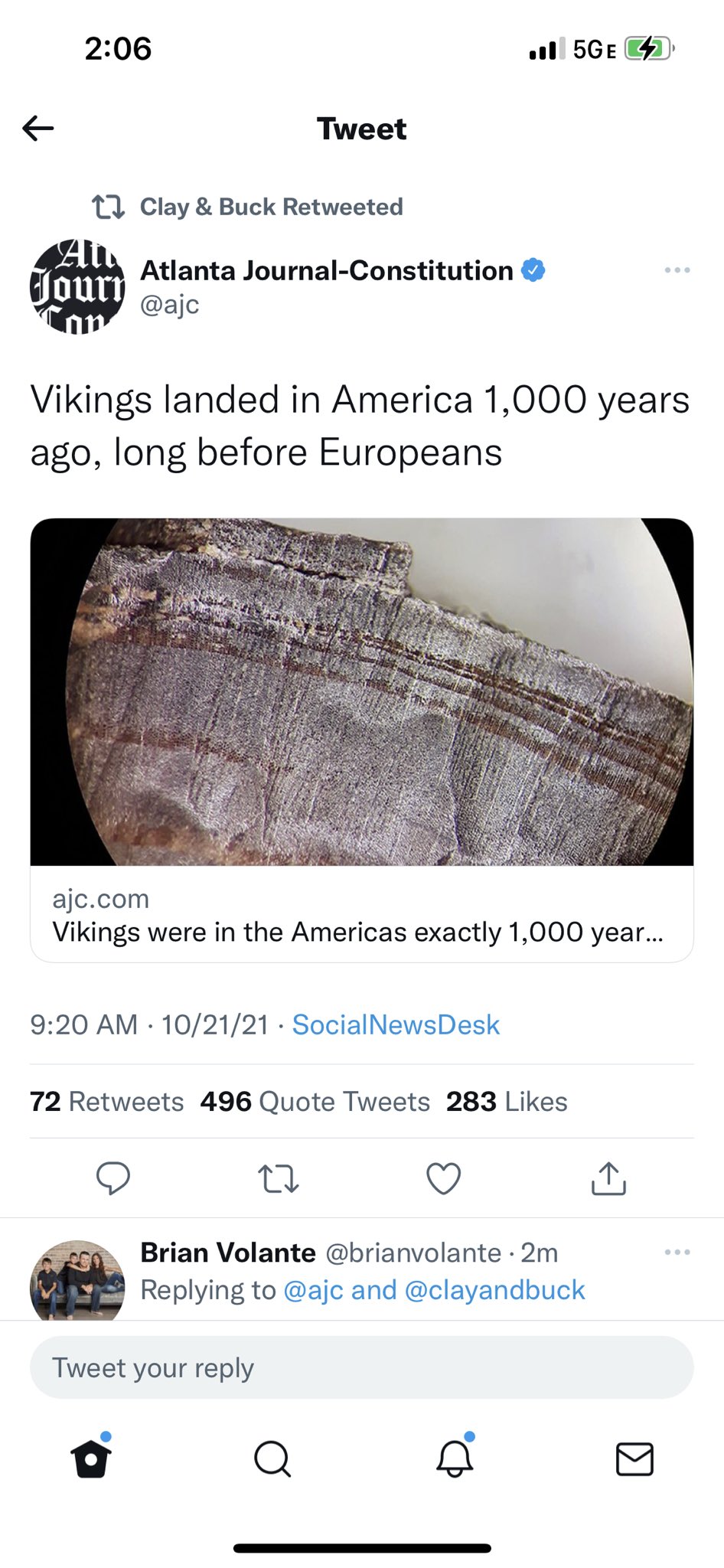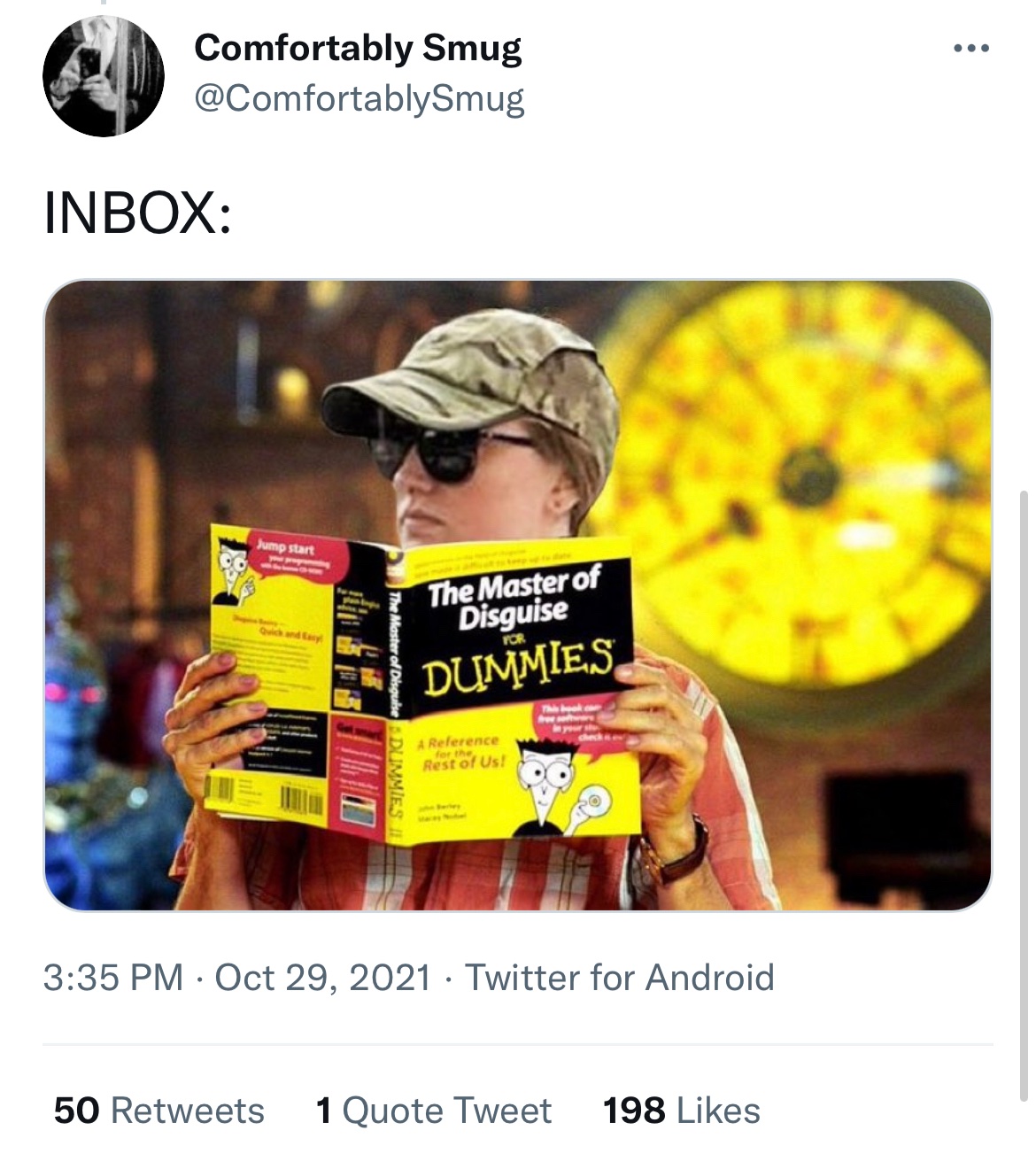 posted by Ace at
05:35 PM
|
Access Comments