« Daily Tech News 28 October 2021
|
Main
|
Mid-Morning Art Thread »
October 28, 2021
The Morning Report - 10/28/21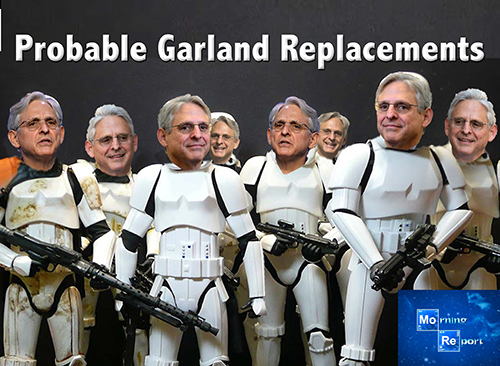 Good morning, kids. Thursday and we move from covering the heirs of Josef Mengele and the T-4 "doctors" to that of Roland Freisler and Ernst Kaltenbrunner. Sorry if these comparisons offend some but when you incarcerate people for months on end in deplorable (no pun) conditions and in many instance subject them to physical and psychological abuse for a crime no more serious than criminal trespassing, and have now been shown to have actively plotted with the illegitimate junta controlling the federal government to persecute parents for confronting their local school boards about the sanctioned abuse of their children in schools that they pay taxes to fund, then I think the analogies to the Schickelgruber era and those who brought it about are wholly appropriate. Especially since this is exactly the fate that is in store for us.
And the political prisoners of January 6 are still rotting in jail for violent actions and vandalism that we now know to have been plotted ahead of time and executed by plants and stooges of the FBI if not badge-carrying FBI agents themselves. That agency is still run by Christopher Wray, a lifelong apparatchik and servant of a feral federal bureaucracy that did everything it could to frame Donald Trump in 2016 on phony charges and then finally succeeded in a rigged 2020 election. And that agency is run by "Attorney General" Merrick Moloch Garland.
For whatever it's worth, he ran into a buzzsaw yesterday on Capitol Hill:


At the beginning of the hearing, Sen. Chuck Grassley pressed Garland to answer whether he would rescind his memorandum directing the FBI and state attorneys to address "a disturbing spike in harassment, intimidation, and threats of violence against school administrators, board members, teachers, and staff who participate in the vital work of running our nation's public schools" following a letter from the NSBA. The NSBA released a statement last week expressing "regret" for sending the letter and even admitted that "there was no justification for some of the language included in the letter" but Garland did not budge. . .

. . . During his allotted time, Sen. Tom Cotton told Garland that he should "resign in disgrace" after using the NSBA letter to justify authorizing the Department of Justice to take action against frustrated parents.

"This is shameful. This testimony, your directive, your performance is shameful," the Arkansas Republican said at the end of his questioning. "Thank God you are not on the Supreme Court. You should resign in disgrace, Judge. . . "

. . . "When you issued your memo, when you involve the Department of Justice and all of its resources, and the FBI and all of its resources, and local school boards and local school districts, you knew that federal prosecutors would start collecting crimes that they could use against parents. You knew they would advise state and local officials that these are all the ways parents might be prosecuted. You knew that that was the likely outcome. And that's exactly what's happened," [Senator Josh] Hawley said.

Hawley also accused Garland of having "weaponized the FBI and the DOJ" to accomplish political goals.

"It's wrong, it is unprecedented to my knowledge in the history of this country, and I call on you to resign," Hawley concluded. . .

. . . Sen. Ted Cruz pressured Garland to answer questions about his son-in-law Xan Tanner who founded Panorama Education, a firm that markets teaching materials "focused on systemic racism, oppression, white supremacy, and intersectionality, all under the rubric of 'Social-Emotional Learning'" to educators funded by the government. When Cruz asked Garland to clarify if he "sought an ethics opinion" on the matter, the attorney general refused to answer yes or no.
As I said, for whatever it's worth. Look, it's important that this sagging sack of evil with a JD and a hard-on for power and obsequiousness to an all-powerful State, someone the founders and framers saw in their nightmares 232 years ago, got grilled on the record. Not that assholes will frame this as "abuse of a wonderful, moderate, independent AG" or some such drivel. But that said, what's the net effect here? You think Garland is really going to resign? And even if he did, who's the next in line? The Left's bench is so deep, it's measured in metaphorical light years. Garland goes and here comes Chesa Boudin. Think the GOP is going to dig in its heels to stop him? Look who they've confirmed already -- including Garland: A Luddite nihilistic eco-terrorist, a racialist open borders advocate and waiting in the wings, an honors student from a Soviet university who seeks to nationalize the banking system.
Yes, Senator Cotton. Thank G-d he's not on the Supreme Court but look were he is. And believe me, he isn't engineering this all on his own. The Justice Department has thousands of employees and if certainly everyone there is not "down for the struggle" as it were, they'd best keep their mouths shut lest they too get fired. Or worse, labeled a member of a white supremacist terror organization plotting to overthrow the government. I.E. a non-Democrat.
The situation we are in is so utterly fouled up that it's hard for me to wrap my head around and construct cogent thoughts. But suffice it to say, that I don't think the ballot box is even the answer, and that's even assuming that it won't be rigged as it was in 2020, since it sure as hell will be to one extent or another. But let's say it isn't. Let's say that somehow, we take back the House and Senate next year, that we win shocker victories in VA, NJ and elsewhere down ballot and even the White House in 2024. There was a story yesterday where Democrat voters are souring on Biden and one today supposedly showing if the Hunter laptop story had not been suppressed, they'd not have voted for him.
What I'm getting at is, do these supposedly disaffected Dems see that their disaffection is not just for Biden the man/vegetable but for the policies themselves that he and his handlers are implementing? So, the Dems get wiped out starting next week and for the next two years but, even assuming we have another Trump-like boom and resurgence, will the same mindset coupled with a rabid propaganda smear campaign not make them vote for Titty Caca to be president come 2028 and then we lather rinse and repeat all over again?
All this underscores the fact that we are as polarized a nation as we have ever been, perhaps even more so than just before the Civil War (not that I or anyone else was around to confirm it). Whatever the issues were back then, slavery aside, the two sides today have irreconcilable differences on the nature of this nation and society itself. Electoral mood swings every two to four years is a non-starter, even with non-rigged elections. And that gets away from the much deeper and deadlier problem of an unelected, massive centralized bureaucracy that will get to a point where the other branches of government will be an irrelevancy like the British Royal Family.
Grill Garland and Fauci and everyone else all you want. There are infinitely more and worse waiting in the wings to fill their slots. That's where the real power lies. Or at least the iron in the glove.
The leading Republican tasked with his party's investigation into the preparedness and response of the U.S. Capitol Police and other law enforcement agencies to the Capitol riot on January 6 is being blocked by President Joseph Biden's FBI from gathering information, a new document reveals.

The FBI told Indiana Republican Rep. Jim Banks it would not provide Republicans the same information provided to House Speaker Nancy Pelosi's hand-picked committee consisting only of Democrat-appointed members.

"We respectfully refer you to the Select Committee regarding issues of access to records and information," the agency wrote in response to a Republican request for information, referring to the official House panel established by the speaker.
Let me translate what Christopher Wray just said in plain English: "Go fuck yourselves!"
QED.
* * * * *
Please consider buying my book The End of America: 100 Days That Shook the World on Amazon.


ABOVE THE FOLD, BREAKING, NOTEWORTHY
AMERICA, AND THE WORLD, IMPRISONED: CHINESE CORONAVIRUS FICTIONS AND FACTS
NOTE: The opinions expressed in some links may or may not reflect my own. I include them because of their relevance to the discussion of a particular issue.
ALSO: The Morning Report is cross-posted at CutJibNewsletter.com if you want to continue the conversation all day.
Follow us on Twitter: @CutJibNews
Follow us on Instagram: @Cutjibnewsletter

posted by J.J. Sefton at
07:42 AM
|
Access Comments