« Emails Reveal that National School Board Association Colluded With White House To Draft That Letter Demanding the DOJ Treat Concerned Parents as "Domestic Terrorists"
|
Main
|
FDA Head Says Your Children Will Be Forced to Wear Masks In School, Even After They've Mandated Vaccinations »
October 22, 2021
Luke Rosiak: The Loudoun County School Board Knew All About the Sexual Assault In Their Schools' Bathroom; They Were Informed Of It The Day They Happened
But they lied about when asked by the father of the girl who'd been r4ped.
And someone should start looking into the possibility of charging them for making false statements at a public hearing.
The entire Loudoun County school board was informed of an alleged sexual assault in a high school bathroom the day it occurred, according to new reporting from local news outlet WTOP.

WTOP obtained an email written by Scott Ziegler, superintendent of the Virginia school district, at 4:09 pm on May 28 that said:

Good Afternoon, Board Members, The purpose of this email is to provide you with information regarding an incident that occurred at Stone Bridge HS. This afternoon a female student alleged that a male student sexually assaulted her in the restroom. The LCSO [Sheriff's Office] is investigating the matter. Secondary to the assault investigation, the female student's parent responded to the school and caused a disruption by using threatening and profane language that was overheard by staff and students. Additional law enforcement units responded to the school to assist with the parent., The school's counseling team is providing services for students who witnessed the parent's behavior. The alleged victim is being tended to by LCSO.
Note that most of that email is about Ziegler's horror that a father would get angry at his school district for allowing his daughter to be r4ped by a "boy in a skirt" -- and not horror about the r4pe itself.

Three weeks later, in a June school board meeting, Ziegler was directly asked if he had knowledge of such an incident, and he claimed there was no record of it.
Beth Barts participated in the deception -- she had what must now be seen as a planned, staged colloquy with Ziegler in which he denied any "record" of the incident -- and we now know she had received the email from Ziegler informing her about the r4pe.
Terry McAuliffe evades the question and runs away when asked "Do you still support Scott Smith's prosecution?"
Scott Smith is the father of the girl who was r4ped. But he's the one being prosecuted for resisting (false) arrest.
CNN is completely embargoing the "local crime story," of course.
They have to do this, because the intense partisans who make up their very small audience want them to "get" the right-wing, even when the dreaded right-wing is completely right.
To confess error would be to show weakness to the enemy.
But hey, that Trump has a low character, huh?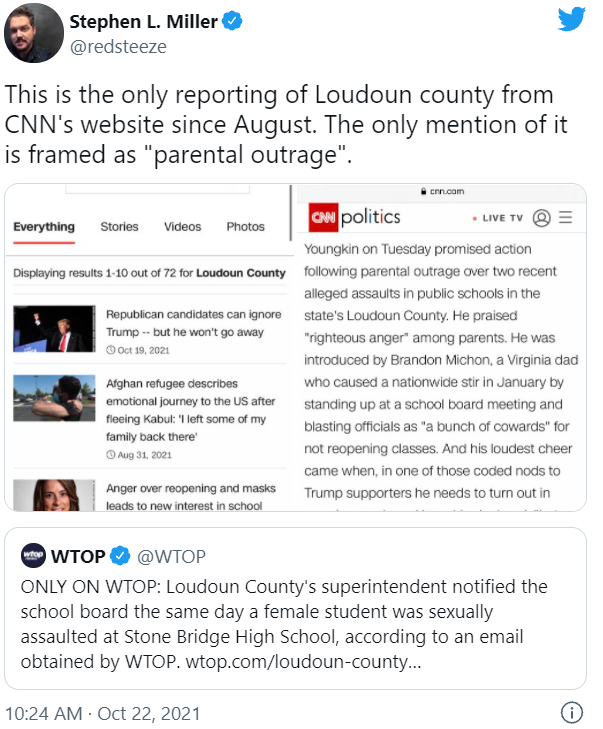 What makes this deliberate suppression of a story for rankly partisan reasons even more disgusting is that CNN is alluding to the story, in their "coverage" of the Merrick Garland hearings.
They allude to "dishonest" stories appearing in "right wing media" which Garland is being "inundated" with questions about.
But they won't break embargo to tell you the specifics of this "dishonest" story, or the specific questions.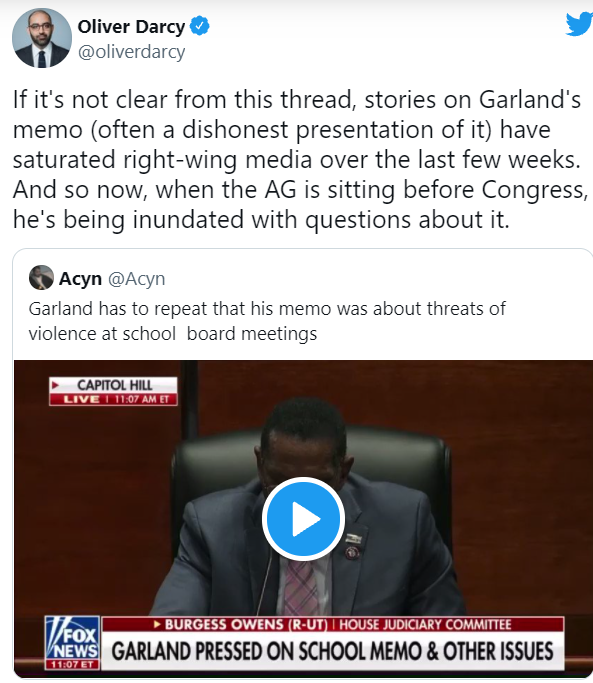 Also via Twitchy: Terry McAuliffe is so panicked about fading support that he's... browbeating and insulting Karen for not being enthusiastic enough about his candidacy.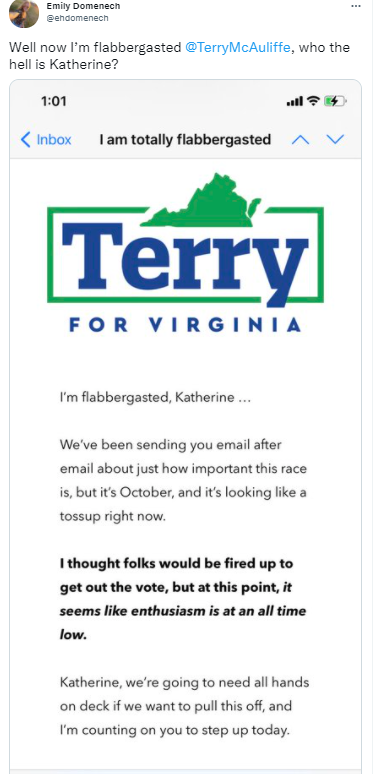 Don't worry, though, Karen -- Terry McAuliffe has Empty Shelves Joe on the way to campaign for him.
Matt Whitlock notes that Biden is coming to Virginia on Tuesday -- Arlington, Virginia, which is essentially DC, and the reason why the state is now a Democrat state.
Matt Whitlock @mattdizwhitlock

INBOX: President Joe Biden will campaign with Terry McAuliffe in Arlington on Tuesday.

LOL -- the McAuliffe campaign doesn't want to take Biden any deeper into Virginia than ARLINGTON.

He then makes jokes about how Biden can pretend to be in "Virginia" while actually staying as close to the DC border as possible, so as not to increase the voter enthusiasm in the rest of the state for Youngkin.
NEW: President Biden will campaign for Terry McAuliffe on the Virginia edge of the 14th Street Bridge.

NEW: President Biden will campaign for Terry McAuliffe from an inflatable raft floating in the Potomac under the Memorial Bridge.

NEW: President Biden will campaign for Terry McAuliffe from the Ferris Wheel in National Harbor in Oxon, MD. Supporters are encouraged to gather at Mount Vernon and tune in over radio.

NEW: President Biden will campaign for Terry McAuliffe from the future site of the Georgetown/Rosslyn Gondola. He will stand on the Georgetown side with a can on a string. McAuliffe supporters will gather on the Rosslyn side with the can on the other end of the very long string.
It turns out that his jokes weren't that far off from reality: Biden will hold a "rally" in a small park in... Pentagon City. Which is not actually the Pentagon, but rather a mixed use area south of the Pentagon.
It is DC for all intents and purposes.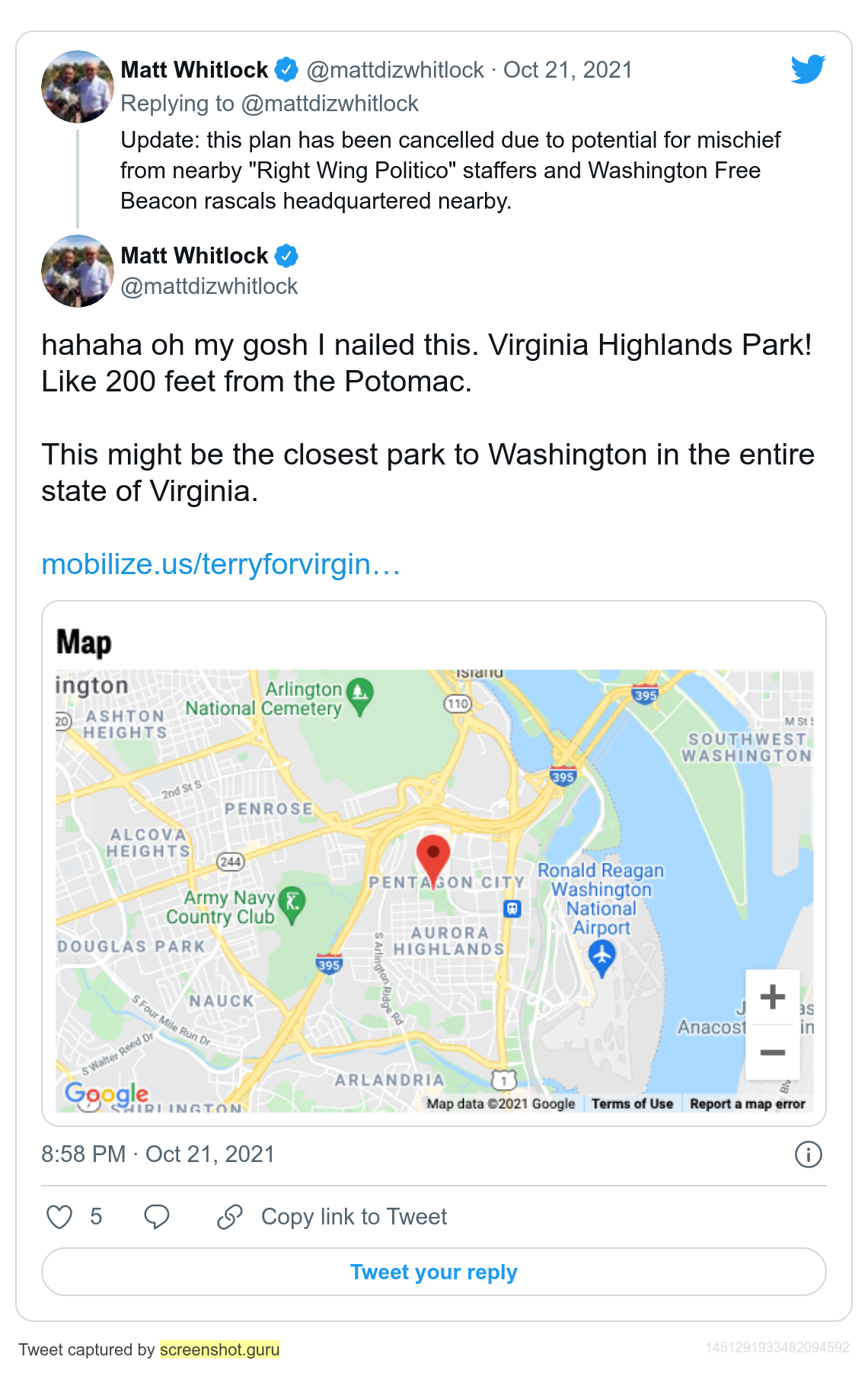 posted by Ace at
02:30 PM
|
Access Comments