« Daily Tech news 20 October 2021
|
Main
|
Mid-Morning Art Thread »
October 20, 2021
The Morning Report – 10/20/2021
A bright and shiny good morning to all of you. Again, I'm sorry I can't provide you the link-o-rama that J.J. does, but he'll be back in just two days.
*****
Chinese Police Uprooted And Delivered Forced Uyghur Labor To Prominent US Electronics Company
Universal Electronics, Inc., ("UEI") a US-based company that is a major manufacturer and supplier of electronics items, is getting some attention for the very favorable labor deal it has worked out with Communist China.
EXCLUSIVE: US electronics firm struck deal to transport and hire Uyghur workers (Reuters – 10/08/2021)
In at least one instance, Xinjiang authorities paid for a charter flight that delivered the Uyghur workers under police escort from Xinjiang's Hotan city - where the workers are from - to the UEI plant, according to officials in Qinzhou and Hotan interviewed by Reuters.

Responding to Reuters' questions about the transfer, a UEI spokeswoman said the company currently employs 365 Uyghur workers at the Qinzhou plant. It said it treated them the same as other workers in China and said it did not regard any of its employees as forced labor.
The beneficiaries of slave labor always like to talk about how well they treat their chattel, therefore they don't "regard" them as "forced labor."
I'm glad to see some US Senators paying attention, much to the chagrin of the Principled Free Traders™ who are such passionate fans of Chinese slave labor.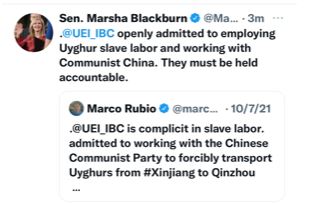 So just who does UEI supply products to? Sony, Microsoft, Samsung, LG, and a whole bunch other familiar names. It's been 156 years since the abolition of slavery in the United States, but it is quite likely that products currently in your household had slave labor involved in their production.
*****
Ballot Stuffer Charged in Philadelphia
The media repeatedly assured us that there was not "widespread" voter fraud on Election Day, therefore it is just conspiracy talk to wonder if Joe Biden was elected legitimately. Yet I've never heard anyone in the media define just how many fraudulent ballots it would take to constitute "widespread." One fraudulent ballot is one too many, yet it is understood and expected that Democrats will commit significant voter fraud.
I'm going to guess that this ballot-stuffer in Philly isn't the only ballot-stuffer in Philly.

Staffer Charged in South Philly Voter Fraud Conspiracy (Philadelphia City Life – 10/13/2021)
Prosecutors say that these fraudulent votes were cast for candidates at every level of government, from municipal to state to federal.

She allegedly cast fraudulent votes herself in place of voters she knew wouldn't be coming to the polls.

The government also alleges that she would encourage and permit in-person voters to vote on behalf of absent family members, "steering" those voters in support of the consultant's candidates of choice.
*****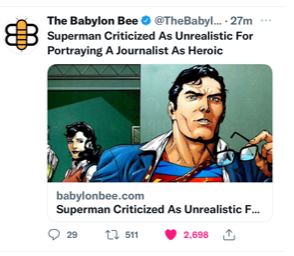 *****
To Fight Class Inequity, The Art Museum Of Chicago Could Redistribute its Billion Dollar Endowment
Providing volunteer labor to the Art Institute of Chicago is now considered an act of racism.
Chicago museum fires all of its mostly White female, financially well-off docents for lack of diversity (Fox News – 10/17/2021)
The Art Institute of Chicago fired all of its trained volunteers and guides last month, who were mostly older White women, to diversify its team

The firings were apparently sparked by the fact that most of the docent staff was composed of older White, financially well-off women, the outlet reported. Stein said that the museum needed to take a new path "in a way that allows community members of all income levels to participate, responds to issues of class and income equity, and does not require financial flexibility."
The Art Institute's endowment is worth in excess of $1 billion. It was probably contributed by the same out-of-favor people who volunteer as docents. To show its commitment to ending racism, the Art Institute must re-distribute its endowment to Chicago's non-docent class. Anything short of redistributing that full $1B endowment would be racist.
*****
Climate Follies
So what's going on with the climate hoax these days? Well, Europe is facing a potential catastrophe this winter with an energy shortage exacerbated by wind turbines that are barely producing any electricity.
And why aren't they producing electricity? Because the wind isn't blowing. And why isn't the wind blowing? Oh – you know the answer. Climate change! Say hello to "Global Stilling".
Climate Crazies Claim Global Stilling At Fault For Wind Turbines Not Producing Energy (Safe link to "The Lid" blog.)
Industry experts are warning that climate change may have caused wind speeds in Europe to plummet this year in news that threatens to drive energy prices even higher.
There are some scary stories out there about the energy crisis facing Europe this winter, and if it is colder than normal, it could be a deadly and catastrophic winter.
Good thing for them the earth is boiling hot. Wait. Uh-oh…
South Pole posts most severe cold season on record, an anomaly in a warming world
The average temperature at the Amundsen-Scott South Pole Station between April and September, a frigid minus-78 degrees (minus-61 Celsius), was the coldest on record, dating back to 1957. This was 4.5 degrees lower than the most recent 30-year average.

The temperature averaged over September was also the coldest on record at South Pole.

The extreme cold over Antarctica helped push sea ice levels surrounding the continent to their fifth-highest level on record in August, according to the National Snow and Ice Data Center.
Look at that headline one more time, "an anomaly…" It's not an anomaly if there is no such thing as global warming. I fear that the earth is starting a natural, non-man-made phase of global cooling.
*****
This is my last day covering for J.J. Thank you all for your kindness while I played host for a few days. See you soon elsewhere around the HQ.
[buck.throckmorton at protonmail dot com]


posted by Buck Throckmorton at
07:33 AM
|
Access Comments