« Mid-Morning Art Thread
|
Main
|
Chicago Government Threatens to Steal Cops' Retirement Benefits if They Resign to Avoid the Covid Vaccine »
October 20, 2021
The Morning Rant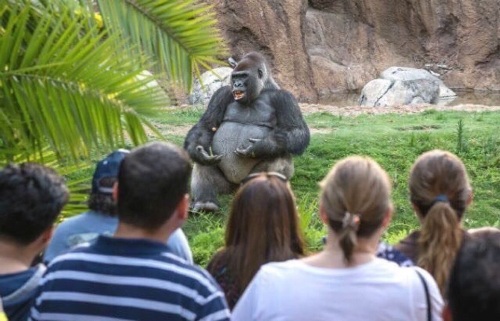 ON BEING 'ANTI-VAX'
I have been hearing complaints on social media that one or more of the online dictionaries have modified its definition of "anti-vaxer" to include those who oppose enforced vaccination either by the government or private companies. It's infuriating that a number of different meanings have been conflated into one unitary generic smear.
So now I have to spell it out:
It would be fair to say I am anti-vax.
No, that doesn't mean I'm anti- *all* vaccines.
Just the ones currently available for Covid-19.
Some people *are* anti- all vaccines, though. I understand that.
But not me. I like vaccines. I mean, in general. I have no problems with vaccines. I used to get a flu shot every year. I'm probably, eventually, going to get an anti-Covid 19 vaccine at some point. But not yet.
Why not now? Because I don't trust any of them.
Specifically, I do not trust any of the products of the Donald Trump's "Operation Warp Speed" program. Normally, it takes several years to develop and test a new vaccine adequately until it can be cleared for public use. And now they want us to believe that they can do it in a matter of months?
Something doesn't smell right.
I think there are two possibilities. Either they cut a lot of corners in the testing phase, or the bureaucratic, regulatory process itself has got a lot of useless, redundant "filler" baked in that should be permanently eliminated.
So, which is it? And please don't say "everybody worked really, really hard to speed things up" because I don't think that's credible. Especially the testing. You can't just test stuff faster. It's like pregnancy. No matter how much manpower or money you throw at it, it still takes nine months to make a baby.
But there was undoubtedly intense political pressure to get something out there fast.
So we have three rushed-to-market vaccines available, and I don't think they're trustworthy. First, the pharmaceutical companies have been given some sort of non-liability guarantee by the government so they can't be sued for any possible bad side-effects caused by the vaccines. This is almost a "rule for thee but not for me" thing since the right to sue for compensatory damages is woven into the DNA of our legal system. It's disturbing that the government can just nullify that right, poof, just like that, but that's the 2021 post-legal environment that we're living in right now
So, if I get vaccinated, and suffer permanent, debilitating side effects, is any sort of compensation possible?
There is a federal agency that handles such cased, but don't get your hopes up:
Since 1988, the government has run a special, no-fault tribunal housed within the U.S. Court of Federal Claims, the Vaccine Injury Compensation Program (known colloquially as "vaccine court"), to handle injury claims for 16 common vaccines. Payouts (including attorneys' fees) are funded by a 75-cent tax per vaccine...

But that's not where COVID vaccine claims are being adjudicated. Instead, at least for the time being, they've been relegated to an even more obscure forum, the Countermeasure Injury Compensation Program, or CICP, run by the Health Resources and Services Administration.

Both Maglio and Gentry use the same phrase to describe the program: "A black hole."
In other words, you can sue, but it's highly unlikely that you will win anything. You have to prove to a bunch of federal bureaucrats that your symptoms are directly due to the vaccine, and the bar for accepting evidence of proof has been set very, very high.
So how does this work if you are compelled to get the vaccine due to either private or governmental mandates? It seems to me that it is possible for you to be forced to take the vax to save your job or do business in your state, and if the vaccine messes you up, well, too bad, so sad, screw you, it's all on you, ha ha.
Which is pretty outrageous, I'd say.
So, as I was saying, I do not trust any of the rushed-to-market vaccines. I understand that most of the people who have been vaccinated don't have any problem. But there have been enough that make me think that maybe they should be doing further tests. Which actually, they're doing now. If you've taken vaccine, you're part of the test. But I prefer not to be. I also don't like what appears to be an organized campaign to shame and bully us into compliance. The more I see that, there more it makes me want to dig my heels in and say no, I'm not going to do it. They shout at you to get jabbed, and when you don't, they just threaten you with cancellation and shout even louder.
Like that's going to work.
And the fact that they've put all of the eggs in the vaccine basket, rather than also investigate other treatments is mystifying. The government of India killed Covid in a major part of the country by distributing little packets of vitamin D3, zinc, and ivermectin, and that's such an inexpensive, common sense solution, why didn't we try something like that? If you mention this, though, you get sneers about taking horse dewormer.
It's like the number one priority in the country right now is not public health, but rather the profits of the drug manufacturers. So the only solutions that will be allowed are the ones that are patentable.
Anyway, when I was working, I do not remember ever taking a sick day for colds or flu. So I believe I have a pretty gnarly immune system. I have also been fortifying it with daily doses of vitamin C, D3, and zinc. I bought some quercitin but I have to ask my doctor if it interacts negatively with the blood thinner I take (warfarin).
So, right now, I trust my own immune system more than I do any vaccine. I refused to take vaccine ver. 1.0. I'm going to wait for the 2.0 release or maybe 2.1.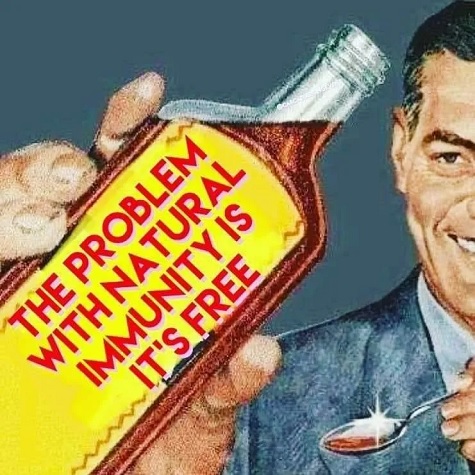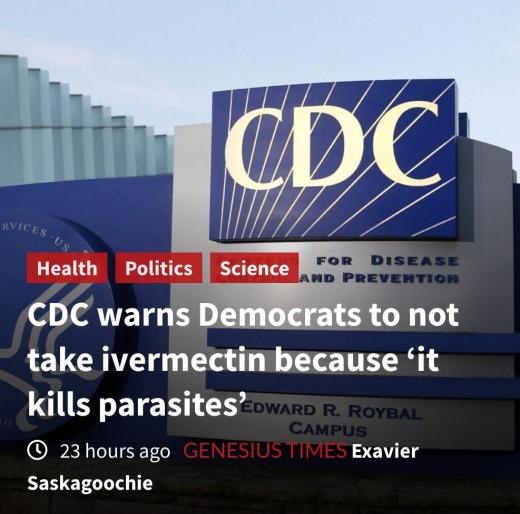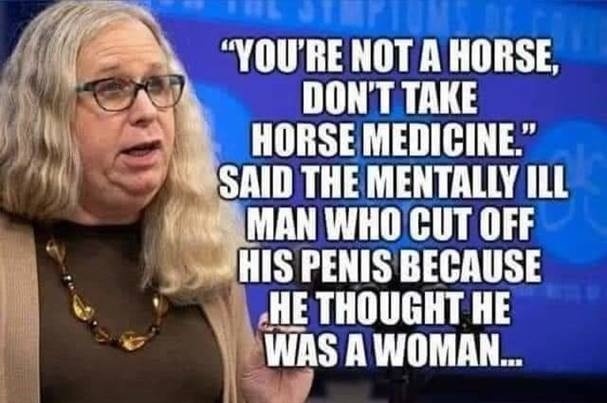 I Just *Knew* Some Idiot Was Going To Say This: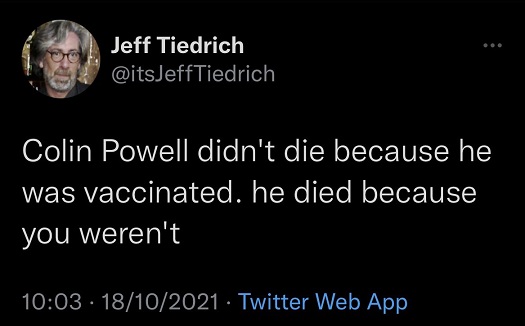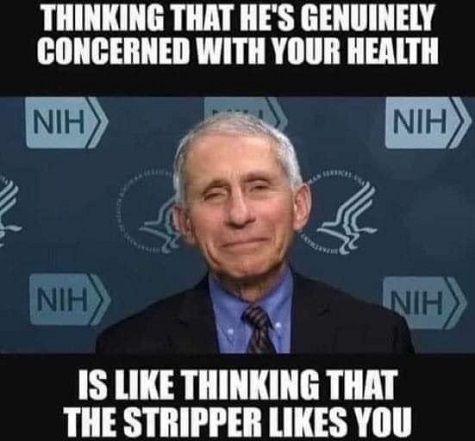 Shot: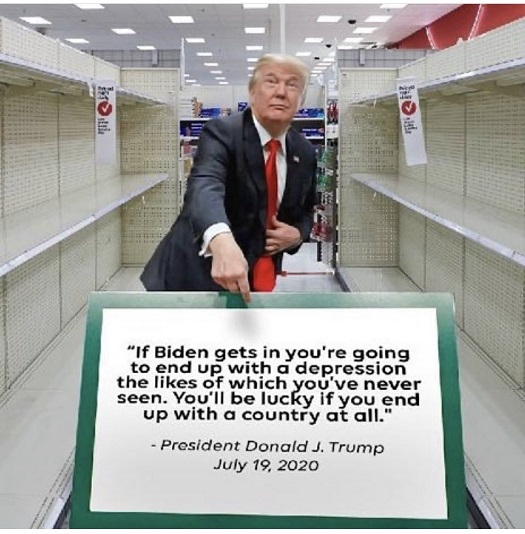 Chaser: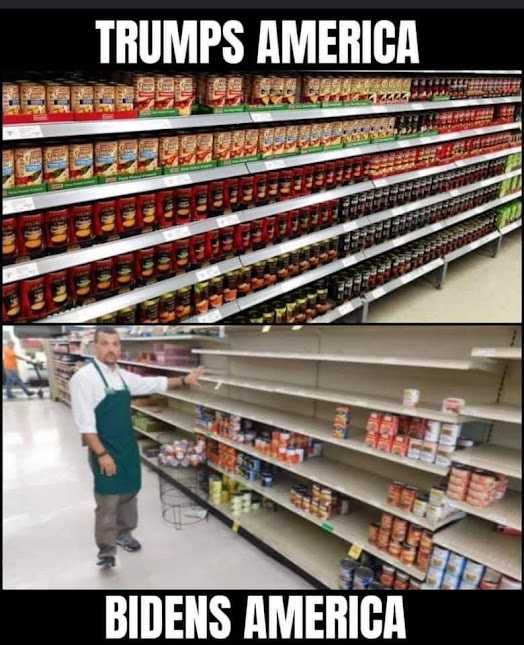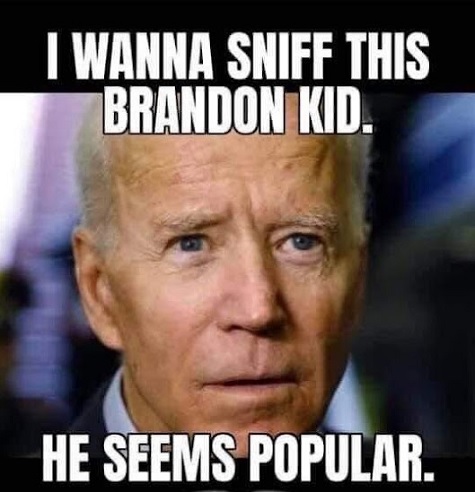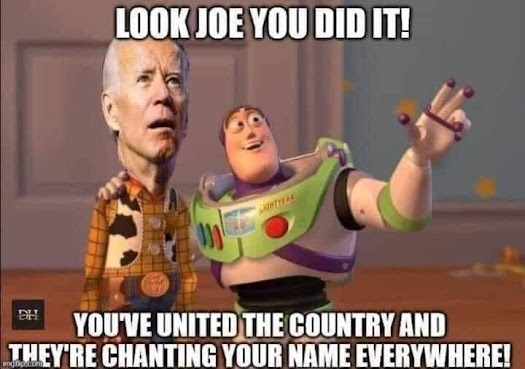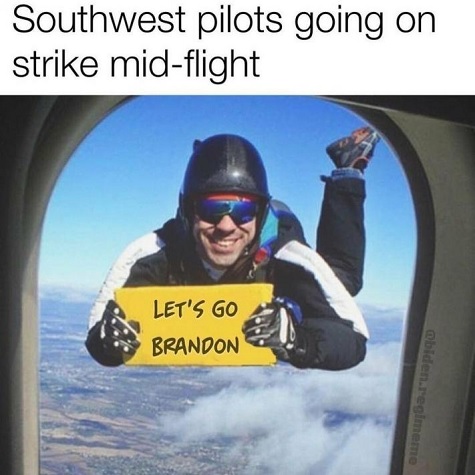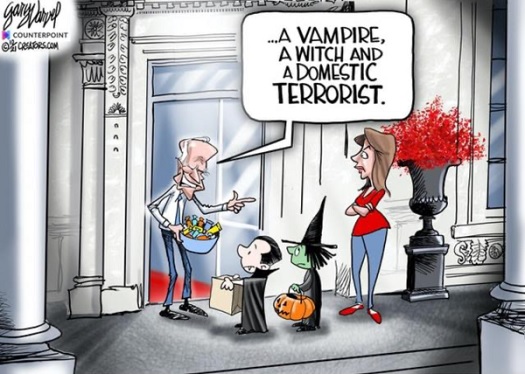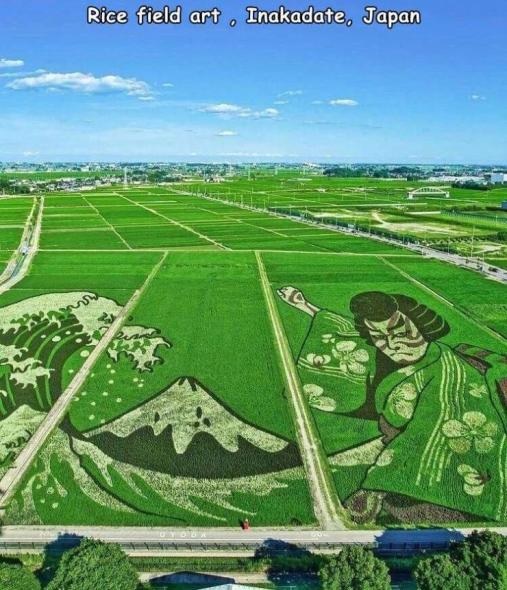 AoSHQ Weekly Prayer List
Please submit any prayer requests to "Annie's Stew" at apaslo atsign hotmail dot com.
Prayer Requests:

9/18 – Homer's Donuts needs prayers for hope, healing, health, support, and strength as his wife has chosen to divorce him. They have a young son. Clinical depression and panic attacks, a constant in his life, are hitting him hard. He says he has such low energy that Jeb Bush looks down on him. The divorce is making things worse, and he feels completely obsolete and alone, without anyone on his side.

9/20 – Ozborn asks for prayers for JC_from_Texas. He's recently developed Postural Tachycardia (some family history, recent physical stress event). Pray for wisdom in treatment, and that he can rebuild strength and stamina to resume normal activities.

10/4 – Annie's Stew requests prayers of comfort and support for a sweet young family she knows. We'd prayed for the dad a few months ago, as he was being treated for brain cancer. He just passed away from the WuFlu (in addition to his brain cancer), at age 30. They have a daughter who is only 6 months old.

10/5 – snotnosed nuclear sonic punk asks for prayers for her mother, her father, herself, and her husband. Her 78-year-old mother had an episode of garbled and slurred speech which led to no speech. She broke her left ankle, but didn't/couldn't relay the injury. Now she can't understand why they won't let her out of the hospital, and she is confused and combative. Her father needs prayers, also, as he is scared and frustrated and showing it as anger. He needs patience for his fears to be quelled. She needs prayers for comfort in the Lord, strength, and clear headedness. Her husband needs prayers for strength and comfort, as he does everything he can to make things easier for all of them.

10/9 – Tonypete asks for prayers for his two granddaughters, especially the 14-year-old. Their mother is a raging alcoholic, and the kids are suffering greatly with the usual things: acting out, eating disorders, troubles in the classroom, fighting at school, way inappropriate behavior and dress and big trouble at home. Prayers also for Mom – that she accepts the help offered and get it together.

10/9 – Prayers for comfort for the family of paisley1333, at the death of her mother. She was battling heart disease, dementia, and Alzheimer's when she got Covid and passed away.

10/13 – Aelfheld asks for prayers for her former co-worker, KV, who lost her mother on 9/21 and her grandmother a week later, all while her husband was sick with pneumonia. Prayers for her and her sisters in their time of loss and mourning.

10/13 – Sassy has 2 prayer requests. First is a thank you and praise report. She has made it through the gauntlet of breast cancer. (Double mastectomy and rebuild in Feb, Mar-May chemo, June-July radiation, Sept hysterectomy). She is now free to look towards the future, and thanks the horde for their prayers. Second is a prayer for the Repose of the soul of Gilbert, who died of Covid. He leaves a distraught wife and 3 teen sons. They are strong Chinese Catholics, but fear and anxiety are strong. May the Lord give them peace.

10/13 – Grannysaurus Rex requests prayers for her father-in-law who has entered hospice care. He is a much-loved WWII Marine vet, father, grandfather, and great-grandfather. Please pray for a peaceful passing and for God's grace as a comfort for the family.

10/17 – Pollywog the 'Ette passes along a prayer request for Brother Tim, who was admitted to the hospital Sunday for kidney stones and UTI. He needs both full healing, since this isn't the first time he's had these problems, and financial blessings. Prayer that he be able to have rest and peace, not something hospitals are known for, would be helpful as well.


For Healing:

8/22 – Hrothgar asks for prayers for Emma, a 16-year-old girl who apparently had a stroke. Her condition is still being evaluated, and she has been medevaced to the Children's Hospital in Baltimore.
9/5 Update – The Children's Hospital has determined the primary issue she was a very unusual congenital birth defect which had never before evidenced itself, as she appeared to be a healthy, active teenager. The medical team is convinced that she will be able to recover fully, but has a tough year ahead with several critical surgeries and extensive rehab. The important thing is that she will have years ahead to love and be loved by her family. So please continue to pray for Emma and her full recovery, plus prayers for her family and the skill of her surgical and rehab teams.

9/16 – Warrant242 requests prayers for his 11-year-old son, who has brain and spinal cord tumors that appear to be growing again, after 3 stable years. More treatment may be needed, and the treatment options are uncertain. Prayer for wisdom and insight, for the doctors and for them, would be truly appreciated.
9/22 Update – At the board review, his son's doctors were unanimous in their opinion that the tumors were still stable, not growing, and no treatment was needed.

9/22 – NicenePunch asks for prayers for his wife and unborn baby. They just found out this week that she is pregnancy, but her progesterone levels are lower than they ought to be. They had a miscarriage in June, and so are requesting prayers for a safe, healthy pregnancy and delivery.

9/22 - CA Token requests prayers for his cousin, who was just diagnosed with brain cancer. He has a beautiful family with three young daughters. If everyone could pray for comfort and healing for his cousin, and comfort for his devastated family.

9/22 – garrett posted that his father was rushed to the hospital for a possible stroke. Please pray for healing for him.

10/5 – redc1c4 sends in a prayer request for his wife's co-worker, whose son James (her only son) had a bad spill riding motocross. He was air evaced to Loma Linda, about 120 miles away, where he is currently in the pediatric ICU. It's so far, so good, but a long row to hoe from here. Prayers for swift and complete healing of his injuries for James, wisdom and insight for his caregivers at Loma Linda Hospital, and strength, faith, and courage for his mother Deborah would be appreciated.

10/6 – Java Joe's 19-year-old grandson was injured in an accident at college. He suffered a serious concussion, facial lacerations, a bi-lateral fracture of his jaw and 10 broken teeth. He is currently at the U of M hospital, scheduled for surgery. We are requesting prayer for recovery and no long-term effects.

10/7 – Pete in Texas asks for prayers for his mother, age 89, who got the J&J Covid shot. Her health rapidly deteriorated over the next week until she had a heart attack. For the next month she was unconscious. She is still in the hospital (where he will see her shortly) and she is still in a bed and can't speak. Last week, his sister's family got Covid. His brother-in-law went to the hospital on 10/6, so prayers are requested for him. The rest of the family are almost fully recovered.
10/14 Update – Mom got the Pfizer jab. Mom is stable enough that the case worker is talking about bringing her home. That is good news, and Pete in Texas loves her, but he realizes that is going to be a challenge. Also his brother-in-law is still hospitalized with pneumonia, but he made a remarkable recovery over Covid-19 after one of his old Army buddies visited him last week.
For submission guidelines and other relevant info, please contact Annie's Stew, who is managing the prayer list. You can contact her at apaslo at-sign hotmail dot com.
Romans 8:26-27:
[26] In the same way, the Spirit helps us in our weakness. We do not know what we ought to pray for, but the Spirit himself intercedes for us through wordless groans. [27] And he who searches our hearts knows the mind of the Spirit, because the Spirit intercedes for God's people in accordance with the will of God.
If you see a prayer request posted in a thread comment, feel free to copy and paste it and e-mail it to Annie's Stew. She tries to keep up with the requests in the threads, but she's not here all of the time, so she may not see it unless you e-mail it to her.
Please note: Prayer requests are generally removed after five weeks or so unless we receive an update.


Who Dis: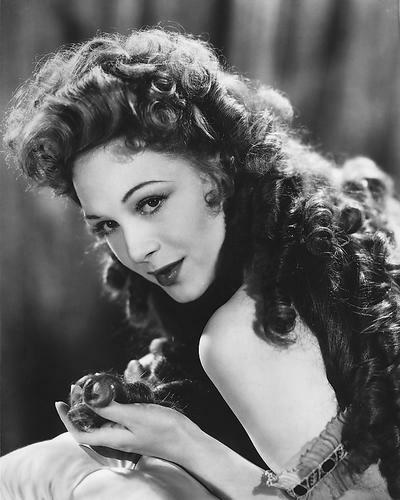 Photo 2
Photo 3
(leggy!)
Photo 4
Photo 5
Photo 6
Photo 7
(leggy!)


For the 'Ettes: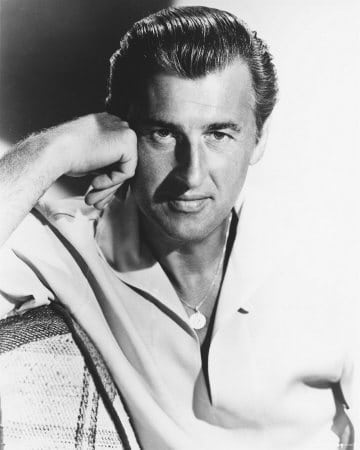 Photo 2
Photo 3
Photo 4
Photo 5


Monday Who Dis: In 2000, feminist icon Gloria Steinem, who once famously said that a woman needs a man like a fish needs a bicycle, and who also claimed that "marriage was the model for slavery law in this country", decided to toss all of that aside and get hitched. She married environmental and animal rights activist David Bale. I have no idea how they met, but I assume that all famous people either know each other directly or are separated by not more than one Bacon number. It was Bale's third marriage. He had had 3 children by his second wife, including son Christian Bale, which makes Gloria his step-mom. I wonder what dinner in that household was like? "Aw, jeepers, ma, give the patriarchy a rest, willya, I just wanted you to pass the potatoes." Unfortunately, the marriage only lasted 3 years, ending when David died from brain lymphoma in 2003.


Today's Edition Of The Morning Rant Is Brought To You By Chocolate Rice Krispies Treats: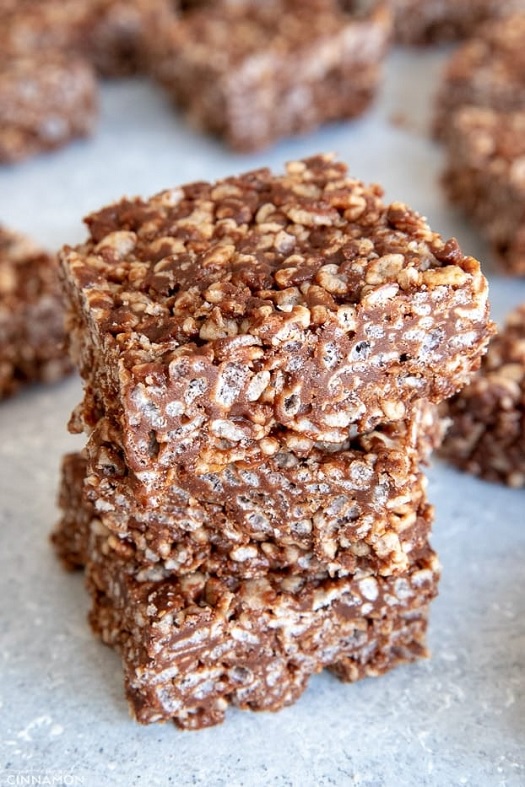 Rice Krispies treats recipe available here.

posted by OregonMuse at
11:16 AM
|
Access Comments