« Daily Tech News 18 October 2021
|
Main
|
Mid-Morning Art Thread »
October 18, 2021
The Morning Report – 10/18/2021
Friends, Morons, Countrymen. Be patient – J.J. Sefton will be back by the end of this week. There's no smorgasbord of links today, but here are a few things to chew on.
*****
Who's In Charge Here?
Pete Buttigieg was given a cabinet position, Transportation Secretary, for which he has no qualification or experience, as consideration for dropping out of the Presidential race just days before Super Tuesday. Panicked Dems had to stop Bernie Sanders, and getting candidates like Mayor Pete out of the way cleared the path for Biden to consolidate the non-Bernie vote and win the nomination.
We are now finding out that during this economic crisis, caused in part by a complete breakdown of transportation and supply chains, Pete has been off the job on a two-month paternity leave. Having just discovered that he was completely unplugged from his job, most of the media celebrated of course – a gay man taking paternity leave is catnip to the press.
The most revealing thing is that no one in media or politics really had any expectation that the Transportation Secretary would be involved in running his department.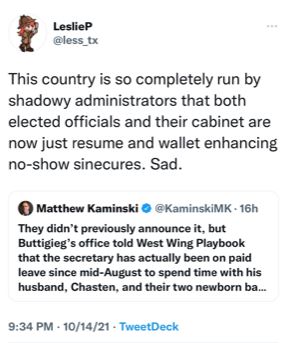 In the real world, jobs still have to be covered when someone is on maternity leave. If a harbor pilot is on leave, ships coming in to the port don't just wing it with their own captain…another experienced harbor pilot is still necessary. If an Accounts Payable Clerk is on leave, someone else has to pay the company's bills.
Buttigieg can actually take off the entire four years of the Biden presidency because he does not actually run his department, nor is there any expectation that he does. What's scary is that the permanent bureaucratic class knows that they are the ones running this country, and unaccountable to whatever resume-padding person has the title of Cabinet Secretary.
*****
An Open Border and the Criminals It Begets
This is from the Customs and Border Patrol's website.
Multiple Criminal Aliens Arrested by RGV Agents

On September 30, Falfurrias Border Patrol agents apprehended a group of eight migrants, attempting to circumvent the checkpoint.

During processing, record checks revealed one of the subjects, a Guatemalan national was previously arrested in 2009 for sexual abuse, a second-degree felony by the Buena Vista County Sheriffs' Office in Buena Vista, Iowa.

On the morning of October 2, Weslaco Border Patrol Station (WSL) agents apprehended two single adults shortly after they illegally entered the United States. During processing, record checks revealed one of the subjects, a Mexican national was convicted of criminal sexual offenses by the Oakland Police Department in California.

Saturday night, Kingsville Border Patrol agents arrested a migrant illegally present in the United States at the Javier Vega Jr. Checkpoint near Sarita, Texas. Criminal record checks revealed the subject, identified as Hilario Teodoro-Hernandez, was arrested for indecent liberties with a child in Raleigh, North Carolina.

Also on Saturday, McAllen Border Patrol agents apprehended a group of four migrants near Hidalgo, Texas. All subjects were taken into custody and transported for processing. Among the group was a 28-year-old male from El Salvador who is a confirmed Mara-Salvatrucha [MS 13] gang member.
By opening the southern border, the Biden administration has knowingly and deliberately thrown out the welcome mat to these hardened criminals. Joe Biden and Alejandro Mayorkas (Secretary of Homeland Security) are complicit in every rape, murder, and violent crime committed by an illegal alien who has entered this country under their watch. Mayorkas should be criminally prosecuted, and also taken to civil court for damages, for every one of these crimes.
*****
NeverTrump's Ongoing False-Flag Conservatism
Ace commented on Friday about the slap-fight going on between the NeverTrumpers at The Dispatch and the NeverTrumpers at The Bulwark. He pointed out that they've each chosen a different lane to try to elect Democrats, while pretending to be conservatives:
Bulwark / Lincoln Project: Vote Democrat to protest Trump and the Trumpification of the GOP.
Dispatch: Vote Third Party to protest Trump and the Trumpification of the GOP.
I'd like to add one more lane from the rainbow of faux-conservatives:
National Review: Don't vote at all (or at least don't vote Republican) to protest Trump and the Trumpification of the GOP.
Of course, they're all working toward the same goal – convincing people to not vote for conservatives, and to elect left-wing Democrats.
Speaking of The Dispatch… It won't surprise you to know that one of David French's criticisms of Hungary's Viktor Orban is that Orban's government will not allow children to be sterilized and have their private parts mutilated as part of the gender transition fad.
Hungary Is No Model For The American Right – David French 08/05/2021 (Warning – link to The Dispatch)
And the regime just passed a law sharply limiting any promotion of homosexuality or gender transition to children. He has banned gender studies programs at Hungarian universities.
French has established a very disturbing brand for himself, but he is sticking with it.
Like Joe Biden, David French is someone I would never allow to be near a child. And like Joe Biden in 2020, David French was NeverTrump's presidential candidate in 2016.
*****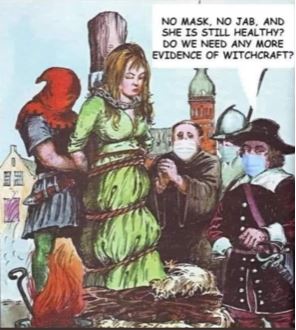 *****
Recycling Follies
Savannah has not recycled the glass that it collects in its recycling bins for several years. Yet Savannahns still get the smug satisfaction of "recycling" when they put their wine bottles into their single-stream recycle bins. Then the city has to separate the glass back out and take it to a landfill.
It's been more than five years since the city of Savannah quit recycling glass, but now it looks like that could change.

Savannah still accepts glass in its single-stream recycling program. But that glass does not get recycled.

City officials estimate glass alone costs the city $150,000 annually. They said in 2020, 25 percent of Savannah's recyclables, including roughly 1,000 tons of glass, ended-up in the landfill.
It would be easier to have citizens just put the glass directly in the trash. But they won't. They believe that the act of putting glass in the recycle bin means that it magically gets recycled.
My town has a recycle center that people bring much of their trash to. When the market for recycled glass collapsed, the recycle center quit accepting glass. But people insisted on "recycling" glass anyway, continuing to mix it in with cans and newspapers, forcing someone down the line to separate the glass back out. So finally, the recycle center established a separate glass-only dumpster. A great many residents of my town now dutifully bring their wine bottles to the recycle center, put them into the dumpster, and then the recycle center empties that dumpster at the landfill.
*****
That's it for today. Be nice to one another, but be a thorn in the side of your oppressors.
[buck.throckmorton at protonmail dot com]


posted by Buck Throckmorton at
07:23 AM
|
Access Comments