« Odds & Ends
|
Main
|
Gun Thread: Howdy From Texas Edition! »
October 24, 2021
Food Thread: Bacon, Books, And Bourbon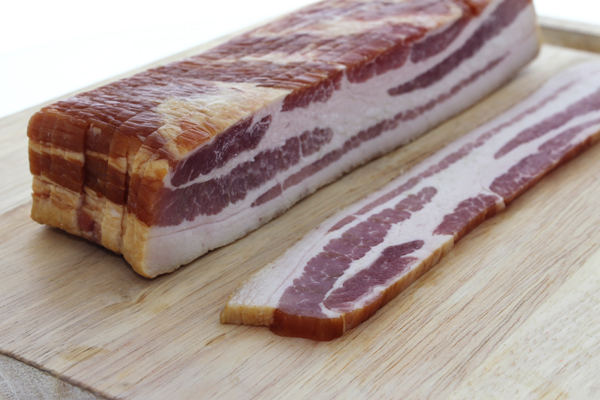 I have been buying thick-cut bacon recently. Why? Because I am a red-blooded American and it is my God-given right!
And I like the texture. Thin bacon is fun when it is crispy; the texture is marvelous! But I think the thick stuff provides more flavor, and I like the chewiness combined with the crispy exterior.
I went a little overboard though; I have 10 pounds of bacon right now. That's a hell of a good feeling.
Unfortunately I do not have a bacon wench to serve it, like at the Texas MoMe, but I'll make due.
Speaking of the MoMe...aside from the food, which was excellent and abundant, I was struck by how nice...how American...the Horde is. It was a true pleasure to see old friends and meet new ones, and it was made possible by our very own Ben Had, who is the consummate hostess and party planner, and Bob and Jennifer, who opened their lovely home and ranch to a bunch of lunatics, literally with open arms!
More anon, but I am getting on a plane, so...enjoy!!
******
Pumpkin Spice is of the devil. It's ubiquitous this time of year, and if anything it seems to be getting more common, if that's even possible. I was poking around the internet a few days ago, looking for interesting cocktails for you maniacs to try, and it was difficult to find seasonal drinks that didn't have pumpkin spice in them. Come on! I get that it makes sense with bourbon or rye, but a coffee and pumpkin spice martini? That's overkill. Or pukeworthy.
******
Fine...here's a simple cocktail for people who love cinnamon, which is the most interesting ingredient in pumpkin spice anyway. I'm not sure I would call it a
cinnamon old fashioned
, because it really isn't one, but if you need a pumpkin spice fix that isn't redolent of a pumpkin spice latte from Starbucks, give it a try.
******
England is probably lost, but any country that makes
Steak pie
can't be totally unsalvageable. Besides, They had me at suet puff-pastry crust.
******
It's late October! How the hell did that happen?
And that means before you know it Christmas and Hanukah will be upon us and because the odds of the supply chain miraculously righting itself are long, it's probably time to think about gifts. But not just any gifts...How about cook books? And books about cooking? And books about the chemistry of cooking? And encyclopedias of food?
There may be a trend there...
Anyway, here are two shelves at Dildo Estates with a seemingly random assortment of cook books and such. I have two other shelves of books in other parts of the house, so I might mention something that isn't visible, but everything I will suggest has gotten the Dildo seal of approval. And those links are not to Amazon. In the future I will try to link to places whose corporate culture is not quite so antithetical to everything most of us believe.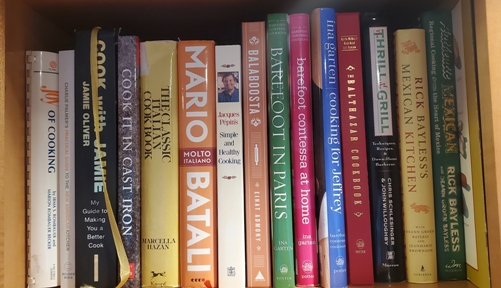 Oooh! Let's start with the Joy of Cooking! It's a great reference for the basics of American cooking, from baking potatoes to pie crusts to boiling a lobster to all sorts of weird stuff you would never consider eating, but will enjoy reading about. The older the edition, the stranger the food.
The Balthazar Cook Book is an absolutely spectacular French Bistro cook book. The directions are clear, the photos are good, and the food is uniformly pleasing.
The Classic Italian Cookbook, by Marcella Hazan is wonderful in every way. She is your aunt with the kind soul and the offbeat demeanor teaching you excellent Italian cooking. Unfortunately it is pricey, but she has several other books that may be less expensive.
Balaboosta says it's Mediterranean cooking, but it really is Israeli -- which means North African and Eastern European and Middle Eastern as well. Why did I buy this cook book? Because I ate at her first take-out joint in the West Village, and it was a revelation.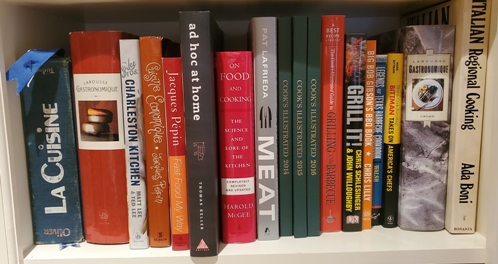 Pat Lafrieda is an owner of the eponymous meat packing company that has exploded into a huge and successful high-end butcher that supplies hundreds of restaurants all over the country. And the guy knows Meat. And not just how to choose it, cut it, and age it. The dude can cook too!
Thomas Keller, of French Laundry and Per Se fame has taken a lot of heat in the last several years. His NYC restaurant has faded, in part because of a brutal and probably unfair review by the NYT. But Ad Hoc At Home is still an amazing book for those of you who enjoy meticulous, high-end cooking that has its roots in classical cuisine and technique.
On Food and Cooking: The Science and Lore of the Kitchen is indispensable for geeks (like me) and non-geeks alike. I often pick it up and open it to a random page just because he writes well!
La Cuisine by Raymond Oliver is classic French cooking at its best. It's not necessarily the sort of cook book for everyday, but as a glimpse at why the French are still taken seriously in the world of cooking it is hard to beat, even though it's probably 50 years old. But Oliver was no fan of Nouvelle Cuisine...he liked butter and fat and rich foods, which speaks well of him!
This is as much a lighthearted romp through the minds of some very odd and probably disturbed people, but the recipes in The Deplorable Gourmet are pretty solid stuff. Nothing froufrou mind you, and there is at least one glaring omission...no panda hash! But the recipes are good American cooking in all of its weird glory.

******
I have no idea why this recipe caught my attention. I usually don't eat pastry, and I am not a fan of apples. But for some reason, maybe the appetizing photos, I clicked on it, and it loks like a really good recipe!
big apple crumb cake
So who is going to make it for me?
******
eQgIwwKmjdo
******
Avocados sans thumbprints, beef short ribs that have meat on them (not the stupid little sliver of bone they sneak into the packages), carrots that don't taste like stalky chalk, spare bottles of Van Winkle Special Reserve 12 Year Old Bourbon, an herb garden that actually produces herbs (but no basil!), well-marbled NY strip steaks and elk backstrap to:
cbd dot aoshq at gmail dot com.
And don't think that you are off the hook with maple syrup and French Toast: I'm watching you...all of you! And I am watching you perverts who shake Manhattans and keeping a list for the Burning Times.

posted by CBD at
04:00 PM
|
Access Comments