« Daily Tech News 15 October 2021
|
Main
|
Mid-Morning Art Thread »
October 15, 2021
The Morning Report – 10/15/2021
Good Morning all. The incomparable J.J. Sefton is going to be out of pocket for a few days, which is a good opportunity for all of us to appreciate just how amazing his daily report and link-alanche is. He puts out the best aggregation of links in the conservative blogosphere. I don't know how he does it, but I sure am grateful. He won't be away long, so don't touch that dial.
In the meantime, here are a few things going on:
The same people who shuttered "non-essential" businesses and locked down the economy are now coming for your single-family home.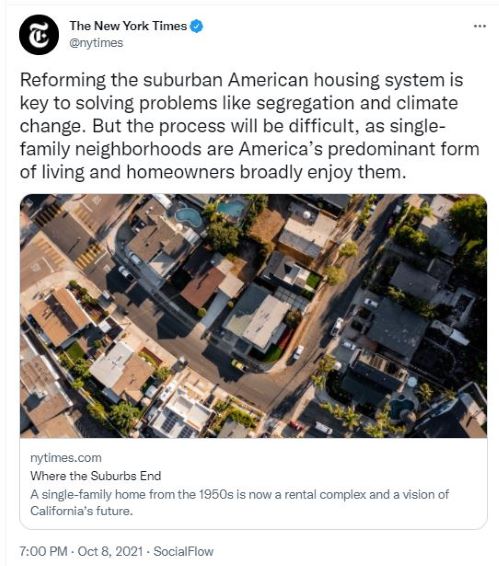 Having eradicated so much liberty under Covid, you can bet that the left feels confident they can forcibly re-shape our housing habits. These words from the NY Times are honest, but chilling: "But the process will be difficult…"
Pol Pot smiles. I think he'd say the process wasn't that difficult, just messy.
*****
In a Kurt Schlicter column linked by J.J. this past Tuesday there was this great quote:

"There is no conservative principle worth honoring that makes us less free. I find the notion that we are somehow morally obligated to accept serfdom because the entity exercising mastery over us has articles of incorporation instead of a flag to be baffling."
Liberty is about liberty. There is no principle that requires free people to surrender their liberty, be it to a government, a religion, or a cartel of monopoly businesses.
Along those lines, "Safety-ism," combined with panic, and mixed together with an inability to understand probability and risk, will lead us to a world of subservience.
--------------------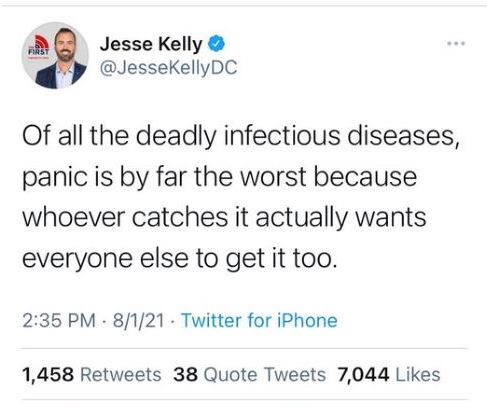 --------------------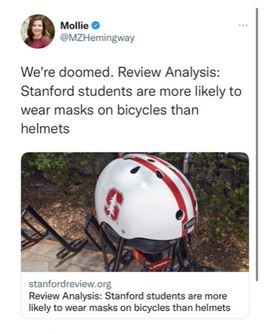 --------------------
In my former neighborhood in Austin (my wife and I have since decamped to a politically conservative area), I would constantly see young parents pushing or jogging their children in strollers, on the asphalt of fairly busy streets, with their backs to oncoming traffic. (Even when there was a sidewalk!) Plus, they usually had ear buds in. These are the same people who will not let non-organic food touch their children's lips, and who wouldn't drive one block in their car without their children strapped into their car seats. Such people are not capable of properly assessing risk for themselves, yet these types of people constitute our ruling class.
*****
Although I've quit caring about pro football since the NFL embraced on-field anti-American tantrums, the inevitable abolition of football due to safety-ism is going to cost a lot of lives – a heck of a lot more lives than the very rare on-field deaths.
Teenage boys and young men (of all races, and throughout human history) are aggressive, competitive, sometimes violent, and tend to gather in packs of their peers. That is why they make great soldiers and athletes when their energy is harnessed into a team effort, led by a responsible older male.
Football is a pressure release valve for young men, while also teaching them so many lessons about discipline, teamwork, sacrifice, leadership, etc. Misguided safety-ism has football in its crosshairs. We'll regret its loss when it's gone.
*****
Amazon CEO Andy Jassy is all over Twitter and Social Media advocating for left-wing causes, condemning America for being racist, and in his spare time, deplatforming Twitter's competitors. It was Jassy who made the decision to deplatform Parler.
But even though he is trying to inflict AOC-friendly politics on the rest of America, he has suddenly realized that it's hard to live in a city that fully embraces the lunacy that he advocates for.
Amazon CEO, citing 'rougher' patch with Seattle, looks to 'burbs
86% of Amazon political contributions in 2020 went to Democrats. Pretty much 100% of contributions from its top executives went to Biden, the DNC, and other leftists. My condolences to whatever Seattle town has the misfortune of becoming Amazon's new home.
*****
Here's something uplifting to sign off with. Thanks to the leadership of our best and brightest, we can no longer even harvest our food if China and Taiwan can't – or won't – supply us the semiconductors that tractors now need to function. Great job, smart people!
'Desperate for tires.' Components shortage roils U.S. harvest
Manufacturing meltdowns are hitting the U.S. heartland, as the semiconductor shortages that have plagued equipment makers for months expand into other components. Supply chain woes now pose a threat to the U.S. food supply and farmers' ability to get crops out of fields.
See y'all next week.
[buck.throckmorton at protonmail dot com]

posted by Buck Throckmorton at
07:35 AM
|
Access Comments