« The Morning Report - 9/29/21
|
Main
|
The Morning Rant »
September 29, 2021
Mid-Morning Art Thread [Kris]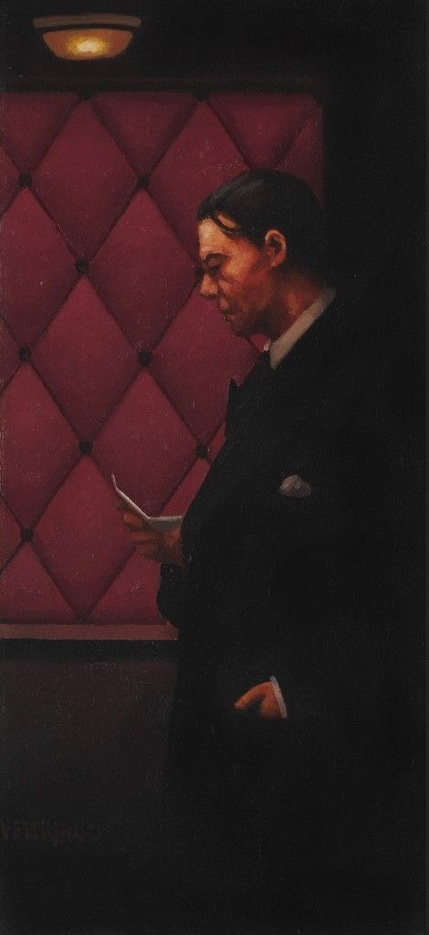 Letter Of Consequence
Jack Vettriano
The artist revisited this theme several times, reworking the subject and composition. Each one redirected my focus, interpretation, or feelings about the piece. This is the version I liked best. The tight framing, simple composition, dark lighting and limited colors evoked a very specific mood.
This well-dressed, late middle-aged man has received a letter. As he reads it, his face darkens. His expression freezes. His brows knit. Because his suit blends into the black of the wall, we don't notice that he's leaning against the wall, at first. His need for support is a subtle hint at the heaviness of the message in the letter. The title already clues the viewer in on this, and his pose adds to this interpretation.
While the man fills the right half of the work, the left is empty space, but not really. The space is filled with light (a dim light, but still) and color. The color is a deep wine criss-crossed by thin, black diagonals. The composition is predominantly vertical and horizontal, so these diagonals break this up. They also conflict with them, which, to me, may symbolize or hint at the emotions within in the man. The diagonals also give the wall a classy texture that emphasizes the man's dress and style. The wine color also adds to this sense of sophistication and is my favorite part of the work.
The wine is also a nice muted contrast to the dominant black. It is lighter, obviously, but not so light or so intense that it's distracting. The red-purple creates a background and frame, allowing my eye to focus on the man's face. Imagine if the background were all black. The details in the man's face would blend together and get lost in the void. It'd be harder to read his expression. The wine is the perfect blend of light and dark to view the face.
The whole scene is dimly lit by the gold light in the top left. This color is the most intense so it must be kept to a small area. It highlights the face and the color matches his skin tone, drawing my attention back to it, and to him.
The way this work is cropped, I feel as though I am looking at this man through a window or door. He wants to be alone and picked this dark, quiet corner to read this letter. I like how the colors lighten as your eye ascends the painting but its "feel" gets heavier. The abstract blackness forms into a solid shape, and by the time the eye reaches the face, the expression is definite and concrete. This painting looks like a scene from a noir movie. There's a story here and I want to know more.

posted by Open Blogger at
09:30 AM
|
Access Comments