« Shock: Liberal Neocon Liz Cheney, Now Disburdened Of Having to Pretend She's Any Kind of Conservative, Says She Was Wrong to (Pretend to) Oppose Gay Marriage
|
Main
|
Axios Poll: Majority of Public Now Distrusts Biden to Provide Accurate Information on Covid, Too »
September 28, 2021
Leftwing Comedian Russell Brand: I'm Trying to Wrap My Head Around the Fact That the Entire Trump/Russia Hoax was a Democrat Conspiracy
Video below.
Glenn Greenwald mentions Brand's redpilling (due largely to Greenwald's Substack reporting) in this thread:
Glenn Greenwald
@ggreenwald



It's been 6 days since POLITICO reporter @SchreckReports published a new book verifying the key emails from Hunter's laptop, including Joe's role in the China deal.

Not one outlet that spread the CIA lie that it was Russian disinformation (except POLITICO) has even mentioned it.

That means that CNN, NBC News, MSNBC, PBS, @HuffPost, @TheIntercept
and so many others spent weeks before the 2020 election spreading what they know is a lie from CIA.

And now that there's new proof from a mainstream reporter that they lied, they won't even mention that.

The most damaging and aggressive agents of disinformation in the United States are large corporate media outlets.

All journalists make mistakes. The way to know that they're deliberate disinformation agents is when they ignore evidence that they lied. That shows it's purposeful.

Other than the short note from his own outlet, the only mainstream outlet that mentioned this news was when CBS stuck it on their digital platform (but not TV).

Everyone at the outlets that spread the pre-election CIA lie don't want you to hear this & don't want to mention it...


To see what liberal corporate media outlets really are, do this thought experiment:

Imagine if Schreckinger's book had proved the Biden emails were *forged* instead of verifying them.

He'd be all over the place instead of ignored. That's how you know they lie on purpose.

It's fine if people think I'm fixated on this. I am.

CIA invented an outright lie before the election -- to protect Biden and help him win. Almost every major liberal corporate outlet spread it. Big Tech censored the reporting.

And now a new book proves it was a total lie.

This, though, is what gives me hope. @rustyrockets [Russell Brand] took my Substack reporting on the indictment of Hillary's lawyer and what it shows about the lies of corporate outlets. He produced a short YouTube video report. In 3 days, it has almost 2 million views...


Just that segment alone -- after 3 days, with no corporate backing -- is almost 4 times larger than Don Lemon's audience. It's twice as large as Chris Hayes or Joy Reid's Comcast shows. And I'll bet the number of people under 55 watching is more than 10 times what those shows get

This is why employees of media corporations with the job title "journalist" so desperately agitate for more online censorship. They know they'll have no audience unless it's a captive one, and they know they will be exposed if dissent from their lies and propaganda can be heard.

"True Conservative" AllahPundit has yet to mention it, right? The Dispatch won't mention it. The Bulwark won't mention it.

Greenwald previously made his own video about the Hillary Clinton Conspiracy to Obstruct Justice.
Little more from Greenwald, laughing at Brian Stelter's absurd claim that he and CNN are part of the "reality-based media."
John Sexton points out that the left's defense of the Alfa Bank hoax was that it "wasn't important to the Russiagate investigation anyway."
Notice that as each part of the Russiagate "investigation" is revealed to have been a concocted hoax from the start, they claim oh, that wasn't a big part of the theory anyway?
Putin Pee-Pee video? Oh, that wasn't a big part of it.
Carter Page being a CIA agent and not a Russian agent at all? Oh, that was just a side-issue.
None of the claims made in the Steele Dossier being true? Oh, the Steele Dossier wasn't an important part of the Steele Dossier, you know.
Now, the Alfa Bank hoax takes its turn as something they told you was incredibly important in 2016 which they now say was never important in 2021.
As Sexton says: I guess they forgot to tell Hillary Clinton that the hoax she paid for "wasn't that important," because here she was just days before the 2016 election trying to gin up interest in the story she manufactured: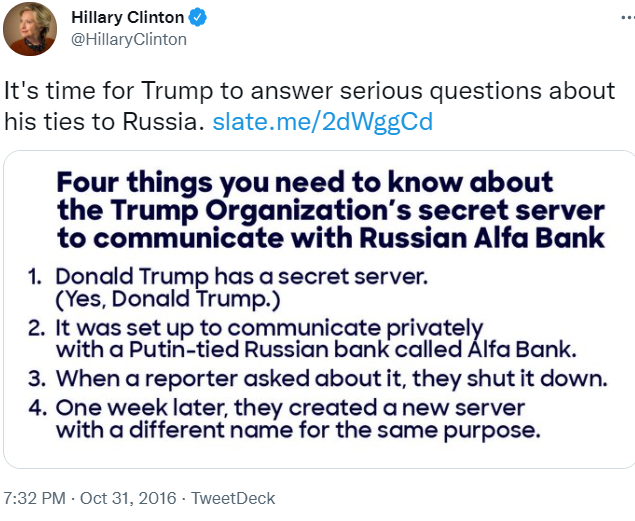 Someone else pointed out that Hillary Clinton's whole pose here was that she "just heard about this from the newspapers," pretending that she didn't personally concoct this bullshit with Michael Sussman and TechExecutive-1, as the indictment calls him, and then plant it among her Conspiracy Theory Spreader allies.

posted by Ace at
04:45 PM
|
Access Comments