« Australia Is Now a Fascist State
|
Main
|
To Counter Blue State EV Mandates, Red States Need To Start Mandating Gas-Powered Cars »
September 27, 2021
DHS Secretary Admits that 12,000 of the 17,000 Haitian Illegals Have Already Been Successfully Vanished Into the Homeland
And he allows that the number could be higher.
And the only reason it's not 17,000 of 17,000 is that they are "processing" another 5,000, who will be immediately covertly infiltrated into America.
Secretary of Homeland Security Alejandro Mayorkas admitted Sunday that the vast majority of Haitian migrants who crossed the southern U.S. border in recent weeks have already been released into the United States, and it is possible that more will follow them.

So far, approximately 12,400 of the people are having their cases heard by immigration judges, while another 5,000 are being processed by the Department of Homeland Security. Currently, only 3,000 are in detention.

"Approximately, I think it's about 10,000 or so, 12,000," Mayorkas told "Fox News Sunday" when asked how many have already been released. He then acknowledged that this number could very well go up as the 5,000 other cases are processed.

"It could be even higher. The number that are returned could be even higher. What we do is we follow the law as Congress has passed it," Mayorkas said.

The secretary said the administration "will make determinations whether they will be returned to Haiti based on our public health and public interest authorities."

Mayorkas said those who are released have conditions placed on them, "are monitored by us," and authorities "ensure their appearance in court as the law requires."

Host Chris Wallace noted that according to the Department of Justice 44% of those who are released miss court appearances. When asked whether many of the thousands who have just been released will just stay in the U.S., Mayorkas insisted that the system will work.

...

Wallace again asked why the people were not stopped at the border and why the U.S. does not have any physical barrier in place to prevent this.

"We do not agree with the building of the wall," Mayorkas said. "The law provides that individuals can make a claim for humanitarian relief. That is actually one of our proudest traditions."

Meanwhile, Mexican cartels have ordered their human traffickers to deliberately provoke more confrontations with Border Patrol, to make some photographs that the American media will then propagandize to get Border Patrol removed from the border.
After the Biden regime scapegoated Border Patrol agents for doing their job protecting the Texas border last week, Mexican drug cartels have reportedly ordered their smugglers to provoke more confrontations with agents so Democrats and their allies in the media will misconstrue their actions as excessive force, and more agents are "forced off the line."

...

FOX News correspondent Lara Logan reported on Twitter Monday that according to law enforcement sources in the Rio Grand Valley, two vicious drug trafficking syndicates--the Gulf Cartel and the Jalisco New Generation Cartel (CJNG)--have determined that U.S. Border Patrol agents are "unprotected under the Biden administration."

"Agents advised there will be no support from Chief Ortiz at the top, they are on their own & to expect things to get much worse," Logan tweeted. Raul L. Ortiz became the 25th Chief of the United States Border Patrol on August 15, 2021.
Deb Heine reports that the Biden Administration knows that there's a covid outbreak wherever it stealthily infiltrates illegals, but of course will not share this information with the public.
Meanwhile:
Border Patrol agents reacted to Joe Biden's threat against those who were just doing their job with stunned outrage.

"Would you go to work and do your best knowing that if you do your boss is going to "make you pay'?" one agent told Fox News. "I'm dumbfounded and don't know what to say."

The agent asked, "Is the president threatening to throw us in prison?"

Another said: "I see the administration wants to fry our agents. He just started a war with Border Patrol."
Well, this is exactly how they create open borders without having to make the unpopular and possibly impeachable order to throw the borders open -- they just start telling border patrol officers that anytime the media gets mad at them, they might be fired or even imprisoned.
The agents get the message, and the border is opened. And Biden can say that, on paper, we're still " " " enforcing the border. " " "
Governor Abbot says that any Border Patrol officers fired by Biden will be immediately hired by Texas.
The state of Texas will provide jobs to any Border Patrol agents who may be fired by the federal government over the "whipping" hoax that has been spread by the mainstream media in recent days, the New York Post reports.

Governor Greg Abbott (R-Texas) made the announcement in an interview on "Fox News Sunday," declaring that these agents will "have a job in the state of Texas. I will hire you to help Texas secure our border."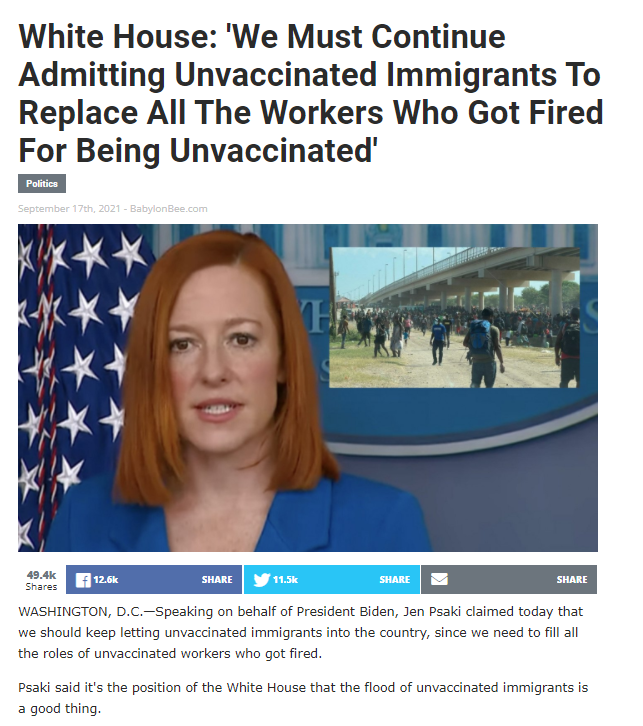 posted by Ace at
03:33 PM
|
Access Comments