« Random Weekend Musings
|
Main
|
Ace of Spades Pet Thread »
October 02, 2021
Saturday Gardening and Puttering Thread, October 2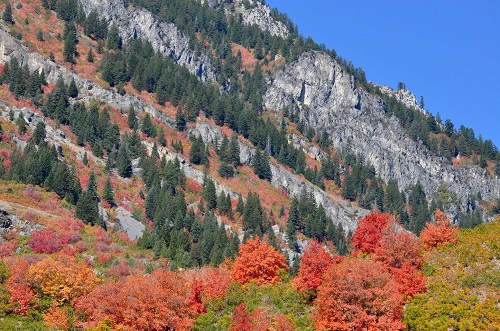 Happy October Saturday! There is fall foliage in many places. This is Ogden Canyon in Utah. Notice the slanting of the layers in the rocks in the mountainside. That is due to geological uplift events. Had to have been dramatic. From a cousin.
Fall Flowers
From badgerwx
Here are some pictures I took just this morning. The fall temperatures have been perfect & the fall plants have been doing well. My roses are also still blooming a little. But if I don't get rain this week I'll have to start watering again.

First a rose to end the summer: First Crush, a Kordes Parfuma rose.
Kordes is a German rose grower that's been working on disease-resistant
roses that also are fragrant. Lowes sometimes carries Kordes roses &
they make a nice change from the Knockout & Drift roses that are just
everywhere.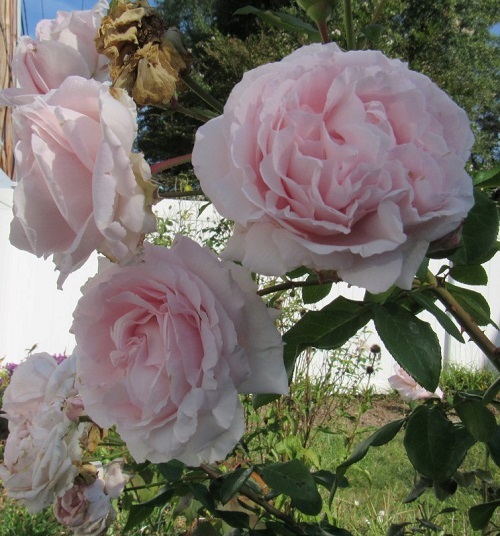 In the fall I look forward to the asters & Purple Dome is my favorite. It's a clumper & not a runner like most asters seem to be. I have other asters that try to wander around the beds but this one stays put. This clump will need to be divided next spring.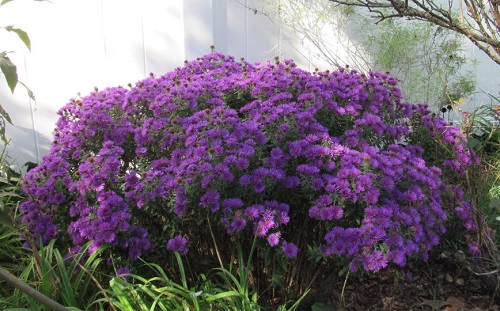 Japanese anemones (windflower) are also great in the fall. They can take some shade but get to be really big when they get some sun. They will try to crowd out neighboring plants & need their own space.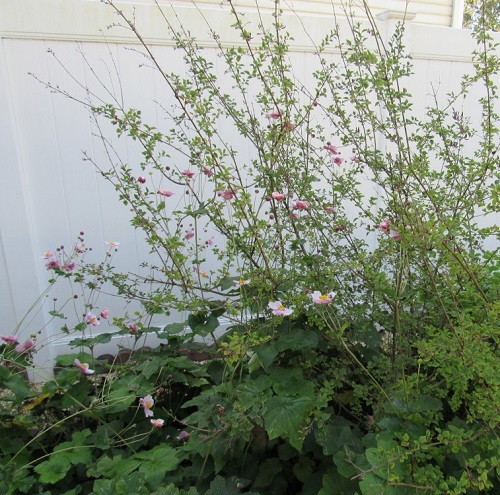 I planted some for my Mom many years ago in morning sun, and they still look great in the fall. I think the larger leaves at the left in the photo belong to the anemones.
Colchicums (naked ladies) are a great fall bulb because the squirrels won't eat them - they're poisonous. They mostly look like big crocuses but there is one variety called 'waterlily' because it looks like a waterlily flower. Colchicums sprout leaves in the spring, die back in summer & then bloom in the fall. People call them naked ladies because the flower stalks have no leaves.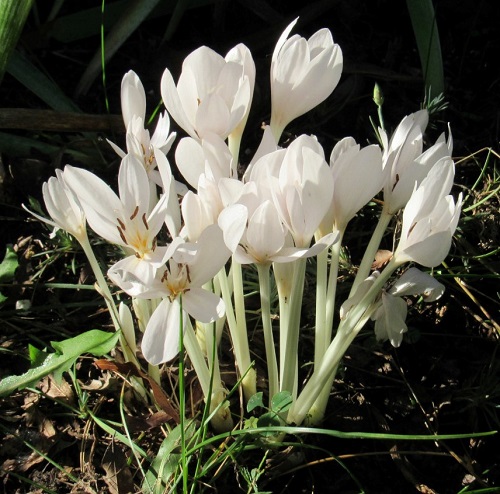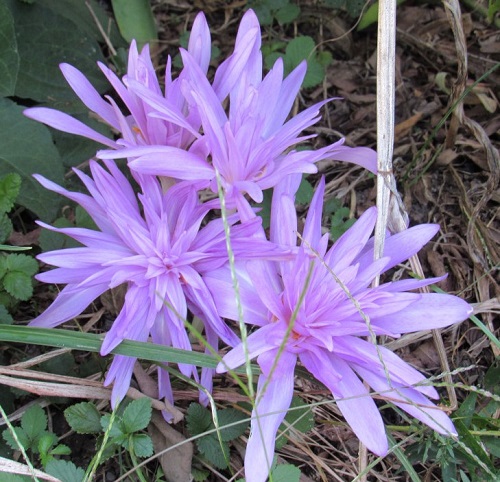 Things to Eat
From Gordon:
The weather was weird in Minneapolis and my former garden had mixed results. Only two beets were harvested. The one in the picture was 12 pounds.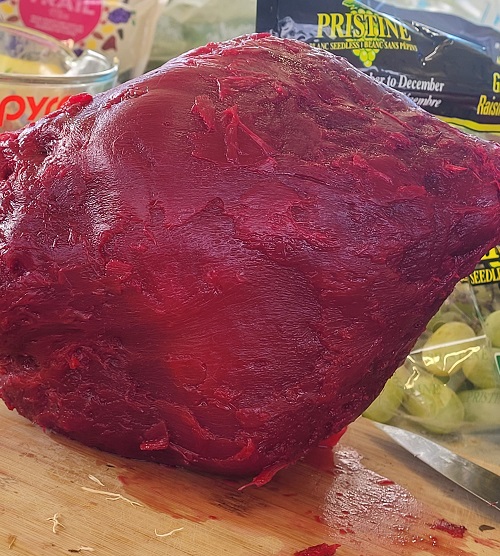 What a MONSTER!
The canning is the results of the second weekend at the campground. One more to go. In the picture are beef stock, chili beans, chili, several kinds of pickles, several kinds of salsa, three kinds of hot sauce, tomato puree and baked beans.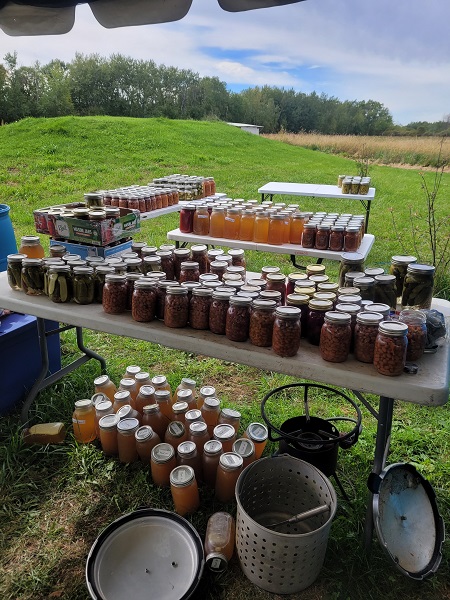 Wow!
Wee Kreek Farm Girl would recognize this visitor in Mesa.
Future sausage!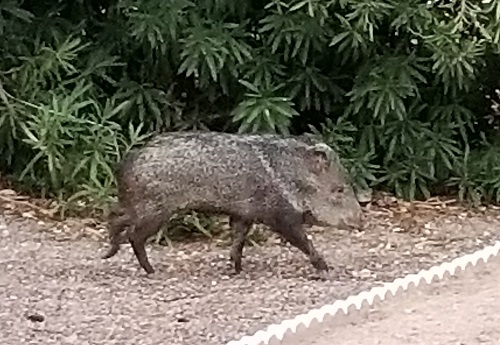 The Old Farmers Almanac says that today is fine for sowing grains, hay and forage. Maybe lawn grass, too. Feed some wildlife!
Critters
Well, the time for lovely green spiders is over. Halloween approaches.

A friend found on my cousin's hike:
I may or may not have jumped.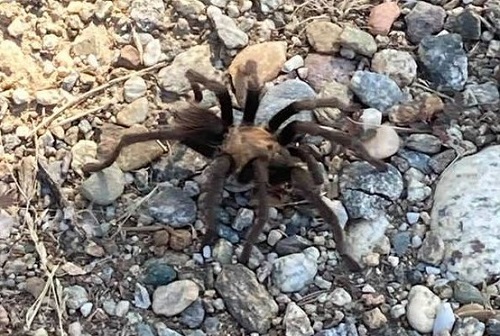 Mystery Critter
I used to know what this was but I don't remember now. RTW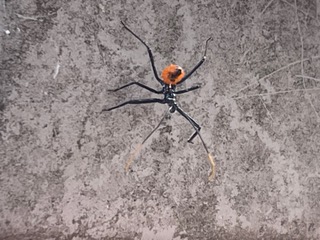 Gardens of The Horde and More Things to Eat
From the famous Pat*
This is a Costata Romanesco zucchini, about 7 inches long. It has a harder skin than most zucchini varieties, and has been keeping fine while on the countertop.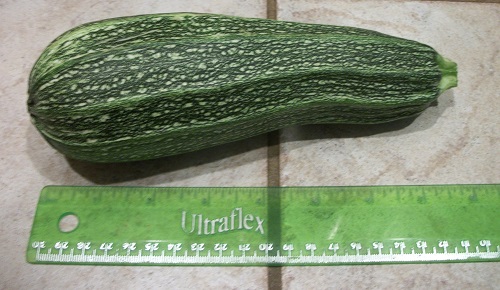 I found a post about this variety of zucchini, which includes lots of growing and seed-saving tips, plus a fritter recipe which Pat* and her husband may like, since they have been shredding zucchini. Tips for out-maneuvering the squash vine borer if you live in the East, too.
'Costata Romanesco': A zucchini that will make you smile

I became acquainted with this extraordinary summer squash many years ago, and it's the only zucchini I plant each year. Will Bonsall, well-known Maine seed-saver, and farming/gardening guru reportedly mused that it's "the only summer squash worth bothering with, unless you're just thirsty." Although its Italian name is beautiful, I will refer to it as CR to save space.
CR is a stunner with alternating dark green and light green stripes with white flecking, like 'Cocozelle' and some other Italian varieties. "Costata" means rib in Italian. Fruits develop 8-10 prominent ribs which give cross-cut slices a unique and fun look. It has a dry, meaty texture, not unlike eggplant, that holds up when sauteed, baked, broiled, steamed, or grilled. It has a distinctive flavor described as sweet, nutty, and earthy. In addition to shredding it for cakes and breads I find it makes the best zucchini fritters (see recipe below). This year, I'm freezing loads of shredded CR.
one small Cornell University study in 2013 showed that CR was somewhat parthenocarpic (produces fruits without cross-pollination). Of 19 bagged CR flowers in the research study, 58% set marketable fruit without bee pollination.
That could mean that the seeds would be very small or soft. In the garden, that could also mean that early fruits would set even before male blossoms appeared. But the male blossoms of this variety are also touted as good for stuffed blossoms.
There are some observations here on parthenocarpy in summer squash, plus various challenges faced by market growers. If you have difficult growing conditions for squash, want to grow in a hoop house, etc., you might want to try a parthenocarpic variety.
If you get tired of fritters, you could try Moussaka with Zucchini. Lower in carbs than Lasagna. A way to use those SORTA BIG zucchinis that are past the baby stage best for so many other recipes. You can also use eggplant for Moussaka, or mix eggplant and zucchini.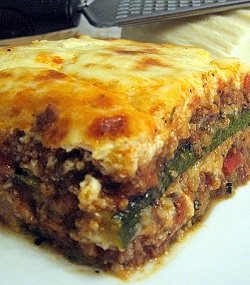 Pat* again:
This is raised bed #10, at its peak, photographed on Independence Day. These hollyhocks got up to 8 feet tall by the time they flopped over. Beneath them, onion leaves - white and purple small-flowered larkspurs - burned out chive flowers. At the very bottom left are some leaves of scarlet sage, which doesn't flower until August (and is beloved of hummingbirds).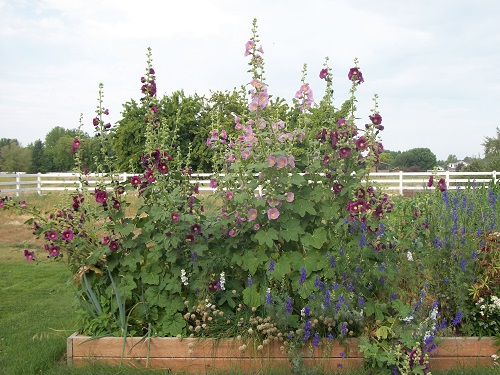 Raised Bed #10 is so full of flowers! And its setting makes me feel free!
Here's a little closer view of some of those hollyhocks.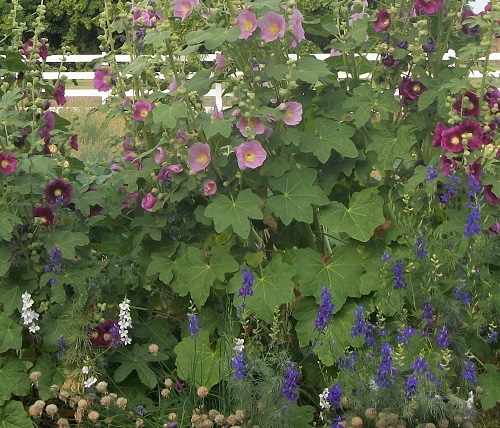 See a family resemblance to Wee Kreek Farm Girl's okra flower?
We had some interesting discussions about okra last week. If you missed Dr._No's comments, take a look. Heh.
If you would like to send information and/or photos for the Saturday Gardening Thread, the address is:
ktinthegarden
at that g mail dot com place
Include the nic by which you wish to be known when you comment at AoSHQ,
unless you want to remain a lurker.

posted by K.T. at
01:12 PM
|
Access Comments