« Mitch McConnell: The GOP Will Not Vote to Raise the Debt Ceiling
|
Main
|
Special GAINZZZ Make-Up Thread »
September 21, 2021
Quick Hits 1
Two very unhealthy "men" from nasty leftwing website "The Bulwark" tempt the Grim Reaper by dancing on the grave of a better man.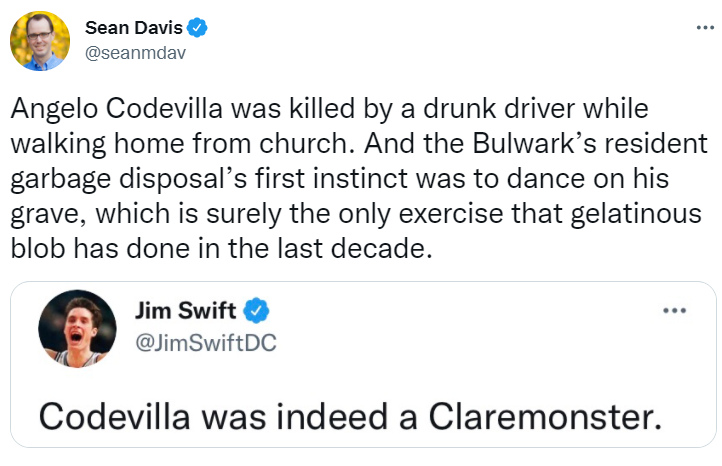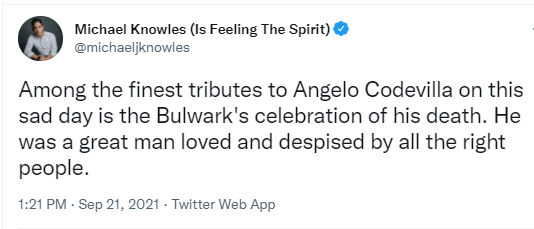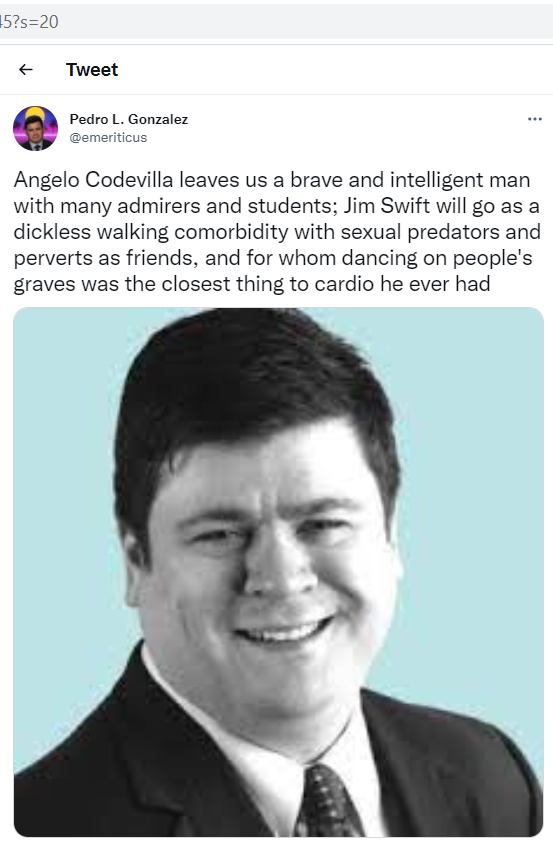 🚢 🚢 🚢
Twitter agrees to pay over eight hundred million dollars to settle a class-action lawsuit, brought because they misled investors.
Twitter disclosed a binding agreement to settle a class-action lawsuit, under which the social network will pay $809.5 million to resolve claims it provided misleading user-engagement info to investors.

The original lawsuit, filed in 2016 by a Twitter shareholder, alleged Dorsey and others including former CEO Dick Costolo and board member Evan Williams hid facts about Twitter's slowing user growth while they sold their personal stock holdings "for hundreds of millions of dollars in insider profits." The complaint alleged the company was tracking daily active users (DAUs) as the primary indicator of Twitter's user engagement by early 2015 but didn't reveal that to investors at the time (when it was reporting monthly active user figures). According to the lawsuit, Twitter's DAU figures showed that user engagement growth was either flat or declining.

Twitter, in an 8-K filing Monday, noted that the final settlement agreement will not "include or constitute an admission, concession, or finding of any fault, liability, or wrongdoing by the Company or any defendant." The agreement still requires court approval; the consolidated case was being heard in the U.S. District Court for the Northern District of California.
Of course it won't. But an $809 million settlement is all the admission you need.
🚢 🚢 🚢

Inflation propels food prices to their highest levels in "decades."
In the U.S., the Consumer Price Index (CPI) for all items rose 5.3% over a 12-month period ending in August 2021, reducing the purchasing power of consumers when it comes to everyday living costs. Food inflation, in particular, has become worrisome. Higher global shipping costs and labor shortages have resulted in massive production delays and shipping bottlenecks.

According to the Bureau of Labor Statistics, food prices on average increased 3.7% since last August. The change tracks two major categories: grocery store prices, which increased 3.0% (with five of the six major grocery stores in the country reporting price hikes), and prices for dining out, which increased 4.7%.

U.S. suppliers are feeling the squeeze. The widespread labor shortfall is affecting the ability of wholesale distributors to operate at normal capacity. Major distributors like Sysco Corp and United Natural Foods Inc. are experiencing production delays and slowdowns for common food items like cheese, spices, and bacon as companies continue to scramble for staff, Bloomberg reported.

🚢 🚢 🚢
In a Fox Poll that is skewed towards Democrats, as usual -- Fox finds Biden's approval higher than any other pollster -- they nevertheless find that only 49% of the country finds him "mentally stable" enough to be president.
Only 49 percent of registered voters think President Joe Biden has enough "mental soundness" to serve as president, a Sunday Fox News poll revealed.

Respondents were asked, "Do you think Joe Biden has the mental soundness to serve effectively as president, or not?"

While 49 percent said yes, 48 percent said no. When respondents were asked weeks before, between September 7-10, 49 percent said yes, and only 45 percent said no, handing Biden three more points of less confidence in his mental soundness on Sunday.

On the question asking if respondents believe "Joe Biden is a strong leader, or not?" only 45 percent said yes, down four points from October of 2020. Fifty-three percent said Biden is not a strong leader, up eight points since October 2020.

The poll also asked, "Do you think the country has become more or less united since Joe Biden took office?" Fifty-four percent of the country is less united, while 37 percent said the country is more united since Biden took office.

Biden's handlers go the extra mile to protect their decrepit sexual assailant boss from being asked questions and from answering them.
🚢 🚢 🚢
Lastly, all-American red-blooded men and true conservatives Matt K. Lewis and George Will talk about... men's fashion and, of course, blue jeans.
Watch that if you hate life and are just looking for a reason to end it all.
I found this picture of Matt K. Lewis, sporting a haircut that says "Tiger Beat August '77."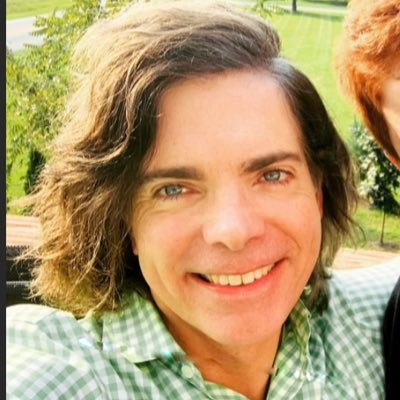 What an eerie photo. When I walk around the room, I feel like his eyes are following my penis wherever it goes.

posted by Ace at
05:46 PM
|
Access Comments