« You Can Ignore Mask Mandates If You're "Having a Good Time" and/or "Feeling the Spirit," San Francisco Mayor London Breed Proclaims
|
Main
|
Quick Hits »
September 20, 2021
Del Rio Border Crisis Escalates As Biden Administration Lies and Propaganda Press Ignores
26 governors are demanding a meeting with the Puppet Biden over his de facto repeal of the southern border.
More than two dozen Republican governors are demanding a meeting with President Biden to address securing America's borders, saying the illegal immigration surge under the current administration has created an "international humanitarian crisis."

A letter released Monday signed by 26 Republican governors, including Doug Ducey of Arizona, Ron DeSantis of Florida, and Greg Abbott of Texas, asks Biden to schedule a meeting at the White House within the next 15 days so they can have an "open and constructive dialogue regarding border enforcement on behalf of U.S. citizens in our states and all those hoping to become U.S. citizens."
More and more "migrants" keep walking across the unenforced, unprotected border.
Hundreds of Caribbean migrants trying to reach the U.S. border walked through an immigration checkpoint operated by Mexican authorities. The group is trying to reach the border city of Reynosa before crossing the Rio Grande to Texas.

The incident took place on Saturday morning north of the city of San Fernando, Tamaulipas, approximately 80 miles from Texas. Between 400-500 migrants, primarily from Haiti, were traveling from Veracruz to Reynosa when Mexican authorities turned back their buses. Rather than stop, the migrants walked toward the rural city where they rested and renewed their march the same day.

The group walked north and as they got close to a federal checkpoint, they stopped and held a prayer service with local church leaders. After, the migrants walked past the checkpoint expecting authorities to try to stop them, however, officials stood down.
By the way, local law enforcement gave Fox News' reporter Bill Melugin a ride in their own patrol helicopters to film the border -- evading Biden's tyrannical orders from the FAA to forbid all drone flights.
Here's video he took of the "wide-open" border.
I still have seen nothing in the propaganda press protesting this obviously-illegal attempt to hide Biden's disasters from public view.
The media is ignoring the crisis -- but they seized an opportunity to push an emotional pro-illegal-immigrant appeal to the masses.
A photo showed a mounted border patrol agent trying to catch a fleeing Haitian migrant. Note that Haiti has no border with Mexico, being an island; they're taking boats to Mexico to then sneak across the non-existent US border.
The media shrieked that the agent was using a "whip" against the border-sneak. In fact, he's just holding the horse's reins.
But the propaganda press saw an opportunity to instill in the minds of the public that illegal aliens are being hunted like escaped slaves, and they pounced and/or seized on it.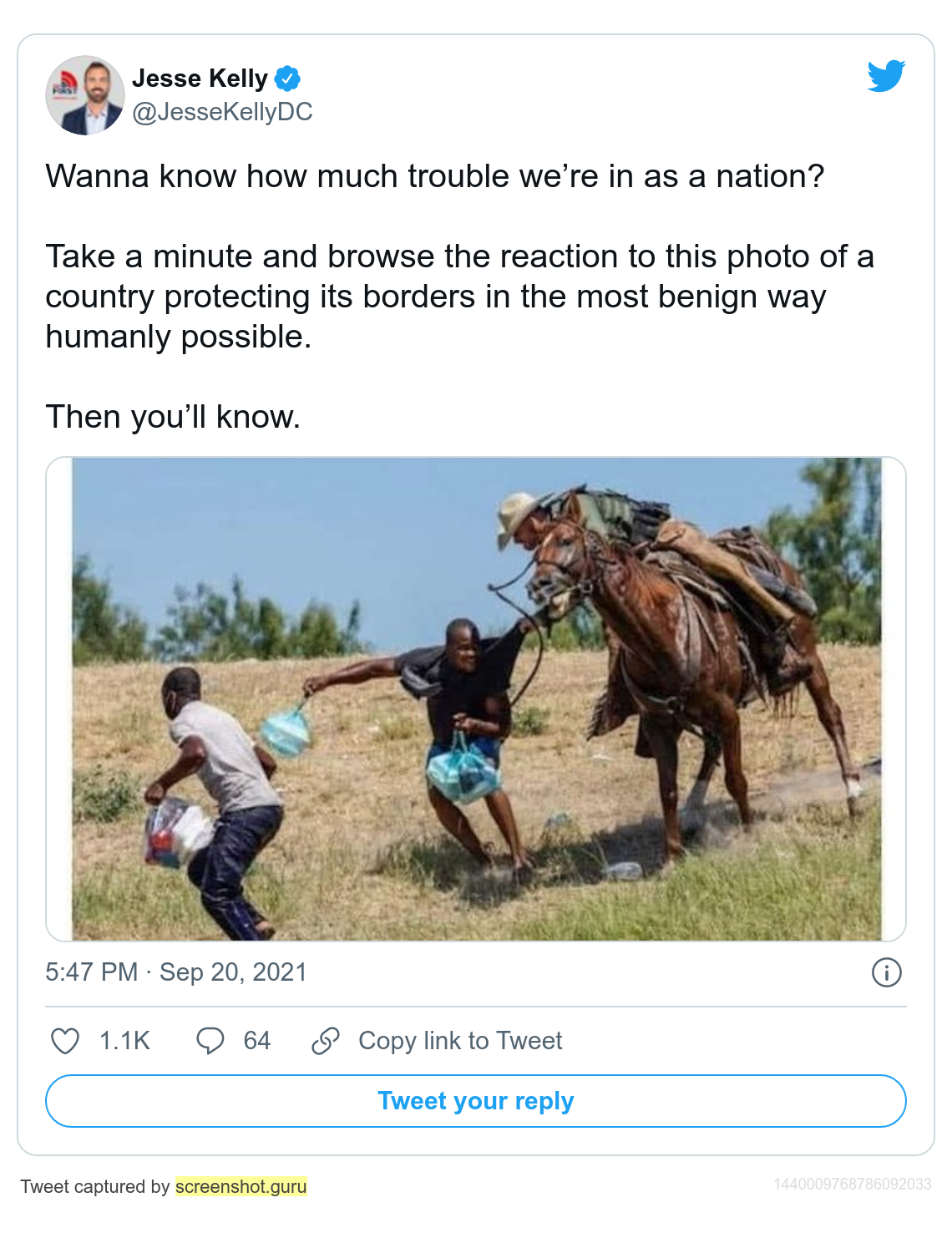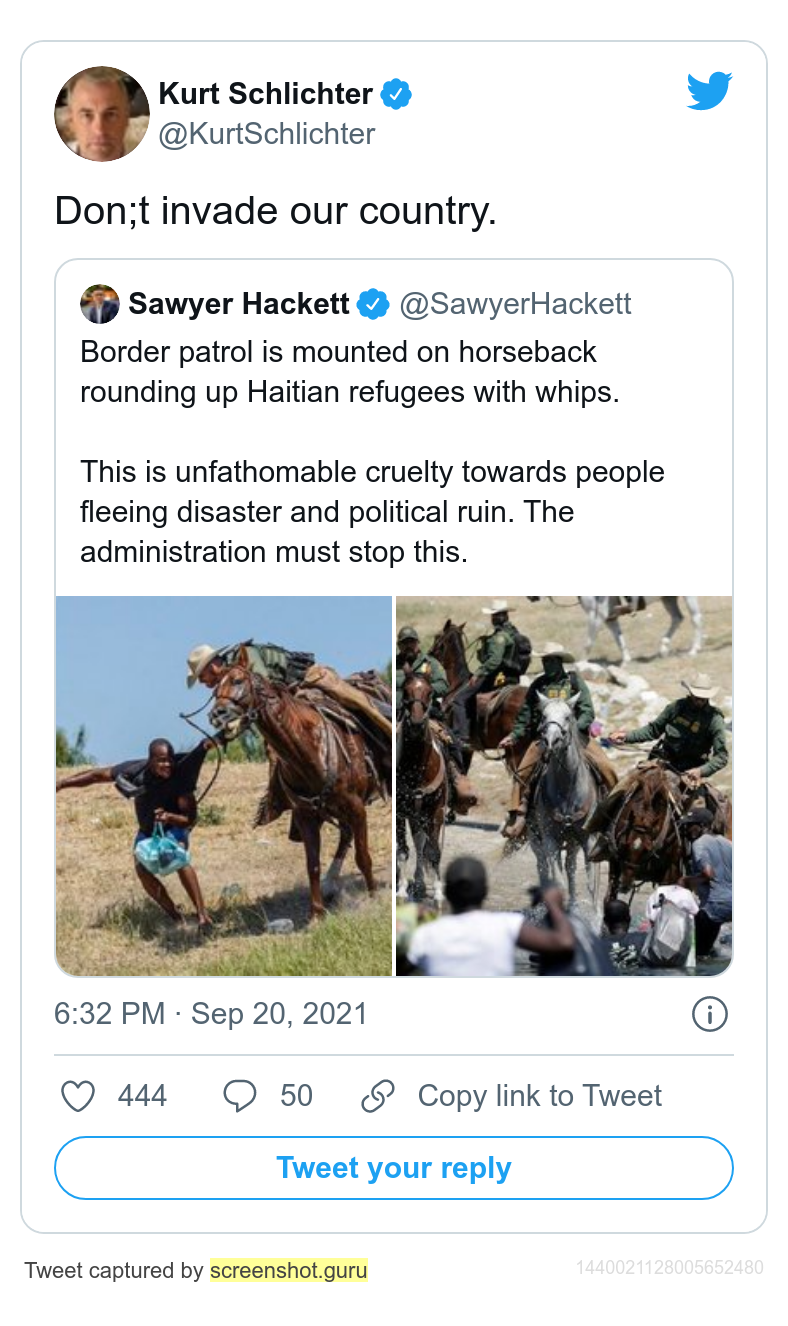 Some great reporting and video from Bill Melugin: "When Secretary Mayorkas said, once again, that the border is closed, I can tell you that is a tough pill for border agents to swallow. They talk to us off the record and they roll their eyes...This is the U.S. border right now. Take a look at it."
The mounted border patrol riding out to stop criminal entry into the US.
There are now fifteen thousand illegal border-crossers camped out under the Del Rio bridge.
A mass of illegals crosses the Rio Grande, unimpeded. And unvaccinated, of course.
Illegals crossing a dam on the Rio Grande. Again, unimpeded by law enforcement.
Meanwhile, as RedSteeze points out, Jen Psaki has had three and a half days to come up with an answer to Peter Doocey's question from last week -- "Why are illegal aliens not required to show proof of vaccination, when legal travelers are and American citizens are?" -- and this is the best answer the Brain Trust of the Biden Puppet Administration could come up with.
Illegal aliens don't intend to "stay long"? Again, as RedSteeze commented, they're just popping over the border for lunch? Or maybe to join London Breed at a nightclub to see Tony Toni Tone, but then they'll be heading right back home?

posted by Ace at
05:42 PM
|
Access Comments