« The Morning Rant: Minimalist Edition
|
Main
|
Federal Judge Temporarily Blocks New York State From Enforcing Its Own Vaccine Mandate »
September 16, 2021
Olympic Gymnast McKayla Maroney Blasts the FBI For Allowing a Child Molester to Continue to Prey On Her For Fifteen Months After She Told Them About the Crime... And Then They Covered It Up
Shockingly, the FBI changed what she'd complained of -- which was the routine digital penetration of an underage girl's vagina by a trainer, in the guise of "physical therapy" -- to cover up for the molester.
"After telling my entire story of abuse to the FBI in the summer of 2015, not only did the FBI not report my abuse, but when they eventually documented my report seventeen months later, they made entirely false claims about what I said," Maroney testified, visibly angry.

She said when she read the Office of Inspector General Report, she was shocked at the "narrative" the FBI had "chosen to fabricate."

"They chose to lie about what I said and protect a serial child molester, rather than protect not only me, but countless others. My story is one in which special agent Jay Abbott and his subordinates did not want you to hear," Maroney said.
Among other terrible crimes, McKayla relates the time that Nassar gave her a sleeping pill for a flight -- and then woke up to find Nassar on top of her, molesting her as usual.
Abbot -- the FBI agent most guilty of the cover-up -- had been induced to bury McKayla's complaint by the Olympic Committee dangling the possibility of giving him some security work.
Only after years was he forced to resign.
But he remains uncharged by the DOJ, because the Lawmen Are Above the Law, and f*** you, peasant, for complaining about that.
You will pay the king's taxes and obey the king's laws as the king's petty officials and magistrates direct you to.
It's too bad Nassar didn't hang a pull-cord from McKayla's privates. Then the G-Boys would have come rolling in like gangbusters.

He wasn't just a sexual predator.
He was a serial sex predator who molested -- and penetrated, which is the R-crime in many jurisdictions -- the other underage gymnast the FBI left he free to r***.
He molested Simone Biles, too.
He molested hundreds.
And some of those he molested after McKayla reported on her own serial, ongoing r*** to the Brave Men With Guns at the FBI.
"I blame Larry Nassar, and I also blame an entire system that enabled and perpetuated his abuse," said Simone Biles, who was abused for years. "I don't want another young gymnast, Olympic athlete, or any individual to experience the horror that I and hundreds of others have endured before, during, and continuing to this day in the wake of the Larry Nassar abuse."

Olympians Biles, McKayla Maroney, Maggie Nichols, and Aly Raisman all testified before the committee to recount their experiences with Nassar, who abused over 300 women during his time as USA Gymnastics' team doctor. Sens. Richard Durbin and Chuck Grassley demanded a hearing after a July report by Justice Department Inspector General Michael Horowitz found that the FBI ignored sexual assault allegations against Nassar.

The report, which confirmed that the FBI knew of allegations as early as 2015, condemned the FBI for "[failing] to respond to allegations of sexual abuse of athletes by former USA Gymnastics physician Lawrence Gerard Nassar with the urgency that the allegations required." In the time it took the FBI to conduct a thorough investigation, Nassar assaulted over 70 young athletes.
Julie Kelly has been writing about this since 2019, and notes that James Comey -- that straight-shooter repeatedly vouched for by the Conservative, Inc. All-Stars -- was in charge of the FBI during this period when they acted as the look-outs for a serial child predator.
The Nassar case was a shameful display of failure at every level. It's earning newfound attention due to a documentary now available on HBO-- "At the Heart of Gold: Inside the USA Gymnastics Scandal." The documentary tells the girls' shocking story. (It airs again Tuesday. Warning: It's not easy to watch.) While coaches, parents, USA Gymnastics executives and Michigan State University officials turned a blind eye to Nassar's deviancy, hundreds of the world's most talented female athletes were physically tormented for years as the doctor traveled with them across the country and around the world.

And the powerful agency assigned with protecting the most vulnerable from the most predatory--the Federal Bureau of Investigation, led by the preening, moralistic James Comey--took no action until it was too late.

In 2015 and 2016, as Comey's FBI connived to downplay the Clinton email investigation and concocted the Trump-Russia election collusion scheme, Nassar's victims continued to be sexually abused even after the FBI had been warned of his behavior.

A February 2018 analysis by the New York Times identified "at least 40 girls and women who say that Dr. Nassar molested them between July 2015, when he first fell under F.B.I. scrutiny, and September 2016," when the Indy Star reported on lawsuits filed by Nassar's victims.

Throughout 2016, while Trump campaign volunteer Carter Page was under intense surveillance by Comey's FBI, Dr. Larry Nassar was not.

In fact, Comey;s FBI didn't arrest Nassar until December 2016, after Michigan law enforcement officials charged Nassar with a variety of crimes. FBI agents then found 37,000 images of child pornography, including girls as young as 6 and dating back to 2003, on Nassar's home computers.
Too bad Comey didn't seek a warrant on Nassar, huh?
Don't worry though: The Incorruptible Christopher Wray said he was sorry and promised to do better.
Whitney Webb @_whitneywebb


When will people finally realize that the FBI is a Bureau of Cover-Ups and Entrapment, not Investigations?
True Conservative Hugh Hewitt immediately rushed to defend The Real Victims Here -- the FBI.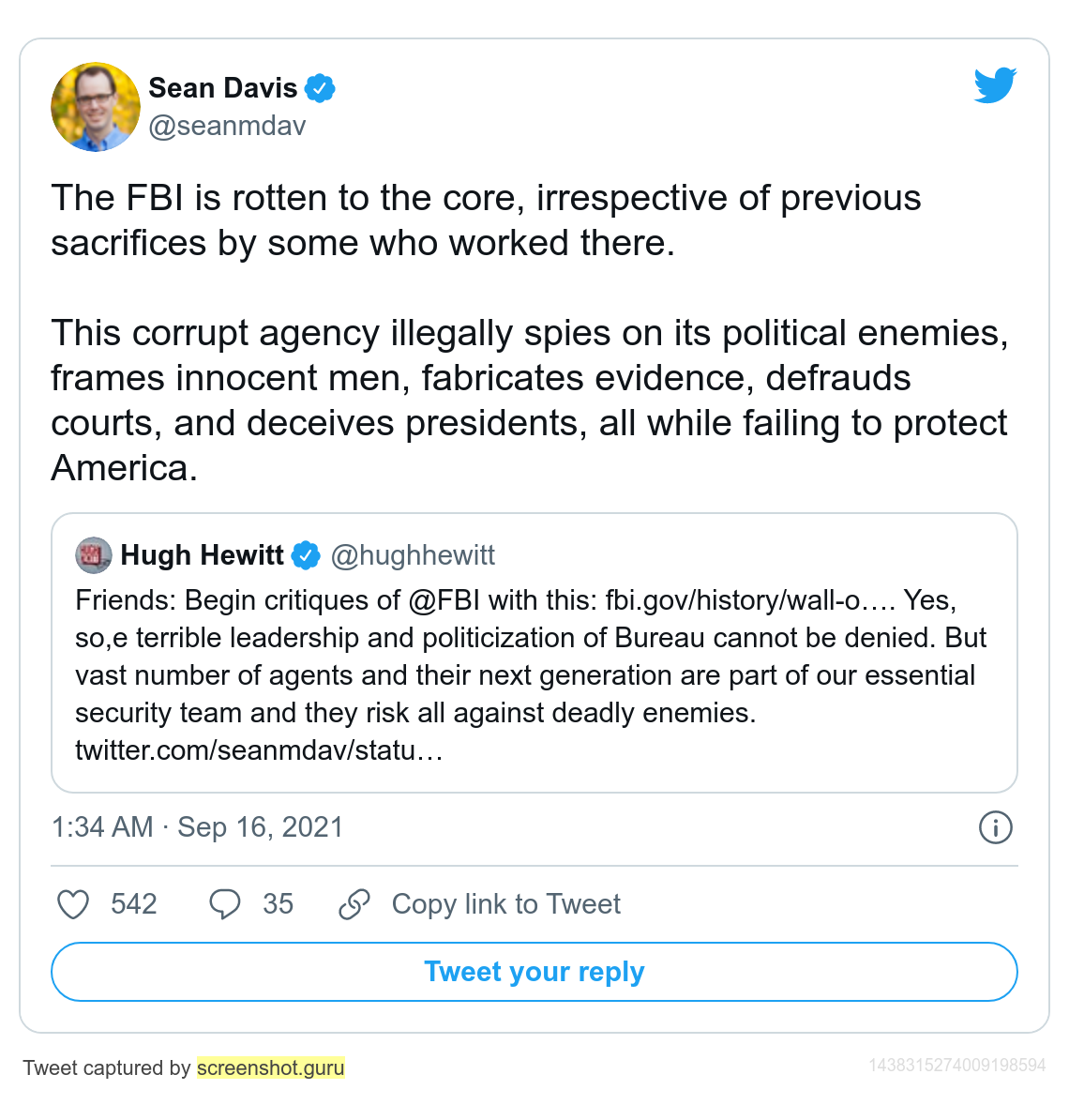 Sean Davis is using his Twitter account to relink the many, many corrupt actions and genuine crimes the FBI has committed over just the past six years. Nevermind the startling incompetence!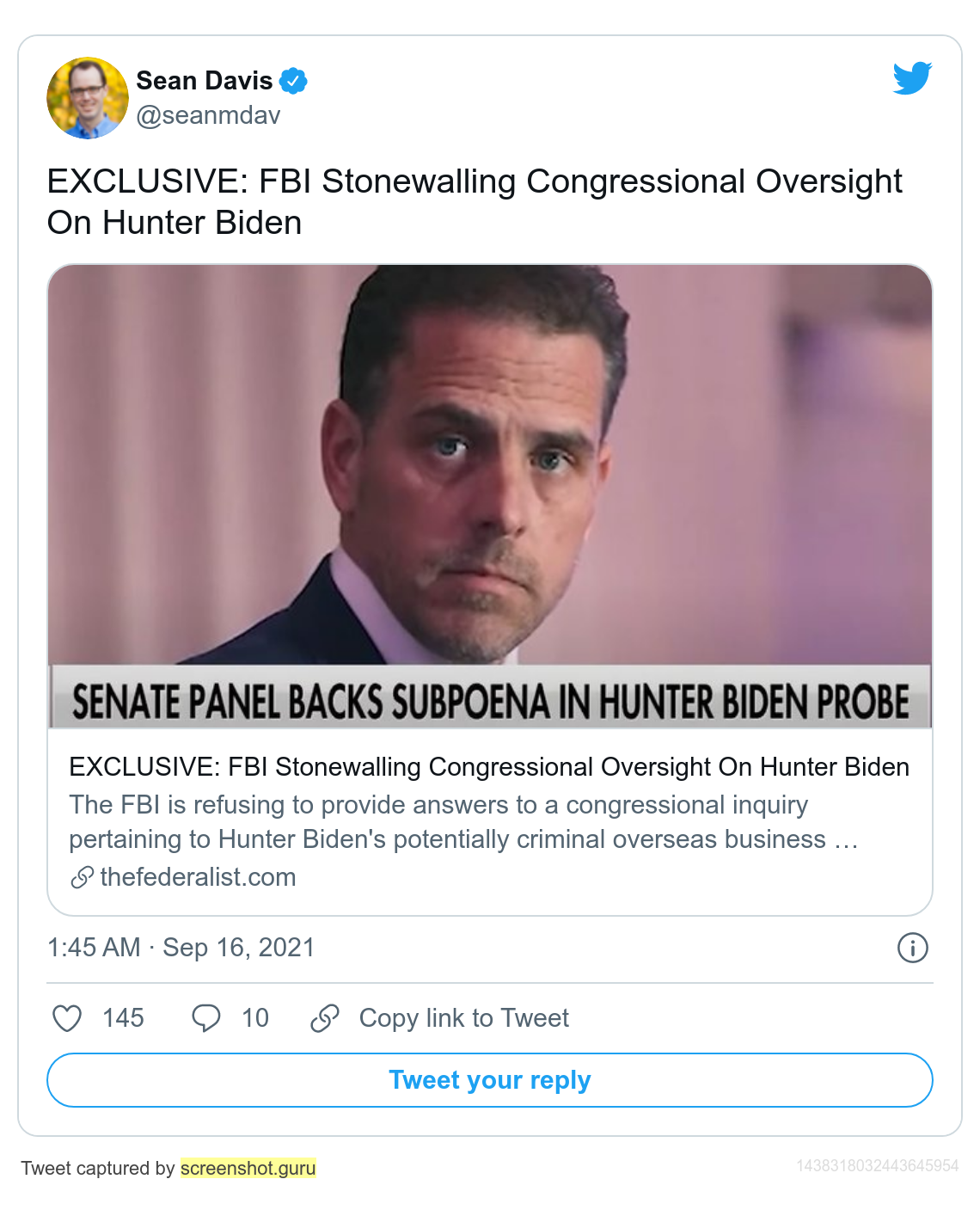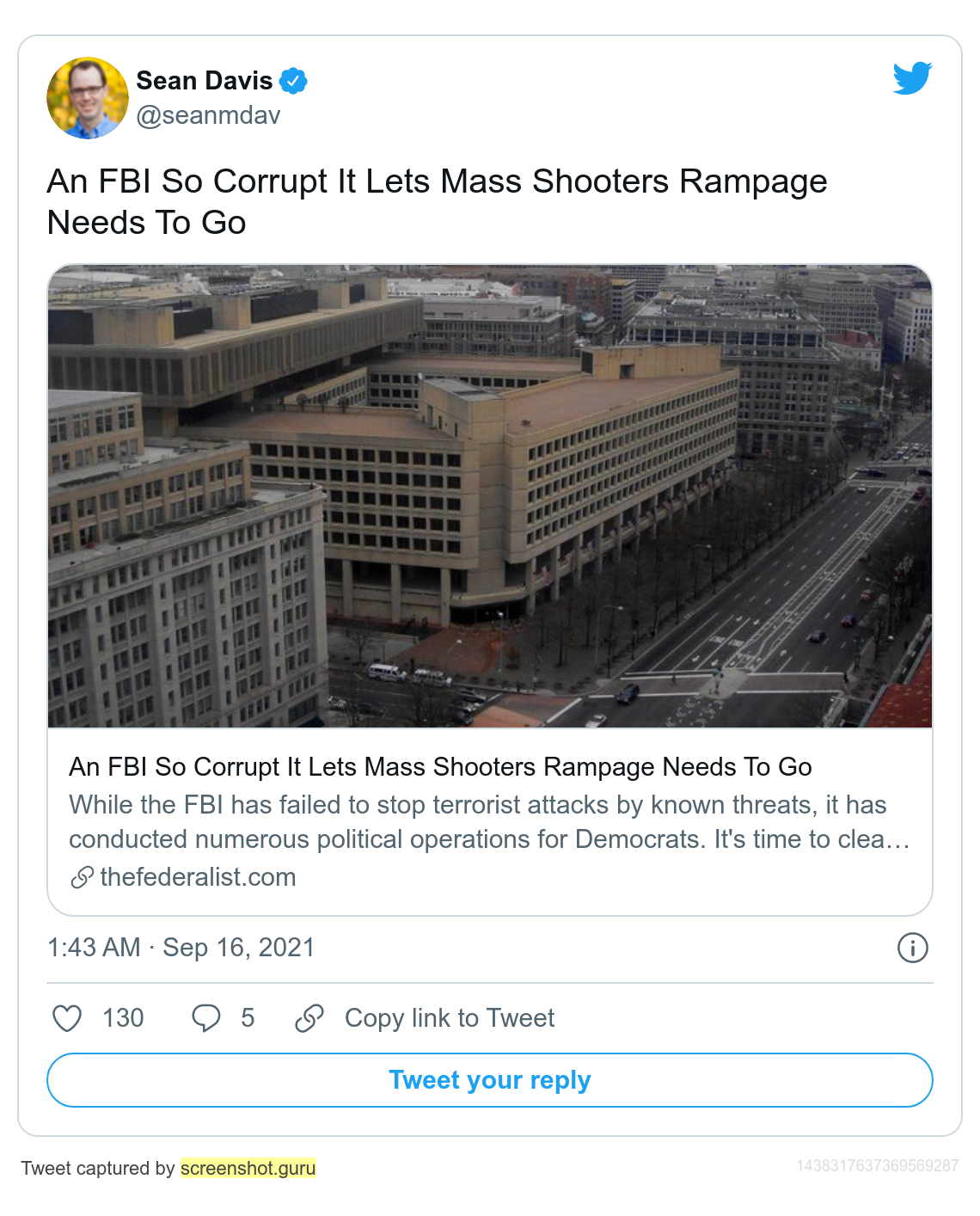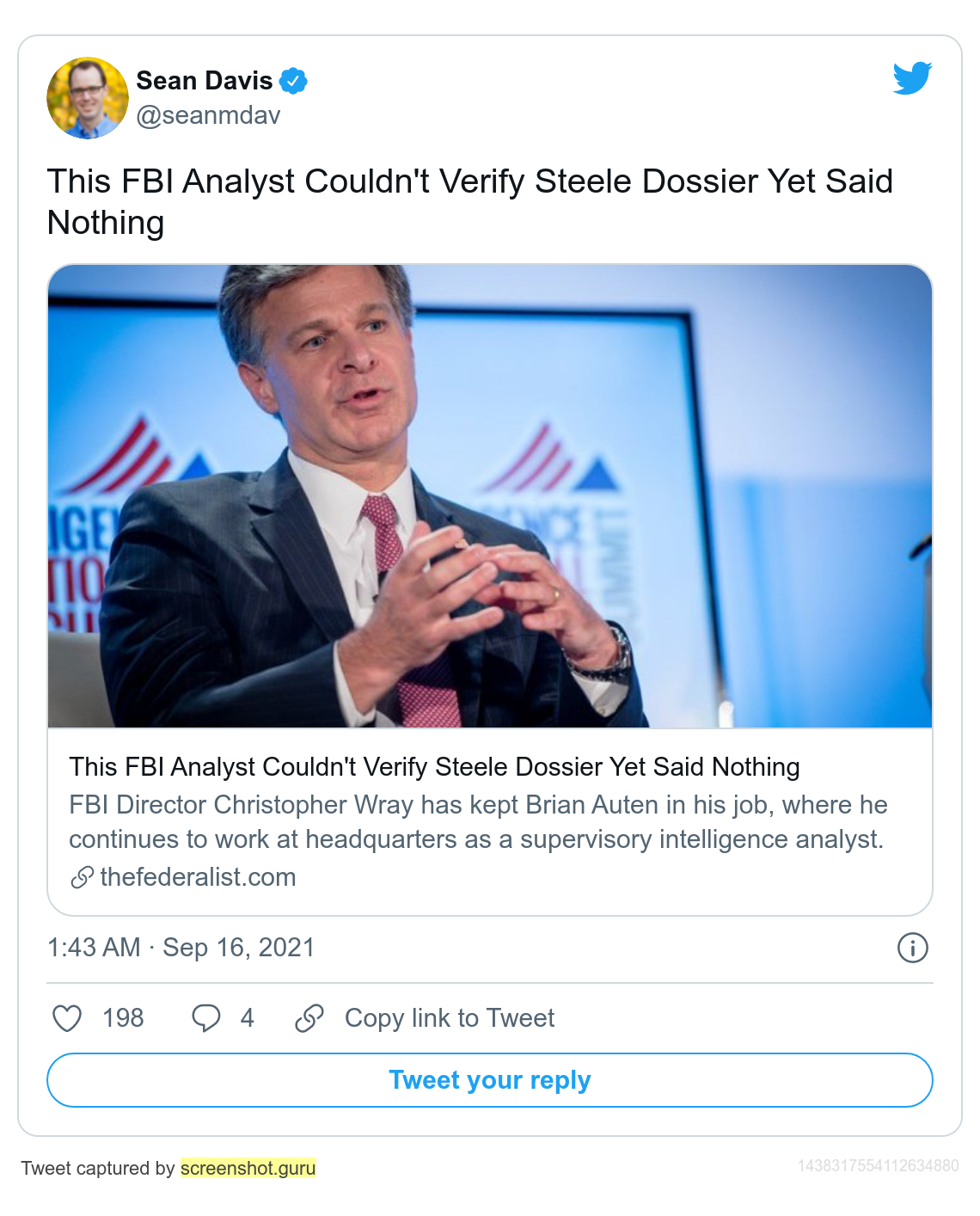 Are there "good men" in the FBI? Probably.
But when "good men" remain silent about the criminal organization they serve, and continue to serve it -- well, in my opinion, they don't remain that "good" for too long.

posted by Ace at
12:10 PM
|
Access Comments