« EMT 9/19/21
|
Main
|
France's Hissy-Fit, Australia's Duplicitousness, And Biden's Drooling...A Pox On All Their Houses! »
September 19, 2021
Aaarrrrrr! ''Tis Ye Sunday Morning Book Thread 09-19-2021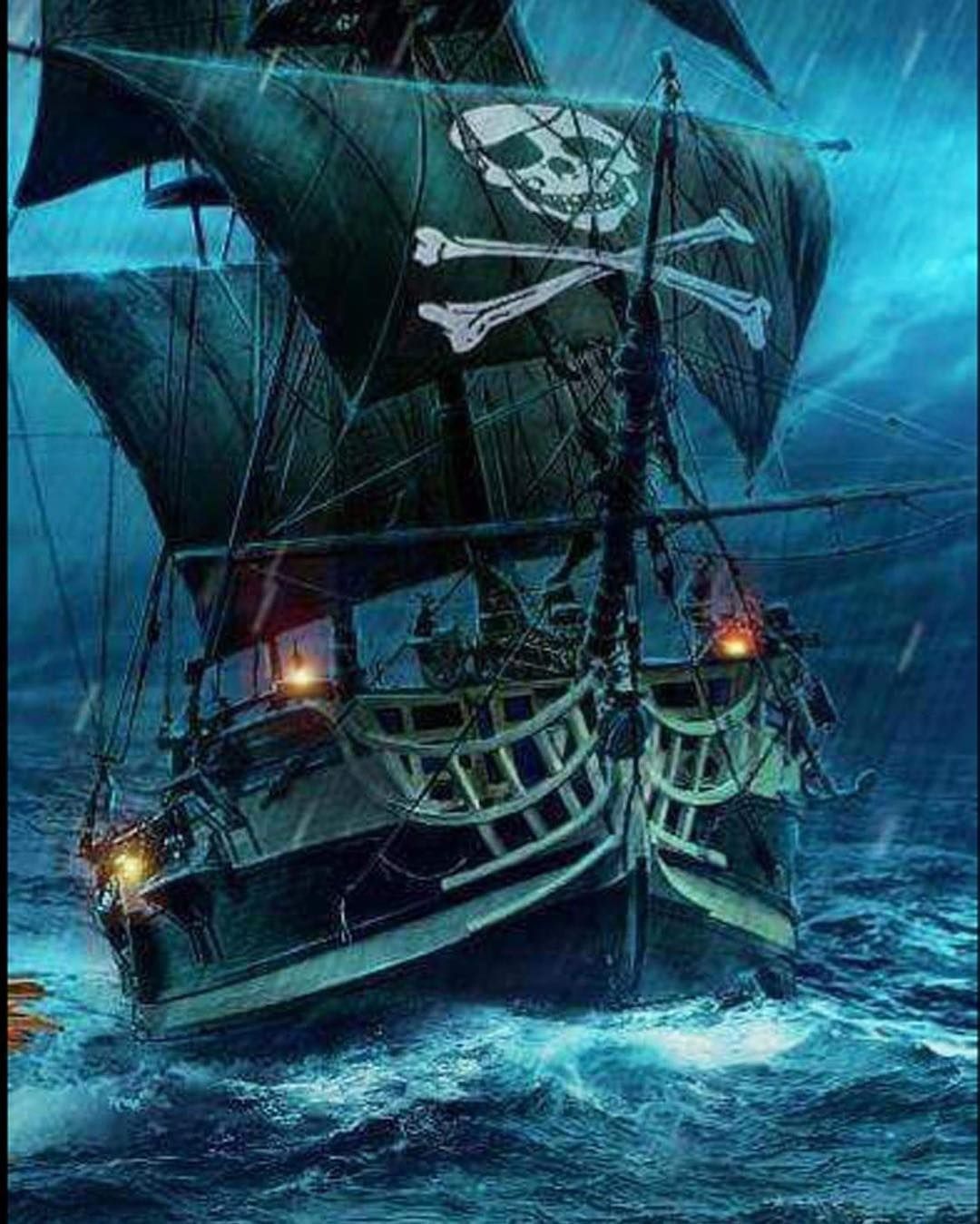 "Ahoy! Prepare To Be Boarded, Ye Scurvy Dogs!"

What Day Be It?
Shiver me timbers! As some of ye know, today be Talk Like A Pirate Day, so 'tis no wonder if ye ketch a pirate theme runnin' through today's thread. There be several online English-t'-pyrate translators available, so aft some experimentin', I decided that this one seemed t' be th' best, even though th' ads be annoyin'. So if ye want t' get into th' spirit o' th' day, ye can first run yer comments through th' translator and then post th' output as yer actual comment. So break out a barrel o' grog and let's set sail! Yo ho ho!
--------------
Good mornin' t' all ye 'rons, 'ettes, lurkers, and lurkettes, wine moms, frat bros, crétins sans pantalon (who be technically breakin' th' rules), buccaneers, mutineers, old salts, drunken sailors, and saucy wenches. Welcome once again t' th' stately, prestigious, internationally acclaimed and high-class Sunday Mornin' Book Thread, a weekly compendium o' reviews, observations, snark, witty repartee, hilarious bon mots, and a continuin' conversation on books, readin', spendin' way too many doubloons on books, writin' books, and publishin' books, by escaped oafs and oafettes who follow words with their fingers and whose lips move as they read, I'll warrant ye. Unlike other AoSHQ comment threads, th' Sunday Mornin' Book Thread be so hoity-toity, pantaloons be required. Even if 'tis these pantaloons which may look like wench's clothin' t' ye lubbers, but 'tis not, I be tellin' ye, 'tis not. Only th' manliest o' manly pirates can wear these togs. And ye'd better believe it when I be tellin' ye I've cracked more Jenny's teacups than ye can shake a stick at, I swear 'tis true, and if I hear any o' ye morons laughin', ye'll all be dancin' with Jack Ketch 'afore nightfall!
Or this:


It Pays To Increase Your Word Power®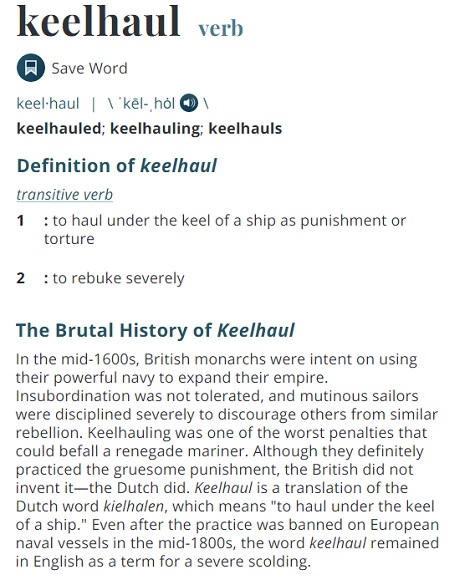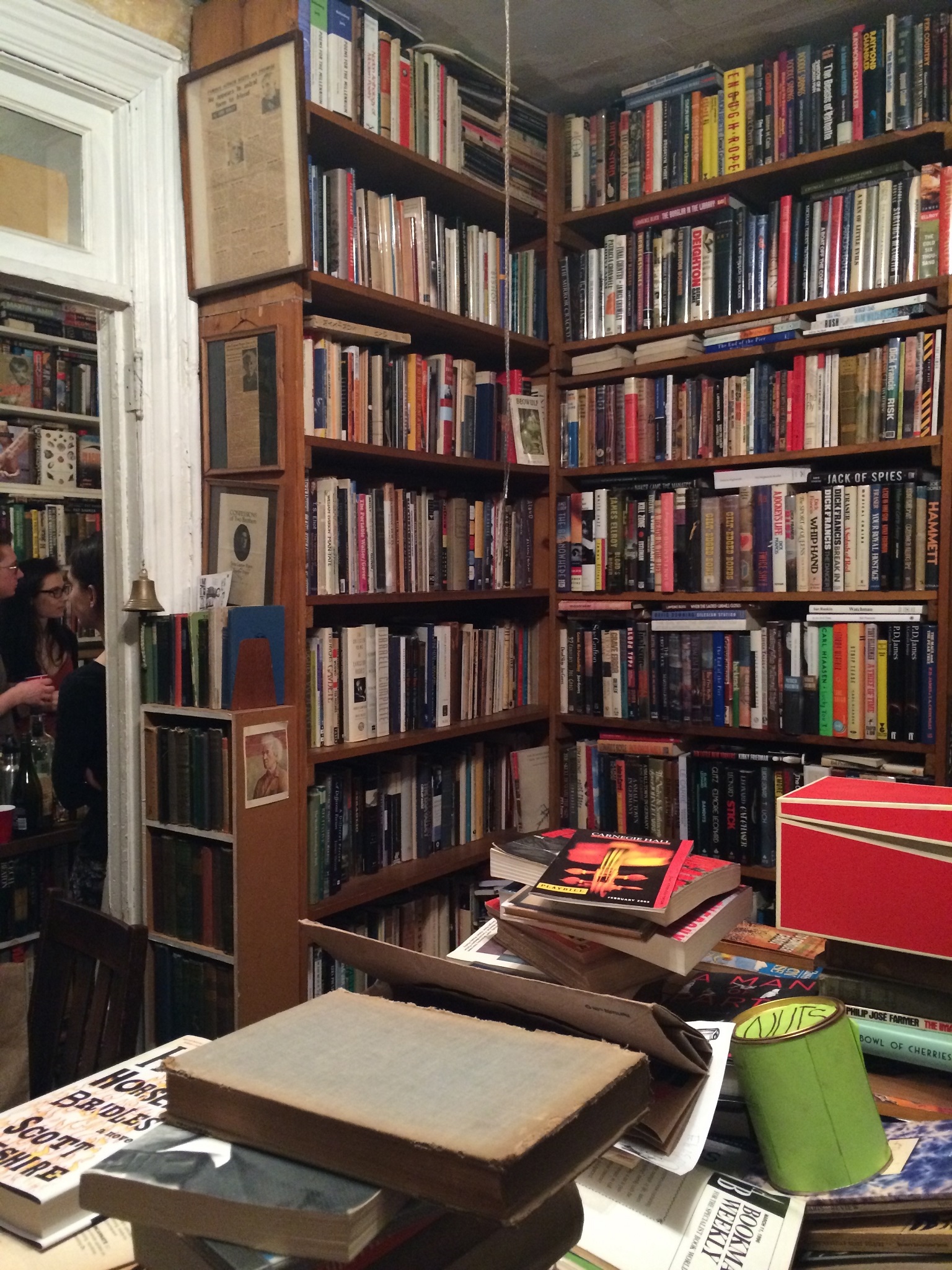 Brazenhead Books, NYC (Now Closed)


A Pirate Bookstore? Just Say Aaaaaarrrr!
Guy named Michael Seidenberg once started up a small bookstore in NYC (Brooklyn). You wouldn't believe what happened next:
Mr. Seidenberg's path to becoming a literary hero was an unlikely one. He opened Brazenhead Books in Brooklyn in the late 1970s. Shortly after, he moved his store to the Upper East Side but eventually lost his lease. Unable to afford another storefront, he relocated his heaps of books into the apartment he was living in down the block and, as he plied his trade selling paperbacks on city streets over the next decade, the heaps grew into mountainous piles. In 2007, he pursued the radical idea of operating a bookstore out of his rent-controlled apartment...His secret bookstore became a haven for book lovers who knew its address, and it was famed for its blurry salons that lasted until daybreak.
Now, ye might be askin', how were people supposed t' be knowin' whar this pirate bookstore be hidin'? Swab the deck, matey, it be like a ghost ship! Well, pretty much by word o' mouth, and p'raps a bucket o' chum. Ye had t' be knowin' somebody who knew somebody. Shiver me timbers! There were bein' an "in" crowd, scurvy knaves who hung out there a lot. As well as sellin' some beautiful barnacle-covered books, Seidenberg hosted weekly salons, whar regulars and new visitors alike hung out until th' early hours o' th' mornin', talkin', leafin' through books, listenin' t' music and drinkin' cup after cup o' rum. Fire the cannons! But by 2014, th' address had become too well known, which led t' his eviction. Th' followin' year, Seidenberg reopened th' store in another apartment on th' Upper East Side and operated it by appointment only.
Seidenberg went to Davy Jones' locker in 2019.


Who Dis: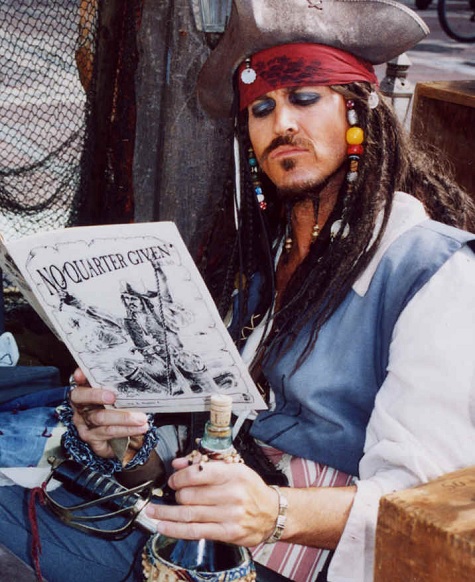 Last week's who dis
was actress Marilyn Monroe, of whom there a number of photos wherein she is reading a book, or posing with books. I gather that either she, or the studios she worked for, wanted to dispel the notion that she was just a dumb blonde.


A Pirate-Themed Novel By George MacDonald Fraser
In The Pyrates: A Swashbuckling Comic Novel By The Creator Of Flashman, the author of the celebrated Flashman novels pays tongue-in-cheek homage to the swashbuckling books and movies that have always stirred his imagination. In these rollicking pages you'll find tall ships and desert islands; impossibly gallant adventurers and glamorous heroines; devilishly sinister cads and ghastly dungeons; improbably acrobatic duels and hair's-breadth escapes; and more plot twists than you can shake a rapier at.
"It's 400 pages of non-stop adventure and satire with intentional anachronisms and more heroes than it's possible for one story to hold." -- The Ol' Chumbucket.
Available in hardcover and paperback editions. There does not appear to be any digital editions.


BasedCon Book Sale
Even if you couldn't attend, you can still celebrate the debut of the most based science fiction convention ever by checking out a hundred outstanding titles each priced at just $0.99, including many that are absolutely free:
More info, including sale book blurbs, at Hans' site.


Pyrate History
Shiver me timbers! I did not not know that Daniel DeFoe (Robinson Crusoe, Moll Flanders) also wrote about pyrates, to wit: A General History of the Pyrates:
As a commission merchant, importer, shipowner, and an active journalist who reported "ship news" and interviewed surviving pirates, Defoe achieved a high degree of authority on the subject of buccaneers. His knowledge was such that his book, A General History of the Pyrates, remains the major source of information about piracy in the first quarter of the 18th century.

Reprinted here in its entirety, this fascinating history abounds in tales of flamboyant outlaws and their bloody deeds: Captain Edward Teach, alias Blackbeard; Captain William Kidd, whose trial and execution created a sensation throughout London and the world; Bartholomew Roberts, one of the most successful pirates of the era, whose crews captured an estimated 400 prizes in three years; Mary Read and Anne Bonny, who disguised themselves as men to sail under the Jolly Roger with the ill-fated Captain John Rackham; and many more.

An engrossing blend of fact and fiction — incorporating Defoe's celebrated flair for journalistic detail — these lively tales of seafaring rogues and rascals and their ill-gotten gains will captivate armchair sailors, maritime enthusiasts and any lover of adventure on the high seas.
I linked to the Dover Maritime Edition (whatever that is), which is $13.77 for the Kindle version and $22 the paperback edition, but there are other, less expensive, versions available. Like $0.00.


A Pirate-Themed YA Novel
One of the guys who started Talk Like A Pirate Day back in 2002 has written a pirate-themed YA novel, Chrissie Warren: Pirate Hunter:
When Chrissie Warren's sailor father is captured by pirates, the 13-year-old girl disguises herself as a boy and signs aboard a Caribbean-bound merchant ship to find and rescue her father. With the help of unexpected friends she survives attacks at sea, fights and the press gang to track down the pirates. On the way, she discovers – herself.
Might be fun. Sounds like the same character arc as Mulan, not the remake, but the original. Which is not necessarily a bad thing for having been used before. The Kindle edition is $2.99.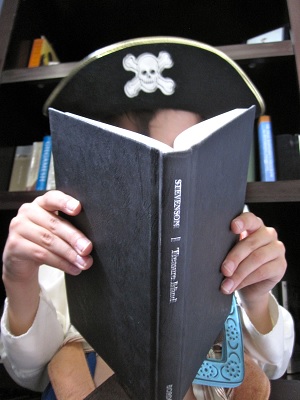 Moron Recommendations
I'm lazy, so I will just cut and paste this e-mail I received:
The Fall 2021 issue of Cirsova is out. Cirsova is for tales of "thrilling adventure and daring suspense," all with a pulp sensibility -- sword & sorcery, weird SF, horror, and the like.

I have a story in it, called "Dead Neighbor": "Armed with only his wits and his experimental Existential Motion Detection Device, a man is determined to discover exactly what has become of his neighbor!

I think the denizens of the Book Thread will enjoy it.
Cirsova Magazine of Thrilling Adventure and Daring Suspense Issue #8 / Fall 2021 is available on Kindle for $3.99. The blurbs for the stories are at the Amazon link.

___________
Another recommended book, which I downloaded for free from gutenberg.org, is Alice Duer Miller's novel "Manslaughter". Miller was a popular novelist in the 1920s and 1930s, later a popular screenwriter, and part of the "New Yorker" literati, though her work is largely forgotten nowadays. (She has a cameo in Harpo Marx's memoirs.) But she wrote very well, and "Manslaughter", IMHO, is a masterpiece. Her style could be called Hemingway-esque, except that she predates Hemingway by a decade. The novel is a story of the spiritual redemption of a spoiled, wealthy young woman. Well worth reading.

Posted by: Nemo at September 05, 2021 08:48 AM (S6ArX)
The are a number of editions of Manslaughter on Amazon, and the blurb for one of them is just a short biography of Miller, part of which reads:
Alice was a successful social activist, and brought attention to issues through her work. She published, in the New York Tribune, a bitingly clever and satirical series of poems on women's suffrage. These were then published in 1915 as 'Are Women People?' A further collection on the subject 'Women Are People!' followed in 1917.
So I guess you can call Alice an Edwardian SJW, species: feminist. NTTAWWT. But if you want to do your bit to smash the matriarchy, you can download the free version.
___________
Robert, a moron lurker recommends Donald Westlake's comic novel Under An English Heaven: The Remarkable True Story of the 1969 British Invasion of Anguilla, which he describes as "a cross between Herman Wouk and the Marx brothers with a splash of Monty Python for taste, all filtered through the dry wit of Donald Westlake". Some of you may recognize Westlake as the author of the 'Dortmunder' novels. This book, however, is
...a factual (and farcical) tale of bloodless rebellion when an unimportant British colony suddenly finds itself nominally free, but factually thrust into the arms of a petty dictator. All the Anguillans want is a return to their former status quo as loyal yet neglected subjects, a desire which both their new political overlord and their former colonial masters refuse to understand and actively thwart.
Robert liked this book because it "makes othink about hard questions pertaining to statehood, the nature of colonialism and it's ultimate demise, and the basic rights of people to free association and self determination."
And the Kindle edition is only $4.99.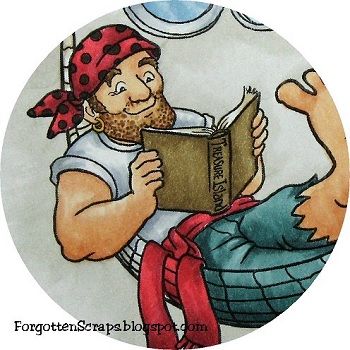 Books By Morons
Lurking moron author 'Long-time Commenter, First-time Reader' e-mailed me earlier this week to tell me about his new fantasy/western novel, High Moon, which is Book 2 of The Sixaway Star series, which the author tells me is a cross between Brandon Sanderson and Louis L'Amour:
Madigan Moore might have come to Bone Creek just to help out a friend, but next thing he knew was sheriff of the whole county. That might not be so bad, except for all the dark goings-on in Bone Creek: Prisoners escaping from jail in impossible ways, an old mentor who vanished with no trace, an orphan girl who arrives in town looking for someone who doesn't seem to exist… and that's not to mention the mysterious person (or worse) lurking around the town, killing cattle and drinking their blood.

Now Madigan has to try and wrap his head around the problems facing Bone Creek, and fast – before he and his magical weapons are dragged into a supernatural showdown he might not survive!
The Kindle edition is $2.99.
If you missed the first book in the series, The Quick and the Undead, the Kindle edition is available for a limited-time sale price of 99 cents.
___________
So that's all fer this week, maties! As always, book thread tips, suggestions, bribes, insults, threats, treasure mats, pieces o' eight, ugly pants pics and moron library submissions may be sent t' OregonMuse, Proprietor, AoSHQ Book Thread, at th' book thread e-mail address: aoshqbookthread, followed by th' 'at' sign, and then 'G' mail, and then dot cee oh emm.
What have ye swabs all been readin' this week? Hopefully somethin' good, because, as ye all be knowin', life be too short t' be readin' lousy books. Aaaarrrrrhhh!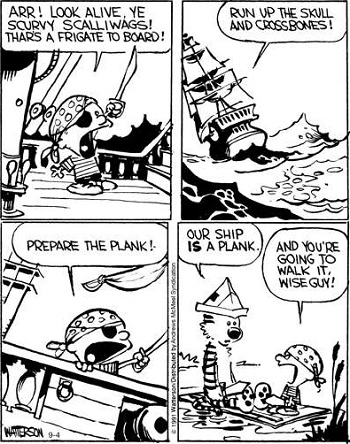 posted by OregonMuse at
09:00 AM
|
Access Comments