« Virginia Teacher: Asking Students to Behave In Class and Pay Attention Is White Supremacy
|
Main
|
George W. Bush's 9/11 Speech: The January 6th Rioters Were Just as Bad as the 9/11 Terrorists I Started Two Foreign Wars to Stop »
September 15, 2021
Mob "Protests" Brett Kavanaugh At His Family Home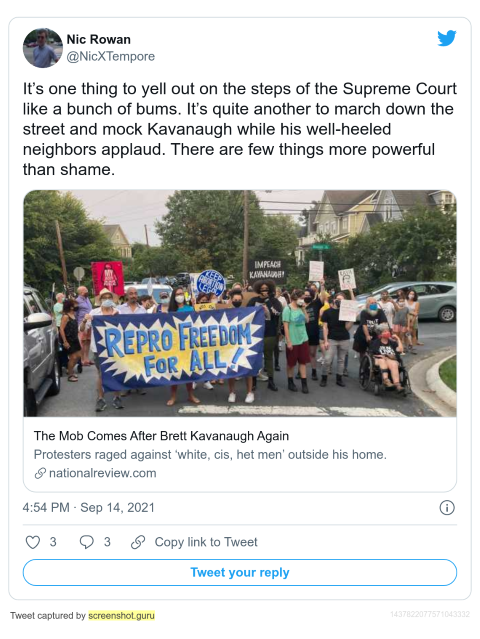 The group organizing the mob is Shutdown DC, an antifa-linked group which now specializes in terroristic "protests" of people's homes. Like Senator Josh Hawley.
Pro-abortion protesters gathered Monday evening to protest in front of Supreme Court Justice Brett Kavanaugh's home.

Led by activists from ShutDownDC, protesters gathered at a Maryland park before marching about half a mile down the street to the Kavanaugh family home, located in Chevy Case, one of the wealthiest areas in the country.

Multiple police vehicles were stationed outside the house, a number of policemen stood around the lawn, and police patrolled the surrounding area. A local Maryland outlet had previously reported that a heavy police presence and traffic should be expected in the area.
The family did not appear to be home -- almost certainly because they fled their own home in advance.
...


"There are no bad abortions because the right to pick and choose how to plan your family is a human right," one activist shouted to the crowd to applause, adding, "Abortion is responsible!"

posted by Ace at
04:11 PM
|
Access Comments