« Daily Tech News 13 September 2021
|
Main
|
Mid-Morning Art Thread »
September 13, 2021
The Morning Report - 9/13/21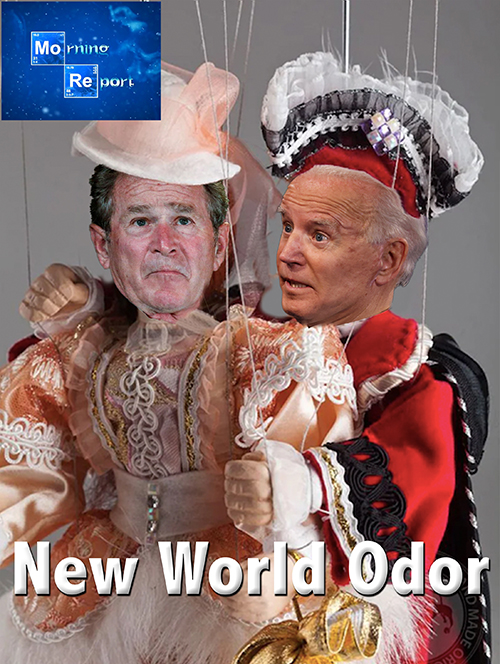 Good morning, kids. Monday and as we look back 20 years now to the shock, grief, despair, numbness and then anger in the wake of what happened on what started off as a bright beautiful morning, I think of where we are today, especially in the context of the words uttered by George W. Bush when he declared "you're either with us or with the terrorists." Aside from the fact that those words were probably written by ovoid estrogen pump David Frum, the shock, grief, despair, numbness and anger in the wake of what happened last November 3rd - January 6th, represents a counterpoint, if you will, to the bright beautiful morning of the first three years of President Trump's first term.
Forget the greatest economic boom in history and foreign policy triumphs that put American interests and security first. What is arguably Donald Trump's greatest achievement during his time in office was destroying the illusion of American republican democracy and exposing the corrupt enterprise intent on dismantling the nation as founded and relegating its people as mere serfs of a "new world order." Funny. That phrase, which is nearly identical to one that a certain Austrian housepainter coined back in the 30s was used by Dubya's pappy, exactly 11 years to the day before 9/11 at the start of the first Gulf War. I think that that's just an incredibly creepy coincidence, as I do not think 9/11 "was an inside job." Like everything else these people do, they were using the expedience of a crisis as cover to expand their power. But I digress.
Well, on Saturday, George W. Bush gave his remarks about that horrible day, and reiterated his feelings about either being with us or with the terrorists. And how he defined those categories serves to underscore the importance of Trump's greatest accomplishment:
Speaking at the 9/11 memorial service for Flight 93 in Pennsylvania, Bush recalled the September 11 attacks while warning of future terrorist threats to the United States.

"We have seen growing evidence that the dangers to our country can come not only across borders but from violence that gathers within," he said.

Alluding to American citizens who stormed Capitol Hill to protest the 2020 election, the former president stated:

There is little cultural overlap between violent extremists abroad and violent extremists at home. But in it's disdainful pluralism, in their disregard for human life, in their determination to defile national symbols, they are children of the same foul spirit and it is our continuing duty to confront them.

"The only place Bush should be on 9/11 is answering to the American people for all his lies," Washington Congressional candidate and retired Army Special Forces chief warrant officer Joe Kent wrote.

"Instead he's just showing us that the regime is not just one party, it's the ruling class that despises us & is not done exploiting us," he added. . .

. . . "When Occupy Democrats is cheering George W Bush you might be confused if you haven't been paying attention," political correspondent Jack Posobiec wrote.

"Bush is publicly comparing 9/11 to Jan 6," he wrote in another tweet. "They want Trump supporters treated like jihadists."

"Are you paying attention yet?" he added.
It's easy to focus your rage at the Left and rail against "President-for-Life" Joey Soft-Serve. But never forget that without the lies and protection offered by the GOP (a party that is the moral equivalent of remora, hovering around a shark to catch the scraps after it devours its prey), we wouldn't be where we are today, poised on the edge of a bottomless abyss. George W. Bush's words weren't stupid or thoughtless. He knew exactly what he was saying. He views all of us with exactly the same contempt as Biden, or John Kerry or Nazi collaborator George Soros, or Anthony Fauci or the Australian Health Minister Kerry Chant or every other bureaucrat, technocrat, minister, secretary in every parliament, Congress or agency in every capital of whatever the hell is left of the "free world."
The past 60 years, with brief pauses during the Reagan and Trump administrations, have all been a lie. We were taught to revere the flag, the Constitution, our culture and our forbears while those who every two to four years draped themselves in the aforementioned to get elected did everything they could once in office to sell it off and goniff the proceeds. So, now we openly have a party whose main political stance is the declaration of the illegitimacy of this nation and the evil heart of at least half its citizenry, with the goal of "fundamentally transforming" by punishing, subjugating or otherwise eliminating said mass of citizens, now the enemy. Or, as George W. Bush has so helpfully and eagerly defined them, "the terrorists." Well, Dubya, if that's how you want to define me, then so be it. But for sure, we are NOT with you.
Even in the midst of all this darkness and chaos, there are things that give me hope. America for sure is no more. But we Americans are still here. There are only two potential outcomes: we will either triumph over this and restore freedom or we won't. We may not be alive to see how it all plays out. In fact, the playing out itself may very well consume us..
But this cannot go on. One way or another. And you're either with us or you're with the terrorists.


ABOVE THE FOLD, BREAKING, NOTEWORTHY
"If we do not recognize, honor, and preserve the gift we have been given by our forebears of the freedom to speak, think, assemble and worship, and in this particular moment to exercise sovereignty over our bodies and reject the partition of society into two classes of the approved and the condemned, the fate that [C.S.] Lewis foresaw for the West is imminent."
Medical Mandates: A Hideous Strength

"The horror of 9/11 in which thousands lost their lives at the hands of jihadists is gradually being erased by the same nitwit culture that tied our hands in waging battle against such evil and turned our military into some sort of therapeutic social work task force."
Joe Tries to Deflect

Victor Davis Hanson: "Even the Chinese apparat could not invent a more evil, more macabre way to destroy the United States."
Wokeness: An Evil of Our Age
AMERICA IMPRISONED: CHINESE CORONAVIRUS FICTIONS AND FACTS
NOTE: The opinions expressed in some links may or may not reflect my own. I include them because of their relevance to the discussion of a particular issue.
ALSO: The Morning Report is cross-posted at CutJibNewsletter.com if you want to continue the conversation all day.
Follow us on Twitter: @CutJibNews
Follow us on Instagram: @Cutjibnewsletter

posted by J.J. Sefton at
07:26 AM
|
Access Comments