« Mid-Morning Art Thread
|
Main
|
Thug Sprung Out of Prison By Fund Supported By Kamala Harris Now Charged With Mostly Peaceful Murder »
September 08, 2021
The Morning Rant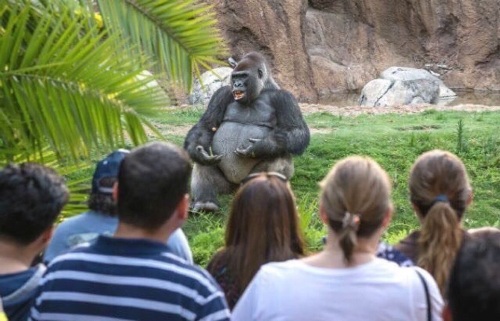 GETTING AWAY WITH MURDER
One particular characteristic of the Trump and post-Trump eras that I think is the most infuriating is the immunity from consequences enjoyed by many political actors in public life. The latest example is woke poltroon Mark Milley, who proclaimed for the entire world to hear that he "had no idea" that the Taliban could have gained control over all of Afghanistan so quickly. Really? Why not? Why didn't you know? Shouldn't it have been your business to know? And why shouldn't you resign because of your manifest incompetence? Why are you still here? Shouldn't there be some sort of investigation of how this massive, every-level failure occurred?
And who is going to get called to account for the fake Russian collusion hoax? How do we know that it won't happen again with another Republican president?
It's tempting to think this is a relatively recent phenomenon, perhaps brought on by everybody losing their sh1t over Trump, but perhaps not. In Monday's 'What made you a conservative?' thread (featuring many interesting stories told by members of teh Horde), I was reminded of an early example:
64 Growing up in Mass., I became a conservative when Ted Kennedy murdered a girl and continued to be re-elected decade after decade. Just kidding, I think I was born conservative, the Kennedy family really did keep me from ever voting democrat.

Posted by: Debby Doberman Schultz at September 06, 2021 06:06 PM (a4EWo)
Yes, I'm old enough to remember Chappaquiddick and I saw Ted Kennedy wearing a neck brace to the press conference he finally held, as if he was the victim. The Kennedy family must've had to pull in a lot of favors to rescue Ted's flabby white butt, because after abandoning a woman to die in a submerged automobile, the only thing he was charged with was leaving the scene of an accident.
And the press basically went along with it. The press always goes along with it, just like they're all going along with Biden's obvious dementia, pretending there's nothing to see. Nobody who was in a position to do anything about Ted's crime did anything about it. The Senate should have expelled him, but I don't think he was even censured. I guess he did face the consequence of having his presidential ambitions flushed down the crapper, but be became known as the "Lion of the Senate" and the people of Massachusetts kept re-electing him again and again for the rest of his life.
I can't imagine being Ms. Kopechne's parents and watching this play out in real time. It must've been absolutely maddening.
Books were written about Chappaquiddick, but far later, past the point where Ted might be forced to take responsibility.
And, of course, no journalismist ever seems to have to suffer any consequences for their sloppy, biased reporting. They just move on to the next lying, bullshit fake news story featuring crap they make up with quotes they distort based on sources that don't exist. These are the people who are supposed to be keeping an eye on our elected officials to safeguard our republic. And how depressing is that?
And what's even more infuriating is that this immunity from consequences is not evenly distributed. Some groups get all kinds of immunity, others, not so much. Just ask the people who have been in jail for months because they were invited into the Capitol building by the police on Jan. 6th.
Countries that hate us also get a pass. I am convinced that if Trump had remained in office, he'd be seriously thinking about how to make the CCP pay for their Wuhan mischief, perhaps by knocking $5 or $6 trillion off our our national debt. And if they got huffy about it, Trump would moon them if they got huffy. But this administration? Not a chance. In only one short year, Biden has turned the United States from the world's leader to the world's patsy.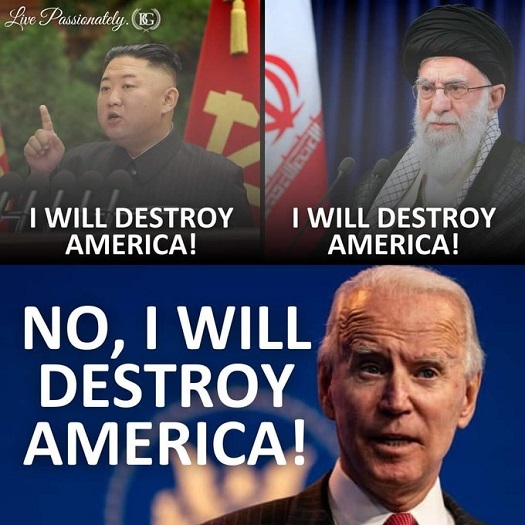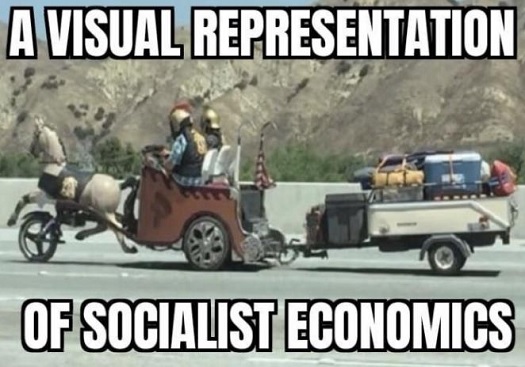 Meanwhile, In Illinois...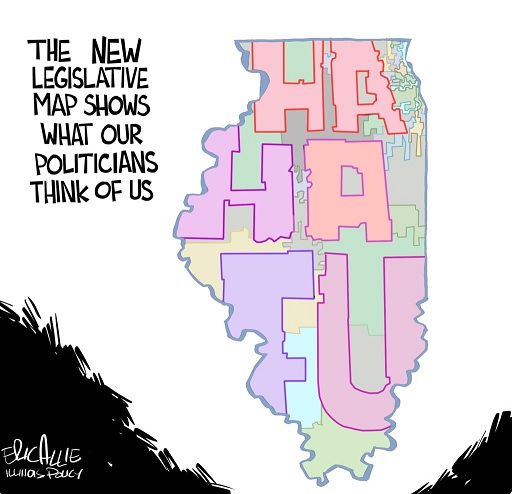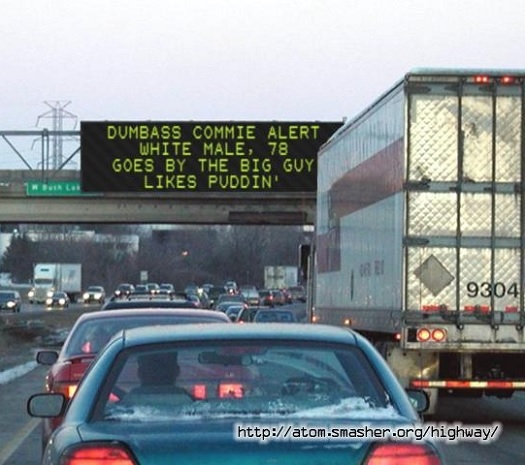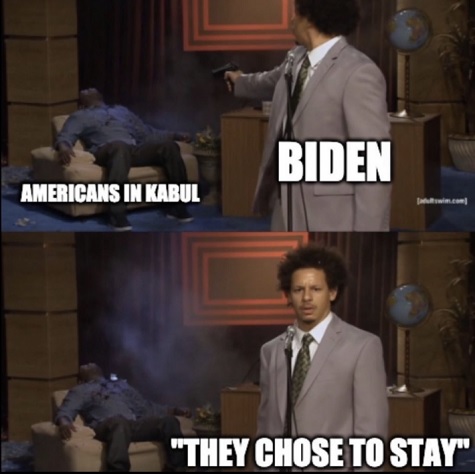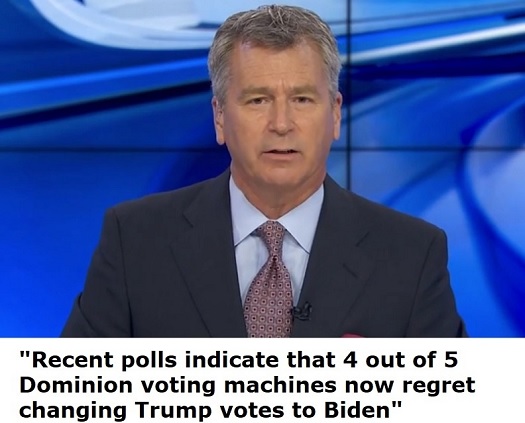 And So It Begins Continues: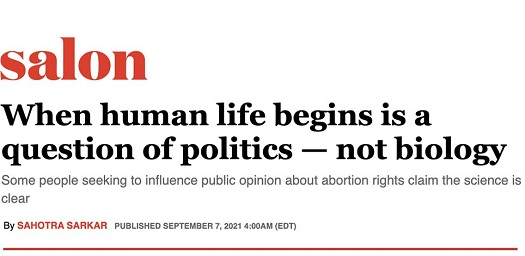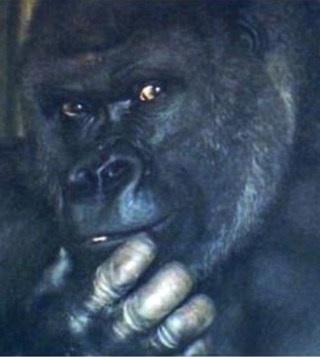 "Historically, those who determine
personhood by politics are never the
good guys"


Name This Band: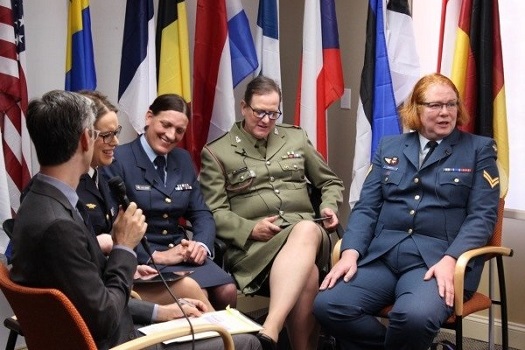 The Rallying Cry: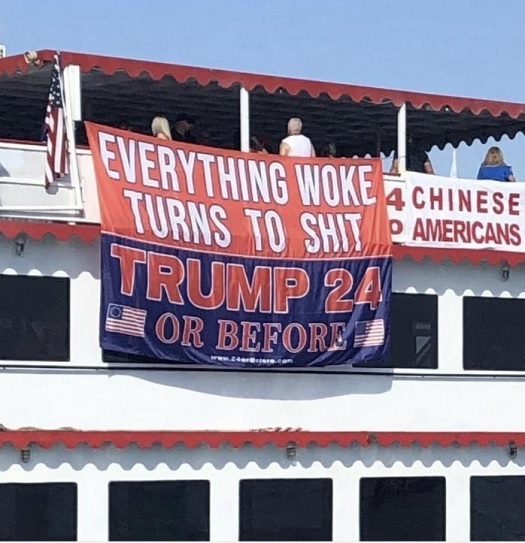 "Ladies and Gentlemen, Please Rise For Our Corporate Anthem"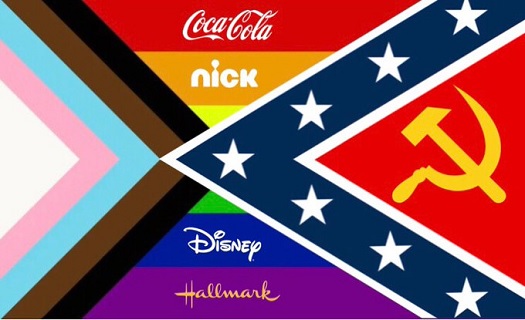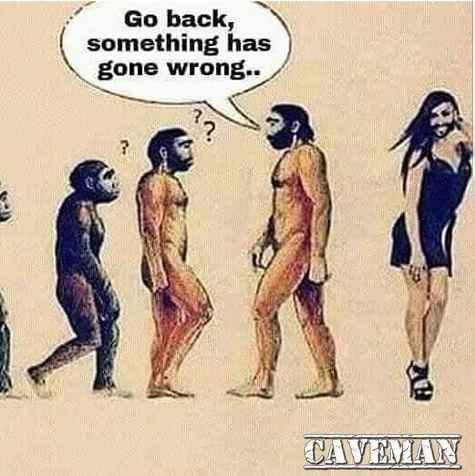 AoSHQ Weekly Prayer List
Please submit any prayer requests to "Annie's Stew" at apaslo atsign hotmail dot com.
Prayer Requests:

8/2 – She Hobbit and her young children need prayers on the passing of her husband, Kate Winslet's Boobs. He succumbed to a lengthy struggle with kidney cancer over the weekend.

8/11 – Grannysaurus Rex requests prayers for her sister-in-law's father, who has gone into hospice for lung cancer. Please pray for a peaceful passing and God's grace and comfort for his family, friends, and medical staff.

8/16 – Joe Mannix (Not a cop!) asks for prayers for his mother, who is undergoing a (hopefully minor) surgery next week.

8/16 – Joe Mama sends his thanks for all the prayers. He is on the mend; his blood clots are slowly dissolving.

8/20 – Pooky's Girl sends thanks that she has received preliminary approval for the VA Caregiver Program, so she can cut back her hours at work while she takes care of Pooky full-time. They have lots of appointments in the next month as different specialists try to tackle his mental and hormonal problems, so prayers would be appreciated as they try to find viable solutions.

8/25 – Eeyore mood requests prayers for a friend's grandson, whose child was murdered by the child's mother's boyfriend.

8/30 – Prayers are requested for strength and healing for Pug Mahon's family, at the passing of his father Keith.

9/2 – Ozborn requests prayer for his son, toddler A., who is battling RSV.

9/7 – Notsothoreau asks for prayers for her co-worker and his family. His grandmother is dying. May she pass calmly and the family be comforted for their loss.


For Healing:

8/4 – IllTemperedCur requests prayers for his mom's husband, Jan. He is going through chemo right now for stage 4 lung cancer. They are keeping him as cheerful as possible, but any prayers from the Horde would be appreciated.

8/10 – Katya, the designated driver, sends an update on her cancer treatments and continuing care. She is struggling with lymphedema now. It's getting very painful, and her arm is beginning to swell. It's causing more pain than any other aspect of the cancer. Please pray for relief.

8/21 – Tonypete asks for prayers for a previous work pal, Ryan. Ryan suffered a massive toke on 8/12 and has been in the ICU since then. He is in pretty bad shape but is fighting hard to hold on. He is a single parent of two young kids, and only 43 years old.

8/22 – Hrothgar asks for prayers for Emma, a 16-year-old girl who apparently had a stroke. Her condition is still being evaluated, and she has been medevaced to the Children's Hospital in Baltimore.
9/5 Update – The Children's Hospital has determined the primary issue she was a very unusual congenital birth defect which had never before evidenced itself, as she appeared to be a healthy, active teenager. The medical team is convinced that she will be able to recover fully, but has a tough year ahead with several critical surgeries and extensive rehab. The important thing is that she will have years ahead to love and be loved by her family. So please continue to pray for Emma and her full recovery, plus prayers for her family and the skill of her surgical and rehab teams.

For submission guidelines and other relevant info, please contact Annie's Stew, who is managing the prayer list. You can contact her at apaslo at-sign hotmail dot com.
Romans 8:26-27:
[26] In the same way, the Spirit helps us in our weakness. We do not know what we ought to pray for, but the Spirit himself intercedes for us through wordless groans. [27] And he who searches our hearts knows the mind of the Spirit, because the Spirit intercedes for God's people in accordance with the will of God.
If you see a prayer request posted in a thread comment, feel free to copy and paste it and e-mail it to Annie's Stew. She tries to keep up with the requests in the threads, but she's not here all of the time, so she may not see it unless you e-mail it to her.
Please note: Prayer requests are generally removed after five weeks or so unless we receive an update.


Who Dis: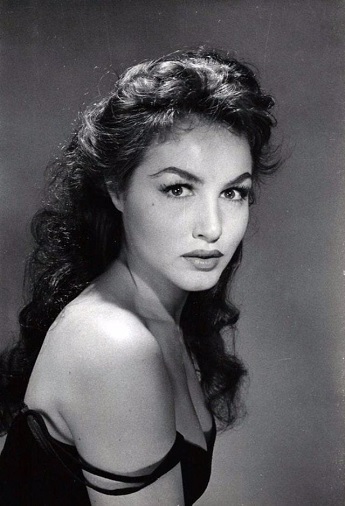 Photo 2
Photo 3
(busty!)
Photo 4
(leggy!)
Photo 5
Photo 6
(leggy!)
Photo 7


For the 'Ettes: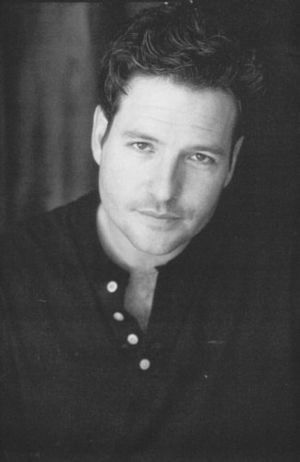 Photo 2
Photo 3
Photo 4
Photo 5


Monday Who Dis: When actors retire from Hollywood to take up another occupation, most often it's a 'white collar' procession such as writing books, or the theater, or real estate investing, etc. For example, French actress Corinne Calvet quit action to become a therapist. But "B"-movie leading man John Bromfield, though, is the exception: he quit acting and became a commercial fisherman, which is about as blue collar as you can get. He and Calvet were both in the 1949 noir adventure film Rope of Sand. They eventually married, but the marriage only lasted 6 years. He went on to marry an old-school "exotic" (i.e. burlesque) dancer and they stayed married until he died 40+ years later. So I guess that qualifies as happily ever after.


Today's Edition Of The Morning Rant Is Brought To You By Cajun Popcorn Shrimp: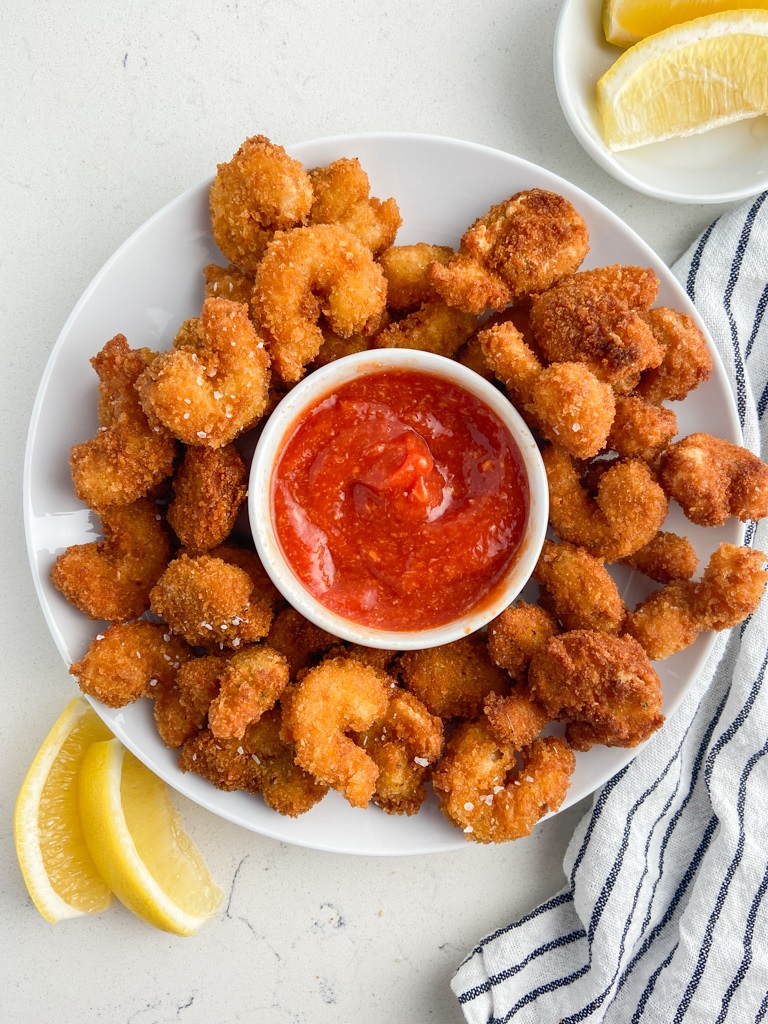 (Click for bigger shrimp)
Shrimp recipe available here.

posted by OregonMuse at
11:15 AM
|
Access Comments