« Saturday Morning Coffee Break
|
Main
|
Saturday Gardening and Puttering Thread, September 11 »
September 11, 2021
How did we get to this day?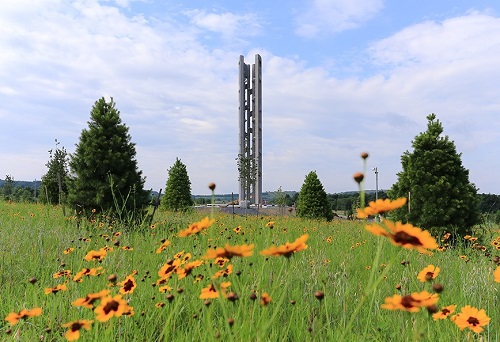 The Tower of Voices, Flight 93 Memorial
Philadelphia Inquirer:

SHANKSVILLE, Pa. -- The Flight 93 National Memorial isn't really a place people stumble into. Tucked off of Route 30 in Somerset County, the memorial mostly draws visitors with ties to victims of 9/11 or -- this year in particular -- with a purposeful desire to remember what happened there. . .

The memorial, which took 14 years to build and opened in 2015, is a cemetery for the victims of the crash and a memorial site and museum that gets about 300,000 visitors every year. . .
While the memorial is remote, some do come upon it unexpectedly. James Bennett hit a traffic jam on I-76 last month heading back to his Army base in Mount Laurel when he saw a sign for the Flight 93 memorial. . .

Bennett has done seven tours in Afghanistan and Iraq. He joined the Army in July 2001 before the nation's sense of security shattered. Back then, with a baby on the way, he thought his specialty -- disarming bombs -- would make for fewer deployments. "We didn't have a lot of terrorists back then," he said.

He was on delayed enlistment when he watched the planes smash into the twin towers.
At the memorial, he thought about the courage of the people on Flight 93 and what might have happened if someone trained in explosives, able to identify a fake bomb, had been on board. It's widely suspected that the terrorists used fake bombs to control the passengers.

"Just one guy, that's all they needed to stop that," he said.
For most of the time Bennett has been in the Army, the United States has been at war.

He walked the pathway down to the memorial as monarch butterflies and bees flitted among Brown-eyed Susans in the meadow that had been Flight 93's debris field.

"I got about halfway down there and I turned into a blabbering little crybaby," he said. "It's pretty heavy, especially with all the stuff going on recently."
For him, the memorial symbolizes the start of a war that has finally ended, but not in the way he'd expected.

"This is the second time I've watched terrorists take back countries that I was in," he said of the withdrawals from Afghanistan and Iraq.

He has four months before he retires. He wants to spend more time with his wife and two children, who are 19 and 7, in Erie.

"I'm ready to get out," he said. "Twenty years is a long time."
The people who run these wars, or campaigns, or whatever do not deserve people like James Bennett. I think he has the right idea about what he should do next.
There are some other poignant stories in the Philadelphia Inquirer piece, too.
Photos of the memorial in 2014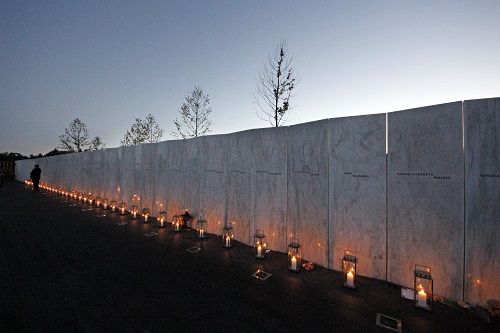 The Wall of Names
How did we get to this day?
Michael Knowles tracked down George H.W. Bush's references in speeches to a New World Order after an Australian politician accidentally let the phrase slip.
The plans for this New World Order sound sort of . . . utopian. You know, Wilsonian.
Here's how some of those plans worked out in real life. One man's view. David P. Goldman, August 22, on the Dr. Frankensteins of Foreign Policy:
John Quincy Adams said that America "goes not abroad, in search of monsters to destroy." He never imagined that America would go abroad to create monsters. The Endless War crowd is now coming out of the woodwork to argue that endless wars are better than what Biden served up in Afghanistan.
. . . The Afghan Army was a reality show with hired actors who stole the props. But it's even worse than that. Petraeus and his colleagues trained, funded, and unleashed a global jihadist movement in the name of "counterinsurgency." It has to be the most self-defeating action on the part of any great power in history. Our foreign policy Establishment is incapable of learning from its most egregious blunders.
Here's an extract from my 2020 book You Will Be Assimilated: China's Plan to Sino-Form the World:

Over dinner, in 2015, Admiral Luo Yuan told me that "General Petraeus created ISIS in order to destabilize China."

"That's ridiculous," I said.

"It is not ridiculous in the least," Luo continued, in the benevolent tone in which one instructs especially slow students. "There are ISIS leaders whom we have identified and tracked, who were trained by Petraeus during the 'Surge,'" the counter-insurgency campaign that Petraeus conducted in 2008-2009 to contain a Sunni rebellion against the majority Shi'ite government that the United States had helped bring to power in 2007.

I took a deep breath and explained: "This was a comedy of errors. The neo-conservatives in the Bush administration believed in majority rule as a matter of dogma, so the US held elections in 2007 and the Shi'ite minority won. Then the Sunnis who used to run Iraq under Saddam Hussein resisted with guerilla war and terrorist attacks. Petraeus was just a careerist looking for another star, and he told the Bush Administration that he could fix the Sunni problem by paying off the Sunni tribal leaders. He handed out hundreds of millions of dollars to the Sunnis and gave them weapons and training through the 'Sons of Iraq' and the 'Sunni Awakening.'" When Obama took US forces out of Iraq, a lot of the same Sunnis who took money from Petraeus faced the same Shi'ite state, and became non-state actors, that is ISIS. And the CIA's support for Sunni jihadist opponents of the Assad government in Syria made matters worse, as the Defense Intelligence Agency warned in a notorious 2012 report."

Of course, I wasn't quite that coherent, but that was the gist of my reply.

My Chinese interlocutor was not impressed. "You're trying to tell me that the people who run the world's great superpower are complete idiots who don't think about the consequences of their actions?". . .

That was exactly what I was trying to tell the Chinese admiral: American policy has indeed been run by complete idiots who don't think about the consequences of their actions. . .
Historical examples from various wars follow.
There were dissidents, even in our government, who opposed nation-building in Afghanistan:
I can testify that Rumsfeld did say at the time that the US should break up Al Qaida and go home but for raids against visible terrorists, but the Counterinsurgency (=military malpractice) experimenters, liberal interventionists, feminist liberators became the "Kabul consensus"
Here is Angelo Codevilla, August 24, on Afghanistan, Graveyard of Narratives:
Disaster in Kabul having elicited a mass of nearly indistinguishable pile-on commentary by uninformed persons, it may be useful for me, who am all too deeply familiar with U.S. intelligence in general, and who have been involved with the U.S. government's activities in Afghanistan and regarding terrorism since 1979, to write this memorandum as a record to distinguish between the several "narratives" on the subject, and what we know to be factually true.

Between 1979 and 1985, when I took the lead on Afghan matters for the Senate Intelligence Committee, the CIA had no sources in Afghanistan, and had assigned all of one-and-a-half full-time persons at its station in Islamabad to Afghan matters. None had direct contact with Afghans. When I took two CIA officers to meet with the Mujahedeen, along with a staff delegation, they were the first to have any contact. But the Agency's ignorance of the place did not prevent it from being a major player in U.S. policy. That did not change until, after 2001, the CIA flooded the place with its usual "official cover" parroters of "narratives."
What did the U.S. government actually do in Afghanistan and Iraq? Only the things it really cares to or knows how to do--namely, richly to hire its favorite people to try reshaping mankind in their own image. Since WWII, whether in the name of anti-communism, anti-terrorism, democracy, or humanitarianism, it's always the same: dismiss the substance of local quarrels; recast the local scene in terms of American elites' concerns; find locals who agree, and form "coalition governments" that, supposedly, represent the people's aspirations, regardless of what these might be; send in the American experts on everything from education to women's rights, with their recipes and their billions of dollars; and treat as terrorists any locals who disagree strongly.

Of the many reasons why this formula has always produced rejection, one is enough to explain the rest. The U.S. formula is purely administrative and even mercenary. It is without soul, wholly abstracting from traditions and affections, never mind from religion and systems of justice. Over the globe, through millennia, people have come together on a bewildering variety of bases. Seldom has mere administration served that purpose, even if competent, especially if by foreigners, and especially if in contradiction to customs.
Emphasis mine. You might want to read the whole thing.
J.J. Sefton highlighted this piece in Thursday's Morning Report: The Taliban paints over George Floyd Mural
Here is the mural that was featured in Kabul: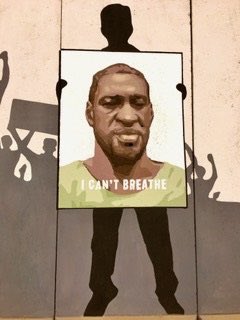 George Floyd is a preoccupation of The Elite, having nothing to do with Afghanistan.
What can we do differently?
If you really want to fight racism, recall Gavin Newsom and vote for Larry Elder. Remind your friends and family in California that Tuesday is the last day to vote.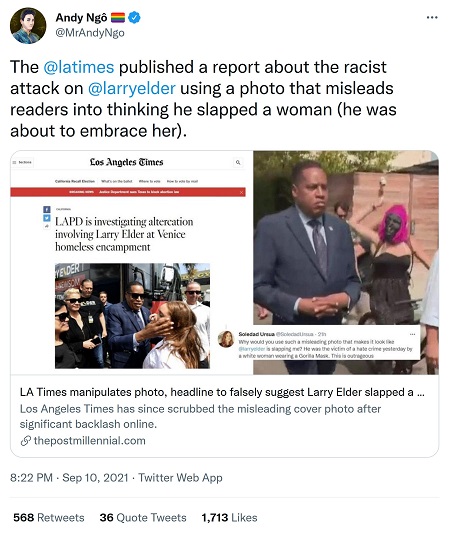 Incidentally, Jussie Smollett disguises himself as Larry Elder so people will commit real hate crimes against him. From the Newspaper of Record. Not the scurrilous Los Angeles Times.
J.J. Sefton also picked up this great piece by Theodore Dalrymple, from 2001, What we have to lose: Our Civilization:
Whenever we learn of events of world-shaking significance, of catastrophes or massacres, we are inclined not only to feel ashamed (all too briefly) of our querulous preoccupation with our own minor tribulations but also to question the wider value of all our activities. I do not know whether people who are faced by death in a few seconds' time see their lives flash before them, as they are said to do, and pass final judgment upon them; but whenever I read something about the Khmer Rouge, for example, or the genocide in Rwanda, I reflect for a time upon my own life and dwell a little on the insignificance of my efforts, the selfishness of my concerns, the narrowness of my sympathies.
. . . an image recurs in my mind: that of the pianist Myra Hess playing Mozart in London's National Gallery even as the bombs were falling during the Second World War. I was born after the war ended, but the quiet heroism of those concerts and recitals, broadcast to the nation, was still a potent symbol during my childhood. It was all the more potent, of course, because Myra Hess was Jewish, and the enemy's anti-Semitism was central to its depraved view of the world; and because the music she played, one of the highest peaks of human achievement, emanated from the very same land as the enemy's leader, who represented the depths of barbarism.

No one asked, "What are these concerts for?" . . .
For the last decade, I have been observing close-up, from the vantage point of medical practice, the effects upon a large and susceptible population of the erosion of civilized standards of conduct brought about by the assault upon them by intellectuals.
If any good comes of the terrible events in New York, let it be this: that our intellectuals should realize that civilization is worth defending, and that the adversarial stance to tradition is not the beginning and end of wisdom and virtue. We have more to lose than they know.
It's really a great essay with examples of resistance to brutality and totalitarianism, but you have to read the whole thing to get the full import of his words.
There are things we can do at home, with our family and friends and in our communities to defend civilization. The intellectuals, the elite, and those in The Cathedral are not going to do it. No more of this: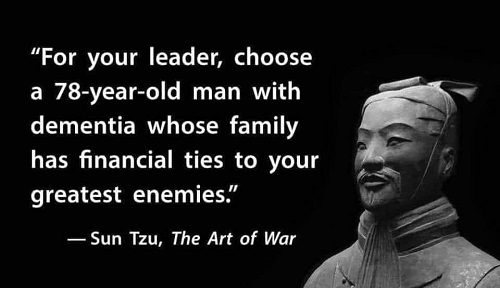 Music
What kids are doing in Poland. The pianist is 15 years old.

This is the Thread before the Gardening Thread.
Serving your mid-day open thread needs
Here is Steven Hayward's Week in Pictures: Long Strange Trip Edition, in case you need it. Blutarski already posted a link in the comments to the EMT this morning.

posted by K.T. at
11:14 AM
|
Access Comments