« Supreme Court Leaves Texas "Heartbeat" Abortion Law in Effect -- For Now
|
Main
|
If Gen. Milley Were A Traitor, What Would He Have Done Differently? »
September 03, 2021
Biden Plummets In Fresh Polls
ABC News finds Biden's job approval at 44.
President Joe Biden's job approval rating has fallen underwater in the latest ABC News/Washington Post poll amid broad disapproval of his handling of the U.S. withdrawal from Afghanistan, including a share of blame on Biden for conditions leading to last week's devastating Kabul airport attack.

Overall, in a sad coda to the nearly 20-year, $2 trillion effort, just 36% of Americans say the war was worth fighting. There was 77% support for the United States withdrawing; the sticking point is how Biden handled it: 60% disapprove.

Slammed by the crisis, his overall job approval rating in this poll, produced for ABC by Langer Research Associates, is down to 44%, with 51% disapproving – down 6 percentage points in approval and up 9 in disapproval since late June. Intensity has moved decidedly negative: Many more now strongly disapprove, 42%, than strongly approve, 25%.
Note that the 42% who strongly disapprove is nearly equal to those who approve at all, either strongly, moderately, or weakly, which is 44%.
There is some good news for Biden: Karen still likes him. He's still up +10 with women and +8 with whites who went to college.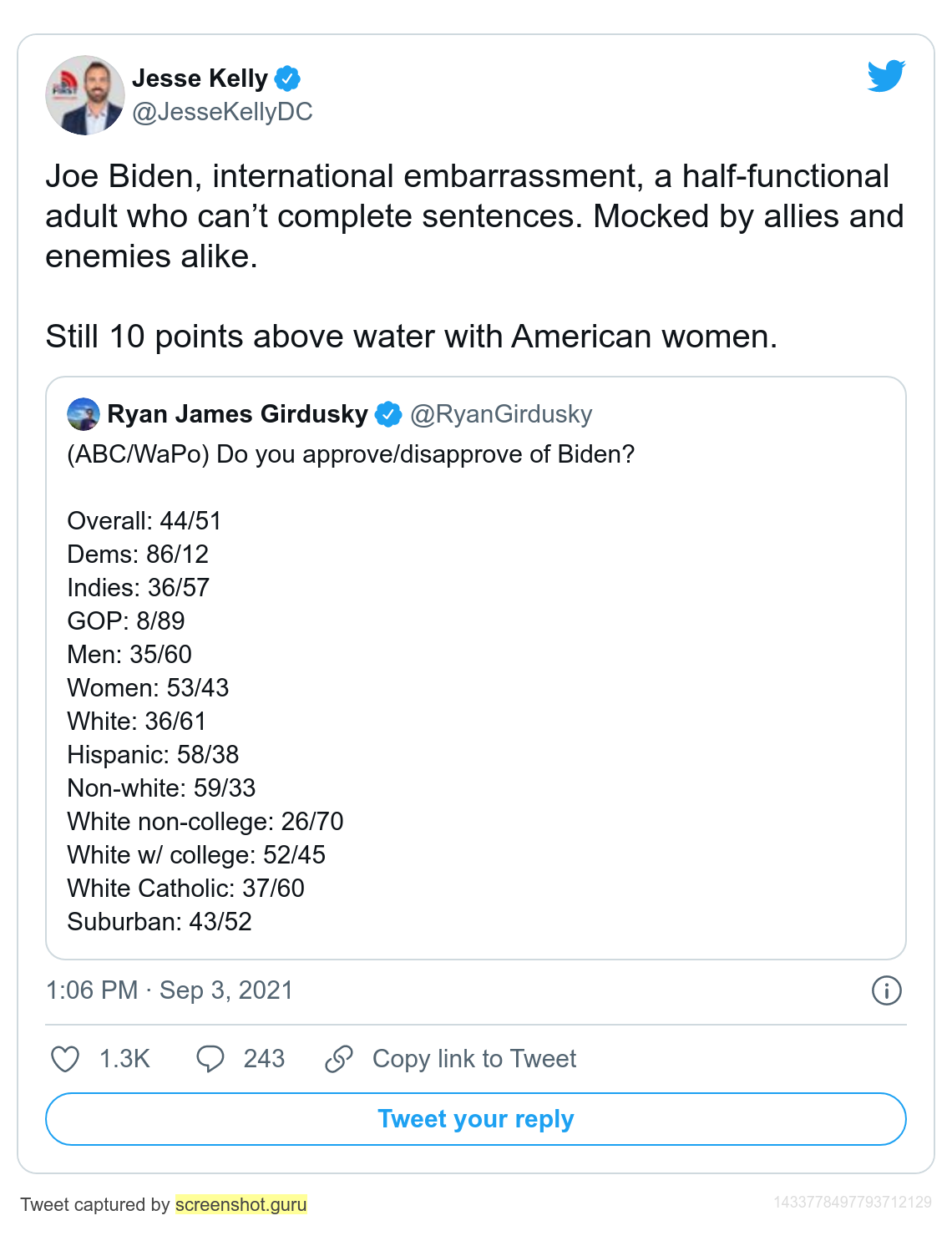 There are some dramatic gaps in Biden's overall approval -- 18 points higher among women than men (53% to 35%), 23 points higher among members of racial and ethnic minority groups than whites (59% versus 36%), 24 points higher among adults with a post-graduate degree versus those without a college degree (63% versus 39%) and 28 points higher among urban residents versus those in rural areas (52% versus 24%; it's 43% in the suburbs).
I mentioned yesterday that a new NPR/Marist poll had Biden down to 43%.
It took seven months, but this is now a polarizing presidency

Republicans have struggled to drum up the kind of animus toward Biden as they did for, say, Hillary Clinton. But now, seven months into his presidency, they seem to have found what to grind their teeth about, from cultural and economic issues to Afghanistan.

A whopping 41% of U.S. adults, including 82% of Republicans, now strongly disapprove of the job Biden is doing. That is similar to the unprecedented enmity shown toward President Donald Trump.
A Yahoo/YouGov poll finds Biden at about the same level of unpopularity, 44% approving, 49% disapproving:
Today, just 44 percent of Americans approve of the way Biden is handling his job as president; 49 percent disapprove. This is Biden's lowest approval rating in a Yahoo News/YouGov poll since taking office, and the first time more Americans have disapproved of his performance than approved of it.

Two weeks ago, 47 percent of Americans approved of Biden's performance as president, while 46 percent disapproved. At the time, rising disapproval of his approach to foreign policy -- up 7 percentage points from two weeks earlier -- had not yet dented his overall numbers much, if at all.

And the hits keep on coming:
Amy Walter @amyewalter

Some pretty grim data coming from Dem-aligned pollsters this week. First, Navigator finds Biden job approve upside down (47/50) and deep underwater w/ indies (33/58).

On handling Afghanistan just 33% approve/59% disapprove.

On COVID, Navigator poll finds 54% think worst is yet to come. Just 44% think Biden doing enough to get US past pandemic/ 40% say he's not doing enough. Among Independents, just 33% think Biden doing enough on COVID.

Then there's CIVIQs polling. Biden'' job approve has been consistently lower in CIVIQs than nat'l average. Since May, Biden's been upside down. But, 8/30 tracking shows job approve at -8. Among indies at -28.
CIVIQs Polling shows Biden doing especially poorly in swing states, where Democrats will be in the most trouble in 2022.
Per this survey, Biden's disapproval rating is higher than his approval rating in several key states in the upcoming midterm elections, including in Arizona, Colorado, Florida, Georgia, Michigan, Minnesota, Nevada, New Mexico, North Carolina, Pennsylvania, Texas, Virginia, and Wisconsin. The only state this survey shows Biden above water in -- New Hampshire 00 has him up by a slim margin, but a separate survey published Wednesday showed Biden underwater there too.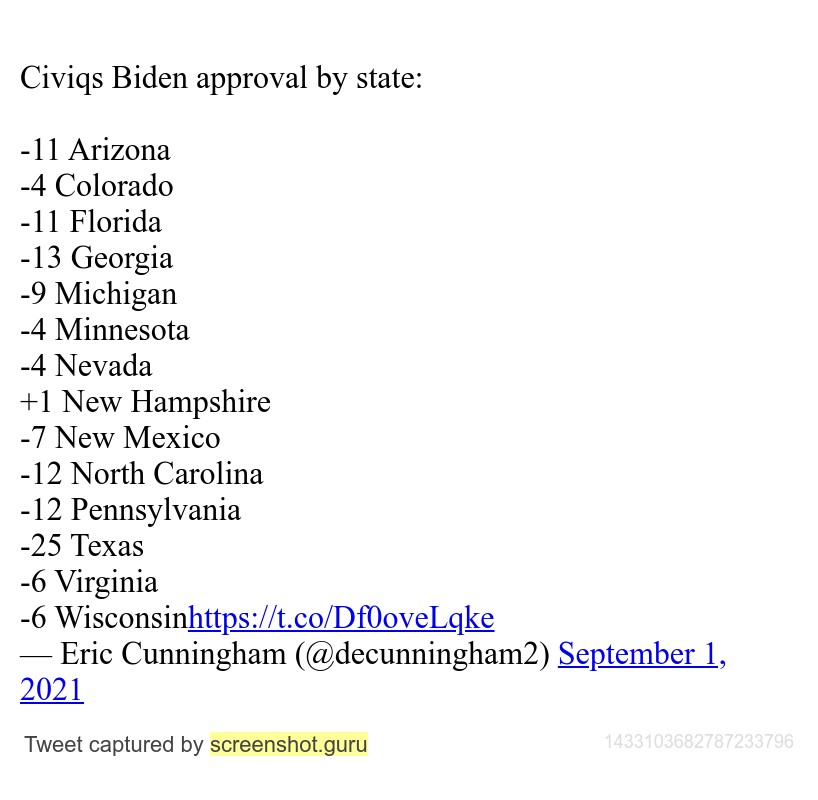 Sean T at RCP @SeanTrende

One problem Biden has is that he doesn't have much "crawl-over-broken-glass-twice-to-vote-for-him" type support. That inoculated Obama and Trump from a total wipeout. He really could completely collapse.
Trende says that at this level of approval, it is very likely that Biden will lose the Democrats' their control of Congress.
[W[hen Biden was hovering around 52% job approval, Democrats were heavily favored to maintain control of the Senate. The most likely outcome for the party was that it would actually gain a seat.

But Democrats' chances of holding the Senate were slated to drop off quickly if the president's job approval fell any further. At 50%, they would be expected to break even, but would lose control about one time out of four. At 49% job approval, the Senate is considered 50-50.

At 46%? Democrats would lose between four and zero seats 95% of the time, with an expected outcome of two seats. They only retain control about 4% of the time. This is obviously an outcome Democrats would like to avoid.

He says there is too much "froth" in House elections so it's harder to make predictions.
But, based just on job approval -- the "strongest" predictor of control of the House, though of course not the only one -- Biden can expect to lose House seats.
What we see from this is that the decline in President Bidens' job approval from around 52% to 46% is consistent with a loss of an additional 5% of the Democrats; caucus, or an additional 11 seats. If we put them altogether into a single regression analysis, we explain about two-thirds of the overall variation. This isn;t so bad, given the amount of randomness we have to explain here. The model suggests overall that the decline in Biden;s job approval will probably cost Democrats about eight seats.
I sure wish I cared more about the possibility that the Kevin McCarthy/Mitch McConnell led GOP could take power. Didn't they give us the $3.5 trillion "infrastructure" bill, to prove that they could work with Democrats in a bipartisan way?
There is no future for conservatism -- or for America -- in the GOP.
Tucker Carlson notes that the Democrats have a not-so-secret weapon: they're flooding swing states with immigrants and refugees, while cautioning them away from reliably blue states, like California.
The federal government has some helpful advice for Afghan refugees trying to start a new life in America: for the love of God, do not try to rent an apartment in California.

Many of the Afghans who have been airlifted out of their country in the wake of the Taliban's takeover will be able to come to America under the U.S. State Department's Special Immigrant Visa (SIV) program, which provides visas to translators who worked with U.S. forces and helps place them in a new city once they get to America.

SIV participants who opt to receive resettlement benefits can also choose to be relocated to one of 19 cities identified as having "reasonable cost of living, housing availability, supportive services, and welcoming communities with volunteers and resources."
Memeology recaps Biden's very bad week: The Week in Advanced Dementia.

posted by Ace at
02:02 PM
|
Access Comments