« Leaked Phone Transcript Reveals That Biden Told Former Afghan President Ghani to Lie About His Government's Success Against the Taliban
|
Main
|
Sundown Joe's Blackmarket Weapons Cafe: Cool as a Capybara and Disciplined as a Doggie Edition »
September 01, 2021
More Quick Hits: DHS Secretary Cohen Announces We'll Be Paying Ransom to the Taliban
Wait, He Claims the Money Will Be to Help Them "Fight ISIS"
DHS Secretary William Cohen says the US taxpayer will now be funding the Taliban... supposedly to "fight terrorism."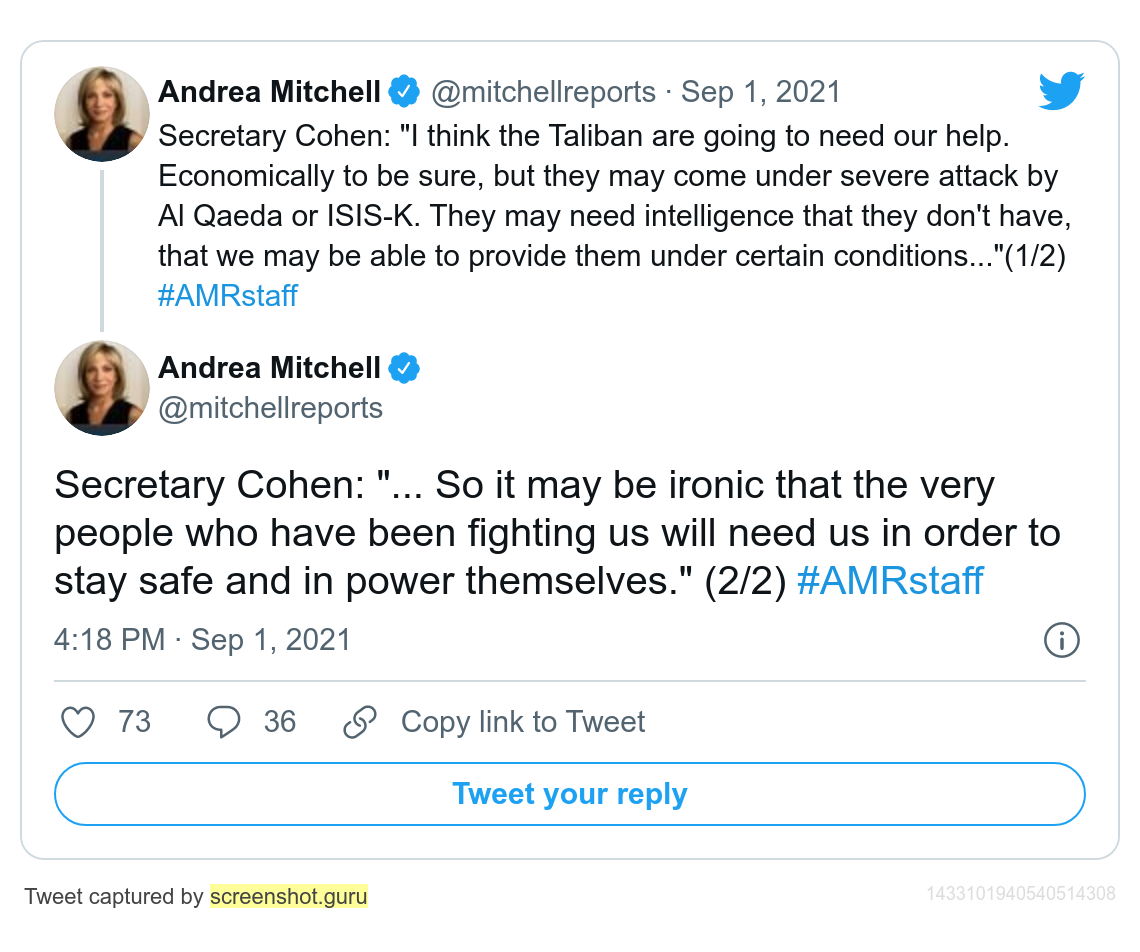 This is, of course, a huge lie. They're calling it money for "fighting ISIS-K" because that sounds better than what it really is: Billions in bribes so that the Taliban doesn't kill the hostages, both American and allies, we left behind. The US claims that Americans were left behind, but only in the "low hundreds," which means one or two thousand.
Meanwhile, of the 265,000 allies we promised to evacuate from A-stan, we got out... 8,500.
The money we'll now be sending the Taliban is pure ransom, but the "Norms Restoring, Honor Reclaiming" Biden Administration wants to pretend it's money earmarked for Killin' ISIS-K.
Right.
Hey guys do you think we can stop Restoring Norms now? It will literally kill us if we keep Restoring Norms at this pace.
Biden is under 46% approval in the RCP average.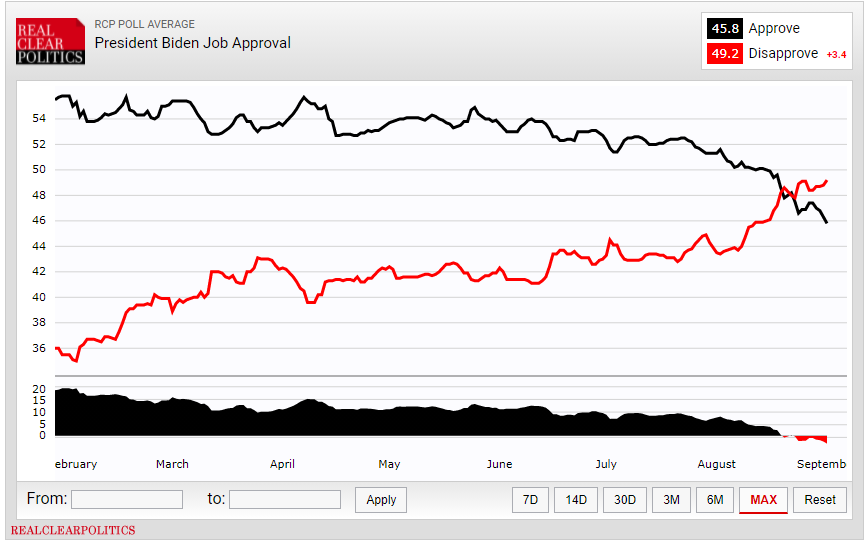 The Biden Administration is ordering all of its agencies to "scrub" -- censor, suppress -- the lists of all the weaponry we gave to the Afghan National Army, because those are now Taliban weapons, and a corrupt, incompetent tyranny always scrambles to cover up its failures.
The next step is jailing anyone who notices.

Question: Is the Taliban our Partner in Peace (TM) for this campaign to hide information from the US public?
Because they don't seem to be: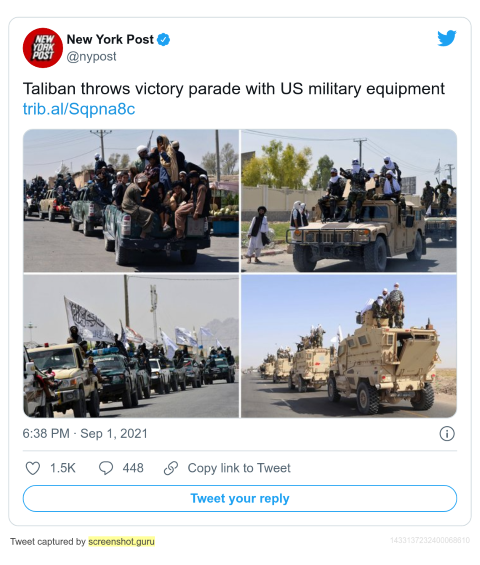 Biden administration ERASES records of the $83 billion worth of weapons, training and aid given to Afghanistan's armed forces since 2002 as the Taliban takes what was left into their possession

Federal agencies have been told to scrub public records that could be used by the Taliban to harm Washington's Afghan allies

Reports and documents have been pulled from a string of websites detailing US spending in Afghanistan

Jihadists have seized several major airbases, in Herat, Khost, Kunduz and Mazar-i-Sharif, and Kabul

They have proudly posted pictures of seized $6m Black Hawks and a $14m Hercules transport jet

The Taliban have been hunting for pilots from the disbanded Afghan Air Force to fly the vehicles

Before Kabul fell, planes and helicopters were disabled by US troops, while others were flown overseas

The jihadists have as many as 48 aircraft - it's not clear how many planes or helicopters this breaks down to
Don't worry, though. The Taliban won't keep all of the US weapons that NeverTrump's Honor-and-Norms " " President " " Biden gave them.
They're already shipping some of our weapons to... Iran.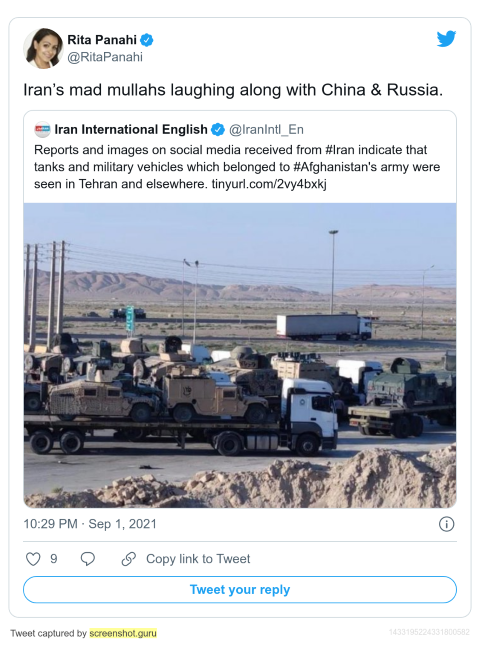 Jen Psaki says that she won't talk about Biden's leaked transcripts.
But she and the entire Biden Puppet Handling Team were eager to talk about Trump's.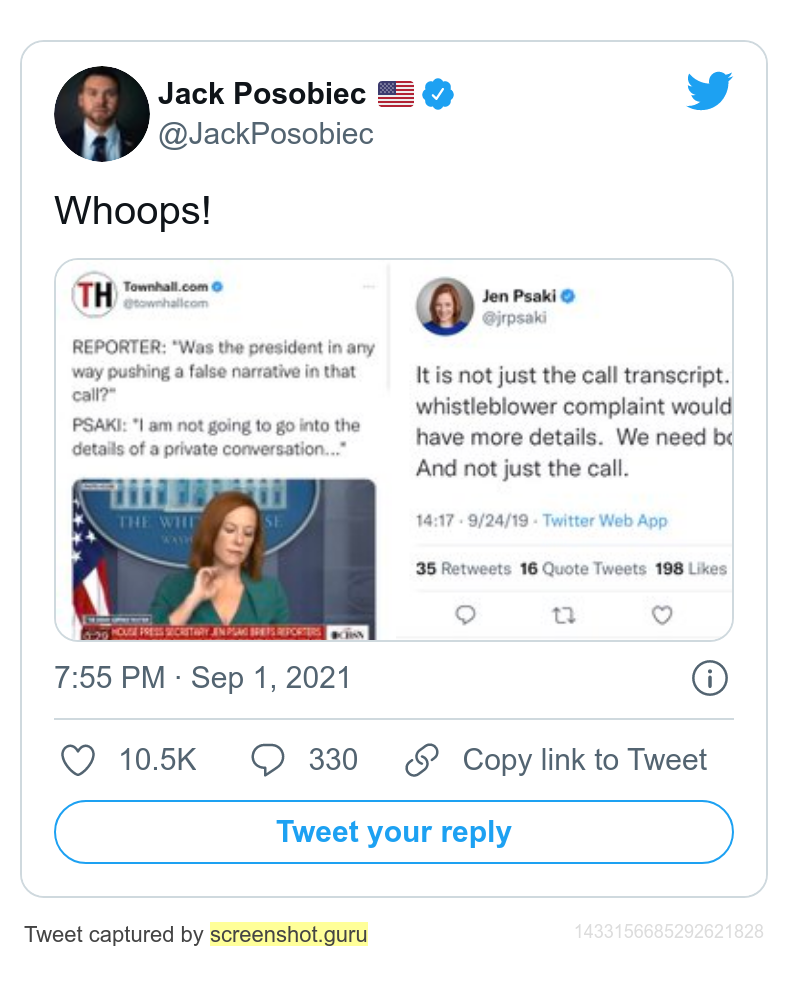 Meanwhile, in formerly free Australia:
Coming to a formerly free republic near you.
This is all so terrible.
Thanks, Cap'n Bill.
Here's something fun:

posted by Ace at
06:34 PM
|
Access Comments