« Ashli Babbit's Killer: "I acted with the utmost courage... I saved countless lives"
|
Main
|
Ethics Agency Might Claw Back Cuomo's $5 Million "Advance" For His "Book" »
August 27, 2021
Two Weeks Ago: The AP Runs a Hit Piece Suggesting That DeSantis Is Pushing a Cure for Covid as a Payoff to an Investor
Now: Fauci Admits That Treatment Reduces Covid Deaths by... 85%
Meanwhile, Fauci, as well as the press that props him up, is still pushing drug store masks as an important covid-fighting intervention.
Cloth and paper masks (of the kind almost everyone uses) have been proven by tests to stop... 10-12% of aerosol droplets, of the sort that can carry covid.
But the media and the Democrats are determined to scare up fear about any anti-covid tool that isn't worthless, absurd masks or vaccinations.
Just two weeks ago, the AP attempted a disgusting and desperate hit on Ron DeSantis for promoting the treatment of covid with monoclonal antibodies.
They claimed that DeSantis was acting in some kind of criminal way because a single donor of his was also invested in monoclonal antibody treatments (among a million other things).
Under pressure, the AP had to admit that, um, okay, maybe DeSantis wasn't solely motivated by a desire to indirectly boost the stock price of a single stock held by a single investor; maybe -- just maybe -- he was also motivated by the fact that monoclonal antibody treatments seem to work.
And were also being promoted by Joe Biden!
But still, they attempted to claim that DeSantis was only promoting the treatment due to one single investor possibly getting some indirect benefit.
Which he wasn't-- as DeSantis explained, Trump had already ordered the government to buy all the monoclonal antibodies, so there was no additional benefit to the stock price. The product had already been paid for, so actually using it now was... free.
Republican Florida Gov. Ron DeSantis took aim at the Associated Press over what he described as a "partisan hit piece" about his state's promotion of a coronavirus treatment during an appearance on "Hannity."

"Well, it was clearly a partisan hit piece. They're trying to act like this is not an effective treatment- it was a bizarre theory to boost Regeneron stock price, but as you know Sean, President Trump bought out all of the Regeneron last year, so it's already been paid for by the federal government. When we take down from Florida to give to patients, there's no charge for it. It has no financial incentive at all. All we're trying to do is help people," DeSantis told Fox News' Sean Hannity on Monday night.

The feud between DeSantis and the AP began last week when the news agency published a story that seemed to imply DeSantis was promoting Regeneron's COVID antibody treatment because a Chicago-based hedge fund donated to a pro-DeSantis political committee also owns shares of the company. The headline of the widely-panned story read, "DeSantis top donor invests in COVID drug governor promotes."


...

The governor insisted that Regeneron had been "underutilized" over the past nine months and indicated had more COVID patients been aware of the monoclonal antibody treatment, "many of them would not have needed to go to the hospital."

He then boasted the rollout of Regeneron centers that his administration established statewide, telling Hannity "this is having an impact on keeping people out of the hospital."

"Now, what the AP did by trying to create a false narrative is some people may believe the narrative and then think that this is not a viable treatment for them so if they're infected, they will not go seek a monoclonal antibody and that will ultimately increase their risk of hospitalization," DeSantis said. "So the AP knew what they were doing, they wanted to do a political hit on me and the fallout from that is that there will likely be people who decline life-saving treatment. And then they have the temerity to act like they were the victim when they got called out on their hit piece."

"Sean, the days of corporate media being able to smear people with impunity and conservatives do nothing- those days are over. I can tell you in Florida, we're fighting back with the truth and we are going to hold you accountable when you are peddling false partisan narratives," DeSantis added.

The AP did not immediately respond to Fox News' request for comment, but a spokesperson previously stated that the outlet stood by its story.

...

The AP's story acknowledged the drug is highly effective and has been touted by the Biden administration as well. The story also noted the DeSantis donor's hedge fund, Citadel, had a smaller share in Regeneron than BlackRock, which has donated more to Democrats, and that Citadel's investment in Regeneron "is a tiny fraction of its overall $39 billion in investments."

Additionally, the story acknowledged it's "not unusual for hedge funds to have a wide range of investments" but published the story with the damaging framework anyway.
And now Fauci also admits, Regeneron can reduce covid deaths by 85%.
COVID-19 sufferers can reduce their risk of hospitalization and death by up to 85 percent if they receive monoclonal antibody treatments in the early stages of their illness, Dr. Anthony Fauci said Tuesday.

The White House chief medical adviser said that using the lab-made antibodies to fight the virus before a patient is hospitalized can prevent the chances of severe illness by between 70 and 85 percent.

"It is important to emphasize that this must be done early in infection and not wait, of course, until a person is sick enough to be hospitalized," Fauci said at a COVID-19 press briefing.

"That's when you get the best effect. And again, being an underutilized intervention, we want people out there, including physicians as well as potential patients, to realize the advantage of this very effective way of treating early infection."
People want to know when AP will be investigating Fauci -- or when AP will be issuing a retraction.
DeSantis' press secretary, for example: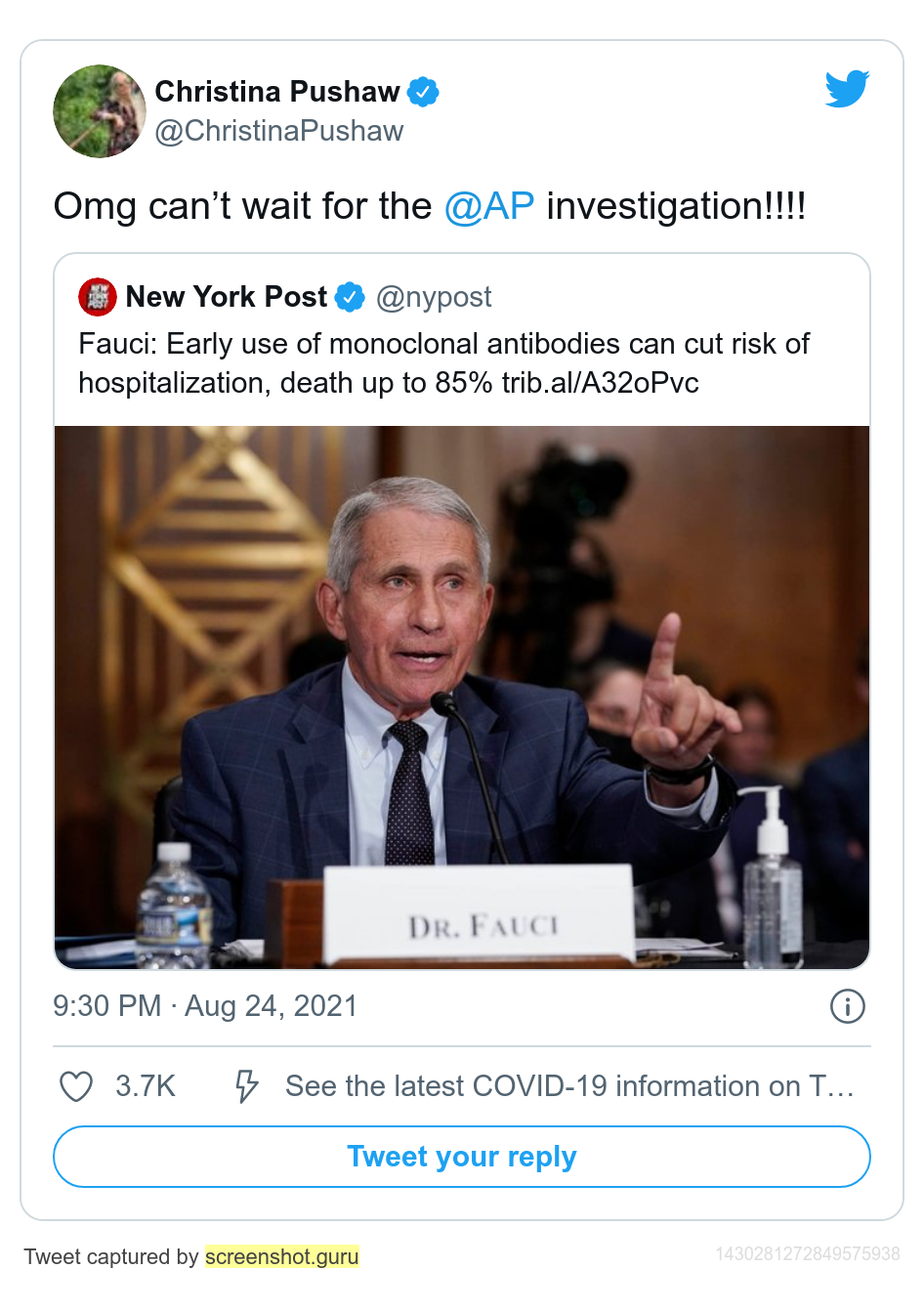 By the way, a large CDC study has again proven the near-complete uselessness of masking indoors.
From FEE.org:
The study, which analyzed some 90,000 elementary students in 169 Georgia schools from November 16 to December 11, found that there was no statistically significant difference in schools that required students to wear masks compared to schools where masks were optional.

posted by Ace at
02:39 PM
|
Access Comments