« Daily Tech News 25 August 2021
|
Main
|
Mid-Morning Art Thread »
August 26, 2021
The Morning Report - 8/26/21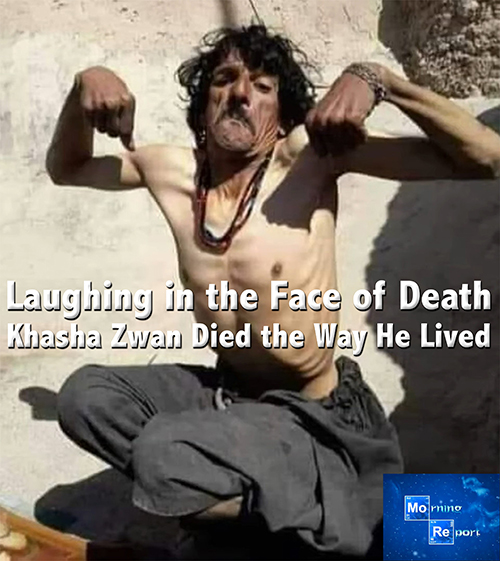 Good morning, kids. Thursday and I'm thinking of a refrain from the halcyon days of Barack Hussein Obama ("mmm, mmm, MMM!!!!") which I will update so as not to have to write the accursed name of the GOP-e stooge candidates that pretended to oppose him;
"They said if we vote for Trump, we'd have a fascist dictatorship. And they were right!"
Dear Lord, as depressed and angry as I was from 2009 through 2016, what with Democrat-induced economic collapse, horrendous racial divisions, bureaucratic and media suppression of non-Leftists, disastrous foreign policy and an ever-expanding federal leviathan, compared to what is going on right here and now, they seem like a walk in the park. Whichever person or persons is running this country, and I believe that Barack Obama for sure is among them, what started out as revenge on President-in-Exile Trump and everyone who voted for him has now turned into a full-on final assault on the very foundations of our society.
Let me rephrase that slightly to give it more accuracy. It is not that they seek revenge on us for voting for Donald Trump; they seek revenge on us for rejecting them. Even that presupposes that they even deign to recognize that we should have the option to reject them in the first place. It is revenge for throwing a monkey wrench into a machine that for over a century has been ever so slowly, yet finely, grinding us into dust. And as everything they touch collapses in on us, it only makes their lust for power and control that much more rabid.
Call this suicide by Democrat. We have suicide bombers in the White House. We have suicide bombers in our governor's mansions. Worst of all, we have suicide bombers directing the U.S. economy. This is the Titanic. This is the Hindenburg. We are headed for disaster.

New York City now demands vaccine passports to go into any restaurant, bar, nightclub, gym -- even retail store. Los Angeles followed suit. So did San Francisco and New Orleans. How many more will follow? Las Vegas, my home, the entertainment capital of the world, isn't far behind. You now need proof of vaccination to enter concerts, conventions, even Allegiant Stadium, the home of the NFL's Las Vegas Raiders. Will restaurants, gyms and retail stores be far behind?

This is madness. This is economic suicide. Either Democrats are ignorant morons, or this is the final Democrat plan to destroy capitalism by putting every business owner out of business. After all, this is what socialists, Marxists, communists and globalist America-haters have been waiting their whole lives for.

Let me explain what's about to happen. About 50% of America hasn't taken the vaccine. That's no coincidence. Somewhere between 40% and 50% of America is never taking the vaccine. No matter what you say or do, the answer is still NO. We will not comply. . .

. . . So, think about what this all means. If government is dumb enough to demand vaccine passports, that means 40% to 50% of us won't eat at restaurants, or go to bars and nightclubs, or concerts, or conventions, or sports events. We won't buy anything at your retail stores anymore. Which means everyone is out of business. No business in America can take a 20% loss of sales, let alone 30%, or 40%, or 50%. They're all out of business. Which means tens of millions of Americans will lose their jobs. Total economic collapse will soon follow. . .

. . . This isn't just about conservatives. Many doctors and nurses I know want nothing to do with the jab. Large portions of black and Latino citizens don't want the jab either. Lots of people don't want that jab. And if you demand vaccine passports to get into any business, you've just lost all that revenue. Good luck. Few businesses in America will survive. Mass economic devastation is coming. The Great Depression of all depressions could be coming. Could anarchy and civil war be far behind?
If the absolute disaster that is Afghanistan is a body blow insofar as the 75 years of the Pax Americana and what it has/had meant to our security and world security, the unprecedented power and control that truly sick people in positions of power only got a taste of with the lockdowns will be the coup de grace of life, liberty and the pursuit of happiness. This is it right here, people.
On January 20th of this year, as the last few hours of one of the greatest presidencies in American history, and perhaps the last (legitimate) presidency in American history, ticked away, I wrote:
In a few short hours, we are going to enter a phase of our lives where we will be confronted with situations, perhaps even of life and death, that are going to challenge us in ways that until recently seemed unimaginable. Not just physically and emotionally but in ways that will force us to confront who we are and what we believe as rational, decent, G-d fearing human beings. If anyone thinks this is hyperbole, you have not been paying attention to what has been happening all around us for the past four years and longer.
Well, here we are. We are now being forced to be vaccinated or else be excluded from going to restaurants or other venues. Already there is talk of denying medical care to the unvaccinated. How long before they deny Social Security payments, or banks are ordered (or worse suggest to the junta!) to freeze your assets, or like in China you are welded into your homes, that is if your homes are not confiscated and you are sent off to Molokai? We talked about Australia yesterday where service dogs were slaughtered so as to prevent people from traveling to pick them up. Worse, four sick infants died because traveling, even to hospitals to save their lives, was prohibited. That is insanity. And yet it's the same mindset that Angel of Death Cuomo had when he unleashed a biological weapon on the elderly akin to medieval armies flinging plague-ridden corpses over besieged city walls, or when Wretched Whitmer decided to arbitrarily ban the selling of seeds and gardening implements at big box stores just because she could.
Whatever one thinks about these vaccines is irrelevant. Even if every man, woman and child got the jab, do you really think that we would get our liberty back? It is axiomatic that once anyone has a taste of absolute power the last thing they want is to willingly surrender it. Two weeks to flatten the curve. Pfft. Two centuries to flatten us thinner than Rachel Corrie. This is the hill that we're going to die on, folks. You are going to have to be Claudette Colvin or Clarence Henderson. We hang together or we hang separately.
And on a not unrelated note to the grim prospects we face over here, we Psaki-psircle back to Afghanistan:
"I enjoy being in America. It's fun, you know? Because you had, you have so many things we never had in Russia. Like warning shots." - Ukrainian comedian Yakov Smirnoff on The Johnny Carson Show, 1988.

Comedy is easy. Risking your life over it is hard. If there is anything murderous psychotic fascists will not brook, above all else, it is being ridiculed. No sense of humor whatsoever.

Historical precedents abound. In 1940, Adolf Hitler sentenced Charlie Chaplin and the Three Stooges to death in absentia for The Great Dictator and You Nazty Spy, respectively. All four comedians exhibited extraordinary courage in spurning Hitler's lethal decree by continuing to make fun of him in film and public appearances for the duration of the war unto Hitler's demise.

It is unlikely that Russian authorities ever shot Soviet-era comedian Yakov Smirnoff, though I have no doubt the Soviet government was more than happy to hand him a visa to get him out of the country. Afghani comedian Zahar Mohammed, aka Khasha Zwan, who became nationally famous for ridiculing the Taliban in hilarious fashion, was not so lucky. Khasha received no warning shots when he was dragged from his home by Taliban psychos in Kandahar in late July. He was later found murdered, shot to death, and his throat slit. . .

. . .The most jarring part of that scene for me, as I am sure it was for millions of others who saw the film, was seeing Benigni's Guido joking and shticking with his executioner all the way to his death. Just like Khasha Zwan. The big difference is of course that Roberto Benigni is still breathing, as Life is Beautiful was just a movie. The Afghan version starring Khasha Zwan was all too sickeningly real. Of all the far too numerous and gruesome horrors emerging from Afghanistan since the Biden [junta] handed the country over to the Taliban on a silver platter, this one hit me the hardest of all.

Perhaps it's because I dedicated twelve years of my life to writing comedy screenplays. Or maybe it just offends every sensibility I have seeing a comedian brutally slaughtered for the capital crime of making jokes.

It also makes me wonder just how many so-called brave comedians like Steven Colbert and Kathy Griffin et al really are. If President Trump really had been the psychotic fascist murderer they accused him of being during his presidency and federal Nazi jackboots were dragging them off to their deaths, do you think they'd still be making Trump jokes the whole way? Or would they be wetting their panties and begging for mercy?

It's a rhetorical question. We all know the answer. . .

. . . Khasha was very well-liked throughout the country, and revenge killings may happen. I see two big dangers for Afghans if they do. Like the Nazis before them, I have no doubt that Taliban foot soldiers will round up and slaughter innocent civilians in far greater numbers as reprisals for the killings of their own.

Second, what chance of resistance do the Afghan people have now that Joe Biden has left the Taliban as a better-equipped militarily than 166 other nations on earth? It should be noted and documented for all time that the Taliban are not the only ones responsible for Khasha Zwan's brutal murder.

And to think the Taliban bloodletting is only beginning. It also does not escape me that the first news I received of this insane murder was on Twitter. What will it take for Jack Dorsey to de-platform these maniacs? Do they need to hanging a flag from their headquarters saying "TRUMP WON"?
The implications and parallels to what is happening here and now are obvious. At least they should be.


ABOVE THE FOLD, BREAKING, NOTEWORTHY
BIDEN AFGHANISTAN BUG-OUT DISASTER
NOTE: The opinions expressed in some links may or may not reflect my own. I include them because of their relevance to the discussion of a particular issue.
ALSO: The Morning Report is cross-posted at CutJibNewsletter.com if you want to continue the conversation all day.
Follow us on Twitter: @CutJibNews
Follow us on Instagram: @Cutjibnewsletter


posted by J.J. Sefton at
07:41 AM
|
Access Comments