« Australia Descends Into Fascism -- But For Your Health and Safety, You Understand
|
Main
|
Kabul Collapse Cafe: Mischief and Mayhem Edition »
August 25, 2021
Quick Hits: Biden Demands the Media Compliment Him on What a Great Job He's Doing In Afghanistan (For Real)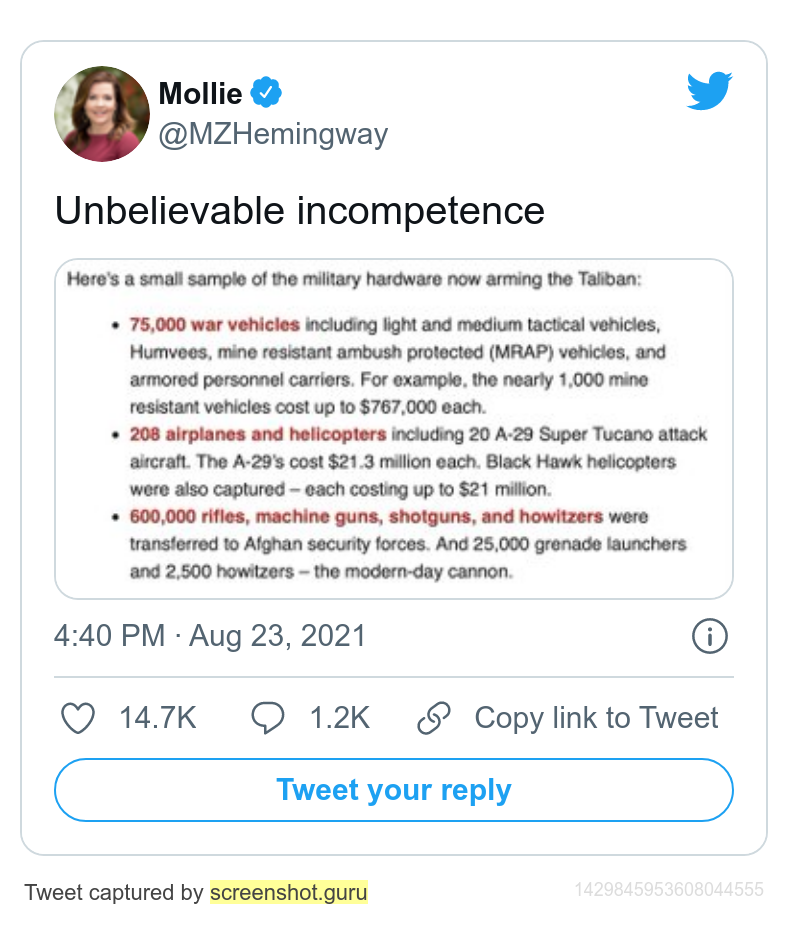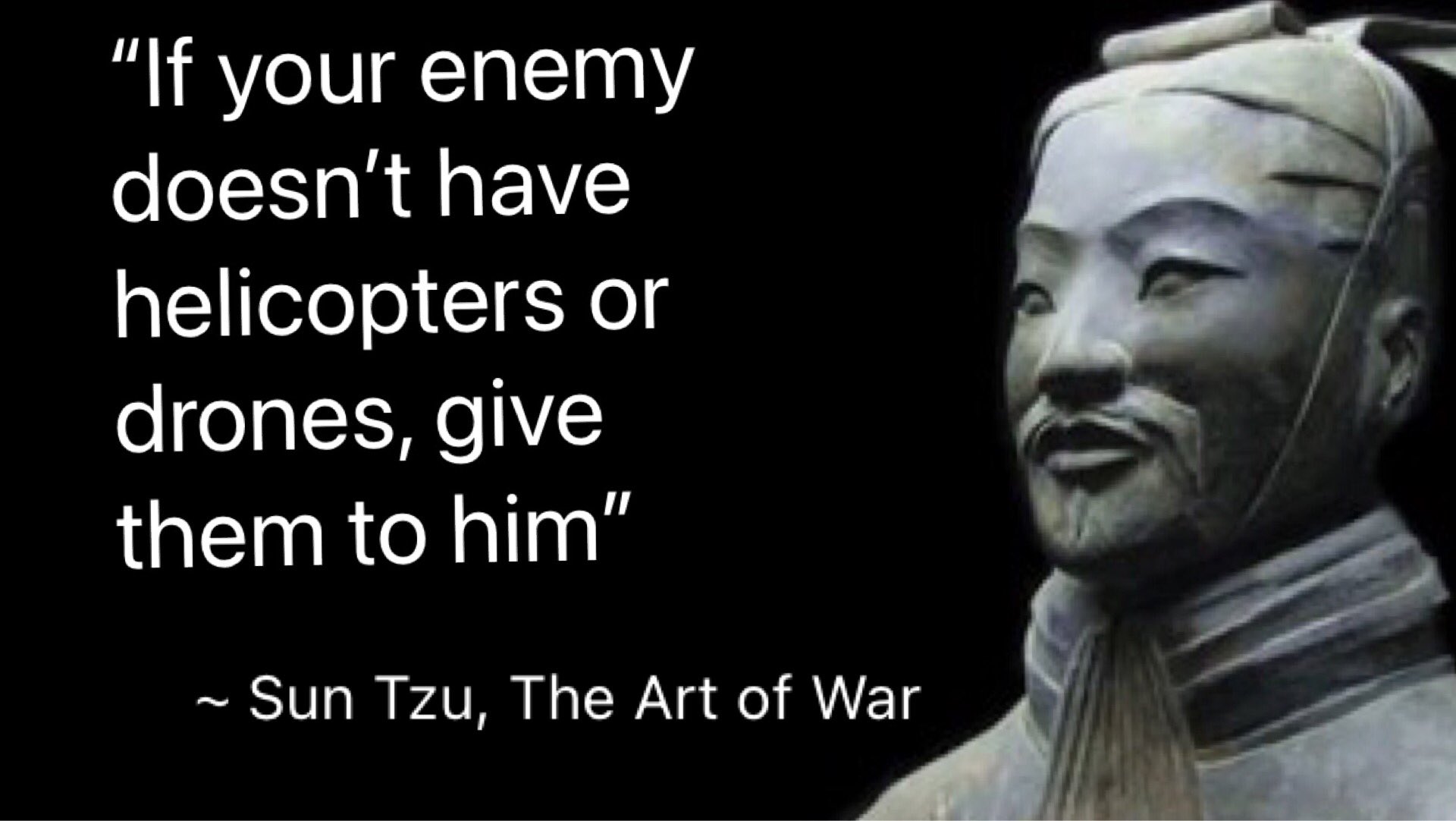 Via New Mark Respector, with another Sun Tzu quote. And originally via SC Reviews on YouTube.

Check out SC Reviews for a couple of Caring Karens who are disowning their sons due to their support of Trump.
Biden is actually demanding "props" for what a great job it's doing with the Afghanistan surrender.
In the span of a week, the White House went from struggling to explain a rapidly deteriorating situation in Afghanistan to beating its chest.

Top Biden officials and administration allies have begun aggressively touting the success of their evacuation efforts in the war-torn country, offering frequent updates on the number of evacuees. They've framed the operation as historic --in line with the Berlin airlift -- declared that they're "over performing" their own metrics, and trumpeted the president as "defying expectations."

It's a startling 180 from the defensive crouch Biden and his team occupied just days ago, one that reflects the sense of combativeness that has emerged in the West Wing as they sort through the first major, sustained crisis of the administration. And while it's sparked accusations that the president's team is trying to divert attention away from a crisis of its own creation, Biden's defenders stress that, for now at least, he deserves to crow.

"That's not a shifting message. That's the transition, that's what's happening on the ground. That's a change of circumstances," said Philippe Reines, a longtime aide to Hillary Clinton who worked at the State Department in the Obama administration and alongside some of Biden's foreign policy hands.

The administration, starting with Secretary of State Tony Blinken and national security adviser Jake Sullivan, Reines said, have been working at "an incredible tempo" to get the situation under control.
Earlier Biden gave an NBC reporter a snarky answer -- "You'll be the first I call" -- about whether he'd make sure all Americans got out of Afghanistan safely.
@PeterAlexander

I asked President Biden what he will do if Americans are still in Afghanistan after the 8/31 deadline.
His response: "You'll be the first person I call."
Took no questions.
Apparently his puppeteers were trying to protect him from having to answer Unapproved Questions, because they cut off the audio feed for the answer.
Fox's Peter Doocey asked Jen Psaki what Biden thought was so smirkily funny about this question:
We're going to restore so many norms your heads will spin at all the norms being restored! We're going to restore so many norms you'll be sick of restoring norms!
A CNN hack is baffled that not only does the Biden Administration continue insisting that the number of Americans yet to be evacuated is unknown and unknowable -- the "denominator" they call it, as in the bottom term of the fraction of Americans saved divided by Americans left unsaved -- but they also insist that the number of Americans actually evacuated is also unknown and uknowable.
Video here.

#GoToHellBiden is now trending as a man stranded in Afghanistan yells in frustration.
A desperate man trapped in Afghanistan told President Biden to "go to hell" as he comforted two sobbing siblings left behind at Kabul's airport by their parents.

The cowering and crying brother and sister were reportedly left behind when their parents entered the airport at the capital without them during the pandemonium, the distressing footage from ITV News shows.

The irate man who appeared to be caring for the children said that what has happened in Afghanistan after the Taliban recaptured the country was Biden's fault.

"Mr. Biden, you did this! You planned this! You made the deal with the Taliban," the irate man told ITV News.

"This is the consequences of it! This is the repercussions of it! Mr. Biden, it's your ill calculation! You were against Trump, now we're against you!" he shouted.

"Go to hell, Biden!" he added.
I think the man is an Afghan but I can't be sure -- the media does not say what country he's from. Video here.
Update: Another norm restored, and then mutilated.

Hey GOP -- let's keep doing all the things your corporate donors want us to do:
Christopher F. Rufo ⚔️ @realchrisrufo SCOOP: Verizon teaches employees that capitalism is fundamentally racist, that "weaponized White privilege" is a danger to African-Americans, and that employees should support "defunding the police."

I've obtained whistleblower documents that will shock you.

Last year, Verizon launched a "Race & Social Justice" initiative and created an extensive race reeducation program based on the core tenets of critical race theory, including "systemic racism," "white privilege," and "intersectionality."
That thread is here.

The GOP should be preparing to offer citizens a private cause of action -- that is, a right to sue -- if their employers make force-fed racism a precondition of their employment.
There should be automatic damages -- say, $100,000 for the first offense, $500,000 for the second, a cool million for the third.

That would stop corporate anti-white/anti-male/anti-Christian/anti-straight discrimination and humiliation dead in its tracks.
But they won't, because their corporate donors don't want them to.
However, the GOP will continue supporting the rights of citizens to sue corporations for the usual litany of left-wing rationales -- racial discrimination, etc.

They draw the line when a conservative says he'd also like to sue if he is racially or sexually discriminated against.
Only the left will be permitted legal protections.
That's the Moderate Suburban Corporate-Aligned GOP Way.

This corporate whore is at it again: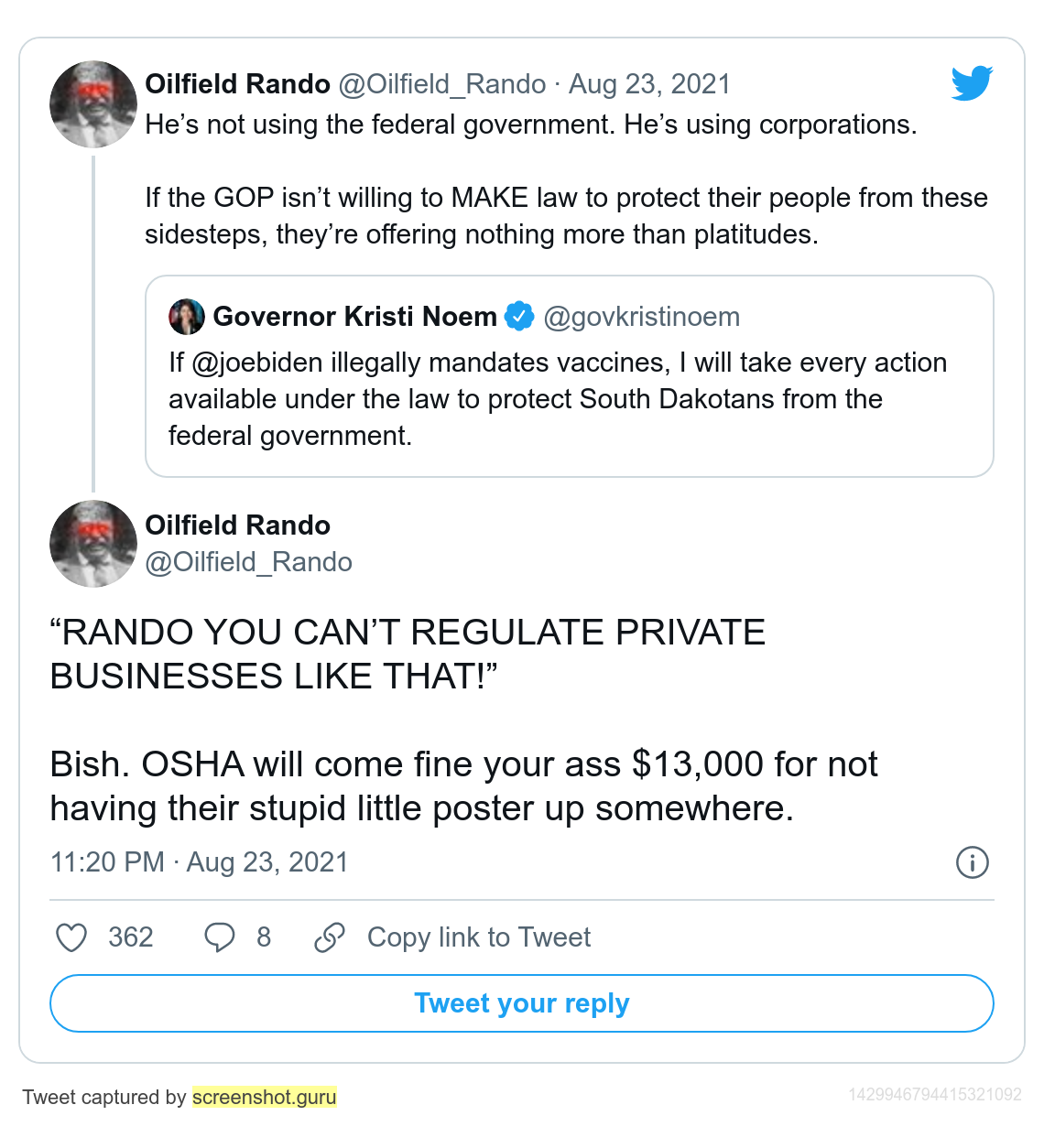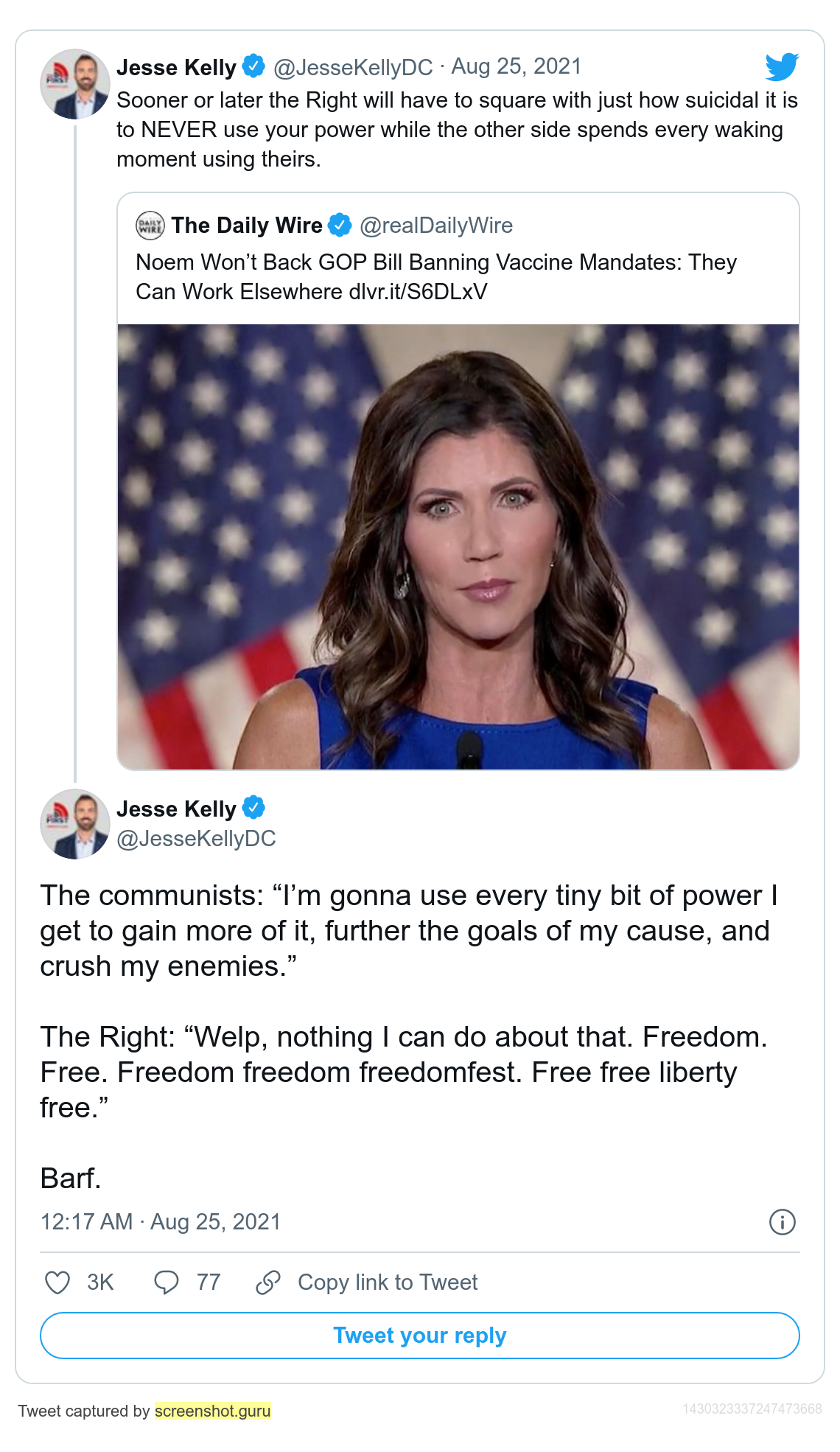 The GOP will get around to protecting the freedoms of Americans one day -- if the Chamber of Commerce and Google say it's okay.
Speaking of: Corporate neoliberal open borders shill Patrick Rufini is still selling the idea that America, like the Taliban, is "just an idea."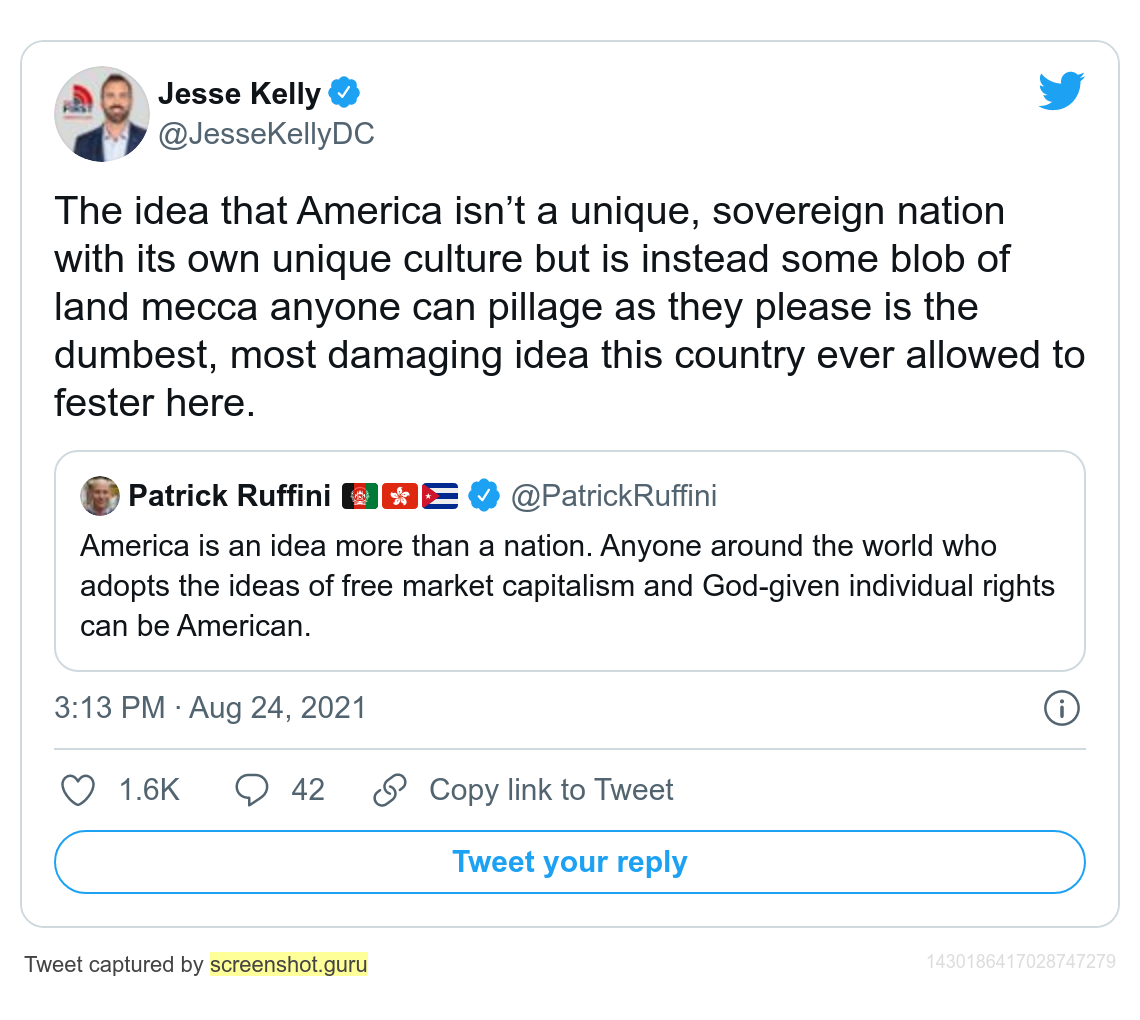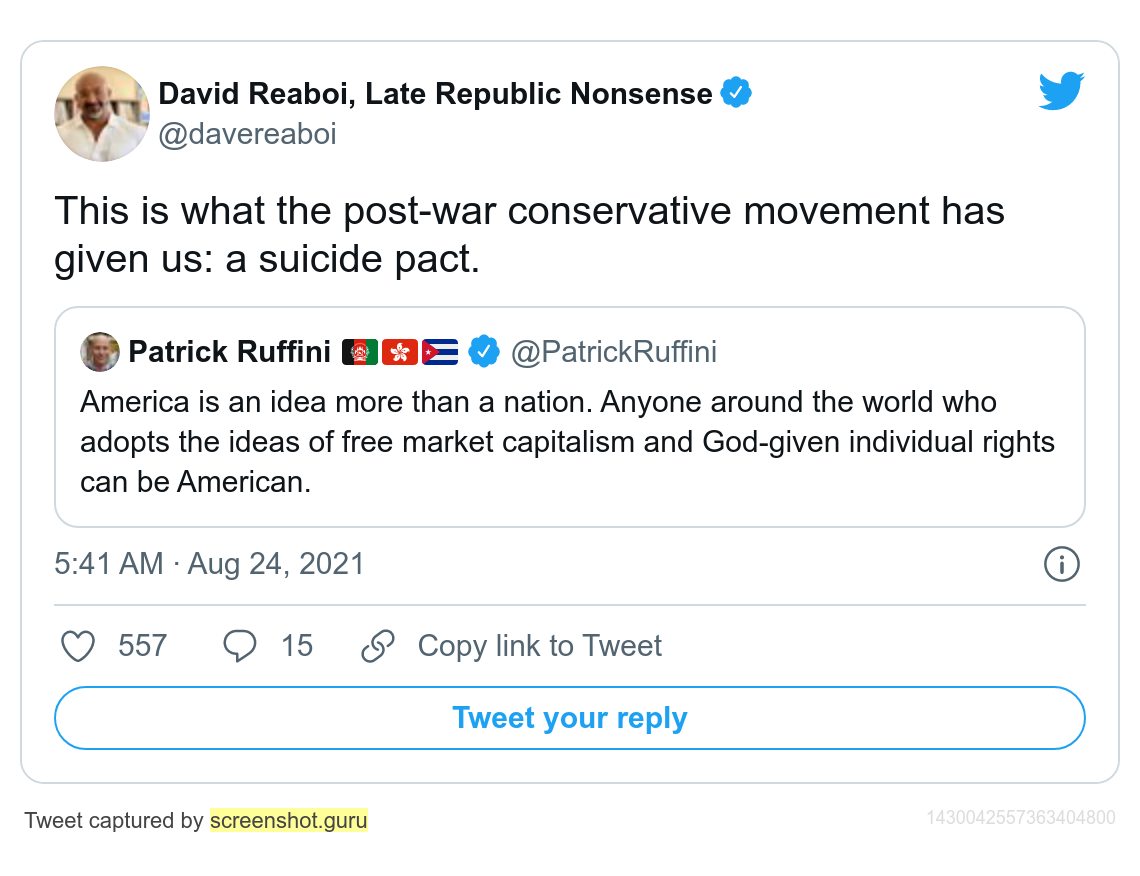 Australia is the New Soviet Model:
Robert Barnes @barnes_law

Washington Governor is calling out national guard to enforce vaccine mandate & threatens criminal prosecution if he thinks your religious objection is not a "sincere" religious belief. In other words, your religious beliefs on trial in a criminal case over a vaccine mandate!

Literally a quarter second away from tragedy:
Via You Really Don't Want to Know, man attacked, stalked by crazy beaver. We've all been there, man.

posted by Ace at
06:46 PM
|
Access Comments