« Kabul Collapse Cafe: America Is Bat, Baby! Edition
|
Main
|
Daily Tech News 20 August 2021 »
August 19, 2021
The ONT Starts Coming And It Just Keeps Coming
What a week. And we still have one more day to go. How's everyone doing tonight? Good? I hope so. Obviously the news of the week is what happened in Afghanistan.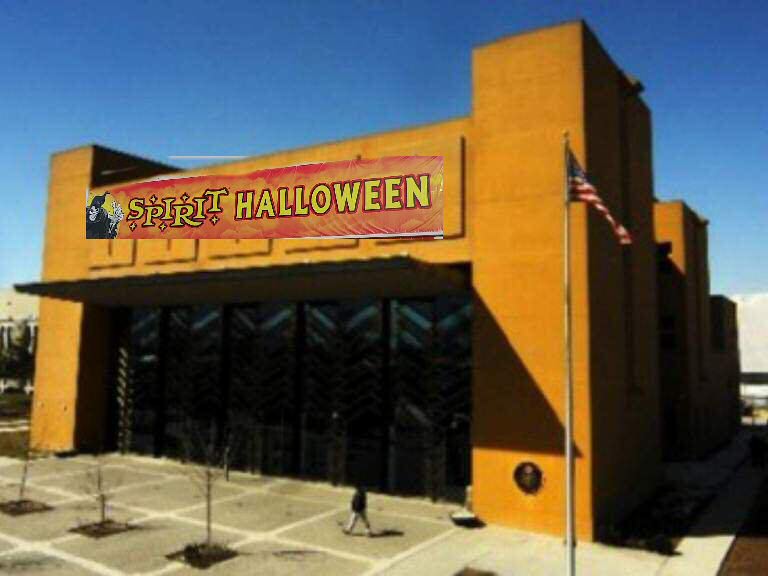 There'll be some talk of Afghanistan, but I'll try to keep it to a minimum

Some Talk Of Afghanistan
Might as well get it out of the way. This is from a friend of mine (and sometimes poster here). I didn't know it until today, but apparently he's in the middle of this mess. This is the picture he sent and his take on it: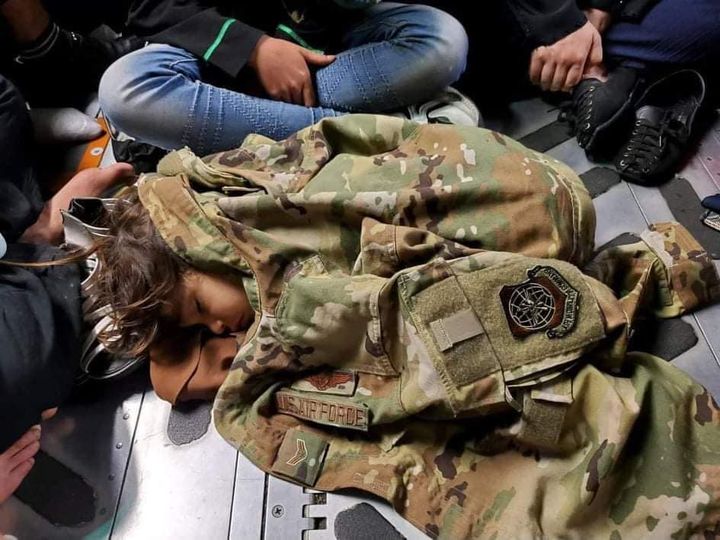 If this isn't the Best Photograph of 2021, I want to see what beat it.
That Air Force uniform blouse is from a two-striped hero, who LITERALLY gave the shirt off his/her back for the helpless innocent. And I am SO PROUD that, alongside those superhero wings, the mighty legend "US Air Force" tells you where this human angel came from.

Isaiah 40:31 - They shall mount up with wings as eagles; they shall run, and not be weary; and they shall walk, and not grow faint.

These great young Americans stride the world, and so many are glad that they can and do. Two stripes. Probably < a years' service time. A KID. But LOOK what he/she can DO, and DID.

I just wish their leaders were worthy of them.

I was in al Udeid Air Base, Qatar, yesterday, and I've never seen that much airlift, anywhere, at any time, in my long military career. The ramp crew was working all those airplanes in 115DegF. My First Officer was THANKED by an Air Force Captain for being there and helping out, and he said he was struck dumb by the man wanting to shake HIS hand. And each of those 100+ tails that we could see from our spot on the ramp was crewed by the same type of person that comforted and watched over that child as it slept on the deck of the American airplane that was saving all those lives.
How could you not be moved by the sight?
Now, since he's Air Force I asked him if there was an USAF wine steward standing by in case the kid woke up thirsty, but that's just me razzing an old friend. (And really, he'll tell you about the time his unit brought a portable dance floor into the field with them when they deployed for maneuvers, so it's not like I'm that far off base) As much disdain as we do and should show for the political actors both in and out of the military (JCOS, I'm looking at you) in this situation, we need to remember the boots on the ground, the ratings, the airmen, the grunts and leathernecks, who are shining ambassadors for the US wherever there is trouble in this world. Deep down, every single one of them is a paladin at heart, and God bless them one and all.

Related: We are no longer a serious people Really excellent article here.
the irony highlights the real civilizational difference here: one where combat is via prissy morality and pure spectacle, and one where the battles are literal and deadly. One where elites contest power via spiraling purity and virality contests waged online, and where defeat means 'cancelation' or livestreamed 'struggle sessions' around often imaginary or minor offenses. And another place where the price of defeat is death, exile, rape, destitution, and fates so grim people die dangling from airplanes in order to escape.

In short, an unserious country mired in the most masturbatory hysterics over bullshit dramas waged war against an insurgency of religious zealots fired by a 7th-century morality, and utterly and totally lost.


Cruz Control

Ted Cruz saved America at 3:30 AM on Wednesday morning
Chuckie Schumer tried to sneak a late night vote on the federal takeover of election law. He was going for "unanimous consent", whereby only one no vote is needed to stop it. If there is nobody who votes against the bill, it is deemed passed by "unanimous consent" and off it goes to Uncle Joey's desk to be signed into law. He scheduled this vote for 3:30 AM, after the senate had spent a 15 hour day picking our pockets and impoverishing our children passing their "infrastructure" bill. 50 Republicans in the Senate, and 49 of them couldn't be bothered. Only one showed up to block the bill – Ted Cruz.

Musical Interlude
"My Heart Will Go On" is a song recorded by Canadian singer Celine Dion. The song serves as the main soundtrack to James Cameron's blockbuster film Titanic, based on an account of the transatlantic ocean liner of the same name which sank in 1912 after colliding with an iceberg in the North Atlantic Ocean. The song's music was composed by James Horner, its lyrics were written by Will Jennings, while the production was handled by Walter Afanasieff, Horner and Simon Franglen.[1][2]

Released as a single from Dion's fifth English-language studio album, Let's Talk About Love (1997), and the film's soundtrack, the love power ballad peaked at the top of the RPM Top Singles Chart. Outside Canada, "My Heart Will Go On" became a global hit, topping the charts in over twenty countries, including Australia, Austria, Belgium, Canada, Denmark, Finland, France, Germany, Italy, the Netherlands, Norway, the Republic of Ireland, Spain, Sweden, Switzerland, Taiwan, the United Kingdom, and the United States.

-Wikipedia
Wow

Well, Well, Well

I need some advice. My property has a well on it. We haven't used it, our place is connected to city water, and the previous owner hadn't done anything with it either. That's at least 10 years that it's sat unused. Anyhow, in a decision that was about 80% "Be nice to know what we have here" and about 20% "Gee, if the burning times really come a well might be a handy thing", we had a guy out to look at it. None of the big well companies around were interested – they want to drill new wells – but one of them gave me the name of this crusty old fellow who had been a well guy all his life. He came out and evaluated it, said it was a good well, just unused, stagnant and silted up. We had him clean it out, which he did with a big machine that pumped all the water and silt out, and now we have a fine well, full of fresh spring water.
My question now is, what do we need to do with it? The old guy made some noises about "you can get a pump at Harbor Freight and pull water out to water the lawn", and implied that is something that we should do to keep water flowing into the well so it circulates and doesn't stagnate, which makes a certain amount of sense, but he was real hazy on details. If he had said "Make sure you pump X gallons of water out each week, from at least Y feet down" that would be one thing, but he didn't/couldn't do that so I don't really know. Well details: It's next to the house, about 45' deep. It fills with water to about 20' down, so that's a 25' column of water in it, which makes it, in the old guy's words, "a really good well".
So, what should we do? I'm not ready to disconnect from city water at the moment, I don't have a reason to. I wouldn't be averse to using the well for irrigation purposes, and I suppose the prepper part of the equation encourages installing a hand pump "just in case", which shouldn't be a big deal, but I'd like the Horde's advice: What should I do with my well to make sure that it is ready and functional in case we ever need it?

Advice From The Horde, Part 2
Does anyone know of a charity that rehabs old laptops? Our computer repair store back in Baltimore used to do they, they would take old computers and rehab them before providing them to poor inner city kids for use in school, but we don't live there anymore. We just replaced my wife's old laptop, probably 6-8 years old. It works fine. I pulled the HD, but put a new one in and Bob's your uncle. I hate to just toss it if someone can make use of it, any ideas?

Gun Safety
Woman using gun's laser sight to play with cat shoots friend
Sounds like she needs some gently training on proper gun safety. Something that will stick, like, oh, I dunno:
OK, maybe that's a bit much, but I bet she never looks down the barrel at a stovepipe again.

Sad News, Everybody
Megan Rapinoe Might Call It Quits
Whatever will this country do without a moody lesbian lecturing us on our sins? Say it ain't so, Rapinoe! A nation turns its lonely eyes to you. Woo woo woo.

Designs Of The Times

More Home Decor Trends That Should Stay In The Past
But I like sofas covered in plastic! Not really, of course, but whenever I feel the need to laugh at design/fashion/lifestyle trends from the past, I remind myself that such things are transitory, and in fact they have to be by definition or the terms become meaningless. I sometimes amuse myself by imagining house flipping shows from 2050. "My God. This house just reeks of the '20s! Look at this horrible open concept design! All the houses back then had it, but we're going to need to run up some walls to make this attractive to buyers. Also, there's no orgy-porgy pit! Ugh, it's run at least 25K to put one in, but we have to, nobody's going to buy a house without one. And where should we put the soma nook?"

For Love Of DoRA

I mentioned last week that I had started reading For Love Of DoRA by Moron author Mike DiPalma (I have no idea what name he posts under). Well, I've finished it, and it was really good. It's a sci-fi yarn with heavy overtones of WWII aerial combat and an underlying philosophical question or two. If that sounds like your thing, pick up a copy, you'll enjoy it, I did.

Tonight's ONT has been brought to you by Joe Biden: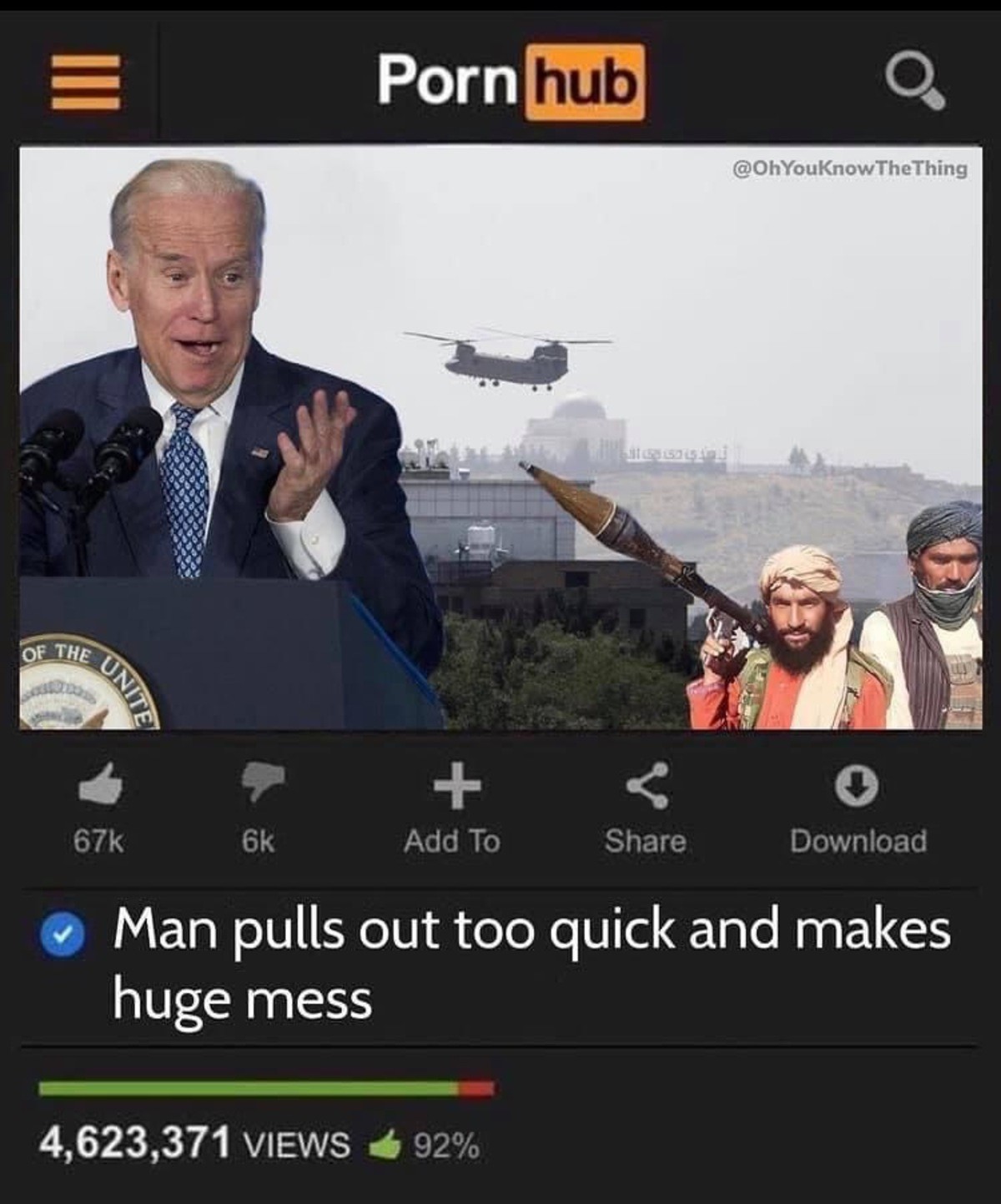 posted by WeirdDave at
10:00 PM
|
Access Comments