« Suspected Terrorists Crossing Border at a Rate Never Before Seen Says Outgoing Border Patrol Head;
80% of Immigrants in McAllen, TX Hospital Are Illegal Immigrants That Biden Is Walking Over the Border
|
Main
|
Hope Solo Says That Megan Rapinoe Would "Almost Bully" Teammates Into Kneeling for the National Anthem »
August 17, 2021
Angry Finger-Pointing Among Factions in the Biden Administration in Aftermath of Afghanistan Debacle
This story's by Fusion Nat. There seems to be at least a three-way fight between the State Department, the woke military, and the woke intelligence community over who should be blamed for their mutual complete failure.
Factions within the Biden administration are embroiled in a blame game over why the US government didn't act sooner to withdraw American citizens and Afghans who helped the US over two decades of war, leading to a rushed and dangerous evacuation.

Military officials have said that for weeks they urged the State Department to move faster in evacuating its diplomatic personnel. State Department officials have said they were operating based on intelligence assessments that suggested they had more time, but intelligence officials insist that they had long reported the possibility of a rapid Taliban takeover.

An intelligence assessment produced within the last month assessed that the Taliban were pursuing a total military victory in Afghanistan, a source familiar with the intelligence said, despite ostensibly negotiating for peace in Doha and even as the administration continued to express confidence in those talks.

...

Some officials insist that Biden got bad advice from some of his top military and intelligence advisers. One White House official pointed to Joint Chiefs Chairman Gen. Mark Milley's comments from three weeks ago, when he suggested the Afghan forces had the capacity to fight for and defend their country, and that a Taliban takeover was not a foregone conclusion.

"Utter bunk," the official said.

Military officials, in turn, have said they were actually prepared for the worst and had been urging the State Department for weeks to begin withdrawing embassy employees in Kabul. Pentagon officials used the words "frustration" and "sh*tshow" to describe their feelings about Washington and Kabul.

The officials said they had warned the State Department that a last-minute emergency evacuation--if needed --would be more difficult the more staffers remained.

...

A State Department official acknowledged there had been real friction with the Pentagon in recent weeks as the department resisted the military's advice to close the US Embassy in Kabul sooner. A senior administration official, however, said they were operating off the intelligence community assessments that the fall of Kabul was not imminent. The State Department, therefore, felt it was making appropriate decisions, the official said.

There are five to ten thousand Americans still in Taliban-controlled Afghanistan, waiting to become hostages. At least one American has already been taken hostage by the Taliban.

And if you want out -- the Gay Pride Flag Flying Kabul Embassy will need you to fill out some paperwork:
Great image from yesterday, showing the largest number of people -- 640 -- ever packed into the hold of a C-17 transport.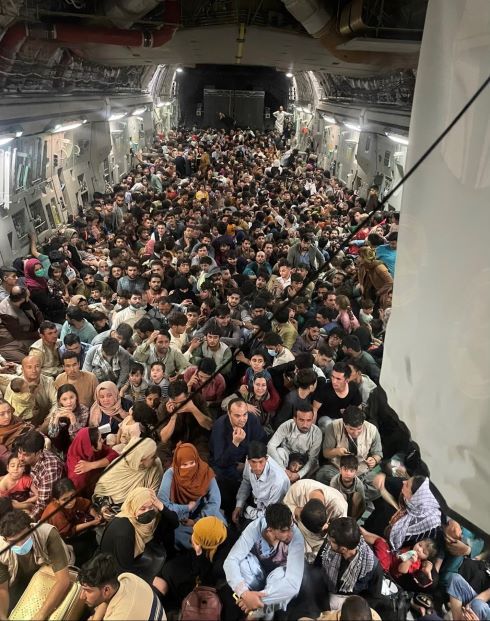 posted by Ace at
01:08 PM
|
Access Comments