« Saturday Gardening and Puttering Thread, August 21
|
Main
|
Saturday Afternoon Chess thread 08-21-2021 »
August 21, 2021
Ace of Spades Pet Thread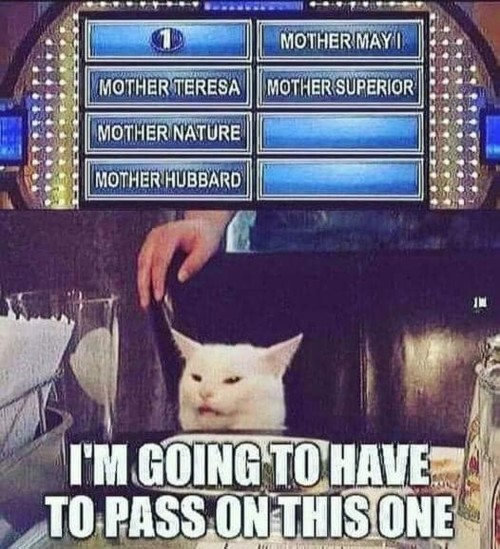 ***

Good afternoon and welcome to the almost world famous Ace of Spades Pet Thread. If the PG photo bothers you, we apologize. Some of us here at the AoS thought it was funny.
Enjoy the world of animals.

***
A Little of This. A Little of That.

Will I go to hell if I laughed at this?
Or this?
***

Hopefully your cat is not gun shy and will love this "firearm".

Are you struggling with a Monday-hating, lasagna-scarfing cat whose lazy lifestyle is starting to become a health issue? If they're not interested in climbing off your computer keyboard to chase mice, there's a chance this Nerf blaster that fires discs made of catnip instead of foam might be better motivation to make them more active.

If you're a dog owner, you may have already seen that Nerf has introduced a line of foam toys aimed at pets too, including a tennis ball blasting bazooka that can launch balls as far as 50 feet. You could argue it's an easier way to exercise a smaller dog at the park, but in reality, it's actually a clever way to play with Nerf toys in public without the shame. But why should dogs have all the fun? Cats need exercise too, and cat owners deserve a better tool than a feather on the end of a piece of a string attached to a short stick.
***

Perhaps our 'ette Jewells can catch up with this woman. They can compare notes on adopting out pooches.

Woman Creates Hilarious Website To Help 'Hellion' Dog Find A Forever Home


A woman in Houston has built a website to try and help her "hellion" foster dog, Hank, get adopted.

The website starts off with this gem:

"While we were parked outside the Red Bull factory, Hank flew into our passenger side and immediately helped himself to our stash of road trip snacks like a teenager raiding the fridge after school. He's 54 pounds of pure, unadulterated, kinetic energy with eyes like the ocean.
***
Meet The PetMorons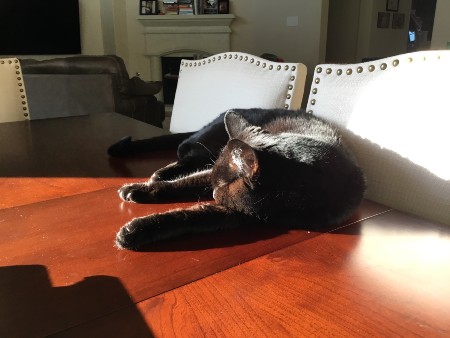 My 12yr old Paulie in his favorite morning spot. He keeps one eye open for the anarchist geckos that periodically invade the back patio… - Mark
What a horrid life of lying about in the sun protecting you night and day from the geckos in your backyard. You should be ashamed of yourself. All kidding aside, Paulie looks like he enjoys life.
***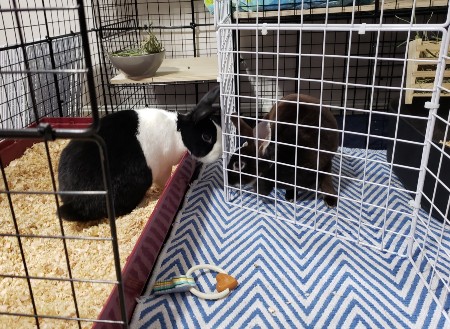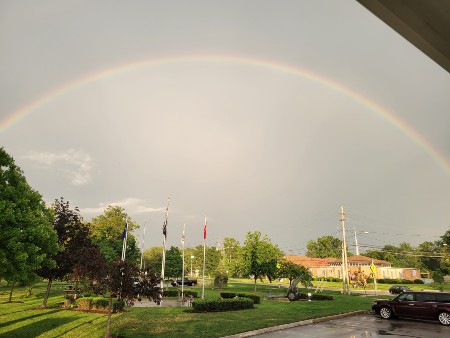 Kip was a Dutch rabbit that we managed to acquire from a person who
wasn't treating him right. He spent about a year with my eldest daughter
and then moved to our house to live with our youngest daughter. We ended
up having him at our house for about four years. In late June, he
stopped eating well. The vet ran tests and prescribed him some liquid
supplement, and he got syringe fed that for about three weeks, until he
passed in July, probably from old age. I'm enclosing a picture of him
getting to know his new sister Tallahassee, whom we brought home in May
of last year; she is a standard Rex. I'm also sending a picture of the
rainbow we saw the day Kip passed, at a beachside park where my husband,
daughter and I went to soothe our spirits. I hope there is a Rainbow
Bridge out there and that Kip made it across to wait for us. - GibsonGirl
It sounds like Kip had a loving family and a great household to be part of. So sorry to hear about your loss. Funny how God works little signs into our lives, nice photo of the rainbow.
***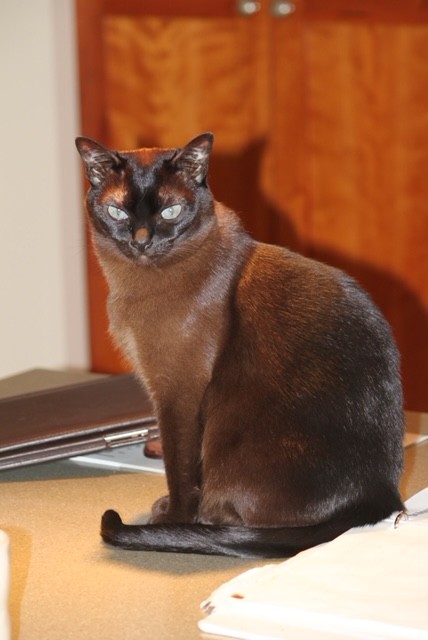 Long time lurker and avid Pet Thread reader. I recently lost my beloved 14 year old Tonkinese cat to lymphoma. She loved everyone she ever met, never did a naughty thing in her whole too-short life, and was my best friend in the world. Just sign me Coco's grieving Mom.
Goodness what a stunning cat. So sorry to hear of her passing. Sounds like she was your heart cat and will be missed immensely.
***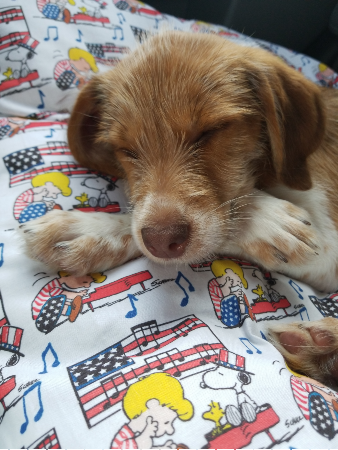 Hi. It's AshevilleRobert again. We got us a new puppy, his name is Leonidus (Leo for short). Part Beagle and part Australian shepherd (Which are not actually originally from Australia, so don't know why the name). Anyways, he's just 3 months old and a bundle of energy. Here he is just after visiting the dog park and is plumb tuckered out, as we like to say in the south. One of his chief duties is to give our cat Ace a hard time, of which he has been performing admirably.
Leo certainly is a cutie. As he grows up please report back to us about his personality. A herding dog mixed with a hound. Should be an interesting challenge. Thanks for sharing today.
***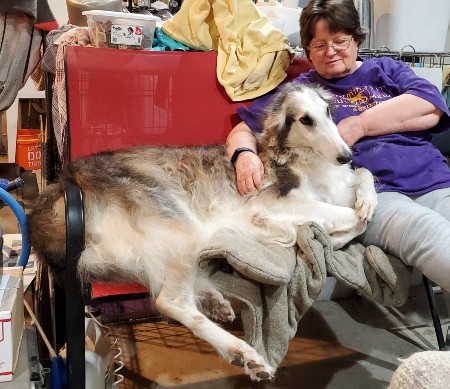 Peanut enjoying some Mommy time. He got his name because he was the runt of the litter. Then we found out he was monorchid and had only one peanut. After he was neutered, he had no peanuts.

He's been a hard-luck boy. He had bad pneumonia last year, then he was bitten by a snake. Now we've learned he may have cancer.

Peanut is a placid, sweet dog who gets along well with everyone. He helped our rescues get settled last year. Never a show dog, always our bestest boy.

Hadrian the Seventh
Peanut looks so happy in his surroundings. Best wishes that this hardluck kid doesn't have cancer. He certainly does look the bestest boy.
***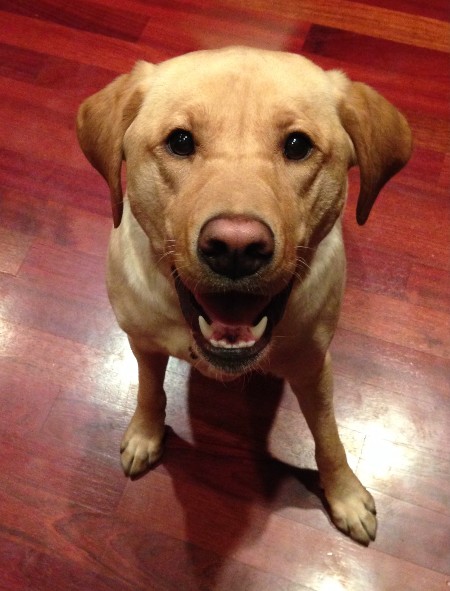 MM1971 here, long time reader of The Pet Thread. It is always a joy to see everyone's Pet Morons, and I thought it was high time to submit a photo of our American Yellow Labrador, Penny. She turns 10 in October, but the way she plays you would think she was still a puppy. Penny likes to cuddle, play fetch, and loves her long walks! Her absolute favorite activity is Tug of War, she will play until YOU are tired! Thank you for The Pet Thread!
Well we certainly are happy that you submitted a photo of this cutie. It looks like she has a little mischief in those eyes. Thanks for sharing.
***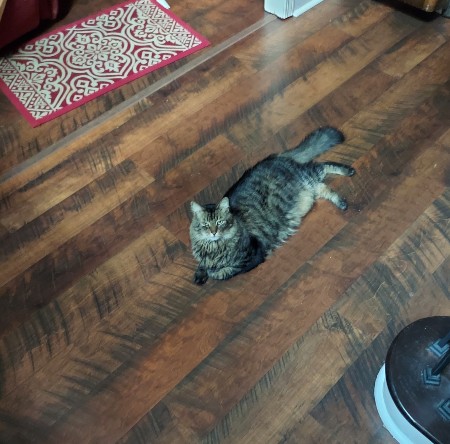 This is MegaRoy, he has graced the pet thread with his malevolence before so don't let him fool any of you with his prettier than peach fuzz faked up appearance. This (little 'm') moron cat has decided that he has to sprawl across the walkway when i do my walkie laps around the house after knee surgery. Here he is, challenging my right of way and insisting on ear rubs as the toll for passing.

No longer happy ambushing my drunk a$$ on the way to bed, he is now actively challenging me for the Alpha Cat position. Just look at his complacent smirk. "WTF are you gonna do, ya crippled up hooman?" -Bif Bewalski
Typical pet, give them an inch they'll take the entire house!!! Good luck with the knee surgery recovery. Your humble Cob has been there. Beautiful cat, but don't tell MegaRoy we said that.
***
What a wonderful gang of pets this week. Thank you to all who took the time to make this thread a success.
If you have something you wish to share with us, please contact us at petmorons at gmail dot com.
God willing, the creeks don't rise we will be back here next Saturday. Have a great week!

posted by Misanthropic Humanitarian at
03:00 PM
|
Access Comments