« CNN Reporter/Bimbo: The Taliban Is "just chanting 'Death to America,' but they seem friendly at the same time."
|
Main
|
Biden Administration Issues Bulletin Claiming That Anyone Who Opposes "COVID Measures," Or Who Believes There Was Fraud In the Election, Is a "Potential Terrorist Threat" »
August 16, 2021
Biden's Speech Will Blame Trump... For a Withdrawal That Biden's Been Pushing For For 12 Years
"Increasing Frustration and Even Anger" Among Administration Officials Over Biden's Deadly Bungling
The world waits: What flavor ice cream with Grampa Alzheimer self-medicate with at the "press conference"?
Link to Biden's statement, here.
Just kidding. That's what's going on in his rotting brains.
Link to the speech here.
The Ruling Class is starting to crack due to the immense, humiliating catastrophe of our Absentee President:
@idreesali114 (@Reuters Foreign Policy Correspondent covering the Pentagon)

Nearly a half dozen U.S. officials (across the administration) tell Reuters that there is increasing frustration and even anger with the way Biden has handled the evacuation from Kabul, saying his White House wasted too much time in the months leading up to last week.

Officials say the military for weeks had been telling the White House that they were ready to do more, in terms of basing and flights from evacuating Afghans, but a decision didn't come until it was too late.

https://tinyurl.com/yjqm8hoe
Posted by: Tami
Trust your Managerial Expert Class, everyone.
They just move from strength to strength, from victory to victory.
From stunning to brave.

Back in July, state department spokes "man" Ned Price tried to claim that the pull-out from Afghanistan was Trump's policy, not Biden's -- but that Biden couldn't overturn it.

So Biden was going ahead with it, but if it didn't work, well it was the Bad Orange Man's fault.
Matt Lee -- one of the few actual reporters in the business -- called bullshit and pointed out that Biden had reversed many of Trump's foreign policy decisions, from the Mexico City abortion ban to the ending of the policy that any illegal immigrant claiming asylum must do so at the first safe country they arrive at after leaving their homeland, rather than going all the way to the US.
If Biden can reverse all those policies, then, he could reverse Trump's decision to get out of Afghanistan.
But he didn't.
Making this Biden's choice. His decision, for which he is accountable.
Not something he can say "The other guy did it."
But, after vowing heroically to Restore Our Norms by having a president who takes responsibility for his actions, Biden cleared his head with a Medicinal Ice Cream Cone and decided, nah, it's Trump's fault after all:
I sure hope the Taliban doesn't capture the American flag.
No, I mean the real American flag -- the Gay Pride Flag this crew flies at embassies.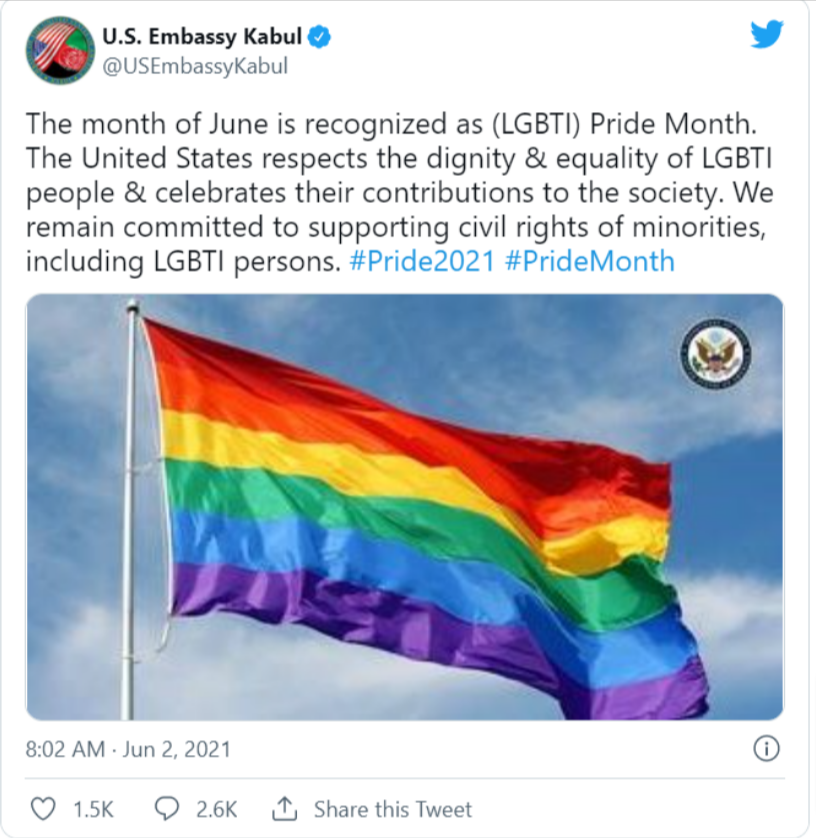 As noted by Ed Morrissey (here's the link if you insist), Joe Biden has been pushing to get out of Afghanistan since 2009, so he can't claim he inherited this from Trump.
From the NYTimes in 2012:
Mr. Obama met in the Situation Room with his top advisers on Sept. 13 to begin chewing over the problem, said officials involved in the debate. Among those on hand were Mr. Biden; Defense Secretary Robert M. Gates; Secretary of State Hillary Rodham Clinton; James L. Jones, the national security adviser; and Adm. Mike Mullen, the chairman of the Joint Chiefs of Staff.

They reached no consensus, so three or four more such meetings are being scheduled. "There are a lot of competing views," said one official who, like others in this article, requested anonymity to discuss internal administration deliberations.

Among the alternatives being presented to Mr. Obama is Mr. Biden's suggestion to revamp the strategy altogether. Instead of increasing troops, officials said, Mr. Biden proposed scaling back the overall American military presence. Rather than trying to protect the Afghan population from the Taliban, American forces would concentrate on strikes against Qaeda cells, primarily in Pakistan, using special forces, Predator missile attacks and other surgical tactics.
Some Twitter "friend" of Morrissey's made this salient point: Biden's been thinking about this (to the extent he is medically capable) for 12 fucking years and this grabass clusterfuck is the best roll-out he could manage?


posted by Ace at
03:41 PM
|
Access Comments