« Biden Administration Issues Bulletin Claiming That Anyone Who Opposes "COVID Measures," Or Who Believes There Was Fraud In the Election, Is a "Potential Terrorist Threat"
|
Main
|
BidenAir's External-Berths-Only Flight Lounge Cafe »
August 16, 2021
Quick Hits: #BasedParrot Edition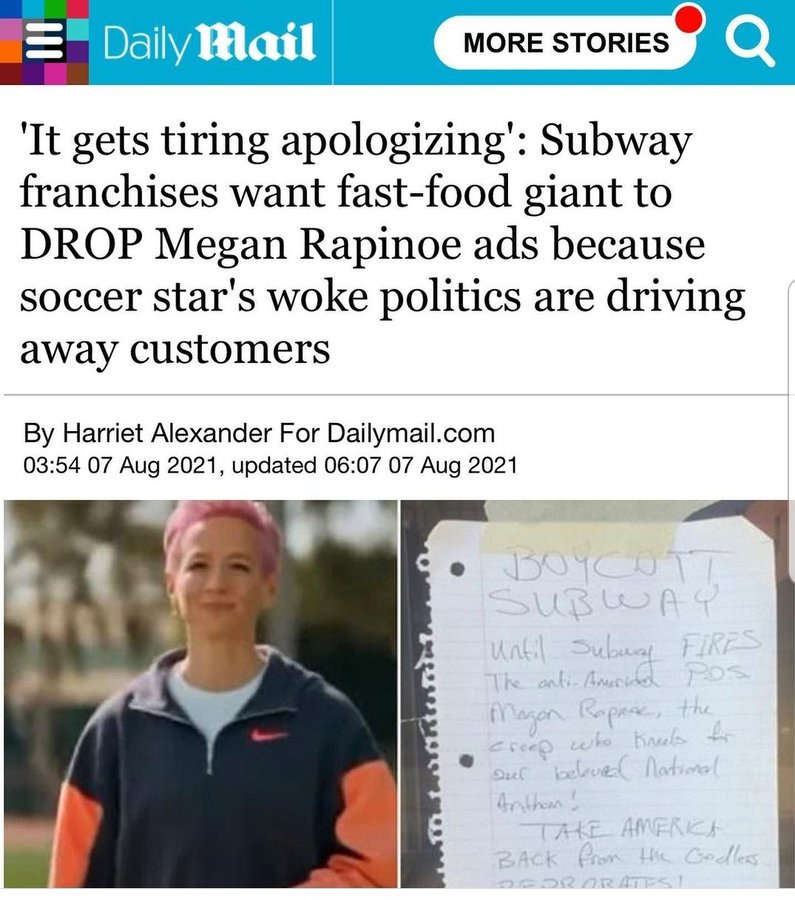 I missed this story from August 6, but we need some good news right now.
Owners of Subway franchises are asking the company's bosses to pull adverts featuring soccer star Megan Rapinoe, because customers are complaining about her political activism.

Rapinoe, 36, is as well known for her outspoken views and purple hair as she is for her soccer skills.

In Tokyo for her third Olympics, Rapinoe took a knee during the National Anthem, before their bronze-winning game.

At the end of July, a Wisconsin franchise operator shared a note from an angry customer with a discussion forum hosted by the North American Association of Subway Franchisees (NAASF).

The note, taped to his door, read: 'Boycott Subway until Subway fires the anti-American Megan Rapinoe, the creep who kneels for our beloved National Anthem!'


The Wisconsin owner said: 'The ad should be pulled and done with. It gets tiring apologizing.'
Note that Subway stores are individually owned, but the corporation takes 4.5% from franchisees for advertising.
The store owners are not happy with their woke overlords:
Frustrated with CEO John Chidsey over a failed promotion attempt for their new menu, franchisees complained in a private forum about the misuse of advertising funds.

"By knowingly hiring a flashpoint personality to represent the brand with our money, the franchisor has failed," one operator wrote in the private franchisee forum seen by Insider.

Subway advertising is currently funded by a 4.5 percent fee as part of operators' overall royalty fees, but the franchisees, however, have no say in how the ad money is spent.

Franchisee Mario Denoto told Business Insider that celebrity spokespersons can be "polarizing" for customers who "can go either way with them."

"Please end Megan's commercials," Denoto said he told corporate in an email sent Tuesday.
Richard Grennell roasted Megan Rapinoe this weekend, noting that despite the fact that the US Women's Soccer Team is "filled with lesbians," none of them honored the country that -- unlike many of the countries they were competing against -- gave gays full freedom and did not make any positive statement about the country they were supposedly representing.
The world is falling apart, and America died in the ambulance, but here's some more good news is, Mountain Dew will be putting out an alcoholic version of the already-unhealthy drink.
It'll be called Dew SLAM!
No it won't. I made that up. (I learned that from CNN.)
Mountain Dew might have an extra kick to it starting in 2022.

According to CNBC, PepsiCo and Sam Adams brewer Boston Beer have joined forces to create an alcoholic version of the incredibly popular soda, and the companies are hoping to release it in early 2022.

The alcoholic version will be called Hard Mtn Dew and will be 5% alcohol. So, it's right around what you'd get in most seltzer drinks. The drink will also contain no sugar, which is a huge plus for those hot summer days.
Some sad news:
107 @JoeConchaTV 5m

Washington Post publisher Fred Ryan sends urgent email to Nat. Sec. Advisor Jake Sullivan on getting more than 200 journalists from the Post, WSJ and NY Times out of the country: "They are currently in danger and need the US government to get them to safety."
(Tweet about supposed "executed journalist" deleted, because friends tell me it's almost 100% certainly a fake.)

A former Jeffrey Epstein employee says he will testify in Virginia Giuffre's lawsuit against Prince Andrew.
Steve Scully, who spent six years fixing Epstein's telecommunications, is ready and willing to take the stand in Giuffre's sensational Manhattan Federal Court case, The Sun reported.

"If Virginia's lawyers call, I will definitely speak to them and I would give a deposition under oath telling them what I saw," he told the outlet.

"The nice thing about the truth is that it doesn't change! There's no question in my mind that I saw Prince Andrew and Virginia together and no question that he would remember the incident either. He should come clean."

The 71-year-old said last year he recalled spotting Andrew "bumping and grinding" with the young Giuffre poolside between 2001 and 2004.
Another possible side-effect of the vaccination: Acute soyface.
Via Soothsayer, NASA will visit the asteroid Psyche 16 -- an asteroid made up largely of gold. And some platinum.
If it could be brought to earth, it would be worth 10 quintillion dollars:
The US space agency is plotting to launch a mission to Psyche 16 in 2022 to explore the origins of the Solar System.

Discovered in the late 19th Century, Psyche is nestled between the orbits of Mars and Jupiter and is made of solid metal.

As well as gold, the hefty object is thought to be loaded with heaps of platinum, iron and nikel.

In total, it's estimated that Psyche's various metals are worth a gargantuan L8,000 quadrillion.

That means if it were carried back to Earth, it would destroy commodity prices and cause the world's economy -- worth L59.5trillion -- to collapse.
From I, Hypocrite, some divisive identity politics propaganda from Berkeley University: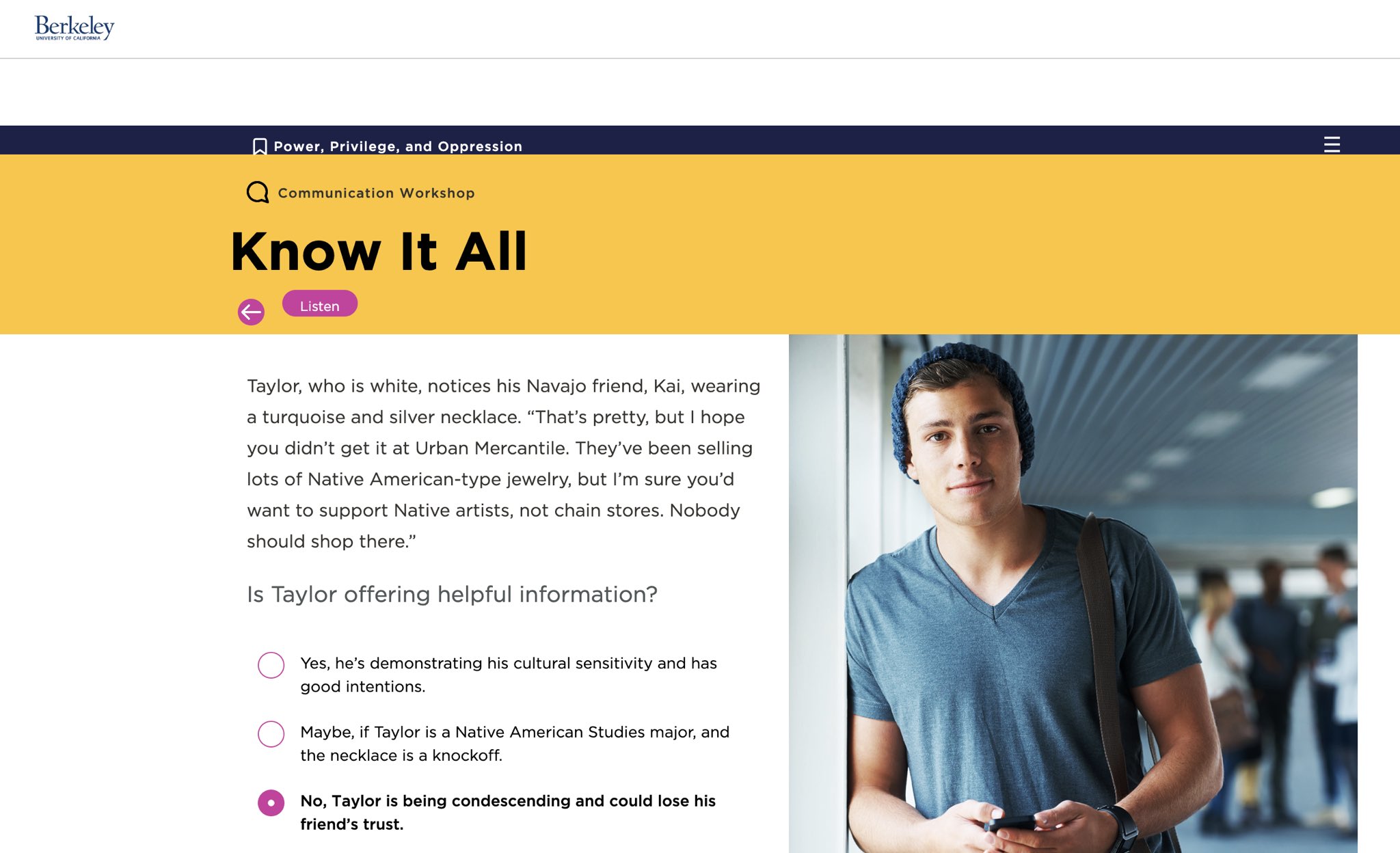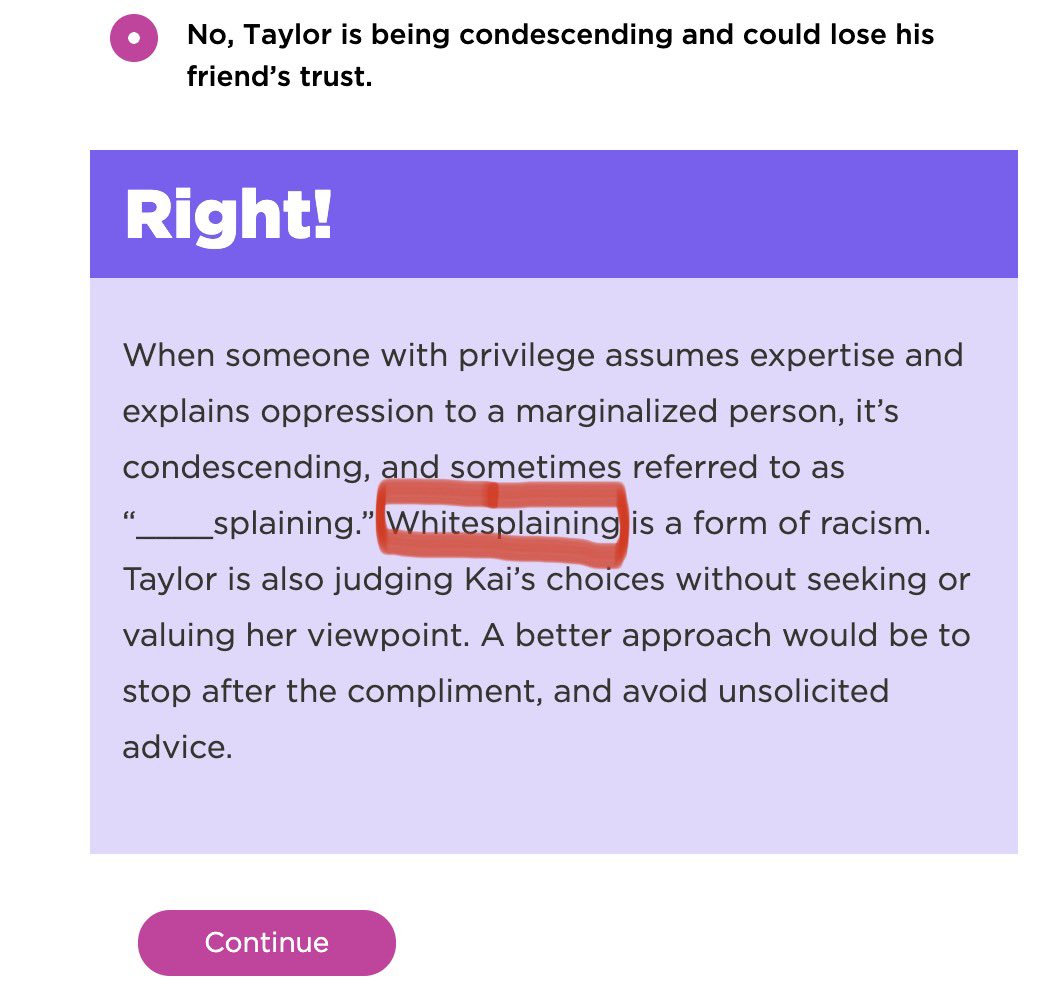 Fat Chonkers and Pancake Nipples Tom Nichols -- who was also a consultant to the pedophile dating club called The Lincoln Project -- somehow blamed the fall of Kabul on... Kristi Noem, for leading a parade on a horse.
He managed to somehow ignore Biden being entirely MIA.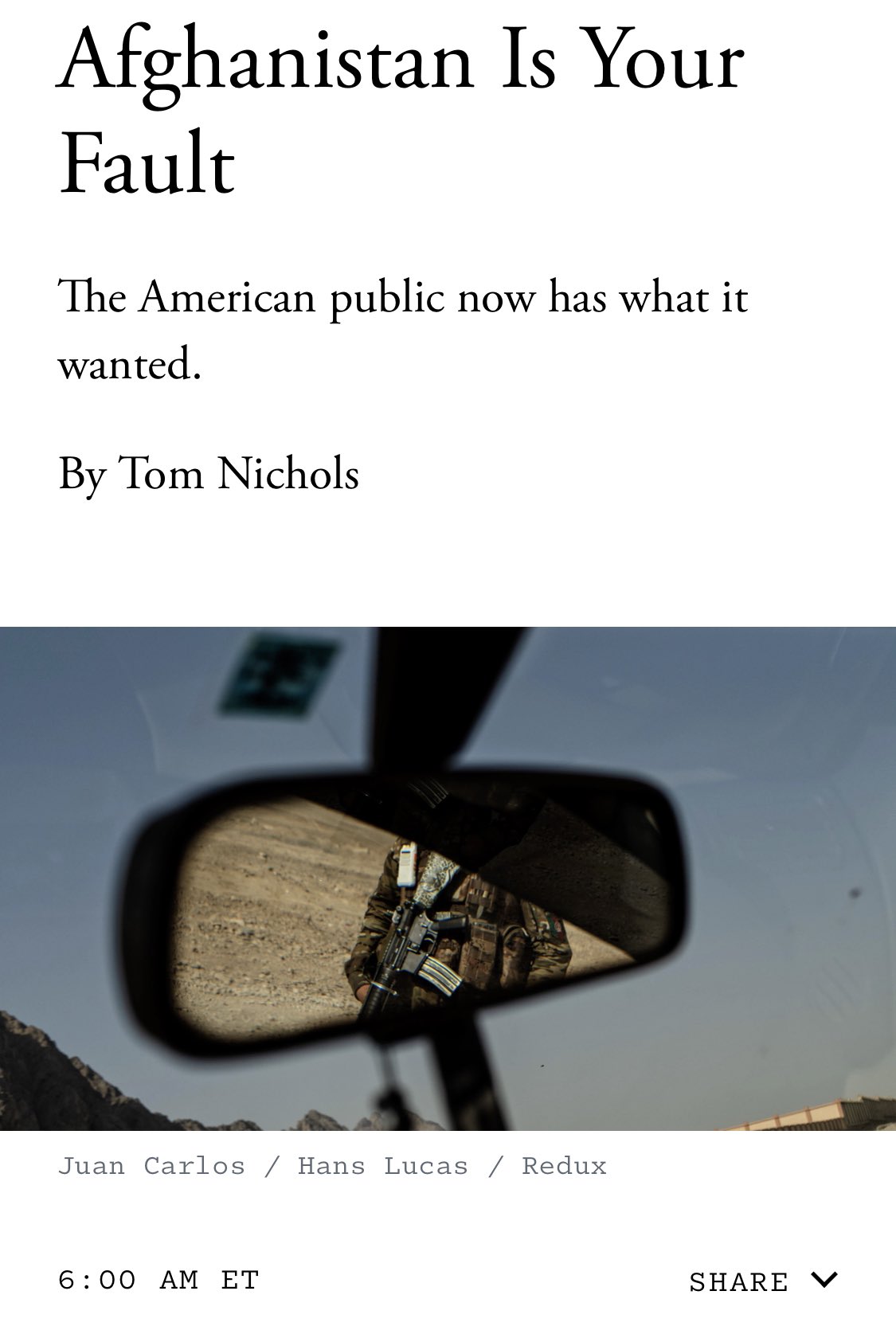 It's everyone's fault except the demented rotten-brained sexual assaulter he voted for!
By the way:
Jen Rubin, True Conservative who voted for Biden to Restore Norms and Restore America's Respect Overseas, isn't sure this is a "disaster" yet.
399 @JRubinBlogger

I'd actually like to see how effective we are in extracting tens of thousands of Afghans and whether Afghan becomes breeding ground for terrorism vs. US BEFORE I pronounce whether this is a disaster or not. I mean, do we have to all decide in the first 24 hours??

Posted by: Tami
A friend writes: "If we successfully extract enough Afghans to make whites a minority Rubin will consider it a success."
Rubin hailed the fact that whites are dying off last week, and then insisted we must "prevent white minority rule" when (if) whites become a true minority.
Note she didn't say, "When whites become a minority, obviously they will gain the benefit of rules that protect minorities."
Because that's not the plan, of course.
Meanwhile, Steve Hayes risks alienating his leftwing billionaire progressive megadonors:
But the tweets are still nice, right, Steve?

The Conservative, Inc. media class, everyone.
Ever get the feeling you've been cheated?

For the below, some Lunatic Background information.
When a trans person decides they want attention and pretend to be a different sex, they drop their real name and assume a new trans name. Usually they pick a name like "Caitlyn" or something else that's a currently popular girls name even though they are one or two generations removed from the current generation.
Thus a 70 year old with the name "Caitlyn."
Their old name becomes their "deadname." AKA "their real legal name."
And you are not to call them that, ever. That is the name of the dead identity they have sloughed off like the skin off a newly fabulous snake.
So calling a trans person by their "deadname" is an egregious offense and Literally Violence.
Sound ON for this, boys!
Pretty sure that parrot is a commenter.

posted by Ace at
05:51 PM
|
Access Comments